Disney+'s Ahsoka Series Release Date, Cast, Trailer, Plot And More Details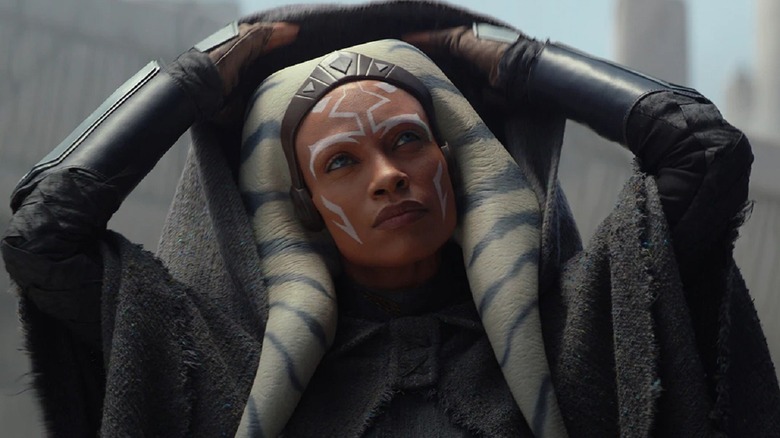 Disney+
Since first appearing in "The Clone Wars," Ahsoka Tano has become a fan favorite in the "Star Wars" universe. Anakin Skywalker's padawan has come a long way, from just learning the ropes of protecting the galaxy to becoming a central figure in taking out the Dark Side. It's why so many fans were ecstatic to hear she would be entering the live-action "Star Wars" world with her appearance in "The Mandalorian" Season 2, where she is portrayed by Rosario Dawson.
Live-action Ahsoka first teamed up with Din Djarin and his adorable young ward, Grogu, to liberate a village from a dastardly foe. Then she reappeared in "The Book of Boba Fett," sharing a moment with Luke Skywalker himself. But these brief appearances were just the beginning of Ahsoka's live-action journey. Now, everyone's favorite Togruta will be getting her very own series, with Dawson coming back to wield both of those lightsabers.
But which foes will Ahsoka have to face, and will she be joined by any of her previously animated friends to help her save the day? Who's guiding her new journey across the "Star Wars" landscape? And when will we see her return to Disney+? Read on for everything we know so far about the upcoming series "Ahsoka."
When will Ahsoka be released?
The year 2023 has been an exciting one for "Star Wars" fans. Din Djarin returned in all his beskar-plated glory in "The Mandalorian" Season 3. Then in April 2023, at London's "Star Wars" Celebration, it was announced we'd be getting three brand new movies in the franchise — including one that will feature the return of Daisy Ridley and one that will focus on the birth of the Force. Pretty exciting stuff!
But it gets even better when you realize that "Ahsoka" will be hitting Disney+ this year, on August 22 — with two episodes releasing on the same day. They'll continue to air on Tuesdays after that, with the remaining six episodes landing on the site weekly at 9 PM ET. In other words, our lekku won't grow too much longer before the show finally debuts. 
What is the plot of Ahsoka?
"Ahsoka" is a very layered series with villains surrounding the titular character on multiple fronts. To give you a taste of what to expect, the official plot description on Disney+ reads, "Set after the fall of the Empire, Ahsoka follows the former Jedi knight Ahsoka Tano as she investigates an emerging threat to a vulnerable galaxy." Some of those foes will include Baylan Skoll and Shin Hati (and even Anakin Skywalker is going to show up somehow). But perhaps her biggest enemy is one of the scariest villains in "Star Wars" lore, Grand Admiral Thrawn. 
The series will involve Ahsoka's quest to hunt down Thrawn, a quest she's been on for quite a while. Back in "The Mandalorian" Season 2, we watched as Ahsoka confronted the villainous Magistrate Morgan Elsbeth and asked where she could find Grand Admiral Thrawn. And in both trailers, we've seen quick glimpses of that blue-skinned baddie. For those not in the know, Thrawn hails from a series of novels written by Timothy Zahn, where he's a brilliant leader who commands what's left of the Empire and fights back against the New Republic. The character made his TV debut in the animated series "Star Wars: Rebels," and fans last saw him vanishing along with the heroic Jedi Ezra Bridger.
But not everyone seems to be as wary of Thrawn as Ahsoka. Teasing what viewers can expect from Ahsoka's mission, Rosario Dawson told IGN, "She sees a threat other people aren't seeing. He's formidable, not somebody to take lightly. She has a sense that there's something, she knows that these foes are not easily dismissed." With the help of Mandalorian Sabine Wren, Ahsoka plans to hunt him down and search for (and hopefully rescue) Ezra at the same time.
Rosario Dawson takes the lead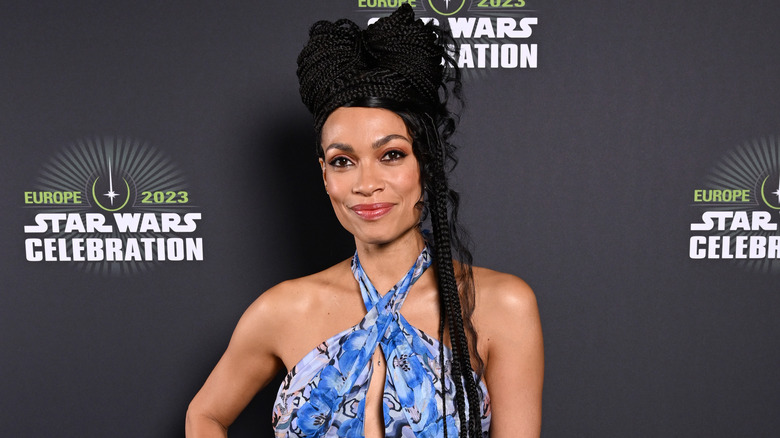 Jeff Spicer/Getty Images
Rosario Dawson is back in action, fighting evil robots and hunting for Grand Admiral Thrawn as the titular Ahsoka Tano. Dawson appeared as the character in both "The Mandalorian" and "The Book of Boba Fett," but she was a big deal long before entering the "Star Wars" universe, making a name for herself in projects like "Kids," "Clerks II," "Death Proof," and "Daredevil."
Playing Ahsoka is clearly the role of a lifetime for Dawson, though. The actor told Vanity Fair that it's a part she hopes to hold on to for a long time to come. "As long as they want me, and as long as it's possible, I'm in it," she said. And Dawson's desire to play the former Jedi does not seem to be just because of the fame she'll get from the "Star Wars" universe, but because she genuinely cares about and relates to her character.
Speaking to IGN, Dawson discussed what drives Ahsoka. She noted that even though Ahsoka isn't a Jedi anymore, that desire to be good and be of service still remains a part of her. We began to see this in Season 2 of "The Mandalorian" when she frees the people of Corvus from the control of Magistrate Morgan Elsbeth (Diana Lee Inosanto).
Who else is starring in Ahsoka?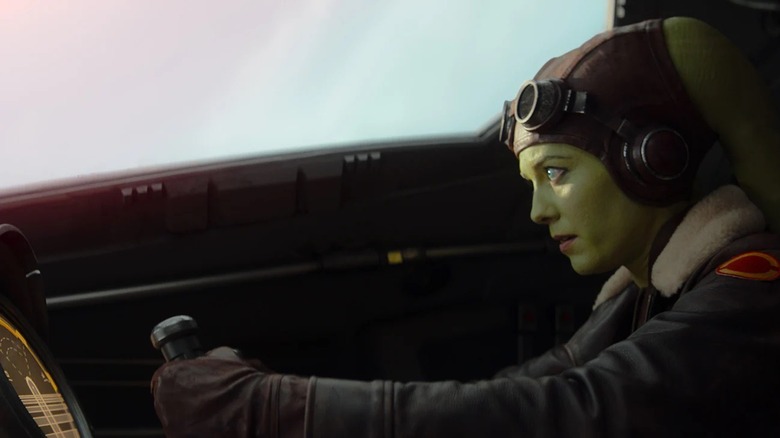 Disney+
In addition to Rosario Dawson, we'll see both Natasha Liu Bordizzo and Mary Elizabeth Winstead playing popular characters from "Star Wars: Rebels," replacing the voice actors from the animated series. Bordizzo — who you might recognize from projects like "Day Shift" and "The Greatest Showman" — will star as the Mandalorian warrior Sabine Wren. Winstead — who you've no doubt seen in things like "Scott Pilgrim vs. the World," "10 Cloverfield Lane," and Season 3 of "Fargo" — will play Twi'lek pilot Hera Syndulla.
Eman Esfandi of "The Inspection" and "King Richard" will be portraying Jedi Ezra Bridger, a character who's been missing ever since "Star Wars: Rebels." The robotic Huyang, who's long trained Jedi on how to build lightsabers, will be voiced by the one and only David Tennant, who actually won an Emmy for portraying the character in "The Clone Wars." Additionally, "Andor" alum Genevieve O'Reilly will yet again play Mon Mothma, the leader of the Rebel Alliance.
On the dark side, Ivanna Sakhno of "Pacific Rim: Uprising" will play the deadly Shin Hati, who takes down anyone in her way. As for the ultimate villain, Lars Mikkelsen will reprise the role of Grand Admiral Thrawn. The Danish actor — and brother of "Hannibal" actor Mads Mikkelsen — played Thrawn in "Rebels," and you may have also seen him in projects like "Sherlock," "House of Cards," and "The Killing." He'll be joined here by Wes Chatham of "The Expanse," playing his No. 1 lackey. We also know that Diana Lee Inosanto will reprise her role as Morgan Elsbeth after losing her duel to Ahsoka in "The Mandalorian."
The late Ray Stevenson was excited to be part of Ahsoka
Jim Spellman/Getty Images
The late Ray Stevenson is the final member of the main cast of "Ahsoka" we need to discuss. He's playing another major villain, a Force-wielding Dark Jedi by the name of Baylan Skoll. Thanks to the trailers, we know Baylan is going to face off against Ahsoka at least once, and Ivanna Sakhno's Shin Hati is going to be working closely by his side.
Although this part would appear to be just another in a long, long list of fantasy, action, and adventure roles Stevenson has had — including Titus Pullo in "Rome," Blackbeard in "Black Sails," Othere on "Vikings," and Volstagg in "Thor," to name a few — it's a role he was very excited about. While speaking to Entertainment Weekly, Stevenson gushed about every aspect of the show's production, from the writing to the set design to the stunt team. "You can't wait to get back to set and see what's going to be revealed that day," he teased. But what excited him the most was the twists and turns of his and Shin's storyline that he teased will constantly keep viewers guessing.
Unfortunately, though, Stevenson died before he could see everyone's hard work come together. The Guardian reported that he was taken into hospital and treated for an undisclosed illness while filming "Cassino in Ischia" on the island of Ischia. The Northern Irish actor died shortly after on May 21, 2023.
Who is the showrunner of Ahsoka?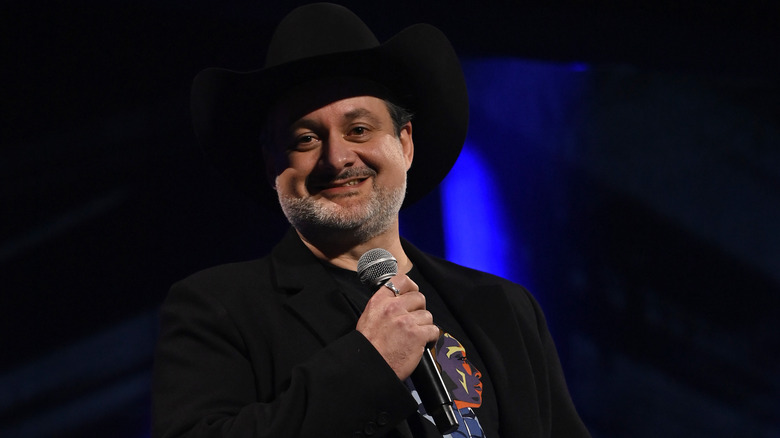 Kate Green/Getty Images
When it comes to creatives, obviously, the No. 1 name associated with "Star Wars" is George Lucas. But he's not the only key figure in the franchise. There are also names like Jon Favreau, J.J. Abrams, Kathleen Kennedy, and a man who's had a huge impact on how fans view the franchise — Dave Filoni. He directed the animated "Clone Wars" movie, oversaw the "Clone Wars" series, created "Star Wars: Rebels," and has been an important part of "The Mandalorian."
Filoni will also be a major figure when it comes to "Ahsoka," serving as showrunner. He's executive-producing, writing all the episodes, and even directing a few himself. Ahsoka Tano is a character dear to Filoni's heart, as he co-created the Togruta Force-user with George Lucas. Because of this, he's the only person to bring her story to the screen and do it justice, so we can't wait to see what Filoni has in store for this next chapter of the "Star Wars" saga.
This is a monumental moment, not just for Ahsoka's character and the franchise, but for Filoni on a personal level. He's spent years of his life creating, developing, and sculpting the character of Ahsoka Tano, and helming this TV show is a dream moment in his career. "Writing and directing and collaborating on this type of thing with so many people is just the top of the mountain for me at this point," he gushed to The Hollywood Reporter.
Who else is joining Dave Filoni behind the scenes?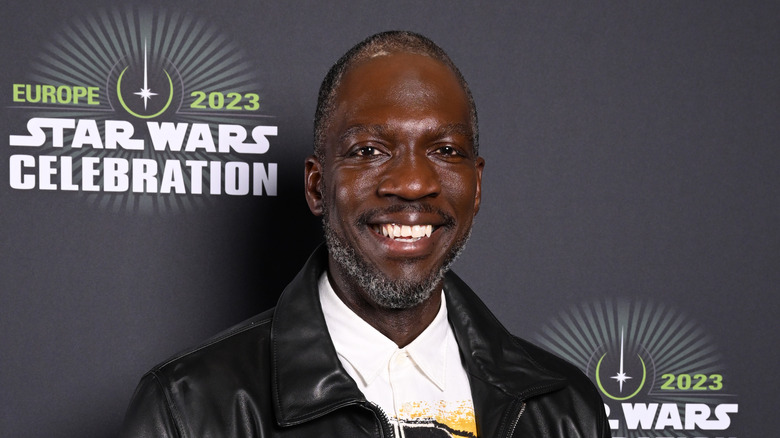 Jeff Spicer/Getty Images
Alongside leading "Ahsoka," Dave Filoni is directing three of the show's eight episodes. For the other five, Steph Green, Peter Ramsey, Jennifer Getzinger, Geeta Patel, and Rick Famuyiwa will take turns sitting in the director's chair, and they each bring with them a wealth of experience in the action and sci-fi sector.
Steph Green is fresh off directing "Chapter 2: The Tribes of Tatooine" of "The Book of Boba Fett," so she'll be ready to hit the ground running with "Ahsoka." Her other directorial credits include episodes of shows like "Watchmen," "Dare Me," and "Luke Cage." Similarly, "Spider-Man: Into the Spider-Verse" director Peter Ramsey's latest gig was directing an episode of "The Mandalorian." He took the lead on "Chapter 21: The Pirate," which was a busy episode that saw multiple separate storylines playing out, so Ramsey could be set to tackle a similar setup midway through "Ahsoka."
Meanwhile, frequent Marvel TV director Jennifer Getzinger brings vast experience working on female-led TV shows like "Agent Carter," "Good Girls Revolt," "Jessica Jones," and "Dead to Me." As she's helped to shape fierce characters like Peggy Carter, Jessica Jones, and Jen Harding, Getzinger's episode will no doubt showcase Ahsoka's inner strength. Geeta Patel has similar experience, having also directed an episode of "Dead to Me," as well as episodes of sci-fi dramas like Marvel's "Runaways" and HBO's hit "Game of Thrones" prequel, "House of the Dragon." And rounding out the directorial list is "The Mandalorian" executive producer and director Rick Famuyiwa, who will no doubt have a handle on how "Ahsoka" fits into the bigger picture of the "Mando-Verse."
Who is writing the music for Ahsoka?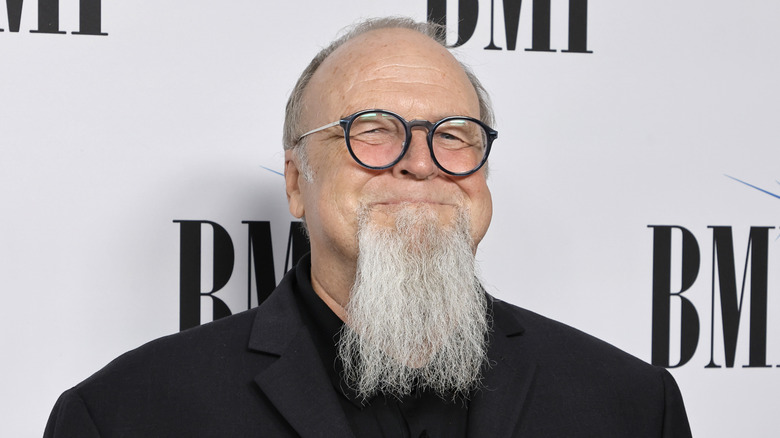 Kevin Winter/Getty Images
John Williams created one of the most memorable movie soundtracks of all time when he wrote the original "Star Wars" score. Following in his footsteps is Kevin Kiner, who will compose the score for Ahsoka. Happily for Kiner, this is not his first foray into the music of the "Star Wars" universe. In the early days of his career, he said, he was inspired by Williams' work, and he went on to compose the music for the animated series "The Clone Wars," "Rebels," "The Bad Batch," and "Tales of the Jedi." Over the years he's put his own spin on the "Star Wars" sound by introducing a lot of percussion — initially under George Lucas' instructions — and focusing on using electronic sound.
Now, working on "Ahsoka" is a full-circle moment for Kiner, with the theme tune for Ahsoka's character being the first project he worked on for Dave Filoni and George Lucas. "I remember writing for that theme and I used [a] Japanese flute called a shakuhachi just trying to feel her femininity but her strength, there's this light and there's a Darkness to her and there's both of that in her theme you know? ... There were so many elements I was trying to put in Ahsoka's theme and I'm really proud of Ahsoka's theme," Kiner explained to CineConcerts.
Is there a trailer for Ahsoka?
In the official trailer for "Ahsoka," things get intense right off the bat, with Baylan Skoll and Shin Hat boarding a Republic cruiser and going Darth Vader on everyone in their path. "War is inevitable," Baylan says. "One must destroy in order to create." Then, after lighting up his noticeably orange blade, the villainous Force-user tells us in no uncertain terms, "We are no Jedi."
Their arrival lines up with the return of Thrawn, hoping to lead the galaxy into the Empire 2.0. Of course, there is one lightsaber-wielding hero who can stop him — Ahsoka Tano. In order to do that, she'll have to recruit her old "Rebels" crew, which means mending fences with Sabine Wren. It also means facing down sword-wielding enemies, terrifying creatures, and Thrawn himself, who shows up in all his blue-skinned, red-eyed glory. "Once a rebel, always a rebel," Hera Syndulla says as the heroes fly into action, and we can't wait to watch our old "Rebels" friends return to action on August 22.
Ahsoka Tano and Darth Vader have a history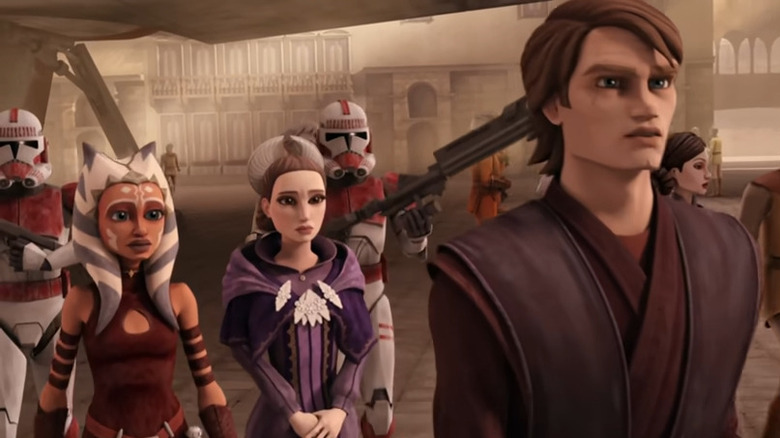 Disney+
It's official, "Star Wars" fans. Hayden Christensen is returning for another fight. He was last seen portraying the early years of Darth Vader's villainous reign in "Obi-Wan Kenobi," but it makes sense that he's returning again since he and Ahsoka have history. Although Christensen hasn't let on much about his upcoming appearance, he previously teased how excited he was about his expanding role, so viewers should expect a lot more than a one-off appearance.
Along with Christensen, there are a few other characters from the "Mando-Verse" who might also appear, since they have a connection to and share the same timeline as Ahsoka. These include Katee Sackhoff's Bo-Katan Kryze and Pedro Pascal's Mando, otherwise known as Din Djarin, the former being the reason Ahsoka and Mando even met. Temuera Morrison as Ahsoka's clone trooper buddy, Capt. Rex, could also make an appearance, having previously starred in "The Book of Boba Fett."
What you need to know about Ahsoka Tano's life so far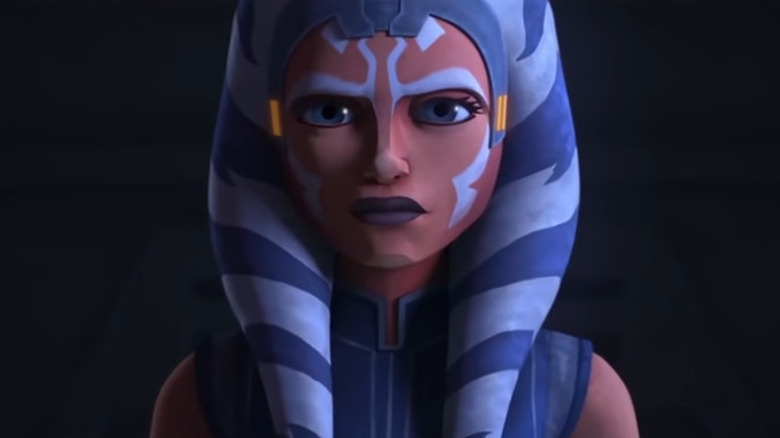 Disney+
"Star Wars" fans who've only watched the franchise's live-action movies and TV shows might not have been too familiar with Ahsoka Tano prior to her appearances in "The Mandalorian" and "The Book of Boba Fett." However, the character has actually been around for quite a while, growing up in the animated series "Star Wars: The Clone Wars" and returning as an adult in "Star Wars: Rebels." 
She's introduced in the former series, which is set before the events of the third prequel movie "Revenge of the Sith," as the padawan of Anakin Skywalker (voiced by Matt Lanter). Although he's initially hesitant to train her, he agrees after she impresses him by saving his life during a fight. All is well in Ahsoka's Jedi training until she is framed for the bombing of the Jedi Temple, after which she is stripped of her padawan status and thrown out of the Jedi Order. Not believing her guilt, Anakin works to prove her innocence, which he does. Ahsoka is then invited to rejoin the order, but she declines.
In the intervening years between then and her appearance in "The Mandalorian," Ahsoka fought for the Rebellion under the alias Fulcrum. This was depicted in "Rebels," which takes place between the prequel trilogy and the original trilogy, after Anakin becomes Darth Vader. During her time fighting for the Rebellion, Ahsoka faces Vader and confirms that he is her former master before narrowly escaping with her life. It was during this time that Ahsoka also came across Grand Admiral Thrawn, who disappeared with her friend, the Jedi Ezra Bridger (voiced by Taylor Gray).
Dave Filoni's vision for Ahsoka used to be different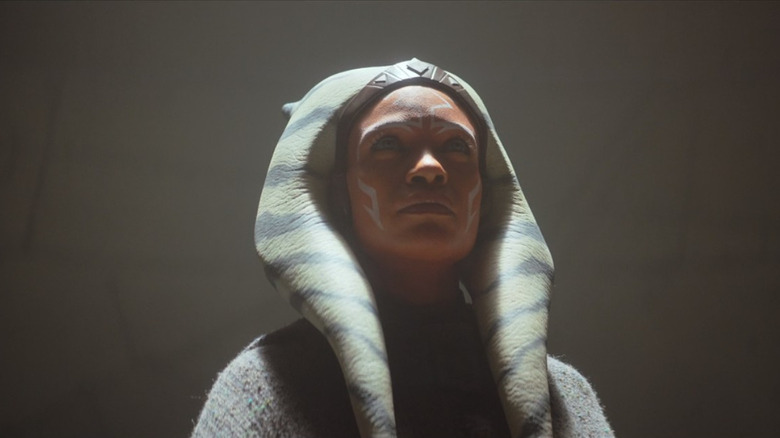 "Ahsoka" showrunner Dave Filoni admitted that for many years, creating this "Star Wars" series seemed like a dream that would never happen. But eventually, he started working on it for real, and he's been planning, writing, and rewriting Ahsoka Tano's story ever since. Unsurprisingly, her story has changed over time, and this is partly because of all the new entries into the "Star Wars" universe that have helped bring "Ahsoka" to life. "I never would have imagined that it was sprung from a branch of a tree that had anything to do with a guy [like] Din Djarin, or a child that looks like Yoda," Filoni admitted to Empire.
"[But] it's a great lesson for me on how, when you have other creatives like Jon Favreau, they can help lend such dimension and depth to what you're doing," he added. Filoni credits Favreau and Lucasfilm president Kathleen Kennedy, and director Rian Johnson for helping guide him through this process, which has ultimately shaped Ahsoka's journey.
Dave Filoni insisted that Ahsoka didn't train Grogu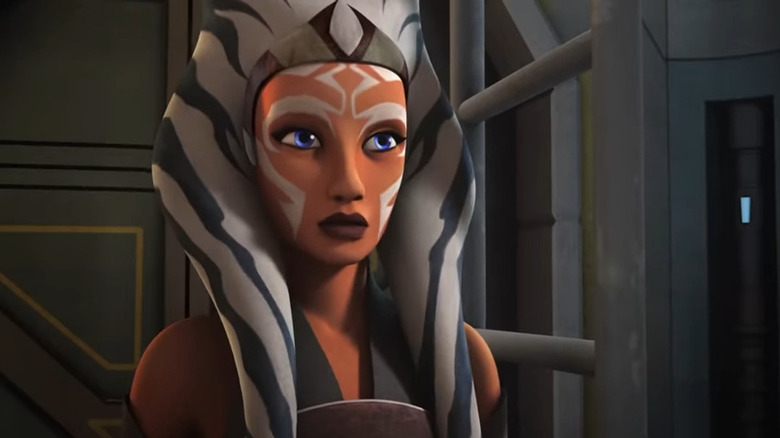 Disney+
Ahsoka Tano's appearance in "The Mandalorian" is set up in a way that leads viewers to believe she will be the one who will train Grogu — aka the kid, as he's thus been known by Mando, or "baby Yoda," as he's known by fans. However, after spending a few days with Grogu and seeing how he interacts with her surrogate father, she says she cannot be the one to train Grogu, and instead offers a vague promise that another Jedi might reach out and offer to train him. Although that ends up being Luke Skywalker, Ahsoka was originally the one "The Mandalorian" creator Jon Favreau planned to train Grogu.
However, Dave Filoni had to put his foot down on this plan. There's a very specific reason that Ahsoka turned Grogu away. "I was telling Jon that as much as I wanted to have Ahsoka in the show, she can't take this kid on. That's just not what I have planned," he revealed to Empire Magazine (via Techradar).
"Ahsoka" picks up after the finale of "Star Wars: Rebels," with the last scenes of the animated series being recreated in live-action. Given that, it was impossible for Ahsoka to take on Grogu's training and continue her own personal mission. She's still dealing with the aftermath of facing Vader, Grand Admiral Thrawn's looming ascent to power, and Ezra's disappearance, storylines that will continue in the upcoming series.
Ahsoka is going to get political
Dave Filoni and Jon Favreau have made it clear that they want anyone to be able to jump in and watch their "Star Wars" shows without having seen other shows or movies before. However, they also revealed that Ahsoka is going to be a reward for longtime "Star Wars" fans who are invested in the franchise. And with so much other "Star Wars" lore, there's a lot to tie "Ahsoka" to, particularly "Star War: Episode III — Revenge of the Sith," "Star Wars: Rebels," and the original trilogy, which all deal with the same politically tumultuous period in the history of the "Star Wars" galaxy.
Although the exact time period of "Ahsoka" hasn't been confirmed, it makes sense that the series would follow Ahsoka's appearances in "The Mandalorian" and its sister Boba Fett series. That places the show in the New Republic era, but as "The Mandalorian" has proven, that doesn't mean it's a time of peace. And in the trailer, the titular character teases that she has heard rumors of Grand Admiral Thrawn becoming the "heir to the Empire." The Imperial Remnant is strengthening, and it looks like Ahsoka is going to be thrown right into the middle of it.
Jon Favreau told IGN that this series deals with "characters with a lot of political implications to what's happening in the meta-narrative in Star Wars, and those characters and these storylines start to demand that you deal with larger forces and bigger trends within that time period." So viewers can expect the series to have bigger ramifications for the "Star Wars" universe, rather than be a completely self-contained story.
What else do we know about Ahsoka?
All eyes are on Dave Filoni as Disney+ gears up to release "Ahsoka" in the summer of 2023. According to the showrunner, viewers should get ready to have their minds blown. Per star Rosario Dawson in an interview with The Laughing Place, Filoni has equated watching the series with "a religious experience" after seeing one of the episodes edited together. Filoni told Empire that what makes "Ahsoka" so special is her ability to bridge that gap between the "Star Wars" movies and the animated series. He said, "There's a whole bunch of audience [members] that know her and a whole bunch that don't. She has one foot in the 'Star Wars' that a lot of people know because of her connection to Anakin, and yet she's all new and can go in her own direction, in her own way" (via Star Wars News Net). And Filoni is doing just that, making "Ahsoka" essential summer viewing.
One other important thing to note about the show is that it's being billed as a limited series. So while we will undoubtedly see a lot of action, viewers should expect quite a lot of resolution too. Hopefully, that means the Ezra and Sabine reunion that "Rebels" fans are hoping for will play out in the live-action series.
Where to watch previous Star Wars series
Before "Ahsoka" premieres on August 22, it might be a good idea to do a little research on the titular Force user. She first appeared as Anakin Skywalker's padawan in the "Clone Wars" movie, and we witnessed her journey in the "Clone Wars" series, where she eventually left the Jedi Order behind. The character then reappeared in "Rebels," and made her live-action debut in Season 2, Episode 5 of "The Mandalorian," where she revealed that Baby Yoda's real name is actually Grogu. Ahsoka Tano then pops up again in Season 1, Episode 6 of "The Book of Boba Fett" to meet with Luke Skywalker before once again stepping away from the Jedi Order to go on her own journey.
If you want to catch up on Ahsoka's story before that journey beings, there's one location where you can easily find all her adventures — Disney+, which is home to all things "Star Wars." If you aren't subscribed yet to the House of Mouse's streaming service, you can get a plan with ads for $7.99 a month, or you can pay $10.99 for the ad-free version of the service.