Why Omera From The Mandalorian Looks So Familiar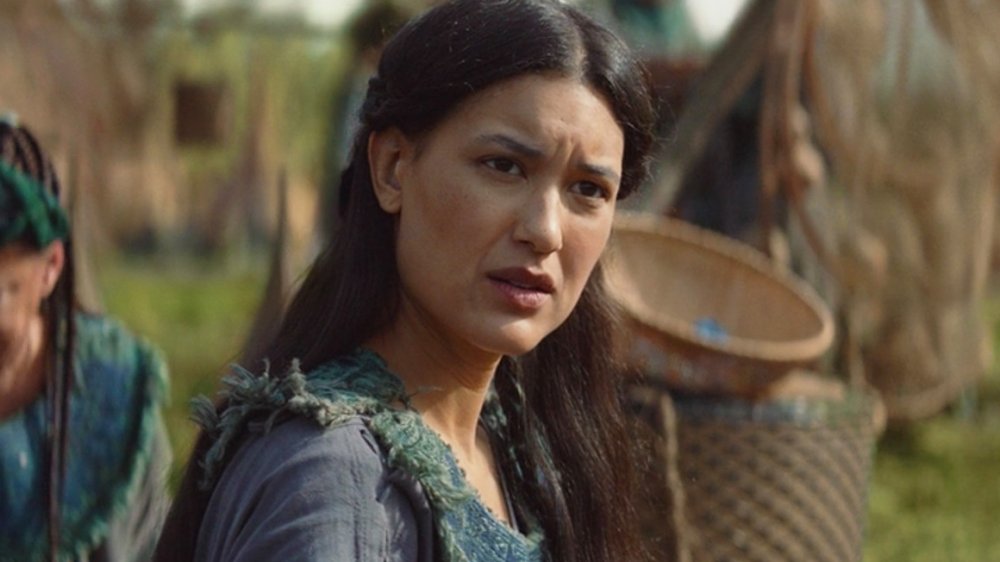 Disney/Lucasfilm
In case you hadn't heard, there's a new Star Wars series in town, and it's currently got fandom in a tizzy over on Disney+. 
Just a handful of episodes into its eight-episode run, the first live-action Star Wars series The Mandalorian established itself as a must-see hit. The show has endeared audiences to Game of Thrones alum Pedro Pascal — who portrays the titular gun-slinging bounty hunter operating on the outer reaches of the galaxy, shuttling from one job to the next like an old school cowboy – even more than they already were, made an overnight sensation of a certain big-eared little green guy unofficially named Baby Yoda, and took viewers to a special time in the Star Wars universe: between the fall of the Empire and rise of the First Order. 
On the fourth chapter of The Mandalorian, entitled "Sanctuary," the series gave fans another reason to love the series when it introduced a character named Omera. Taking a page out of the Seven Samurai playbook, the episode finds the Mandalorian offering his and Cara Dune's (Gina Carano) services to a peaceful village plagued by unwanted visits from a local raiding party. Among the villagers is Omera, a woman with an uncertain past (though it's clear said past required her to know how to use a blaster) who forms an immediate and intense connection with Mando. 
We're betting you did a bit of a double take when Omera first turned up, as it's likely you've seen the actress who plays her, Julia Jones, on screen before. Here's why Omera from The Mandalorian looks so familiar.
Julia Jones went full grindhouse in Hell Ride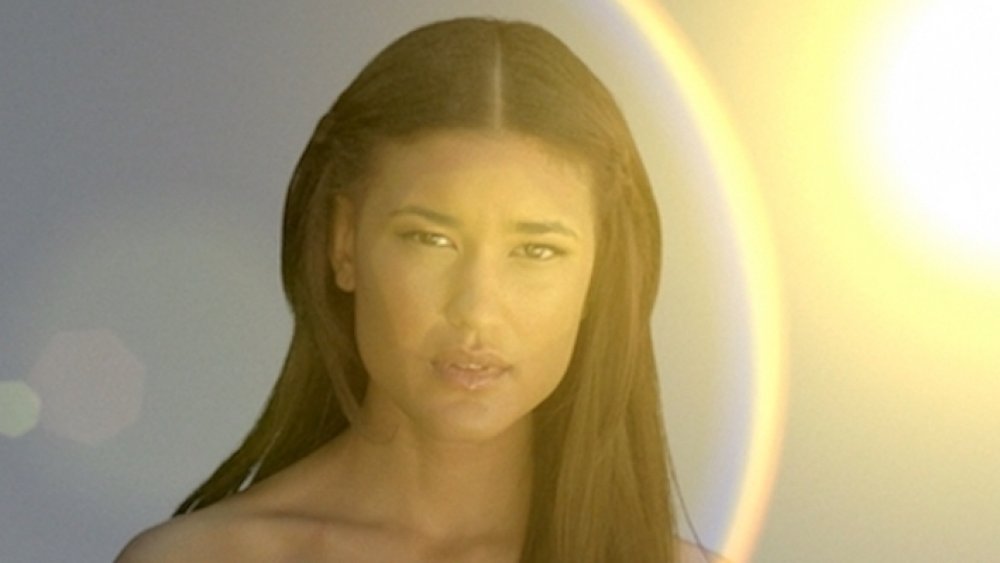 Though it's one of the actress' lesser-known projects, the Larry Bishop-directed, Western-tinged biker opus Hell Ride is a bold entry in Julia Jones' oeuvre. Released in 2008 and produced by none other than Quentin Tarantino, Hell Ride follows Bishop (who also wrote and directed the film) and Michael Madsen as heads of the Victors biker gang, and finds them entrenched in a bloody showdown with David Carradine's own Six-Six-Six's gang. Envisioned as the greatest biker movie ever made by Tarantino and Bishop, Hell Ride doesn't quite live up to those lofty ambitions, but it's every bit as violent, macho, and subversively silly as its setup would have you believe.
Hell Ride's B-movie absurdities make for a little slice of grindhouse heaven for cinema lovers who feast on such milieus. If you're among them, you're certain to recognize Jones for her turn as Cherokee Kisum, the doomed paramour of Bishop's Pistolero. While Jones doesn't play a major role in the film — her character gets offed early in Hell Ride's gritty action — she makes the most of the moment in what was just her third feature film, ensuring that Cherokee Kisum's spirit casts a long shadow of the film's narrative.
Julia Jones ran with the pack in the Twilight Saga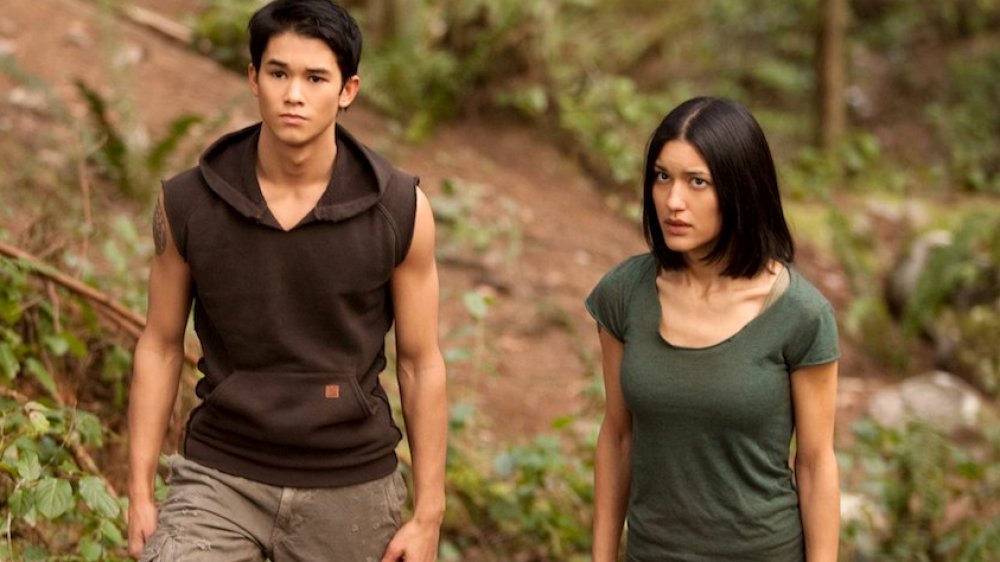 Summit Entertainment
Hell Ride may not have boosted Julia Jones' profile to household name status during the early days of her career, but it did get her enough notice to land a role in a tentpole franchise featuring a certain sparkly-skinned vampire played by Robert Pattinson. 2010's The Twilight Saga: Eclipse qualified as Jones' first big mainstream break, with fans 'round the world taking a liking to her character Leah Clearwater. 
As a refresher, Eclipse was the first Twilight film to really spend some time with the vampire-hating, shape-shifting wolf-folk that Bella's (Kristen Stewart) bestie-slash-would-be beau Jacob (Taylor Lautner) ran around with through much of the series. Among those werewolves are Leah and Seth Clearwater (who eventually break from ranks with Jacob to form the Black Pack when the other wolf-people decide they need to kill off Bella. Jones' Leah is extremely powerful, and was the only woman among the wolf-people to ever take the form of the animal. As such, she was immediately named Beta to Jacob's Alpha within the pack. 
Though there were a lot of overarching narratives and tons of intricate lore going on in the film, all you really need to know about Eclipse is that Julia Jones was in it — and that she was really good in what amounted to a relatively thankless role that she continued to play over the course of the final two, increasingly ridiculous Twilight flicks, Breaking Dawn – Part 1 and Part 2. 
Julia Jones broke our hearts in Wind River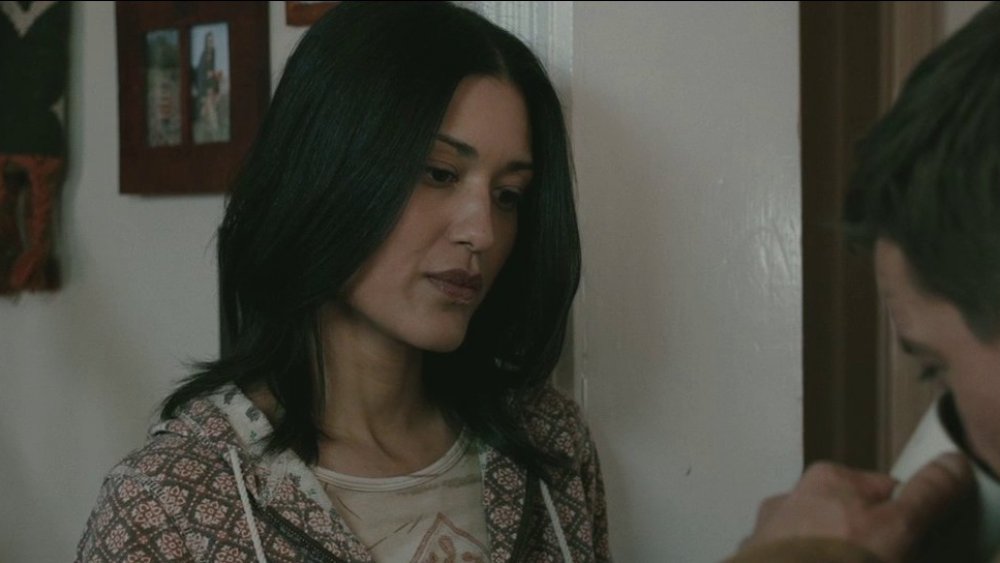 Luckily, the rather complicated reputation of the Twilight movies didn't prevent Julia Jones from moving on to better (if not always bigger) things. In fact, one of Jones' most memorable supporting turns came in the decidedly mid-budget 2017 thriller Wind River. Written and directed by Taylor Sheridan (Paramount Network's Yellowstone), Wind River unfolds in the icy vistas of Montana, and sees a troubled tracker named Cory Lambert (Jeremy Renner) attempting to navigate local and tribal laws while untangling a web of mysteries surrounding the death of his friend's daughter on a local reservation.
We come to find out that the case is of particular interest to Cory because his own daughter had been killed in a troubling case years earlier. In hopes of providing some answers (and some justice) for his old friend, Cory tackles the case head-on — and stirs up some still-raging emotions within himself on the way. Those emotions are never closer to the surface as they are when Cory visits the mother of his deceased child (and now ex-wife) Wilma, who is memorably played with raw-nerve energy by — you guessed it — Julia Jones. 
Though her turn as Wilma in Wind River was short, Jones still brought some serious fire to the mix. She rendered a fully-formed character from the abstract fragments of Wilma, and the character is every bit as wounded and haunted by the past as Renner's out-for-justice tracker Cory. As far as supporting turns go, Jones' work in Wind River isn't quite of the legit scene-stealing nature, but it's about as close as one can get.
Julia Jones inspired not-so-artificial passion on Westworld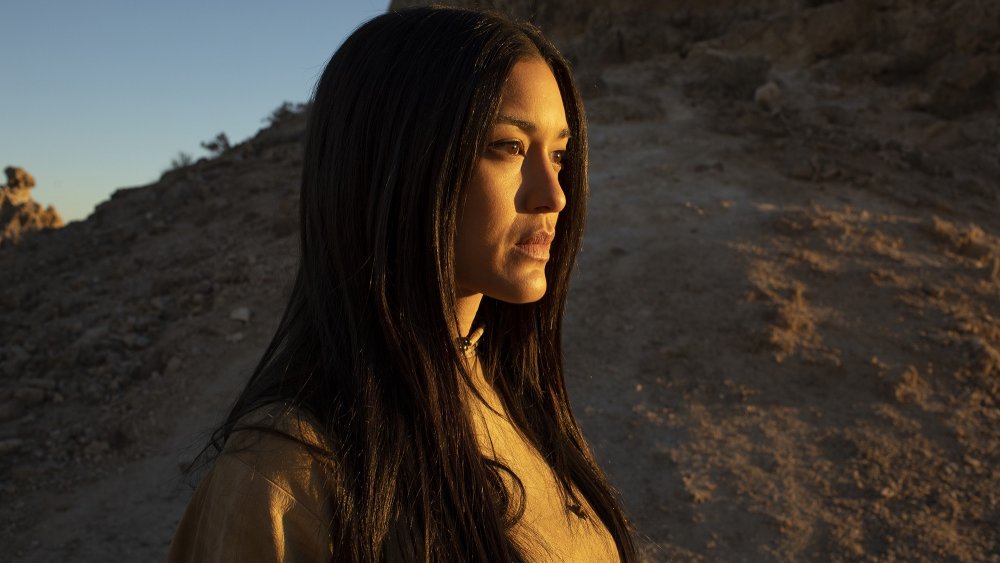 HBO
The Mandalorian is hardly Julia Jones' first foray into television. She got her first taste of the small-screen big time with a four-episode arc as Dr. Kaya Montoya on the final season of E.R. back in 2008. Jones also delivered solid work as Gabriella Langton on A&E's Western series Longmire (opposite Battlestar Galactica alum Katee Sackoff), and can currently be seen as Stephanie Littlecrow on the Billy Bob Thornton-starring legal drama Goliath. 
Perhaps Jones' most memorable TV appearance was as Kohana on the second season of HBO's daring, perplexing sci-fi Western Westworld. As infuriatingly abstruse as Westworld season 2 often was, when the series took a moment to slow done, it offered wildly inventive, vividly rendered, jaw-droppingly beautiful glimpses into some of the more intriguing corners of Westworld at large. 
One such corner belonged to the doomed park's indigenous people, the Ghost Nation. And one of those astounding moments came on the eight episode of Westworld season 2. Entitled "Kiksuya," the episode proved a bold narrative diversion from the relative chaos of the season, and followed Zahn McClarnon's Akecheta as he narrates the Ghost Nation's rise to consciousness. He does so through the telling of his own dramatic story — a harrowing one of a love lost and then tragically found. 
That story finds Akecheta falling passionately in love with fellow Ghost Nationer Kohana, only to have her ripped away from him after both characters are reprogrammed by the park's storytellers. As the story progresses with Akecheta and Kohana's lives crossing in increasingly devastating fashion, it does so with almost no dialogue from Kohana — a fact that makes Jones' silently emotive work in the role all the more remarkable, and that adds unimaginable weight to her reading of the episode's signature line, "Take my heart when you go."