James Gunn's Suicide Squad Looks Wild In New Promo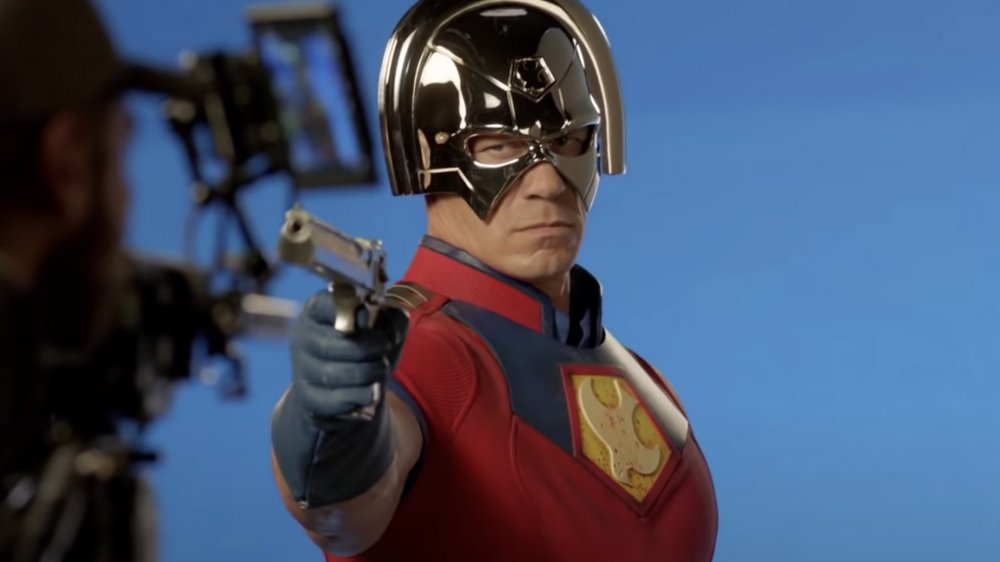 Warner Bros./DC Entertainment
The Suicide Squad is once again coming to wreak unholy havoc on the superhero realm. And if the first-look footage James Gunn and company unleashed during DC FanDome is any indication, the director may have outdone even himself in regards to just how far he's willing to push the envelope of insanity.
For many diehard DC fans, the panel for James Gunn's anti-superhero team up flick The Suicide Squad was the panel to watch during the online FanDome event. Gunn didn't disappoint, bringing virtually the entire cast of the film into the arena via a revelatory Zoom session, and capping things off with a look at behind-the-scenes footage — complete with cast interviews and a few finished scenes from the movie (which is still in post-production).
In the director's own words, The Suicide Squad is "going to be different from any superhero movie ever made." Gunn's producer on the film, Peter Safran, took matters one step further in hailing The Suicide Squad as "a gritty, 1970s war movie, combined with the brilliance of James Gunn's characters and comedy."
While Gunn's signature sense of humor isn't exactly on display in the new promo video, the director's penchant for wild, over-the-top action is — and it promises the sort of unabashedly goofy bombast only Gunn can deliver.
The Suice Squad looks like the most James Gunn movie Gunn has made yet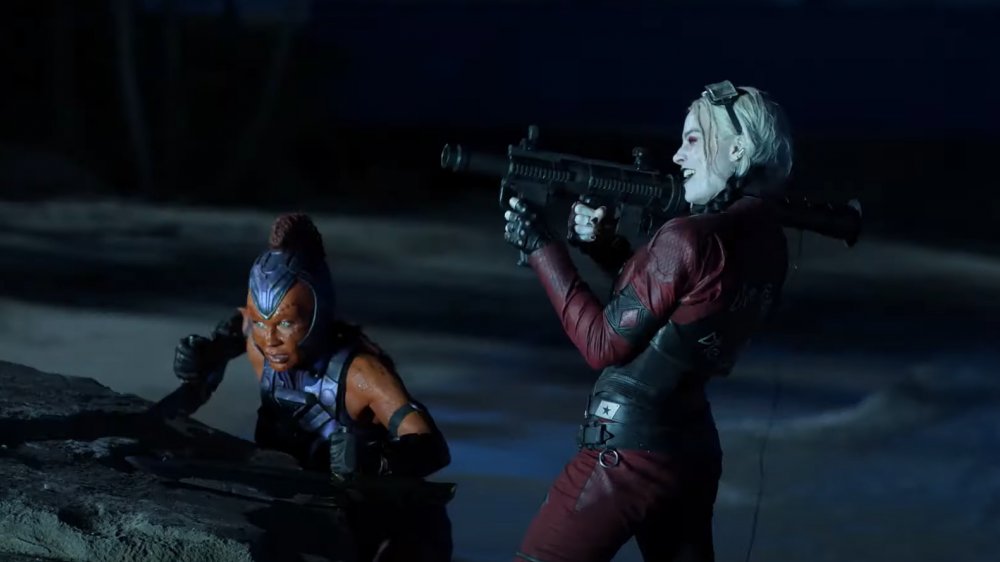 Warner Bros./DC Entertainment
Polka-Dot Man actor David Dastmalchian says in the promo clip that Gunn is a perfect fit for the film: "There's no one better in the world to direct The Suicide Squad than James Gunn." With even a cursory glance at the behind-the-scenes footage, it's easy to see why Warner Bros. and DC Entertainment executives were so eager to snatch Gunn up in the wake of his brief firing from Marvel's Guardians of the Galaxy Vol. 3. The director's flare for outlandish action was on display in the first two chapters of the Guardians of the Galaxy franchise, and if you have any familiarity with Suicide Squad writer John Ostrander's comics, you'll agree that Gunn's twisted sensibilities are particularly well-suited for them.
The Suicide Squad promo fronts a few returning baddies from 2016's much-maligned Suicide Squad, as well as a swathe of new characters from the DC Comics canon. It finds Gunn dropping them all into a literal war zone rife with big guns (Harley Quinn with a bazooka!), super-powered individuals (King Shark in the flesh and eating flesh, and Polka-Dot Man doing whatever Polka-Dot Man does!), and explosive set pieces. As Captain Boomerang actor Jai Courtney so eloquently shares, "Everyone's exploding. Genitals, heads, arms, [and] legs." In fact, most of the footage in the promo shows Gunn and his effects crew gleefully blowing stuff up. 
Elsewhere, there are a couple of intriguing looks at new players to The Suicide Squad team — with Gunn teasing a wild CGI version of Weasel, played by his brother Sean Gunn; Michael Rooker sporting a crazy blonde wig as Savant; and John Cena's first appearance as Peacemaker, described as a "douchey Captain America." 
All in all, it appears James Gunn set out to make the most James Gunn movie he could with The Suicide Squad. And it's looking like he's totally succeeded. 
James Gunn's squad will assemble for a Summer 2021 release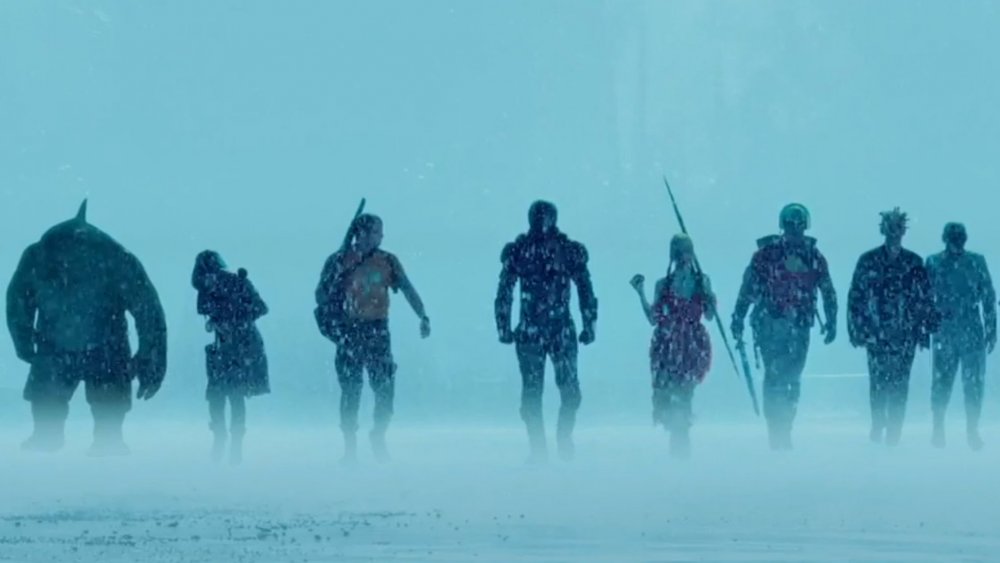 Warner Bros./DC Entertainment
Not everyone on the Suicide Squad roster appears in the promo footage, but luckily, we know almost all the facts about the cast. Gunn has assembled an absolutely mammoth cast for The Suicide Squad — so big that the word "squad" sort of sells short the size and force of the assemblage. (A better name would perhaps be The Suicide Syndicate, but that doesn't sound quite right.)
First, we have the actors reprising their roles from David Ayer's Suicide Squad: Margot Robbie as Harley Quinn, Joel Kinnaman as Rick Flag, Viola Davis as Amanda Waller, and Jai Courtney as Captain Boomerang (real name: George "Digger" Harkness). Then come the newbies: Cena as Peacemaker, Rooker as Savant, Sean Gunn as Weasel, Daniela Melchior as Ratcatcher 2, David Dastmalchian as Polka-Dot Man, Steve Agee as the voice of King Shark and in live-action as John Economos, Nathan Fillion as TDK, Jennifer Holland as Emilia Harcourt, Peter Capaldi as the Thinker, Flula Borg as Javelin, Alice Braga as Solsoria, Pete Davidson as Blackguard, Storm Reid as Tyla DuBois, Joaquín Cosío as Major General Mateo Suarez, Juan Diego Botto as Presidente General Silvio Luna, Tinashe Kajese as Flo Crawley, Mayling Ng as Mongal, and Idris Elba as Bloodsport. Elba was initially in talks to play Deadshot, the character Will Smith portrayed in 2016's Suicide Squad, since Smith dropped out of Gunn's movie (thankfully not for any unsavory reason). 
Finally, there are two stars whose Suicide Squad roles haven't yet been announced: Taika Waititi and Julio Ruiz. The Suicide Squad is set for release on August 6, 2021, so fans should get plenty more information about the movie between now and then.