James Gunn Finally Breaks Silence On His Guardians Vol. 3 Firing And Re-Hiring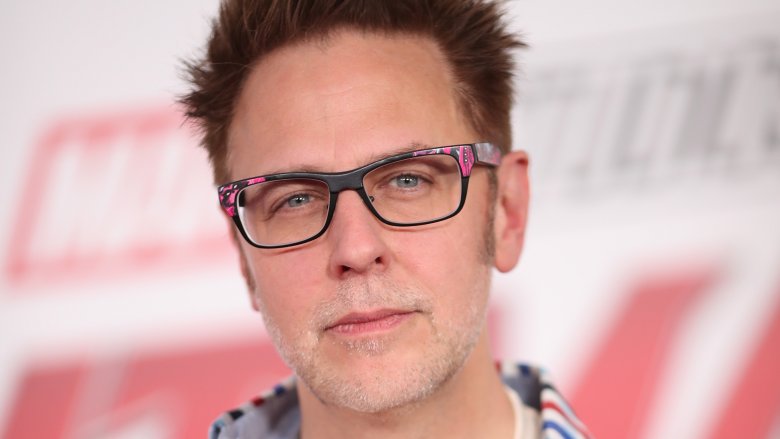 Christopher Polk/Getty Images
James Gunn is speaking out at long last — and he's got a lot to say.
The writer/director, who was famously fired from Guardians of the Galaxy Vol. 3 last year before being reinstated in March, opened up to Deadline about the dark days that followed his dismissal, how much the outpouring of support from friends and fans meant to him, the therapeutic nature of his work on Warner Brothers/DC's The Suicide Squad, and what he's learned throughout the whole ordeal.
A brief primer: Gunn was let go from Guardians Vol. 3, for which he'd already completed the script, in July 2018 in light of a series of nearly decade-old tweets which had been unearthed by right-wing media pundits. (Gunn was, and still is, a vocal critic of president Donald Trump and the Republican party.) The tweets, which made light of such incredibly touchy subjects as rape and pedophilia, were admittedly in extremely poor taste; Gunn took full responsibility for them, while apologizing profusely to those who had been hurt by his words and pointing out that he had grown a great deal as a person in the intervening years.
The public outcry over his dismissal was swift and fierce, and the entire cast of the Guardians films even penned a publicly-released letter of support urging Disney (the parent company of Marvel Studios) to reconsider the move. Disney chairman Alan Horn let it be known that his decision was final, even as the company made plans to move ahead with the film using Gunn's script. That decision, however, turned out to not be quite as final as Horn claimed. 
In March of this year, Horn abruptly reversed course. Although Gunn had already been landed by Warner Brothers to write and direct The Suicide Squad, he was reinstated as the director of Guardians Vol. 3, with Disney even pushing the film's planned release date back to allow Gunn to finish his work on the rival studio's film. It's been an extremely emotional journey for the director, and he revealed to Deadline that even though his sacking ripped his heart out, he never faulted Horn for making the decision to let him go.
"I really believe he is a good man and I think he hired me back because he thought that was the right thing to do... I've always liked and admired him. I was touched by his compassion," Gunn said. "You hear in Hollywood that everybody's cutthroat. That's true of a section of this industry, but there's also a lot of really good people. I'm always attracted to finding that goodness in places we don't expect, often in the characters in my movies. I got a little bit teary-eyed in his office."
Gunn likened the experience to a painful divorce, a situation with which he is familiar. "I would hate to look back on the six years that my wife and I were together and think, 'Oh, what a waste of time.' Instead, I think it was a time when I really grew a lot and we were really good to each other. There were some problems, and we just weren't supposed to be married, but it was well worth living that six years with my ex," he said. "I wanted to feel that way about Disney. I didn't want to look back and feel bitter, upset or angry. Of course all sorts of emotions are attached to it. But I just wanted to be comfortable saying goodbye and splitting up, and that's where my head was at."
As he has from the very beginning of the whole brouhaha, Gunn took complete responsibility for the ill-chosen words which led to his dismissal ("Disney totally had the right to fire me. This wasn't a free speech issue," he says), while admitting that having his beloved Guardians franchise taken from him was one of the most "intense" experiences of his life. "It happened, and suddenly it seemed like everything was gone," he said. "I just knew, in a moment that happened incredibly quickly, I had been fired. It felt as if my career was over."
At the same time, however, Gunn says that the situation quickly illustrated for him that he had, in effect, been looking for love in all the wrong places. Rather than seeking validation solely from the audiences who appreciate his work, the director says that he found out what actual love was from the reactions of those who supported him in the wake of his firing. 
"My apparatus for being loved was my work, and being famous. I had never really experienced before that feeling of being loved so deeply," he said. "It has been a problem for me in relationships, in friendships; I can experience loving another person, but I have a very difficult time experiencing being loved. In that moment, the apparatus which was my only hope for feeling love was torn away from me and I had absolutely nothing."
"And then," he continued, "came this outpouring of real love. From my girlfriend Jen; my producer and my agents; Chris Pratt calling me and freaking out; Zoe Saldana and Karen Gillan, all calling and crying. Sylvester Stallone FaceTime-ing me. And, of course, Dave Bautista, who came out so strong. That amount of love that I felt from my friends, my family, and the people in the community was absolutely overwhelming. In order for me to have fully felt that love for the first time, the thing that needed to happen was the apparatus by which I was feeling falsely loved had to be completely taken away."
Gunn said that he realized that he had inflicted the damage on himself, and that lashing out against those who had dug up his ill-advised tweets or the man who fired him would have been pointless. But there to keep him from going into an emotional tailspin was Warner Brothers, who promptly handed him what he says was one of the most purely enjoyable gigs of his life. "The Suicide Squad, it just instantly started flowing," he said. "I don't think I've had as much fun writing a script since maybe [Zack Snyder's 2004 remake] Dawn of the Dead. That's what this whole movie has been like."
Still, his unexpected return to the Marvel fold gave him a chance to accomplish something he'd had an eye toward achieving from the very first Guardians film, which was to finish a complete arc for a character very near and dear to his heart. "When you asked me what was saddest for me when I thought it was gone — and anybody at Marvel can tell you — it's this very strange and attached relationship to Rocket," he said. "Rocket is me, he really is, even if that sounds narcissistic. Groot is like my dog. I love Groot in a completely different way. I relate to Rocket and I feel compassion for Rocket, but I also feel like his story has not been completed. He has an arc that started in the first movie, continued into the second and goes through Infinity War and Endgame, and then I was set to really finish that arc in Guardians 3. That was a big loss to me — not being able to finish that story — though I was comforted by the fact that they were still planning to use my script."
Gunn summed up his journey by waxing philosophical on a concept which all of us can relate to: our capacity to learn from past slip-ups, and use those experiences to grow as human beings. "There's a lot of really positive stuff that's coming out of all of this, and one of those positives is I was able to learn," he said. "People have to be able to learn from mistakes. If we take away the possibility for someone to learn and become a better person, I'm not sure what we are left with. I've learned all kinds of things about myself through this process."
If there's one thing that we, his audience, have learned about Gunn in the last year or so, it's that he is one of the most honest and genuine people in Hollywood. Publicly, he handled the entire situation with unfailing grace, which was undoubtedly a major factor in Horn's decision to bring him back. We've all said and done things we're not proud of, and in his example we can see that — no matter how painful the process of reconciling our past and present may be — it's possible to use hardship to grow as a person, and that through that growth, we may still come out on top.
The Suicide Squad is slated for release on August 6, 2021; Guardians of the Galaxy Vol. 3 has no official release date, but is expected to hit screens no later than 2023.