The Suicide Squad: Viola Davis To Return As Amanda Waller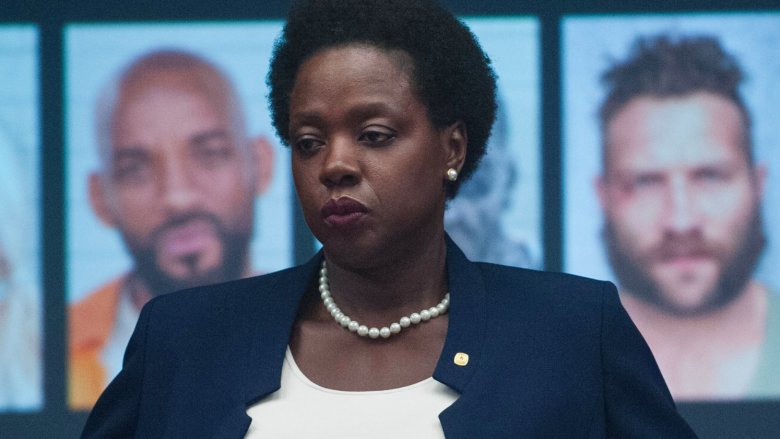 Who's coming back for The Suicide Squad? Amanda — duh!
TheWrap reported Friday that Viola Davis is set to reprise her role as Amanda Waller in James Gunn's Suicide Squad reboot. 
For those unfamiliar with the character of Amanda Waller, she is a "former congressional aide and government agent who is often placed in charge of the Suicide Squad, a semi-secret government-run group of former super villains working in return for amnesty." In director David Ayer's (critically lambasted) Suicide Squad from 2016, Davis' Amanda is an intelligence officer who persuades high-ranking officials to grant her clearance to assemble a team of deadly criminals she calls Task Force X to aid the U.S. government in carrying out high-risk missions. She selects dangerous individuals incarcerated at the Belle Reve Special Security Barracks — these being Floyd Lawton/Deadshot (Will Smith), Harleen Quinzel/Harley Quinn (Margot Robbie), Chato Santana/El Diablo (Jay Hernandez), George "Digger" Harkness/Captain Boomerang (Jai Courtney), Waylon Jones/Killer Croc (Adewale Akinnuoye-Agbaje), and Christopher Weiss/Slipknot (Adam Beach) – hands them off to the leader of the pack, Colonel Rick Flag (Joel Kinnaman). Eventually, Dr. June Moone/Enchantress (Cara Delevingne), the Joker (Jared Leto), and Tatsu Yamashiro/Katana (Karen Fukuhara) join in on the group's efforts. 
Bearing the official title The Suicide Squad, the in-development movie isn't your standard sequel, as it had originally been billed as, but rather is a completely fresh take on the IP. Sources with knowledge of the production previously indicated that Gunn wants to use The Suicide Squad, though technically a follow-up to Suicide Squad in that it comes after that film and pulls from the same source material, as a way to "take the franchise in a new direction," and that he plans to bring a "mostly all-new cast of characters and actors" into the mix. 
Longtime DC Extended Universe producer Peter Safran corroborated this notion when chatting with Jo Blo, telling the outlet that the film is a "total reboot." He shared, "First of all, we don't call it Suicide Squad 2 'cause it's a total reboot, so it's The Suicide Squad and I think people should be extremely excited about it. It's everything you would hope from a James Gunn script and I think that says a lot and that promises a lot and I know that we will deliver a lot." 
At one point in time, reports even indicated that The Suicide Squad would do without Harley Quinn – and that had everyone worried about what Gunn and co. had in mind for the movie. 
Given that The Suicide Squad will apparently wash out most of the current cast roster and fill it back up with new names, it's both relieving and exciting to hear that a familiar face in Davis' Amanda Waller is returning. Also coming back for The Suicide Squad is Margot Robbie (despite past reports), stepping back into her iconic role as Harley Quinn, which she'll again reprise in 2020's Birds of Prey (and the Fantabulous Emancipation of One Harley Quinn). Jai Courtney confirmed his return as Captain Boomerang as well, telling Business Insider in late March of this year, "We're getting ready to shoot in a few months' time. There's not much else I can reveal about it but, yeah, you'll be seeing Boomerang back for sure."
Another character who hasn't been scrubbed out of the Suicide Squad ranks is Deadshot, but the actor who portrays him in The Suicide Squad will apparently be different than the one who brought him to life in Suicide Squad. Variety announced in February that Will Smith had dropped out of the forthcoming film due to scheduling conflicts; shortly thereafter, The Hollywood Reporter broke the news that Idris Elba was in talks to replace Smith as Deadshot.
It remains to be seen who else will be cast in The Suicide Squad, as well as which characters they'll portray. Throughout the years and issues of DC Comics, the Suicide Squad has seen many members come and go — like Black Manta, Deathstroke, Reverse-Flash, Cheetah, Mad Dog, Killer Frost, General Zod, Captain Cold, Lord Satanis, Parasite, King Shark, Black Spider, Savant, Bronze Tiger, Nightshade, Multiplex, Chemo, Count Vertigo, King Faraday, and many, many more. Gunn has a ton of comic book lore to reference when writing The Suicide Squad, so it's more likely than not that the super-villains he picks for the film will be killer. Let's just hope Davis' Amanda can keep them under control. 
The Suicide Squad is scheduled for release on August 6, 2021.