The Suicide Squad: Polka-Dot Man's Backstory Explained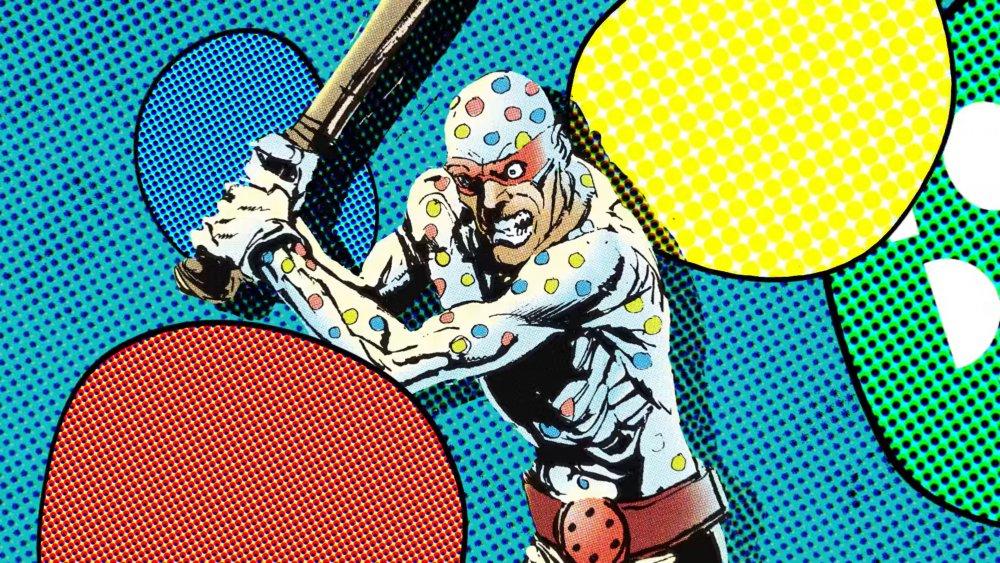 Warner Bros.
Emoticon Man. Condiment King. Bootface. It's safe to say that Batman has a very unusual rogue's gallery — so much so that some might even call it silly. Batman goes up against homicidal clowns, a dude who chooses your fate based on the flip of a coin, and a real Dapper Dan man whose whole thing is riddles and sensible question mark wear. Alright, alright, Batman's rogue's gallery is maybe a little silly after all. And people who write Batman know it, too. Take, for example, The LEGO Batman Movie. The animated flick features every goofball D-lister from Crazy Quilt to Captain Boomerang ... who was also in the 2016 Suicide Squad movie from back in 2016, and will appear in James Gunn's The Suicide Squad, due out in 2021. 
But he isn't the only Batman foe from the DC Comics who's set to star in The Suicide Squad. The upcoming sequel-slash-reboot movie will also feature Polka-Dot Man — who popped up in a non-vocal role in The LEGO Batman Movie as well — played by David Dastmalchian.
On the surface, Polka-Dot Man is clearly two things: an unhinged guy with a vendetta against the Dark Knight, and a villain who's speckle-sprayed costume makes him look pretty darn goofy. There's more to Polka-Dot Man to meets the eye, though. Here's a peek into Polka-Dot Man's backstory.
Why Abner Krill became Polka-Dot Man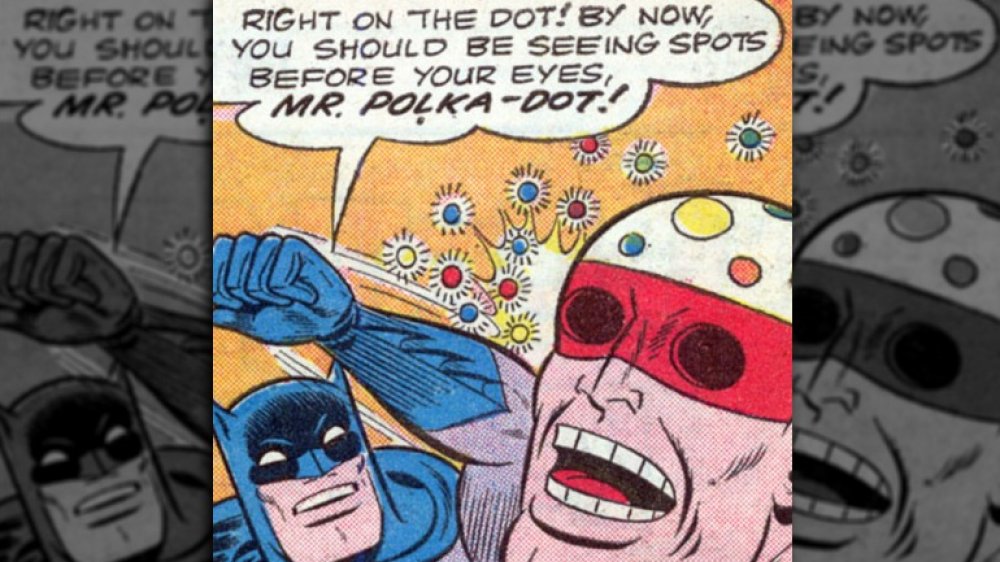 DC Comics
Abner Krill — the real name of Polka-Dot Man — first appeared in the pages of Detective Comics #300 all the way back in February 1962. In those days, he was originally called "Mr. Polka Dot" before, one assumes, he became one of those dudes who says stuff like, "No, no. Mr. Polka Dot is my father. Just call me Polka Dot, man."
The original idea behind Polka-Dot Man, as envisioned by writers Henry Boltinoff and Jack Miller, was that he represented one of many two-bit crooks who wanted to attract Batman's attention and decided the best way to get it done was by putting on a costume more ridiculous than Batman's and committing crimes. 
It's unknown whether Krill created or stole his polka-dot suit, but we do know he used it to both go on a crime wave and to kidnap Robin, the boy wonder. Worse still, he made Robin write his own ransom note — forced secretarial work! Has Polka-Dot Man no shame? Someone call the union on this guy. 
We'll see Polka-Dot Man's signature suit on screen soon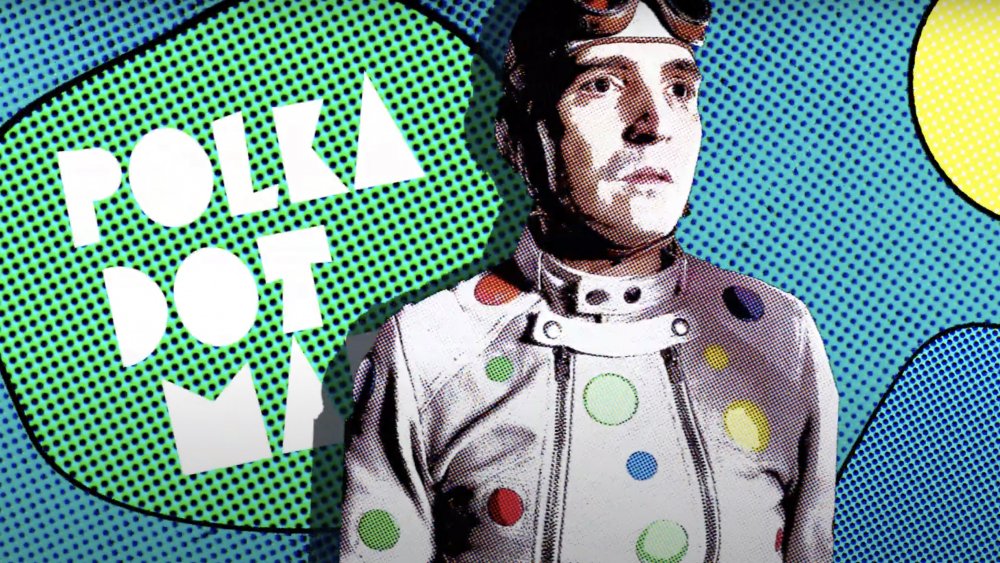 Warner Bros.
Surprisingly, as silly as it looks, Krill's polka-dot costume granted him a lot of abilities. Different dots have different powers: red dots are flying buzz-saws, white polka dots are saucers for him to fly on, and black dots allow him to teleport. Eventually, Batman defeated Abner and sent him to prison — guess there was no "get a good lawyer" dot. Bummer.
Interestingly, the actor set to play Polka-Dot Man in The Suicide Squad previously played one of Joker's thugs in The Dark Knight. That means Dastmalchian has embodied a low-level Bat baddie before — and though The Suicide Squad will most likely depict Polka-Dot Man in a moderately different manner than he's shown in the DC Comics (rightfully focusing more on his involvement with the titular squad than with the Big Ol' Bat), it's still an interesting meta-textual tidbit. In fact, for all we know, in the context of the DCEU, somehow that thug is Abner Krill.
We'll find out more when Polka-Dot Man appears in The Suicide Squad in theaters on August 6, 2021.