Cameos You Completely Missed In The Reno 911! Revival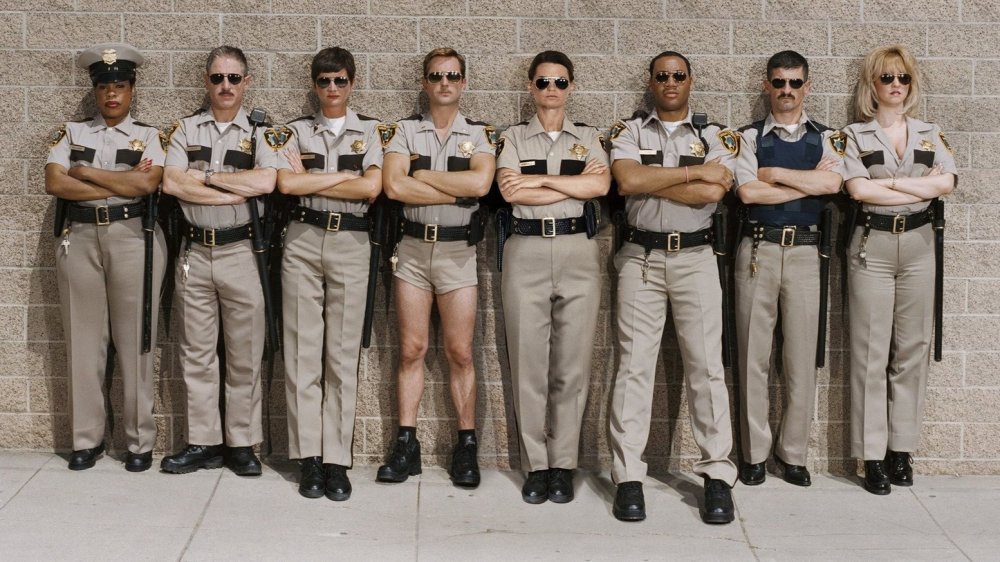 Comedy Central
This content was paid for by Quibi and created by Looper.
Reno 911! is back and killing it with its 12-episode seventh season that dropped on Quibi on May 4. Everyone from the show's initial run is back for its revival, proving they still have what it takes to be Reno's least capable police force. They did not come alone, however. In addition to the regulars, this season is chock-full of special guest appearances that you might have missed the first time through.
The cast is arguably the most essential element of Reno 911!'s success. Since the beginning, the show has maintained a loosely scripted format, with lots of space for witty improvisation. There was some curiosity as to whether or not the original troupe could still hold their own since the series ended over a decade ago. Fortunately, Thomas Lennon, Robert Ben Garant, Niecy Nash, and the whole gang haven't missed a step. It's as if they never left the airwaves.
While the recurring group of Reno's law enforcement officers is the main draw for longtime viewers, it isn't the sole reason to check out season 7. The minds behind the show and the folks at Quibi pulled some strings and included a handful of star-powered cameos. Here are some of the best.
Patton Oswalt takes on the right-wing conspiracy theorist Max Logan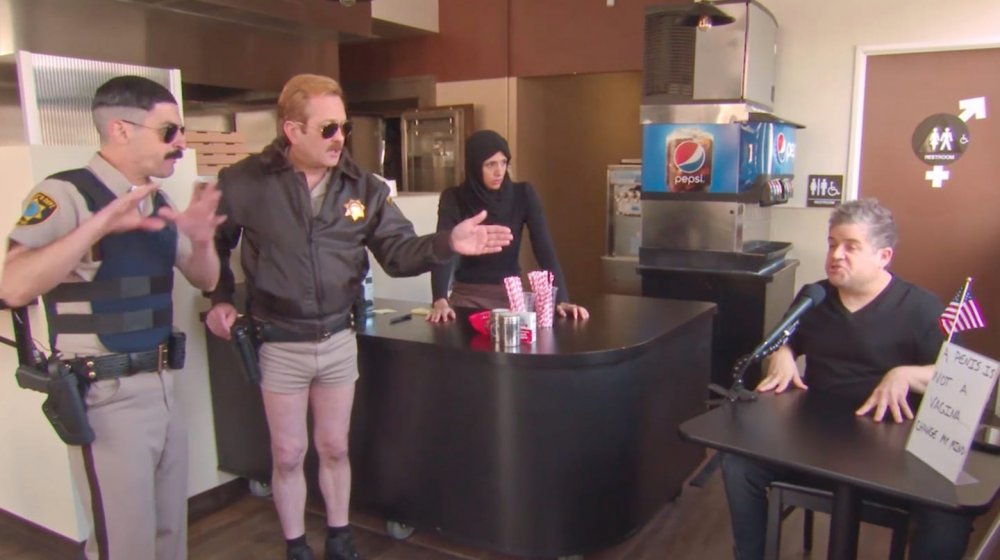 Quibi
On episode 6 of season 7, entitled "Big Mike's Rocket Rascal", the RSD is called in to investigate reports of a disturbance at a local pizzeria. Right in front of the gender-neutral bathroom sits conservative radio personality Max Logan, host of White Genocide Radio, who is explaining to his listeners why the restroom is a danger to society. His rant is quickly side-tracked when Deputy Wiegel (Kerri Kenney-Silver) explains that there are people outside attempting to change "Andrew Jackson Boulevard" to "Michelle Obama Way," a more pressing concern for Logan.
Comedian Patton Oswalt (Big Fan) plays the extreme right-wing commentator, parodying the likes of Alex Jones and Rush Limbaugh. He's best known for his standup career, which spans over 30 years and is still going strong to this day. Oswalt is also famous for playing Spence Olchin on King of Queens and for voicing Remy in Disney-Pixar's Ratatouille. He's no stranger to the cameo game, either, having appeared on a wide range of TV projects from Marvel's Agents of S.H.I.E.L.D. to Parks and Recreation.
Tim Allen pretends to be the United States Space Force's Commander Lance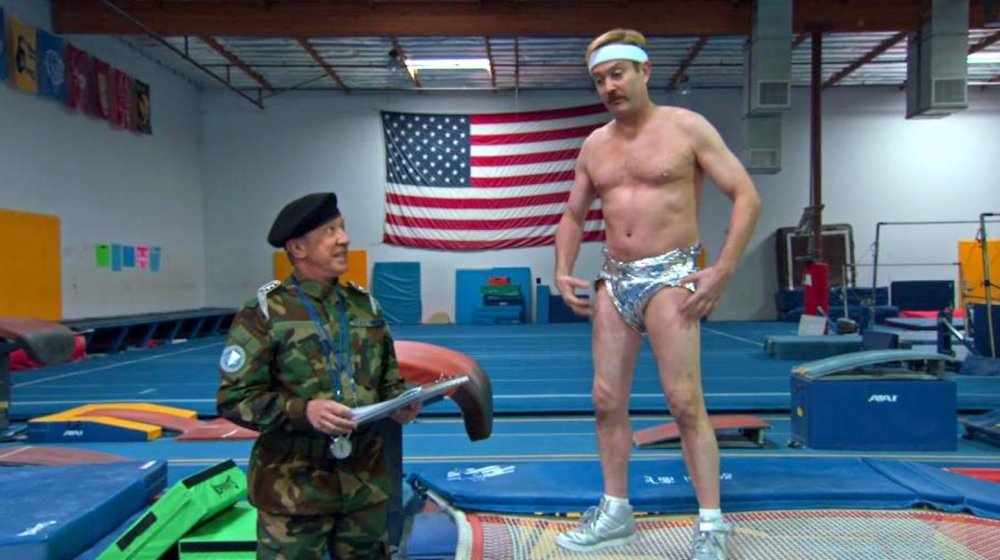 Quibi
Episode 7 of Reno 911!'s seventh season is simply entitled "Space Force," and for good reason. The bulk of the episode deals with Lieutenant Dangle's (Thomas Lennon) training to become a member of the United States Space Force. His fellow officers play along and make him believe he's actually on his way to joining the newest branch of the military. They go as far as hiring a traveling ventriloquist to portray Space Force Commander Lance, who oversees Dangle's "trials."
Galaxy Quest's own Tim Allen, a TV legend, portrays the fake military man. Allen's breakout role was that of Tim "The Tool Man" Taylor on the sitcom Home Improvement, which he used as a springboard into the world of feature film. He starred in The Santa Clause franchise as the titular character in addition to providing the voice of Buzz Lightyear in the Toy Story series. In recent years, he's risen back to fame thanks to his latest TV project, Last Man Standing.
Ron Perlman ends up behind bars once again on Reno 911!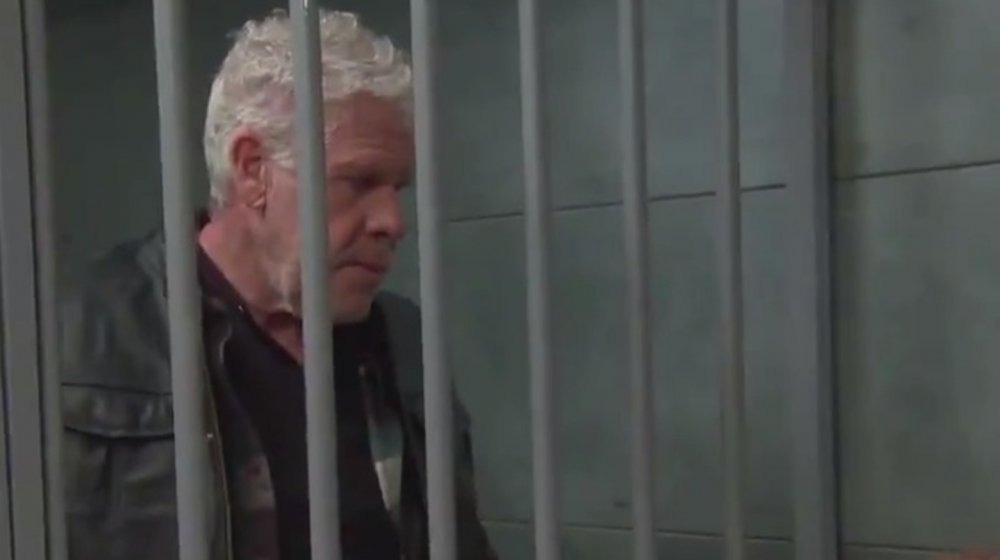 Quibi
Reno 911!'s comeback season kicked its guest appearances into high gear for episode 10, "The Return of Diablo." On this episode, Deputy Johnson (Wendi McLendon-Covey) is responsible for questioning the department's titular DUI detainee. During their discussion, Diablo starts to sweet-talk her, which she falls for almost immediately. The two get onto the subject of parents, which ends with Johnson revealing that the man is her father, as evident by the "F*** Newt Gingrich" tattoo on his arm.
Ron Perlman is responsible for bringing the silver-tongued Diablo to life. He's a journeyman of both television and film, cultivating an impressive body of work across media. His resumé includes Guillermo Del Toro's original Hellboy series, in which he plays the lead demon with the sawed-off horns, and a notable small-screen performance in the role of Clay Morrow on Sons of Anarchy, the Claudius character from this contemporary Hamlet.
Danny Trejo plays the hospital assassin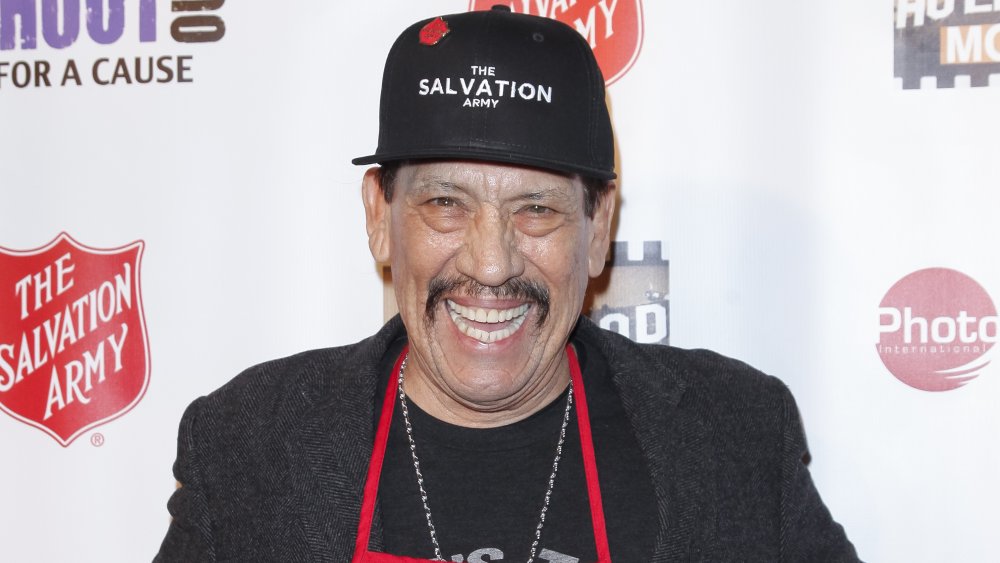 Tibrina Hobson/Getty Images
The second to last episode of the season ends with a shocking turn of events. At the area hospital, Deputy Wiegel and Deputy Williams (Niecy Nash) wait on a gangster named Lil' Primo Vasquez, who's in a coma. Once he wakes up, they are to take his statement and bring him to jail. While they wait for Vasquez to stir, a whole slew of gifts arrive for him, which the sheriffs choose to indulge in themselves. This leaves them distracted enough to ignore the fake nurse delivering the gifts, who fires off a few shots into Vasquez, killing him. Oops. 
The fake nurse-hitman was played by none other than Danny Trejo, a famous actor tailor-made for this cameo. Trejo has built a career playing gun-toting tough guys who shed no tears over the people they mutilate. His most iconic character is Isador "Machete" Cortez, a killer who debuted in 2001's Spy Kids. Machete may have originated in a kids' movie, but his solo films are not for the same demographic.