The Real Reason Reno 911! Was Finally Revived After 11 Years
This content was paid for by Quibi and created by Looper.
After a lengthy tenure on Comedy Central, Reno 911! has risen from the dead for an all-new season. This past May, the cop comedy made a splash on the new Quibi streaming service with 12 side-splitting new episodes for fans new and old. This comeback is a long time gestating, the result of perfect conditions finally coming together to make fans' dreams a reality.
Reno 911! became a cult favorite during its original 88-episode run, which began in 2003. It became so popular that in 2007 it received a feature film, entitled Reno 911!: Miami. Despite the movie's moderate success at the box office, and the show's devoted following, Reno 911! was canceled in 2009. Thankfully for the cast, they all went on to relatively successful careers on TV and the big screen — but they never forgot their roots.
It took 11 long years, but the whole gang is back for another season of Reno 911!. There are a handful of reasons as to why it took over a decade to get the ball rolling on more crime-busting shenanigans. As it turned out, the cast and crew had some very specific reasons for what finally motivated Reno 911!'s long-awaited return.
Reno 911! is primed for a comeback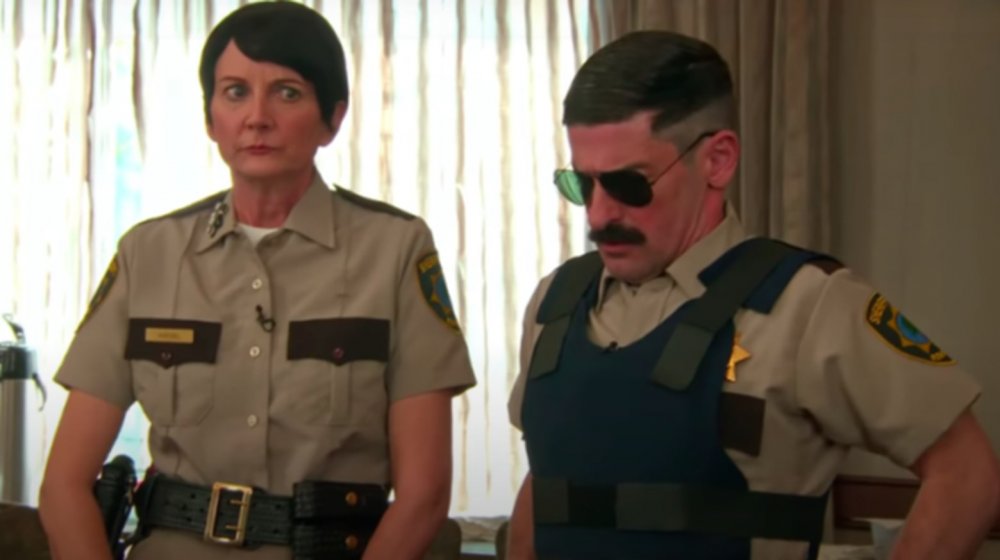 Quibi
When discussing Reno 911!'s Quibi revival with CBR, Robert Ben Garant, who plays Deputy Junior, recalled Comedy Central's previous attempts to resurrect the series. The cast collectively felt there was no need for it at the time, given how much their careers had evolved since the series' original run. As a result, the project sat idle until Doug Herzog of Quibi approached the team about bringing the show to the new streamer. The offer came with a ton of creative control, a generous budget, and a brand new format — specifically, Quibi's 10-minute "quick bite" episodes. With that, they dusted off their Reno Sheriff's Department uniforms, and got to work.
Lieutenant Dangle himself, Thomas Lennon, elaborated on how Quibi's unique format helped them seal their decision to resurrect the show. "The one thing we knew when we heard about the Quibi format is it's the ideal Reno 911! format," he said, likening the show to "the Lays potato chips of programming: Just have a couple or you'll feel sick later. We're a sketch show." Keeping episodes between eight and ten minutes really is ideal for a comedy like Reno 911!. The jokes land, and there's no need for filler. It's laugh-out-loud funny and much easier to binge.
Reno 911!'s content is changing with the times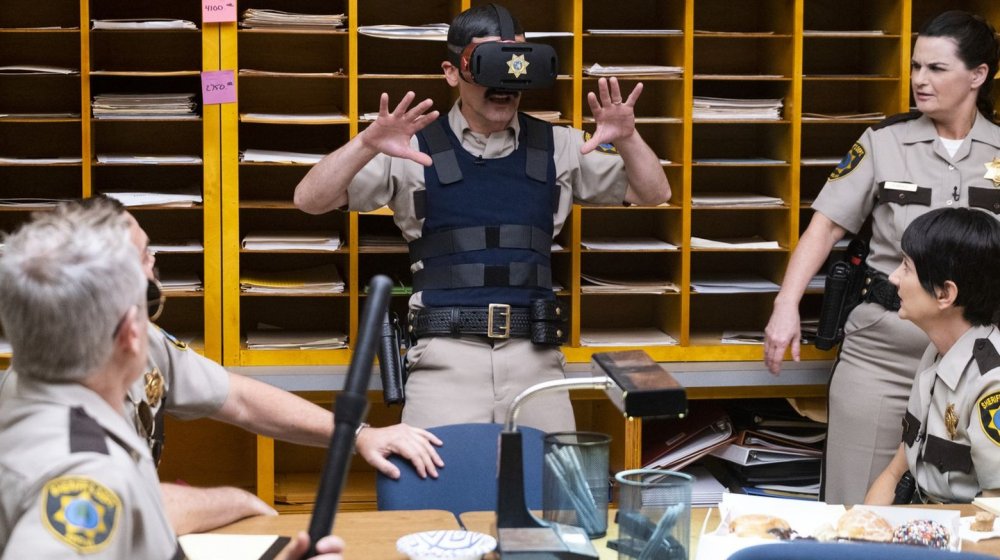 Quibi
Law enforcement as a whole is a touchy subject in the United States right now, which is something season 7 of Reno 911! had to address. Given the light-hearted and goofy nature of the program, the cast found a unique way to cover very current themes without becoming too didactic. They wanted to make the series funny and entertaining, but avoid coming across as tone deaf. Lennon explained, "I think that we weirdly do address a lot of things that are going on, but sometimes you may not even notice because they're generally upbeat."
He goes on to say that, "We knew we couldn't just ignore that, but we also knew we couldn't be preachy or grim. And so we really went through material about crazy white people calling 911 because they saw a black guy." The less than capable Reno Sheriff's Department and the comedic tone of their misadventures make Reno 911! easier to digest for the viewer. The show is a parody of programs like the recently canceled Cops, for example. It is a fine line to walk, but it sounds like Reno 911! is trying to strike a balance between absurdity and social commentary in its 2020 revival.
Reno 911! could return to the big screen as well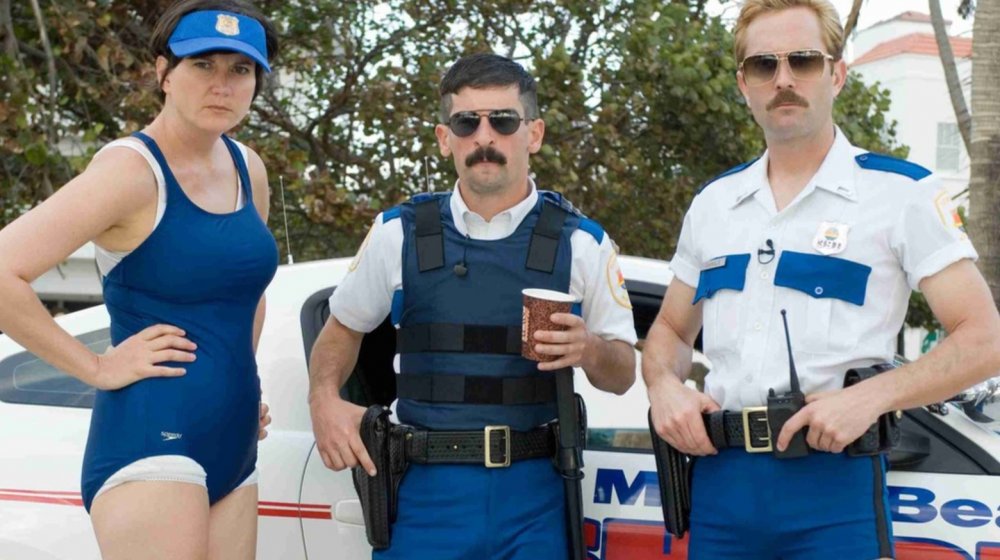 20th Century Studios
If a movie is even reasonably profitable, talks of a sequel tend to follow. Such is the case with Reno 911!: Miami — which is over 13 years old as of this writing. With the series' newfound success on Quibi, another film might not be too far off. Discussions about the possibility have taken place in the years since the original, but nothing has come to fruition. Lennon made sure to provide an update on the project — potentially entitled Reno S.O.S.
"So we wrote the outline Reno S.O.S., which is basically Lord of the Flies. Basically, we're transferring a prisoner somewhere, and we end up on an island; it was exactly like a Lord of the Flies kind of scenario." While that is an interesting prospect, Lennon also elaborated on why it never saw the light of day. He explains that "the Reno movie did well but not well enough to merit a sequel," which is a shame given the chemistry shared between the cast members. For now, it seems as though the only place to watch any new Reno 911! content is Quibi. Should this season gain enough traction, however, expect another film in short order.
Reno 911!'s triumphant return is currently available exclusively on Quibi.