Everything You Missed On The Parks And Recreation Reunion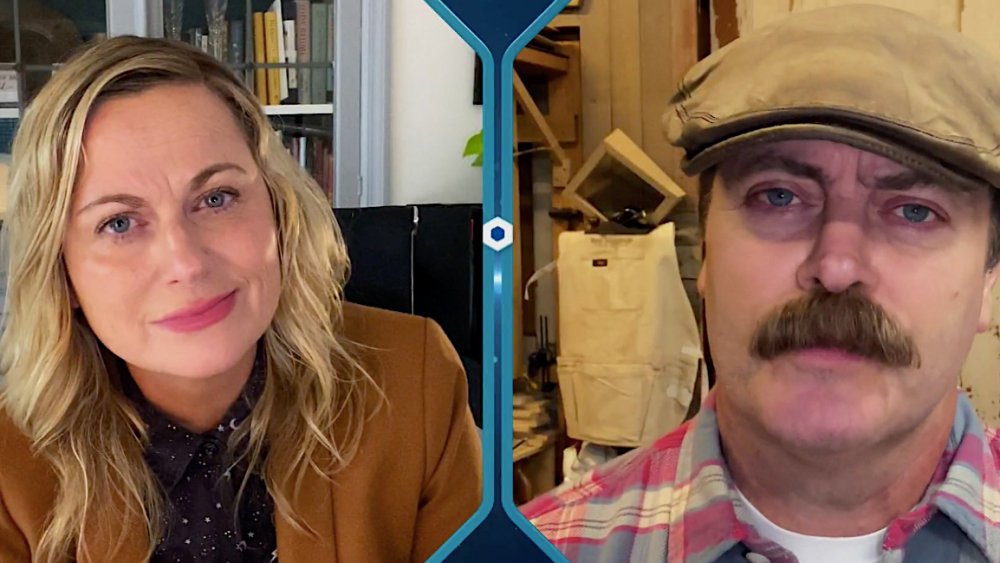 NBC
Ever since Parks and Recreation closed out its joyful, hilarious seven-season run in 2015, fans have clamored for a reunion or reboot. In April 2020, they finally got their wish. 
On Thursday, April 30, in the midst of the COVID-19 pandemic, showrunner Michael Schur, several long-running Parks and Rec writers, and the show's original cast assembled to tell a brand new story, raise money for a good cause, and lift everyone's spirits as best as possible through a digital Parks and Recreation reunion.
With Schur back at the helm — on the heels of the season 7 finale of his workplace comedy Brooklyn Nine-Nine and the stunning conclusion of his ambitious afterlife comedy The Good Place in January 2020 — and everyone's favorite characters back on board, this revival was sure to be a success. If you missed the moment to tune in to the Parks and Rec reunion special, you're in for an uplifting, optimistic half hour of entertainment that brings some serious lightness to a very dark period of time throughout the world.
 From friendship in the age of social distancing to amazing cameos to sing-a-longs, here's everything you missed on the Parks and Recreation reunion.
What happened on the Parks and Rec reunion?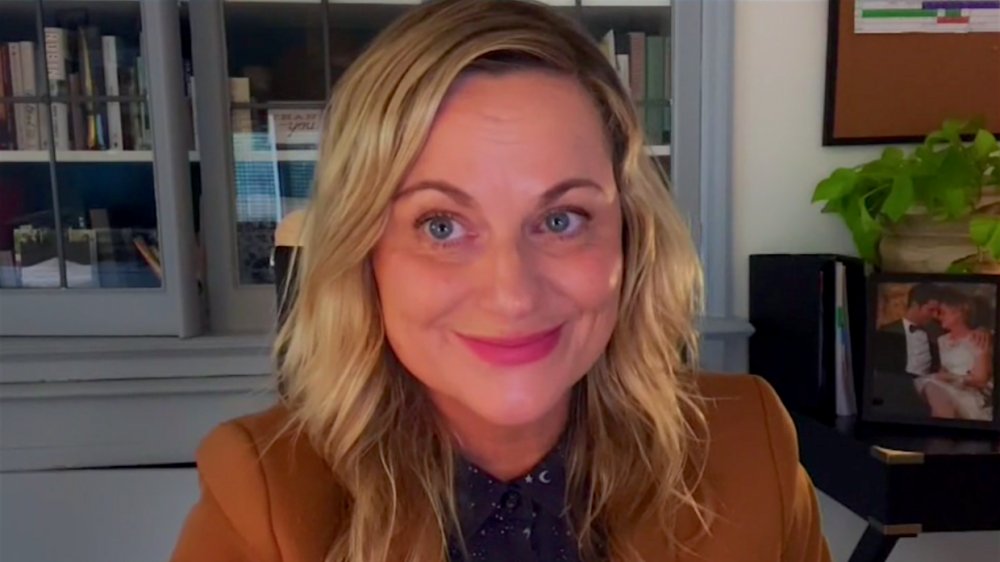 NBC
Leslie Knope (Amy Poehler) is all for staying safe and practicing social distancing, but since she misses her friends, she creates a "phone tree," where she kicks off proceedings by video chatting one friend over Gryzzl (the Google-esque tech company that played a large part on Parks' later seasons) and having them call the next person in the chain that day.
After calling her husband Ben Wyatt (Adam Scott), who's exhausted and loopy from a day of homeschooling their kids and accidentally inhaling cleaning supplies, Leslie starts off by ringing up Ron Swanson (Nick Offerman), who's mostly fine, especially because he's been "socially distancing since [he] was four years old." Once he's checked in on Leslie and offered to send her some of his large stock of venison jerky (she declines), Ron is told he must call Jerry Gergich (Jim O'Heir), but refuses and calls April Ludgate (Aubrey Plaza) instead. 
April, who's dealing with boredom by wearing her entire closet at once, and her husband Andy Dwyer (Chris Pratt), who locked himself in their shed, then call Ann Perkins (Rashida Jones) and Chris Traeger (Rob Lowe). Because Ann is a nurse, she and Chris are staying in separate corners of their house, but are otherwise doing okay. In fact, Chris is a "super-healer" and is giving blood four times a day. 
As for Tom Haverford (Aziz Ansari) and Donna Meagle (Retta), they're quarantining in style: Tom is in Bali and Donna is in Seattle.
However, as the call ends, Leslie is still worried and missing her friends dearly. Upon seeing this, Ron organizes one last group Zoom call. With Andy on the guitar, the gang sings a round of "5000 Candles in the Wind," Lil' Sebastian's funeral song, and Ron gently reminds Leslie to take care of herself as well as others.
Who all appeared on the Parks and Recreation reunion special?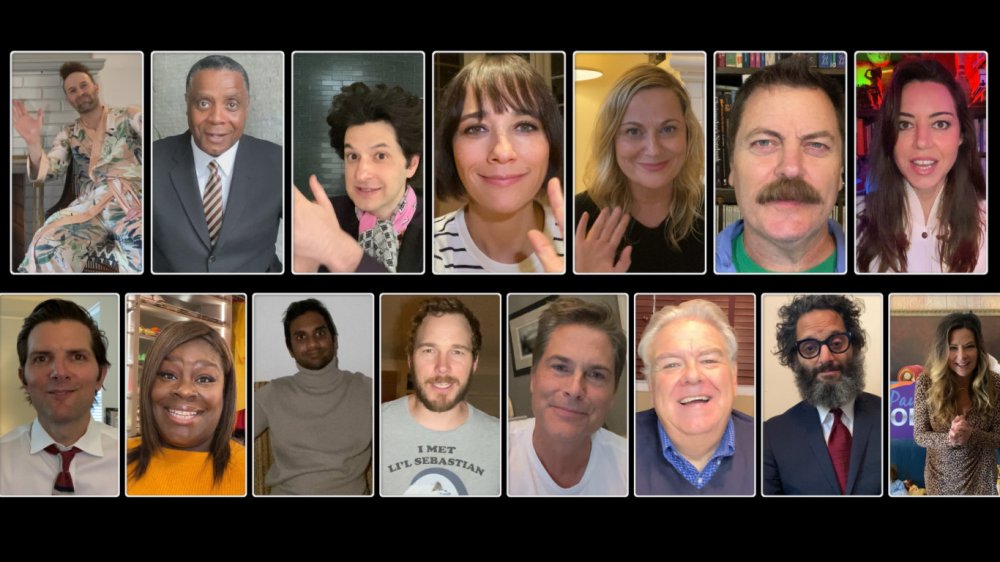 NBC
Aside from the main cast, there were plenty of amazing cameos on the Parks and Rec reunion. As Schur promised, the special didn't begin by featuring any of the main characters. Instead, Leslie's former political rival Bobby Newport (Paul Rudd) showed up — in a Knope 2012 shirt, no less — to announce the special from his family's fox-hunting estate in Switzerland. However, Rudd wasn't the only famous or familiar face to make an appearance.
Leslie and Ben are pretty high-ranking government officials by 2020 — Leslie works for the Department of the Interior, while Ben is a congressman for Indiana — and thanks to their political status, they do interviews through video chat with Perd Hapley (Jay Jackson), Pawnee's most literal newsman, and Joan Calamezzo (Mo Collins), the city's most unstable TV host. Thanks to some fake commercials that run during these bits, audiences also get glimpses of Dennis Feinstein (Jason Mantsoukas) and Jeremy Jamm (Jon Glaser), who are hawking some pretty suspect products during the COVID-19 crisis: a cologne that will kill the virus and also everything around it, and "at-home dental procedure kits," respectively.
Ben Schwartz also brought back Jean-Ralphio Saperstein, who has graduated from getting hit by Lexuses to getting hit by Porsches for money. But one of the best cameos came as a result of Offerman's real-life quarantine partner and wife, Megan Mullally. During one of his calls with Leslie, Ron reveals that Tammy II (Mullally), one of his insane ex-wives, sneaks onto his property, but she eventually escapes and flees into the night.
If you haven't watched the Parks and Recreation reunion special yet or simply want to relive its magic, you can stream it on Hulu or NBC right now.