The Real Reason Reno 911! Brought Back Its Dead Cast Members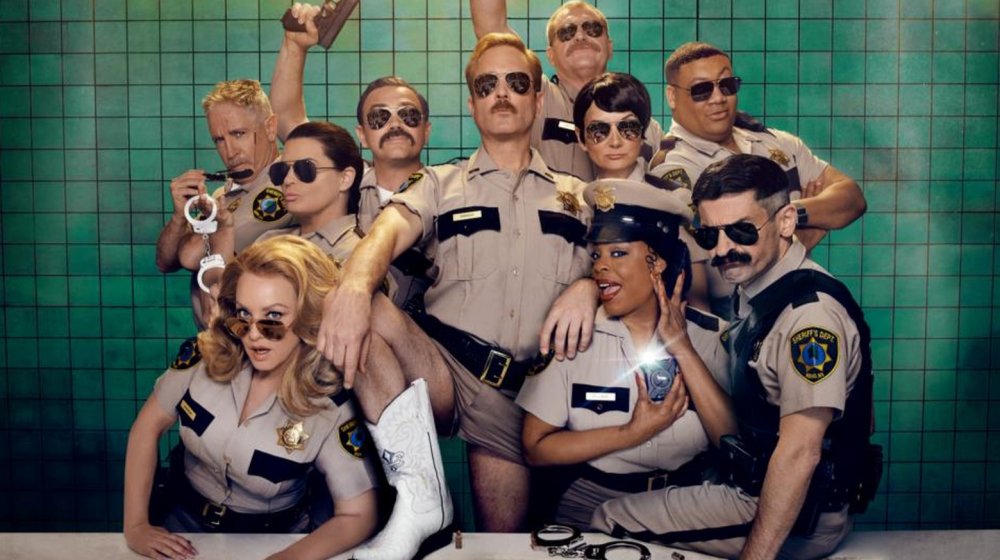 Quibi
Contains mild spoilers for Reno 911!
After more than a decade, the satirical mockumentary show Reno 911! is back from the dead. 
The series initially ran from 2003 to 2009 on Comedy Central — reaching a clean 100 episodes in that six-year run. This time around, Reno 911! isn't on cable television; instead, it's streaming exclusively on the short-form-content-focused platform Quibi – having premiered roughly a month after launch on May 4, 2020. The whole gang is back for the Reno 911! revival — even those who were killed off a few seasons ago in the series' canon, as baffling as that sounds.
As fans will remember, an explosion killed a handful of the Reno Sheriff's Department's deputies at the end of season 5. Terry's (Nick Swardson) former place of employment, Tacos! Tacos! Tacos! Tacos!, was accidentally blown up by the Department itself. They lost control of their 9-1-1 float, which crashed directly into the Mexican restaurant. Deputy Garcia (Carlos Alazraqui), Deputy Kimball (Mary Birdsong), and Deputy Johnson (Wendi McLendon-Covey) all perished in the incident — or at least that was the story.
Miraculously, all three deputies returned from the grave for Reno 911!'s Quibi debut. The new episodes have retconned their deaths — claiming they were just practical jokes. While that explanation tracks well with the delightfully inane nature of Reno 911!, it also suggests there's more to the story of the dead characters' comebacks. 
So, what's the real reason Reno 911! brought back its dead cast members for season 7? Unsurprisingly, the move was based more on behind-the-scenes decision-making than it was on in-universe continuity.
Killing off so many Reno 911! characters was a mistake in the first place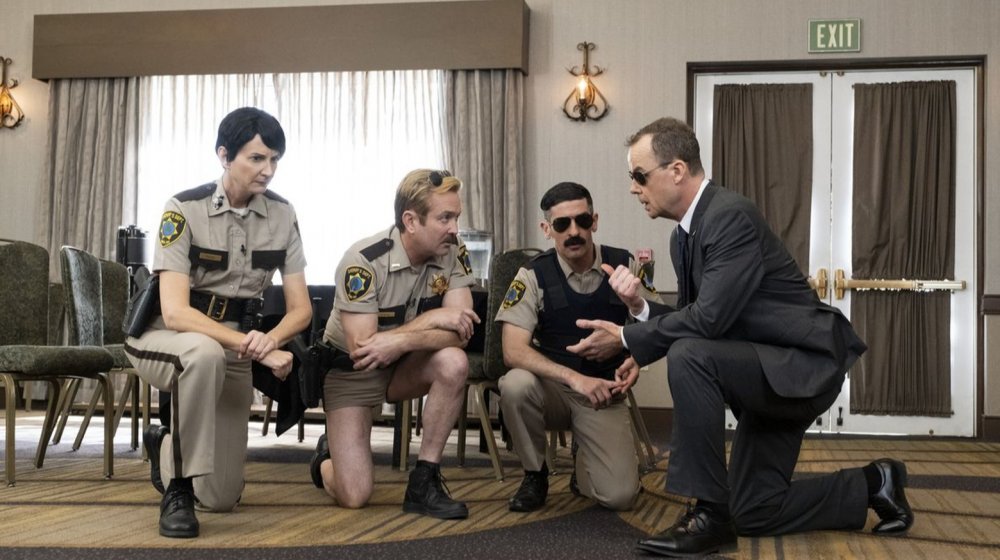 Quibi
The rationale for comes straight from Lieutenant Jim Dangle himself – Reno 911! co-creator and frequent guest star Thomas Lennon. During an interview with TV Insider, Lennon discussed what led to the reunion of the complete cast, how their chemistry endured all of the years away, and the benefits that came with this new season of Reno 911! being on Quibi.
As Lennon himself expressed, "Being in a comedy group is a lot like being in a band." What he means by that is there's a certain expectation that comes with taking part in a comedy ensemble: Everyone has to fill their niche so that the dynamic can work. More often than not, viewers are tuning in to see the entire cast, not fragments of it — a lesson that Lennon now understands through the power of hindsight.
"We broke up the original cast of the show, which I think was a horrible idea. It was just a crazy, emotional time where we made a really bad decision," said Lennon, admitting the misstep he and his fellow Reno 911! co-creators Robert Ben Garant and Kerri Kenney-Silver had made during the program's original run. 
While it certainly made for interesting television in the short term, it wasn't a great decision to stand by into the future — even just in season 6 of Reno 911!, from which Deputy Garcia, Deputy Kimball, and Deputy Johnson were missing. They couldn't have known at the time that a revival was in the cards ten years later, but missing a trio of key Reno Sheriff's Department members would have hurt the 2020 reboot tremendously.
The Reno 911! cast is still at the top of their game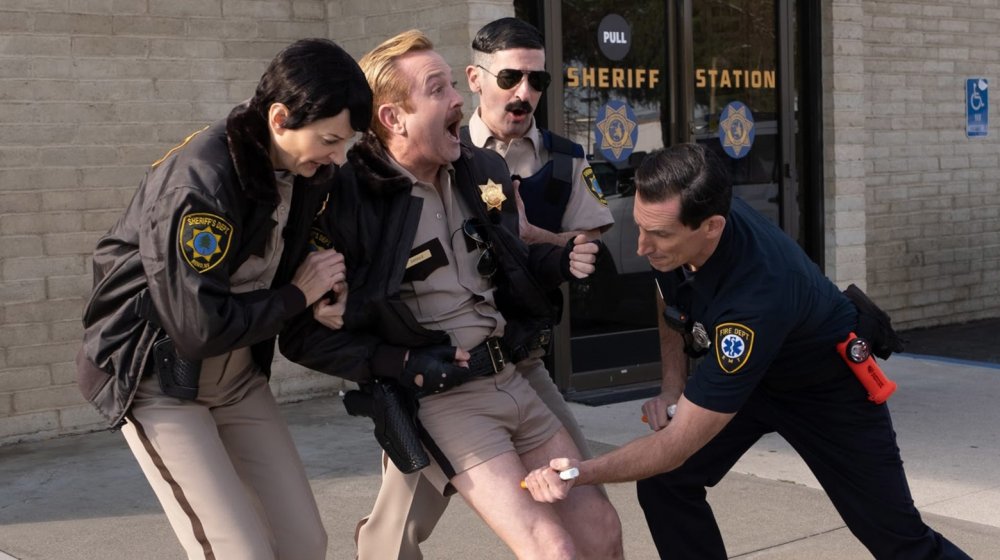 Quibi
The Reno 911! cast spent a long time away from their characters, meaning there was the risk that their performances could be a little rusty in the Quibi reboot. Those who left the show on season 5 — Carlos Alazraqui, Mary Birdsong, and Wendi McLendon-Covey – may have had an especially difficult time getting back into the groove of things; after all, taking ten years off from anything would prove challenging for a person to engage with at the same level they once had. However, Lennon reassured TV Insider that there weren't any serious cobwebs to shake off before shooting the Reno 911! reboot.
As Lennon described it, it's as if embodying the characters came second nature to everyone. "It was kind of like you just roll out of bed and start doing it again," he said. "Once you put the outfits on, you pretty much know who you are and what you would say." 
It doesn't take a lot to slip back into these roles, as evidenced by the recent episodes on Quibi. Viewers have noted that the revival feels much like the Reno 911! of old, while still finding room to advance with the times. The cast, of course, doesn't miss a beat.
This season puts the Reno 911! cast under new constraints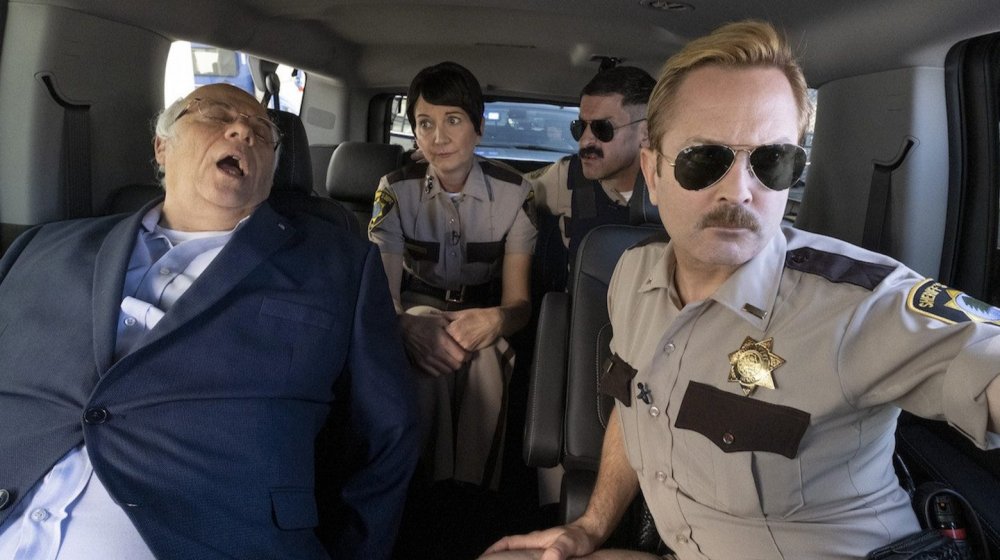 Quibi
One thing longtime Reno 911! fans will notice about the most recent season is how brief the episodes are. Back when the series was airing on Comedy Central, episodes were close to half an hour long. With Reno 911! finding a new home on Quibi, whose entire model is centered around bite-sized (or "quick bite," hence the name "Quibi) content, installments' runtimes are confined to seven or eight minutes tops to keep in line with the other content on the streaming service. While many might consider this a stressor, this limit has proven to be a blessing in disguise for the show.
Lennon has expressed nothing but confidence about the new Reno 911! episodes, telling TV Insider that the revival is "the leanest, meanest version of the show with zero filler" — showing just how concise yet entertaining the episodes have needed to be. Everyone involved has to be on the top of their game to produce quality gags and move the short-but-sweet stories along effectively. The Quibi format is pushing the cast and crew to their fullest potential, and it's paid off. As Lennon proclaimed, "The 25 episodes on Quibi are probably the best ones we've ever done."
Watch new episodes of Reno 911! on Quibi, available for download in the Apple App Store and on Google Play, now. Those interested can start a 14-day free trial of Quibi, with plans starting at $4.99 thereafter.