Agents Of S.H.I.E.L.D. Star Reveals If We'll See Her In Marvel Movies - Exclusive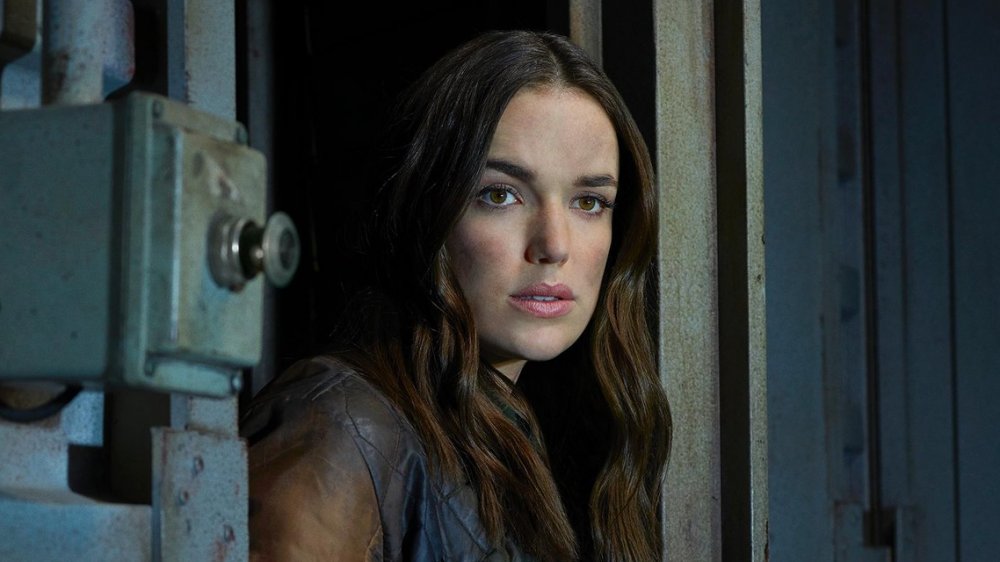 Walt Disney Television/ABC Studios
It might be a TV show, but Agents of S.H.I.E.L.D. is more important to the Marvel Cinematic Universe than you realize. The highlight of its first season was the fallout from Captain America: Winter Soldier, which revealed that the super-spy agency had been infiltrated by its evil counterpart, HYDRA. Important concepts, like the blue-skinned alien race known as the Kree, were introduced on S.H.I.E.L.D. before making their way to the big screen. Characters who may not fit comfortably into an already crowded two-hour movie — such as Mockingbird, Deathlok, and Ghost Rider — have popped up on S.H.I.E.L.D. instead, fleshing out the MCU in all kinds of interesting ways.
And yet, aside from Clark Gregg's Agent Coulson, who helped kick off the MCU in 2008's Iron Man and met his not-so-permanent demise in 2012's Avengers, none of the main cast of Agents of S.H.I.E.L.D. have appeared in the Marvel movies. Despite their well-established super-heroic bona fides, they didn't even cameo when the rest of the MCU united to take down Thanos in Avengers: Endgame – and fans noticed.
Agents of S.H.I.E.L.D.'s cast did, too. When Looper asked S.H.I.E.L.D. actress Elizabeth Henstridge in an exclusive interview if we'll ever see her character, Jemma Simmons, show up in cinemas, her answer was simple: "I don't know."
However, Henstridge seems to think there's a real possibility it could happen. "I think there's potentially more chance now that the show has wrapped up, just because trying to work out where the show would be by the time the movie comes out is just kind of a bit crazy, logistically," she said. "So, I mean, hey — never say never, right?"
If Henstridge does get to bring Jemma to the big screen, she knows exactly who she'd like to see S.H.I.E.L.D.'s resident biologist team up with. "Black Widow," she answered, without missing a beat. "I'm slightly obsessed with her. And I think Simmons, she'd just have fun. I just want to be her fangirl."
Of course, Black Widow died in Avengers: Endgame, but that doesn't mean much in the MCU. As Henstridge noted, "With the time travel stuff, it creates a lot more possibilities." She should know, too — Agents of S.H.I.E.L.D.'s seventh and final season sees the team travel decades into the past to fight an extraterrestrial threat. and besides, death is hardly the end in the MCU. Just ask Jemma's friend Phil Coulson, who's died twice and is still somehow back for S.H.I.E.L.D.'s big finale.
Jemma Simmons has already had a long and meaningful journey in the MCU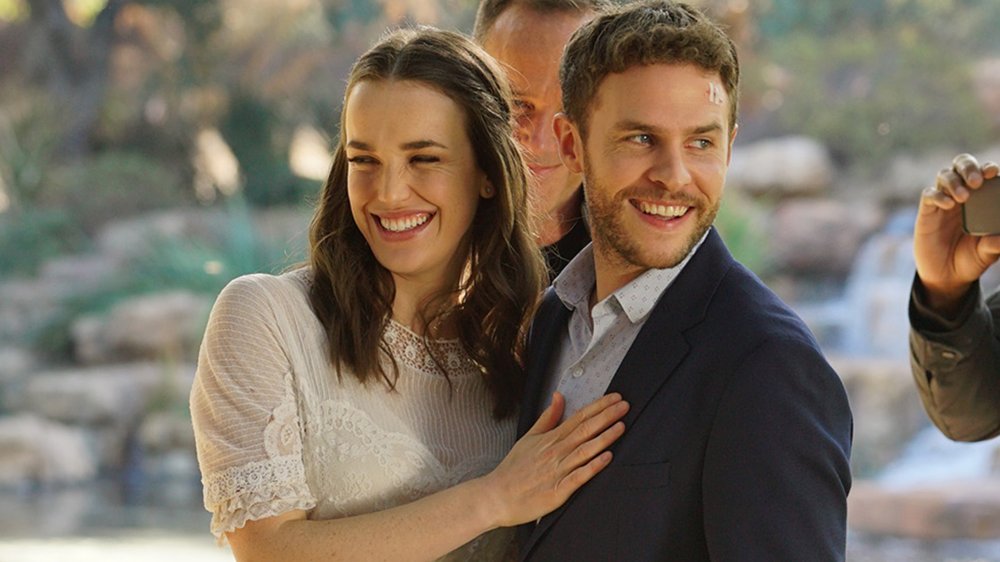 Walt Disney Television/ABC Studios
This isn't to say that Henstridge needs Simmons to return for the movies. After her Agents of S.H.I.E.L.D. stint began, the actress' career took off, and she's landed roles in everything from horror movies to Hallmark Christmas spectaculars since taking her first turn on the Marvel series.
Jemma Simmons herself has undergone quite a change, too. Not only has Simmons transformed from a lab rat into a seasoned field agent, but her relationship with her colleague Leo Fitz (Iain De Caestecker) has also become the heart of the show. While Henstridge loves many of the moments between the two characters, she said that their season 5 wedding is probably "her favorite of all time."
"It felt like they'd really earned that, and it was such a surreal moment. And we were in a real location at that point, so there was no green screen — it was just us with the cast there. It felt pretty special," Henstridge explained. Besides, like the fans themselves, she's been rooting for the couple the whole time: "As a shipper of Fitzsimmons, I was in my element."
Outside of S.H.I.E.L.D., Henstridge's future looks bright. She's currently filming Apple TV+'s Suspicion, a thriller that the actress describes as "very, very different" from her Marvel work. She also has an eye on returning to the stage: "I'd love to be on the West End or on Broadway, or off-Broadway. That's something that I think would feel really challenging to me."
Still, Simmons will always be a big part of Henstridge's life. For that, she has the fans to thank. "The only question that I'm never tired of answering is just how incredible the fans are," she told Looper. "I think that's what I'll miss the most, that interaction. And I'm so excited at the moment that people get to start seeing what we've worked on. I'm just really proud of it and proud to have been a part of it."
The final season of Marvel's Agents of S.H.I.E.L.D. airs on Wednesdays at 10 PM on ABC, with the premiere episode airing on Wednesday, May 27, 2020.