Extraction Star Shares What It Was Like Getting His First Big Hollywood Gig - Exclusive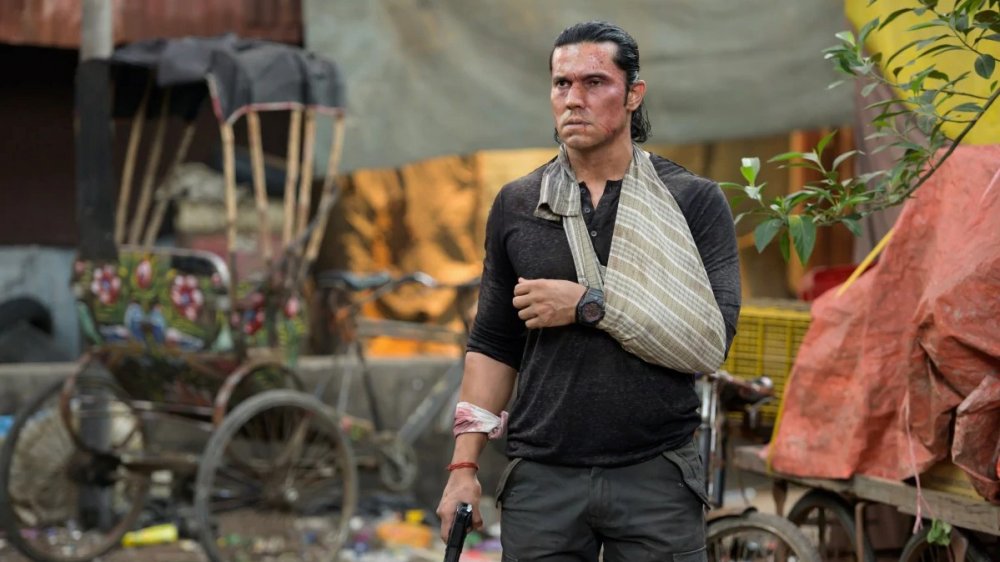 Netflix
Netflix's explosive action blockbuster Extraction has proven incredibly popular with viewers, rocking the most-viewed slot in the streaming giant's rankings for a healthy period of time before it was eventually dethroned by Dangerous Lies. A big part of the movie's popularity certainly centers around its insane stunts and action sequences, courtesy of first-time feature director Sam Hargrave, who had previously served as a stunt coordinator on several Marvel films. There is, however, another factor that sells the film: the cast.
The highest-profile name in that regard is lead actor Chris Hemsworth, who plays Tyler Rake, a jaded mercenary out to rescue the son of a drug lord. While familiar faces like Stranger Things' David Harbour also make an appearance, there's one actor who might not be incredibly familiar to American audiences but who takes up plenty of screen time in the movie's proceedings: Randeep Hooda. The actor — who plays Saju Rav, a former Indian Special Forces soldier and the employee of the aforementioned drug lord — has been plying his trade in Hindi cinema for some time, but Extraction is his introduction both to mainstream western movie viewers and to Hollywood.
What was the experience of making that transition like? Hooda told Looper all about his Extraction experience in an exclusive interview.
Randeep Hooda makes the Hollywood leap with Extraction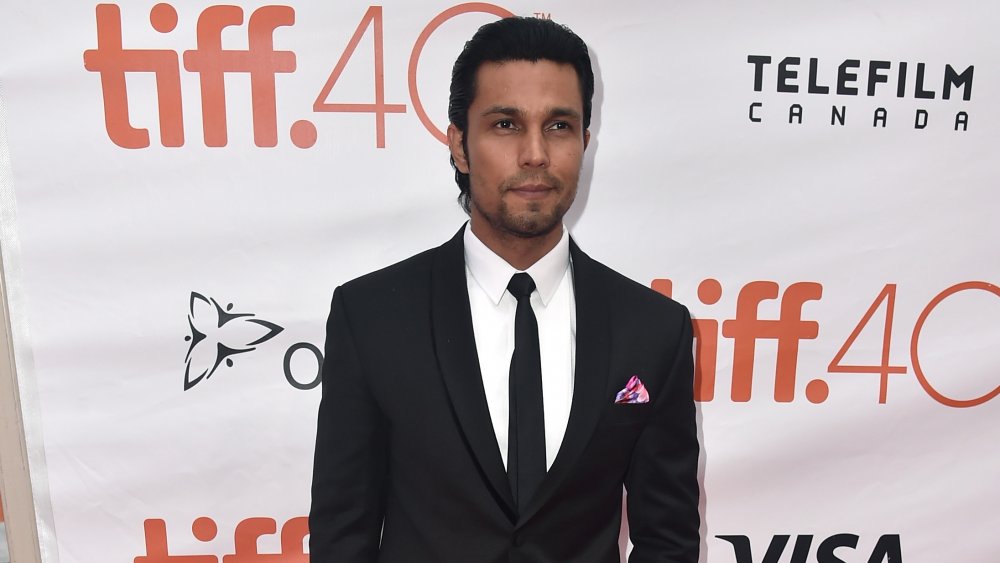 Alberto E. Rodriguez/Getty Images
So, why was Extraction the project to mark this new phase in Hooda's career? According to the actor, both the project and the part were too good to pass up. 
"It was a great part. The people involved ... [the producers] the Russo Brothers, who are probably the biggest filmmakers on the planet right now [with] the reach that they have with their movies. Chris was a part of it. Sam was directing it, and it was an action picture," said Hooda. "I've been offered a couple of these big Hollywood movies, but the roles have been rather derogatory, or have been very 7-11 clerk types. So, I thought this was something which any other Indian actor has not done, something we don't associate in general with Indian actors."
A new arena also meant new ways of doing business, which Hooda noted in his time on the Extraction set: "The setup was bigger, more organized and the scale itself was so much bigger than the drama movies that I've done here. The other difference would be probably the whole action part, the whole training, the safety. Here, I don't think we do as many rehearsals as we did over there. So, that eases you into this a bit more."
Randeep Hooda, Extraction's man of action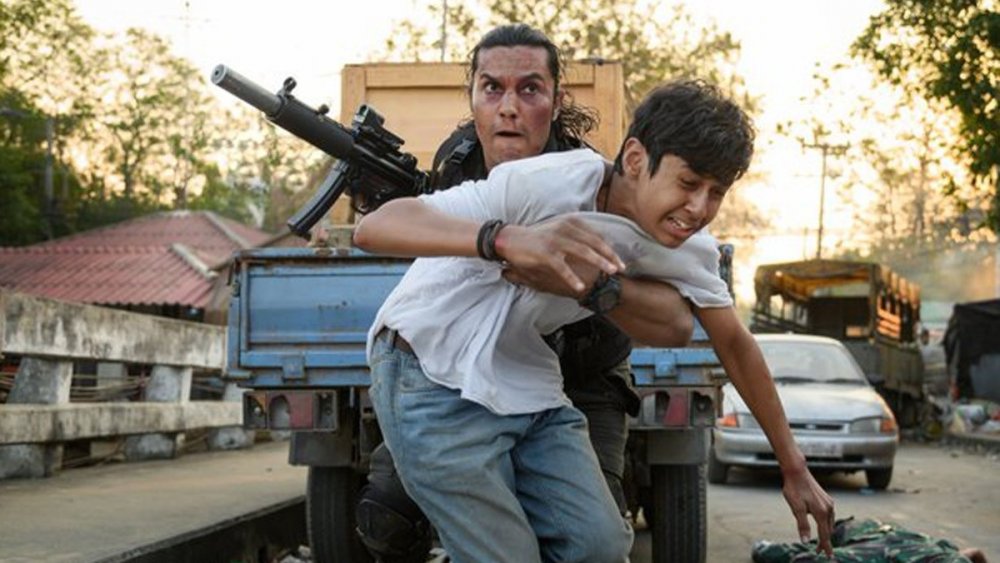 Netflix
Another key transition for Hooda when coming into Extraction was its focus on action, as the actor has typically done drama work in his time in Hindi cinema. To hear him tell it, the production was a well-oiled machine on that front. "The first thing that happens is that you go through the action parts [and] rehearse it so many times that that becomes your second nature," he told Looper. "You don't have to think about that part, and only when you're independent of thinking about the choreography and the things that we're going to do can you bring drama in it. So, there was a lot of action preparation."
Even the technical setup for the action scenes was on another level. Hooda recalled, "I'm sitting in the car and there is a dude sitting in the boot almost, who's driving the car lying around, and he's got all that stuff to guid him, but I'm [like], 'Can you see, man?' So, little things like that, they were really fun."
A lot of this efficiency was apparently due to director Hargrave, whom Hooda praises for his Marvel-earned action know-how. "His whole stunt team, they have been working with him for a long time, so it was like they had a family relationship or friendship, and they were all really very well-coordinated [with] their communication," the actor said. "If Sam wasn't there, neither was the action."
Hooda vs. Hemsworth in Extraction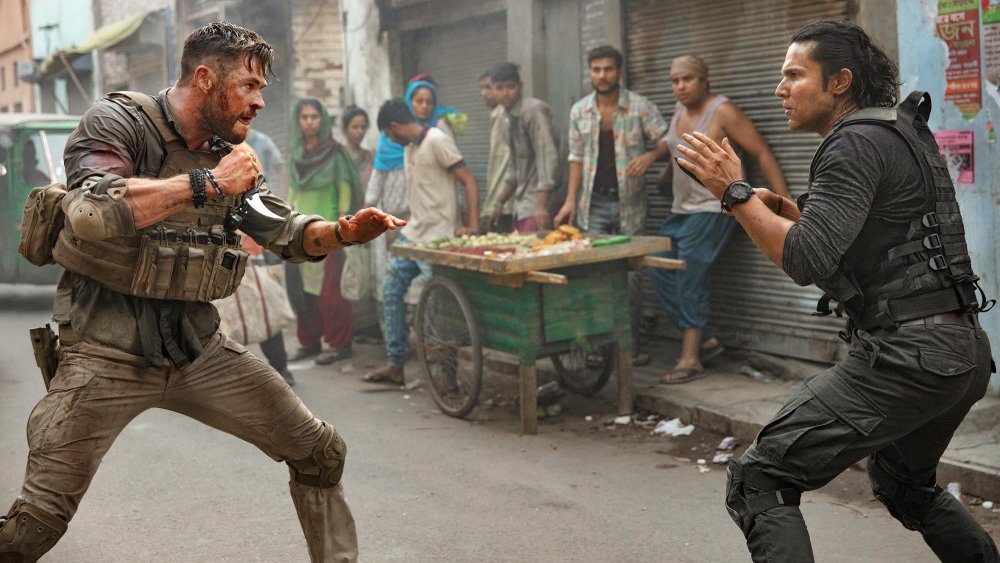 Netflix
Perhaps the most prominent manifestations of Extraction's action elements for Hooda were the scenes in which he squared off with Hemsworth. In particular, the two faced each other in an extended knife fight that's a centerpiece of the film. So, what was the Marvel Cinematic Universe's god of thunder like on the set? "Man, he knows his lines well. He's prepared," said Hooda. "But otherwise, also I think he's very chilled out, a very down-to-earth guy, very witty, but very energetic. And he's very happy. There's a certain happiness about him, and very respectful. He's a very nice guy to work with overall in- and outside the shot."
Getting the showdown in order took weeks of preparation. "We got into the choreography slowly," Hooda said. "'Slow is fast, fast is slow,' they kept drilling into our heads. Michael [Lehr] was the fight choreographer, and so we went step by step and got it really well at a slow speed, and then at a pretty fast speed, and Chris trained separately. Then, they brought us together for the last three, four days. And we rehearsed for hours like that. We were just talking and doing it so that we can then think of other stuff and not the fight while we were doing the shot."
When it came time to shoot, both actors brought their A game. "Chris has a lot of energy man. He's full of power, he's full-throttle," Hooda shared. "So, just to match up with that was the path end." The choreography wasn't the only challenge, though. "Also, as you said earlier, to remember the drama, the desperation," recalled Hooda. "I think the biggest thing that me and Sam discovered was the desperation, the emotional desperation."
Randeep Hooda after Extraction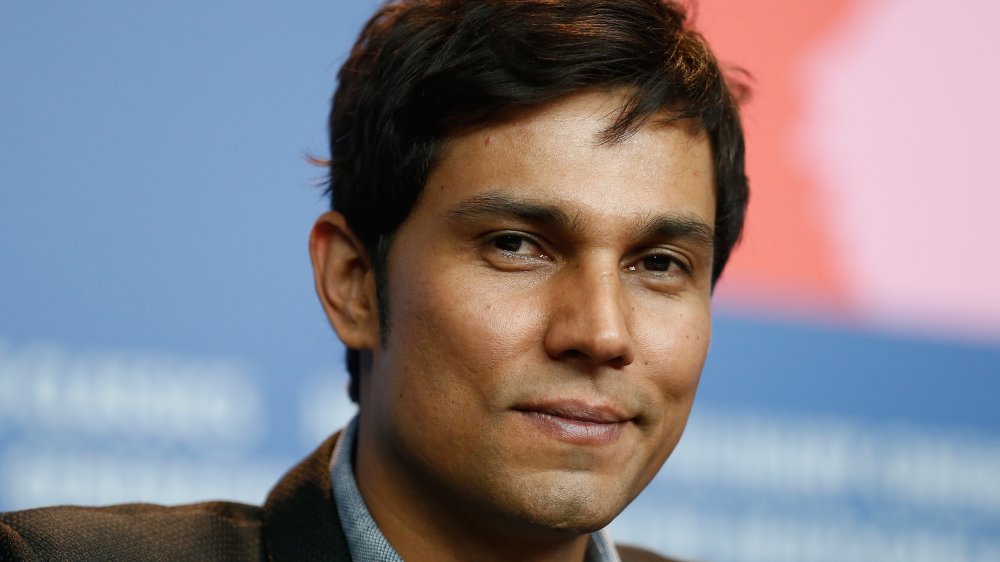 Andreas Rentz/Getty Images
Unfortunately, Hooda's character's fate at the end of Extraction makes it unlikely we'll see him again in the already-being-discussed sequel. That said, this probably won't be his last action film, as he expressed a new appreciation for the genre, saying, "To tell you the truth, I really enjoyed it. Your body has a lot of abilities, as I discovered through this, and it's a great thing ... I turn to Sam, who was sitting there with his assistant looking at the rehearsals, and I went to him, I said, 'Hey man, I don't want to do drama anymore. I want to get jacked, I now want to be an action star.' It's so much fun."
Given Extraction's connections to the MCU, does that mean we might see Hooda make the leap to superhero cinema's mega-franchise? When asked if he hit up the Russos for a role in a future Avengers movie, Hooda laughed: "No, that would be pushing it. Hey, man, I got this out of the universe. If that Marvel Universe is meant for my universe, I'll probably be in that universe. If not, then no."
Even without an outstanding superhero cinema offer, with the exposure that's sure to come from Extraction's hit status and the major role he plays in it, we're bound to see more of Randeep Hooda at the movies soon.