How Netflix's Extraction Is Connected To The MCU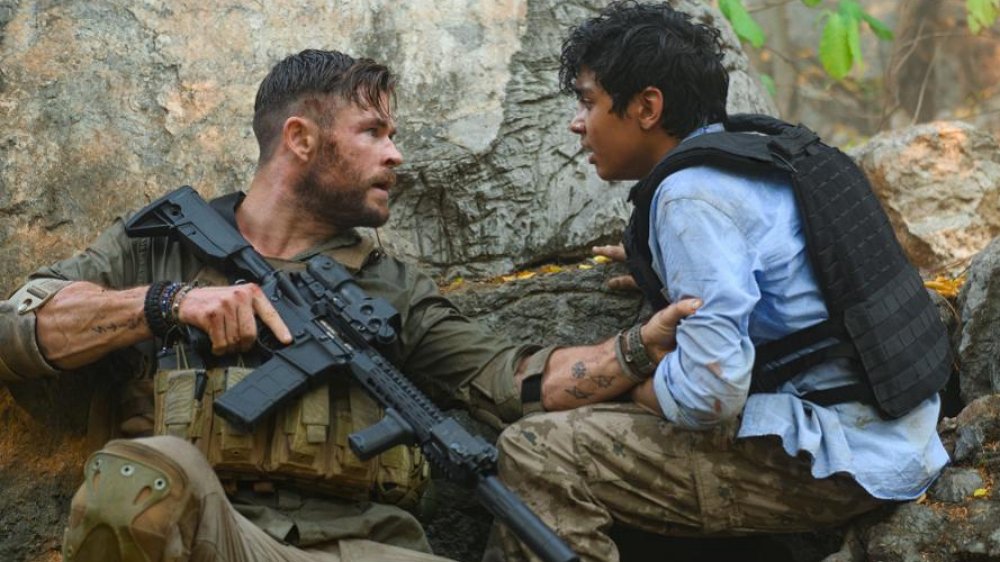 Netflix
Even as it's spent the last few years helping reshape the concept of film production and distribution, streaming powerhouse Netflix has continued to up the ante in terms of the size and scope of their original movies. That ante includes big-budget action flicks with A-list talent, the same sort of titles major studios might typically tab as tentpole fare. Their latest run at this kind of release comes in the form of Extraction, an explosive new action thriller about a troubled mercenary facing off against nefarious crime lords to rescue a kidnapped youth. Along the way, all manner of fisticuffs, shootouts, and car chases ensue.
One look at the trailer for Extraction is all the proof you'll need that it's one of the biggest Netflix efforts to-date. What's more, the film has a very specific tie to the Marvel Cinematic Universe in its star, Chris Hemsworth. Yes, the once and future God of Thunder is stepping out of the MCU for the first time since 2019's Men In Black: International to tackle a dramatically different sort of role, one anchored in real-world environments and in which he's throwing down with distinctly human foes. 
He does so alongside a few familiar faces, as well, with Stranger Things fan favorite David Harbour – set to join the MCU himself in Black Widow - and international star Golshifteh Farahani joining the fray as allies and/or adversaries. While all this on-camera talent should be fun for Marvel fans to witness, it's not all Extraction has going for it in terms of connection to the massively successful superhero franchise, as there's even more going on behind the camera.
Netflix's Extraction has behind the camera MCU connections too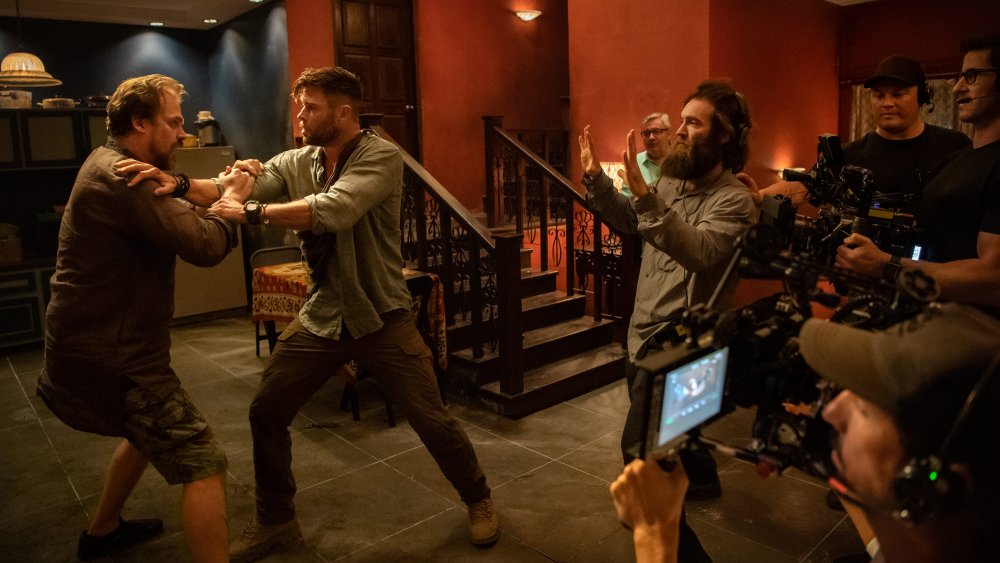 Jasin Boland/Netflix
It turns out Extraction is serving as a mini-reunion of sorts for the team that delivered 2018's Avengers: Infinity War and 2019's Avengers: Endgame. The new film was actually inspired by a graphic novel from Infinity War and Endgame co-director Joe Russo, and was adapted for the big screen by the man, himself. Not surprisingly, Russo enlisted the help of his brother, collaborator, and MCU teammate, Anthony, to bring Extraction to Netflix. 
The Extraction MCU connections don't stop at Thor and the Russo Brothers, though, because the Netflix venture also marks the directorial debut of Sam Hargrave. Even if you don't know that name, you know his work, because he's been a key behind-the-scenes contributor on several MCU projects over the years. 
Prior to claiming the director's chair on Extraction, Hargrave has primarily served as a stuntman and stunt coordinator. Hargrave claimed his first MCU gig back in 2012, when he served as stunt double for Chris Evans' Captain America in Marvel's groundbreaking crossover event, The Avengers. More MCU work followed when Hargrave played stunt double for Agents of S.H.I.E.L.D. star Brett Dalton in the series' pilot episode. In 2014, Hargrave hooked up with the Russos when he again doubled for Evans in Captain America: The Winter Soldier, then stepped up as stunt coordinator for the rest of the brothers' Marvel work in Captain America: Civil War, Avengers: Infinity War, and Endgame. 
The Russos clearly saw something in Hargrave's MCU work and his extensive short film oeuvre, as evinced when they hired him as a first-time feature director for a big-budget film like Extraction. While Hargrave's future as a director will be something we'll have to watch to see if it develops, we can at least take heart knowing the action scenes in Extraction will no doubt provide some serious spectacle.