What It Was Really Like To Film Extraction - Exclusive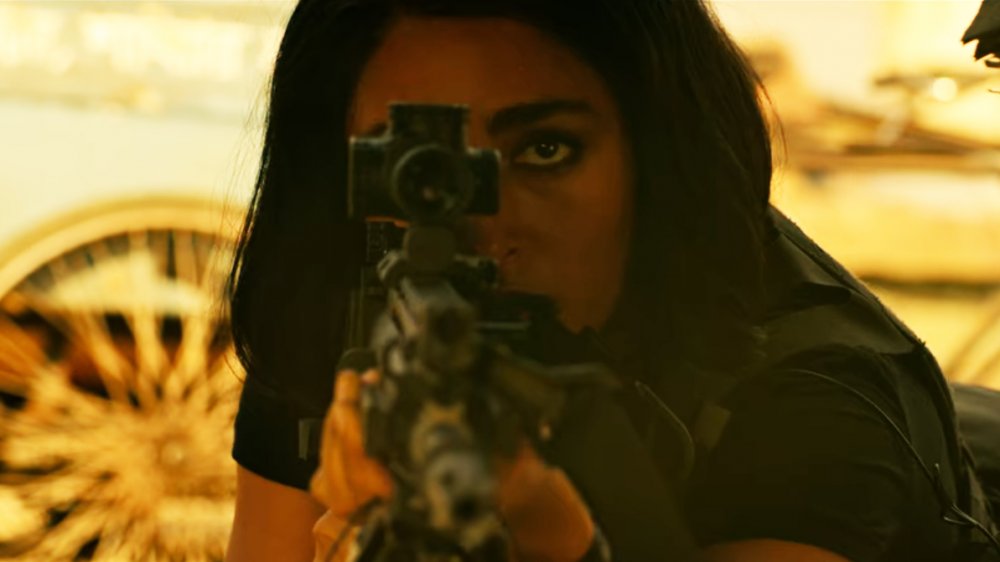 For all of its charms, Extraction isn't always easy to watch. The new action flick from Chris Hemsworth, Avengers: Infinity War and Avengers: Endgame masterminds Joe and Anthony Russo, and Marvel Cinematic Universe veteran Sam Hargrave is full of pulpy violence, pulse-pounding action scenes, and some truly despicable villains. There isn't much humor, and while the movie is extremely exciting, it's also unbelievably tense.
It wasn't much easier to make, either. Actress Golshifteh Farahani — who plays Nik Kahn, the second-in-command to Hemsworth's Tyler Rake in Extraction – chatted with Looper in an exclusive interview about what it took to bring the Netflix's thriller to life. She revealed that putting together the film's high-octane shootouts was just as harrowing as you'd imagine.
For one, Extraction was shot mostly in Thailand and India, where the warm weather made physical action scenes extra taxing. Farahani calls out Extraction's climax, which takes place on a bridge leading out of the city of Dhaka, as a particularly challenging scene.
"That particular gun was a new gun that came out three months before we started," Farahani says, referring to the impressive firearms her character, an arms dealer, carried during the sequence. "It's very easy to carry, very easy to shoot with. At the same time, it was very heavy."
Carting that equipment around wouldn't be fun in any circumstances, but given Thailand's climate, it was nearly unbearable. "I mean, the bridge was hell hot," Farahani says. "All this heavy gear with the sun and the heat was a challenge."
Even worse, Farahani and the rest of the Extraction crew couldn't lean on CGI to help ease their burden. According to the actress, there were very few visual effects in the final action scene. "For me, the only thing that was computer generated was when I shot into the sky," she says, noting that the helicopter that Nik blows away during that last shootout was added digitally in post-production. 
The rest? "I don't know exactly what it was like on the other side [of the bridge], but on our side, everything we did, more or less, everything that we did is there," Farahani says. "We were three weeks on that bridge. Oh my God, it still comes into my dreams. It was like a semi-nightmare with the heat and everything." 
In fact, the heat was so intense that it, combined with some unresolved food allergies, made Farahani pass out on set. Thankfully, real-life superhero Chris Hemsworth came to her rescue with a "power smoothie."
Golshifteh Farahani felt totally comfortable during Extraction's big shootout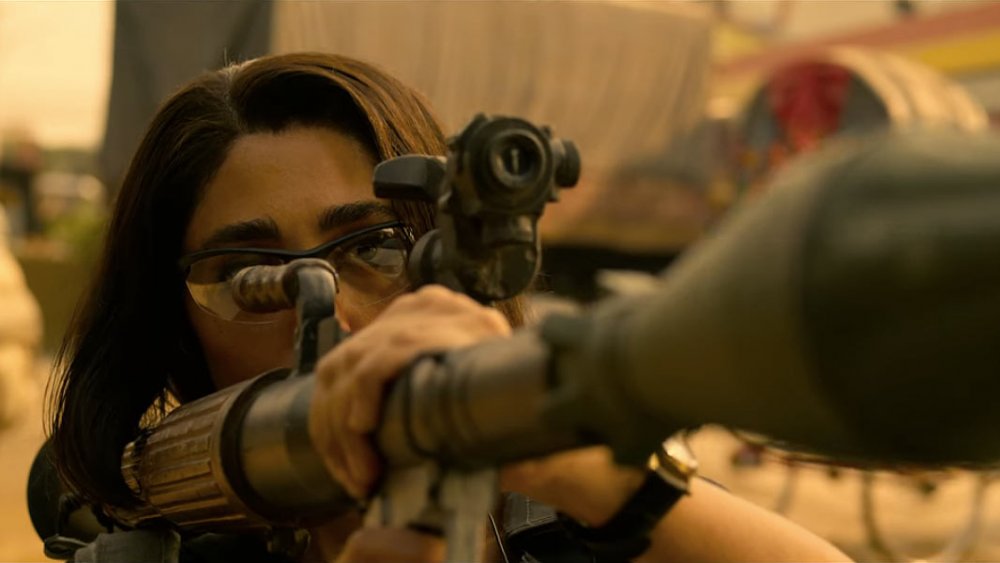 At least Farahani was on familiar ground while shooting the movie. While the actress didn't get to do many stunts in the film — for most of Extraction, Nik is running things from behind-the-scenes — she did get some hands-on firearms training.
Well, sort of. As Farahani explains, she's always been good with guns. "The first time I was holding a gun for a character, it felt like I've been living with a gun, born with a gun, for all my life, but I'd never even touched a gun," she says. "Archery and guns, for me, it's like I've done it all my life without actually doing it."
Farahani's comfort with weapons paid off big time when it became time to prep for Extraction. "I had to do some gun training, but because I was familiar with guns, we didn't do that," she explains. "I told them, 'Listen guys, I can give you lessons. I don't need gun training." Farahani did take a little on-set instruction on how to handle an RPG — specifically "how you hold the RPG and how heavy it is" — but otherwise, she was already in her element.
All in all, filming Extraction doesn't sound like the most pleasant experience, but the effort was worth it. Farahani is proud of the film, especially the work of first-time director Sam Hargrave and Nik's character — "She is not an object. She's not a love interest. She is her own person and her own woman and she is a force just like any other," Farahani observes — as well as its courage to delve into thorny issues like child abuse.
Audiences seem to agree: Extraction has been one of the most popular movies on Netflix since its debut, and the hype doesn't seem like it'll die down any time soon.
Extraction is available to stream on Netflix right now.