Why These Characters Were Left Out Of DC Movies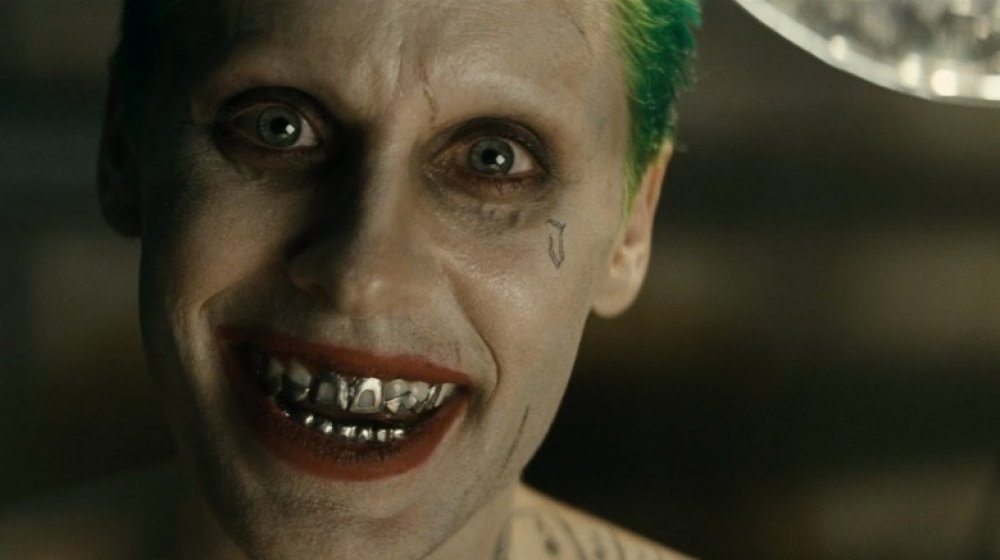 The pantheon of DC Comics' mythology is a crowded place, full to bursting with colorful villains and heroes. There are space warriors, killer clowns, dark knights, and warrior demigods from distant lands. Most fans have a favorite hero, maybe even a favorite bad guy, and with the growing number of live-action superhero films, the chances those fans will get to see a big-screen version of their favorites increases with every release. But at the end of the day, there are only so many movies, while there are so many DC characters to choose from that it's inevitable a whole lot of fans will be at least a little disappointed.
Still, while it's understandable that the moviemakers haven't gotten around to — for example — relatively obscure characters like Plastic Man or Condiment King, there have been some surprising absences from Warner Bros.' DC adaptations. Good guys and bad who seemed like natural fits — including some whose coming had been strongly hinted in previous movies — have yet to show up. 
In some cases, the realities of filmmaking made replacing a character necessary, and in others it was decided behind the scenes that certain characters would be better served if they were introduced later. Whether you were waiting for these heroes and villains to show up or not, here's why the following characters were left out of DC movies.
Shazam! didn't have room for Black Adam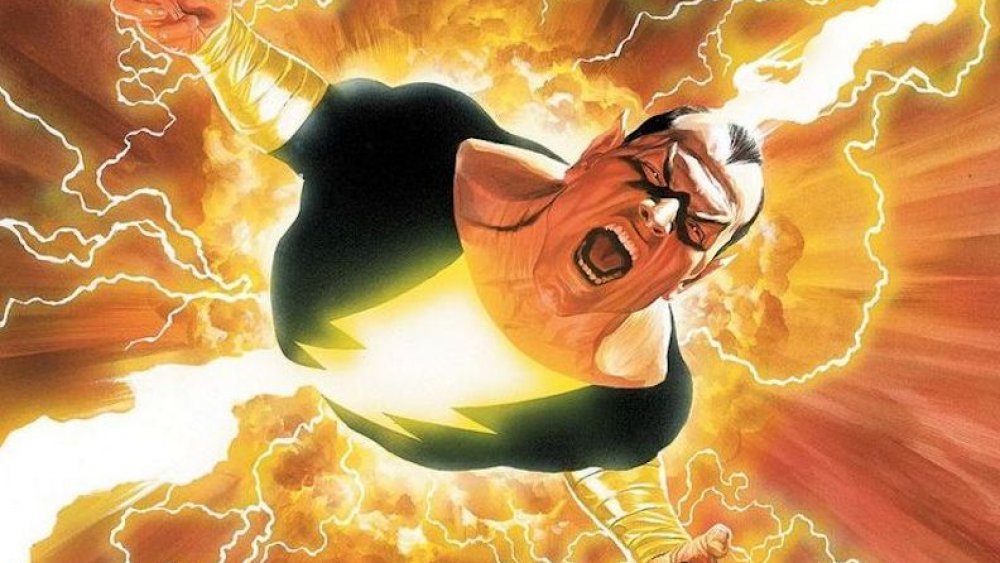 We're used to the hero facing off against his primary nemesis in their first movie. It's Joker facing the Dark Knight in 1989's Batman, Lex Luthor is Superman's enemy in 1978's Superman, and the Red Skull clashes with Captain America in 2011's Captan America: The First Avenger. So it was natural for fans to expect Black Adam to show up in 2019's Shazam! Not only is the ancient Egyptian warrior Shazam's arch-nemesis in the comics, but by the time the film was released it was already widely reported that Dwayne Johnson had been cast as Black Adam in an upcoming solo film. 
Speaking after the release of Shazam!, director David F. Sandberg said that including Teth-Adam was widely discussed, but ultimately it was decided that bringing him into the movie would crowd the other characters. Sandberg said he had weekly discussions with Geoff Johns (who was still DC's Chief Creative Officer at the time), screenwriter Henry Gayden, and the studio. "They felt like [including Black Adam] was just too much for one movie, and they wanted to focus on just giving Shazam the space for his origin." He went on to say keeping Black Adam created more opportunities for the other characters. "Like 'if we don't use Black Adam how can we give Sivana more space, and what would the story be?'"
Considering Shazam!'s critical and financial success, it's a good bet we'll get to see Billy Batson and Teth-Adam duke it out sooner or later.
Birds of Prey only had room for one clown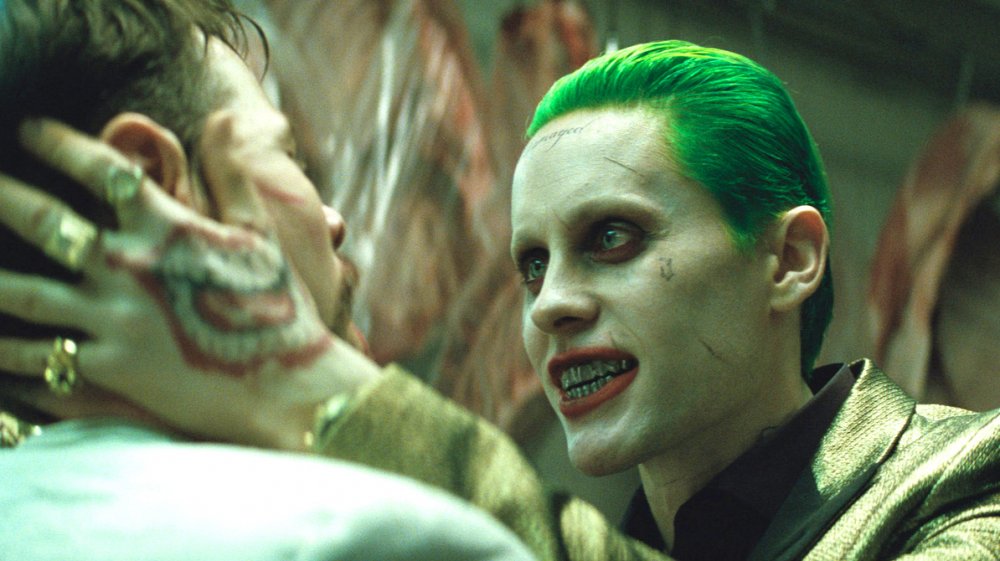 Joker was in 2020's Birds of Prey (And the Fantabulous Emancipation of One Harley Quinn), but just barely. We see the Clown Prince of Crime from behind briefly, though not long after the film's release it was discovered California musician Johnny Goth — instead of Jared Leto, who played Joker in 2016's Suicide Squad — was the one playing the Joker in the quick flashback scene. 
So why doesn't he feature more in the film? Well, at a 2020 press event just before Birds of Prey's theatrical release, Harley Quinn actress Margot Robbie said Joker doesn't show up because she wanted the film to focus on Harley and her new allies. "It was either going to be a complete Harley and Joker story or Joker has got to be out of the picture," Robbie said. She went on to say she preferred the latter, because it allowed for what she was hoping for. "I really wanted to see Harley in a girl gang and I felt there was a huge gap in the market for a girl gang ensemble action film. I felt like no one was doing that and I couldn't understand why, especially a comic book movie."
We don't know yet if we'll ever see Joker and Harley reunited on the big screen. Robbie will reprise the role of Harley Quinn in 2021's The Suicide Squad, but while it hasn't been confirmed it's widely believed Joker won't be joining her.
Lex wasn't happy with the producers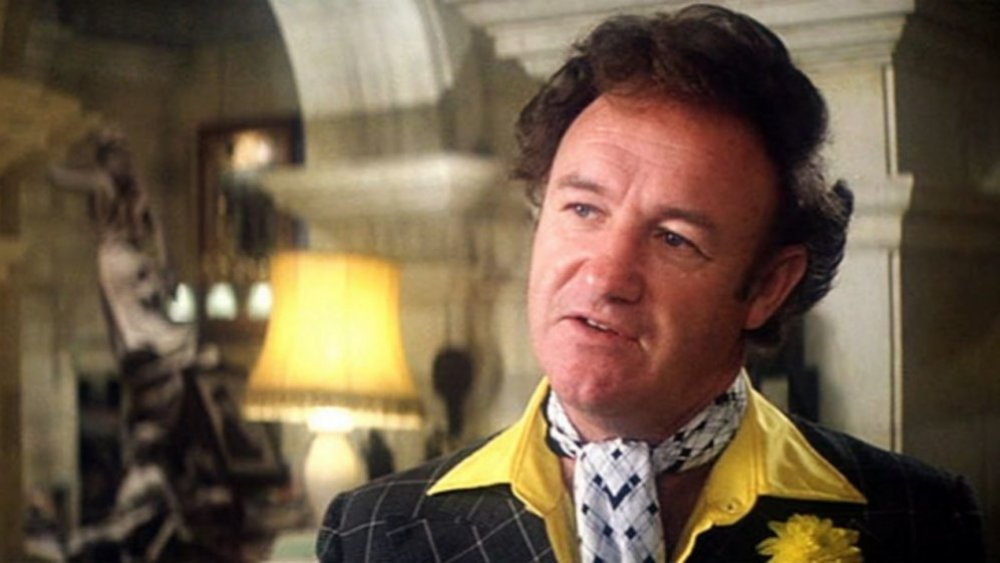 Gene Hackman played the egomaniac Lex Luthor in Superman, the follow-up Superman II, and the disastrous flop Superman IV: The Quest for Peace. But there's a number missing there. While Richard Pryor made an appearance as Gus Gorman in the third film, Gene Hackman's Luthor was nowhere to be found. 
Hackman didn't show up again until Superman IV because he was unhappy with producers Alexander and Ilya Saskind. Both producers had clashed with Richard Donner, who directed Superman and most of Superman II. According to Glen Weldon's 2013 book Superman: The Unauthorized Biography, once the Salkinds fired Donner and replaced with him Richard Lester, important members of the crew walked off the film in protest and Hackman joined them. While all of Hackman's principal photography for Superman II was complete, he still had reshoots scheduled which he refused to return for. Body and voice doubles filled in for the actor, and when it was time to make Superman III, Hackman gave it a hard pass.
So why did he show up for Superman IV? After Superman III, the Salkinds sold the Superman movie rights to Yoram Globus and Menahem Golan of Cannon Films. Presumably, with the Salkinds no longer involved, Hackman was more open to return. Considering how horrible Reeves' final Superman film proved to be, maybe Hackman should've just stayed away regardless.
We need to be patient for Green Lantern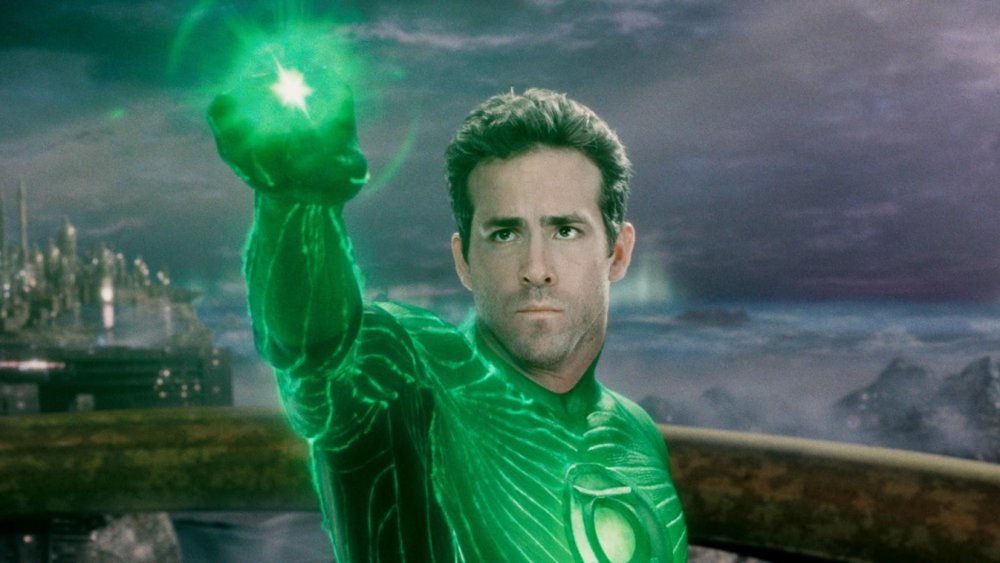 Green Lantern is a mainstay in the Justice League. It isn't always Hal Jordan, the Lantern most associated with the team. It could be Jon Stewart, Guy Gardner or someone else, but some Green Lantern is almost always part of a new Justice League's lineup. Yet none of the interstellar peacekeepers are part of the team Wonder Woman and Batman form in 2017's Justice League (though an unnamed Lantern appears in the flashback scene depicting the ancient alliance against Steppenwolf). 
Greg Silverman, the president of creative development and worldwide production at Warner Bros., spoke to Entertainment Weekly in 2016 about why Green Lantern wouldn't appear. Silverman admitted the studio "didn't do a great job" with the 2011 Green Lantern film and implied they wanted to be more careful in reintroducing the hero. "This is a character who deserves to be treated in the same way that Batman and Superman and Wonder Woman are being treated now," Silverman said, "which is with great reverence. I guess I can say to the Green Lantern fans: if they can be patient with us, I think they'll be really happy."
So while he didn't come right out and say it, it seems clear Justice League was too crowded a field to not only introduce one more superhero, but one the studio had already wiped out on. 
Robin was paid to NOT appear in Batman Returns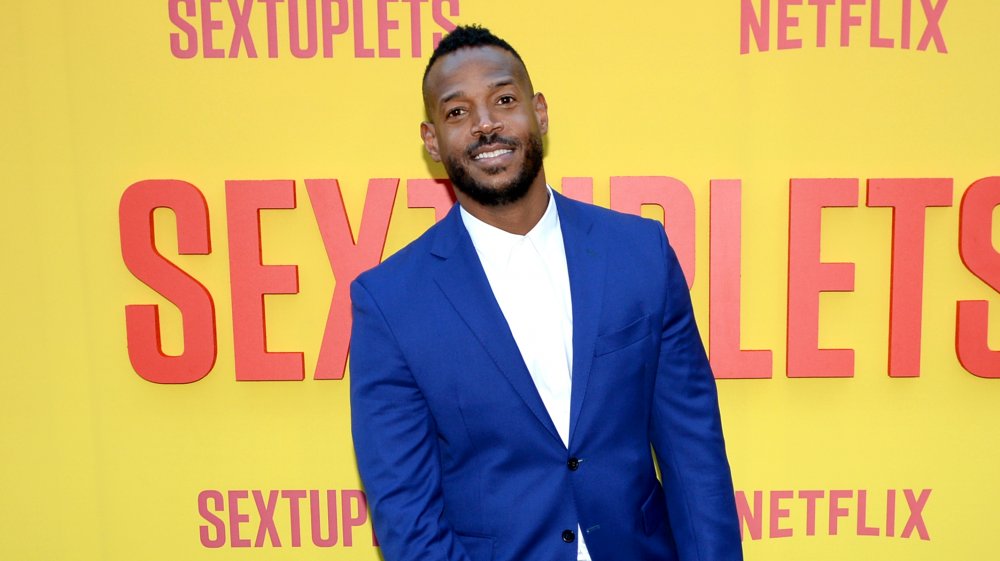 Andrew Toth/Getty Images
Chris O'Donnell played Dick Grayson, a.k.a. Robin, Batman's sidekick, in 1995's Batman Forever and its franchise-killing follow-up 1997's Batman & Robin. But before O'Donnell's casting — in fact, before he would make his first appearance on the popular sketch comedy show In Living Color – Marlon Wayans was cast as Robin in 1992's Batman Returns. 
Of course, if you've seen the film then you might be confused, since neither Wayans nor anyone else playing Robin shows up in Batman Returns. In a 1998 interview with the AV Club (via CBR), Wayans confirmed he was originally meant to be in the movie as Robin. "I got my wardrobe fitted and everything," Wayans said, "and what happened was that there were too many characters, and they felt Robin wouldn't be of service." Robin's introduction was pushed back to the third film, at which point directors changed from Tim Burton to Joel Schumacher. Wayans said once that happened, "their vision of the project changed. They decided they wanted somebody white to play Robin."
Wayans also confirmed he was paid in spite of never showing up on the screen. "They paid me, and then they decided they wanted somebody else," Wayans said. "I was like, 'Hey, as long as the check clears, baby.'"
Martian Manhunter didn't make the cut for Justice League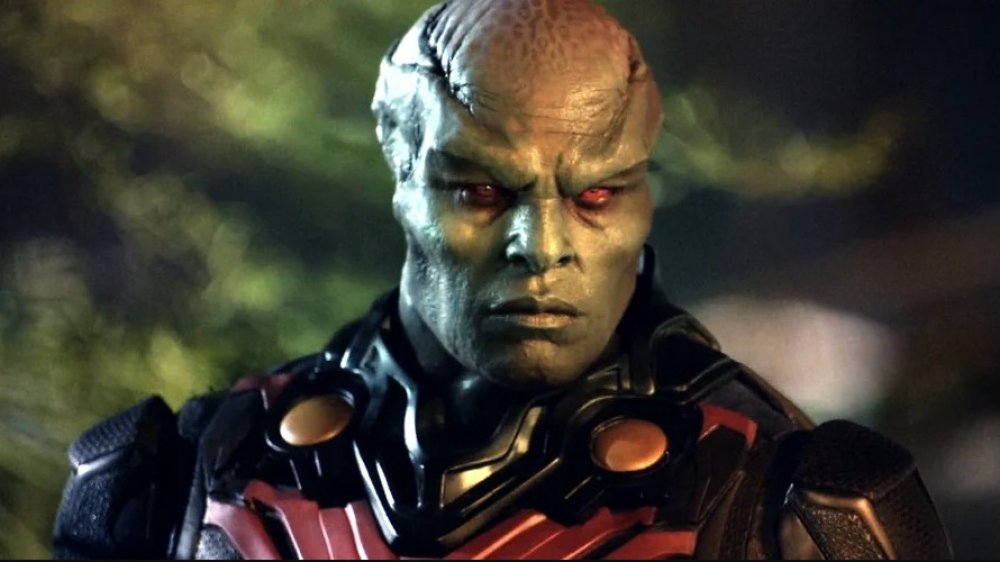 J'onn J'onzz a.k.a. Martian Manhunter is one of the founding members of the Justice League of the comics. But he wasn't there for the live-action formation of the team in 2017's Justice League or any other DCEU projects. 
But apparently, Martian Manhunter was originally planned to be a part of Justice League, albeit a relatively minor one. In October 2019, Zack Snyder revealed a storyboard featuring General Swanwick — played by Henry Lennix in 2012's Man of Steel and 2016's Batman v. Superman: Dawn of Justice – transforming into the shape-changing J'onn J'onzz. Some fans had theorized Swanwick was secretly the Martian Manhunter, and Snyder's reveal confirmed it. Unfortunately for J'onn J'onzz fans, not only did the transformation never happen, but Swanwick doesn't even appear in the theatrical version of Justice League. 
Why was he cut? It's difficult to nail down a definite reason since there's never been an official explanation about why there were so many changes between Snyder's footage and what ultimately showed up in theaters. In this case, it seems likely Martian Manhunter's appearance would've been little more than a cameo. One probable explanation for it being cut is that it would've confused anyone but already invested comic book fans. Not to mention it would introduce another hero in an already crowded movie.
Birds of Prey wasn't the right time for Batman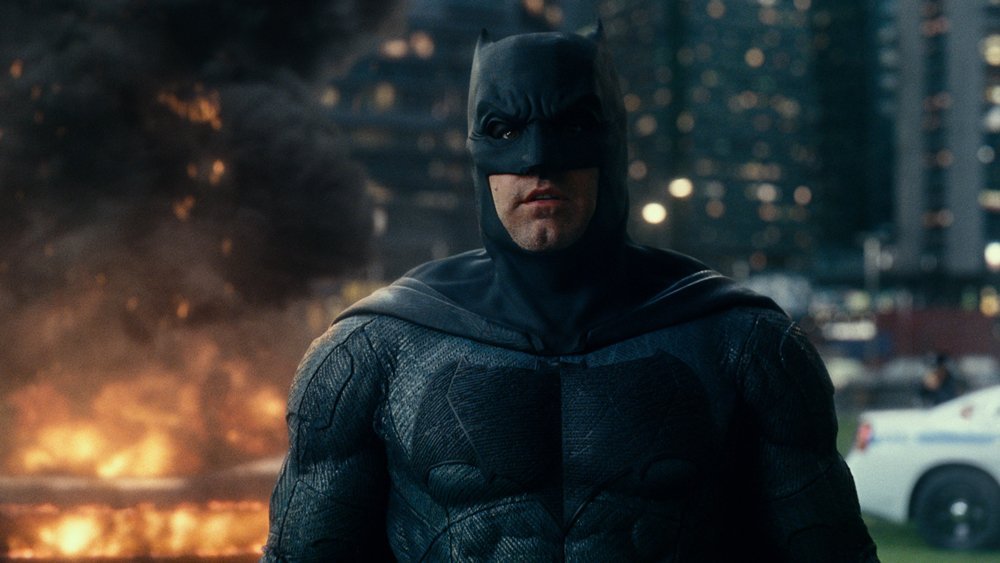 One of our biggest unanswered questions about Birds of Prey was where Batman was during the events depicted in the flick. The film's rather explosive and violent events — including Harley Quinn destroying Ace Chemicals, raiding a GCPD precinct, and the final battle between the Birds of Prey and Black Mask's thugs — are exactly the kind of things you'd think would attract the Dark Knight's attention. 
You could make up any number of narrative reasons for his absence. You could say he was out of town on Justice League business, he was recovering from a Bane-induced backache, or maybe he was kidnapped by the Penguin and was getting worked over by his thugs.
But there were fairly glaring real-world reasons for the lack of Batman. In February 2019, Ben Affleck confirmed on Jimmy Kimmel Live! that he would not be reprising the role of Batman. Soon afterward, Robert Pattinson of Twilight fame was announced as the lead for the upcoming The Batman. With a whole host of new characters being introduced in Birds of Prey and Pattinson not yet established as the Dark Knight in any other movies, the team film would've been an awkward time to have audiences meet the new Batman — especially since he wouldn't be part of the team.
King Shark would've been too CGI-heavy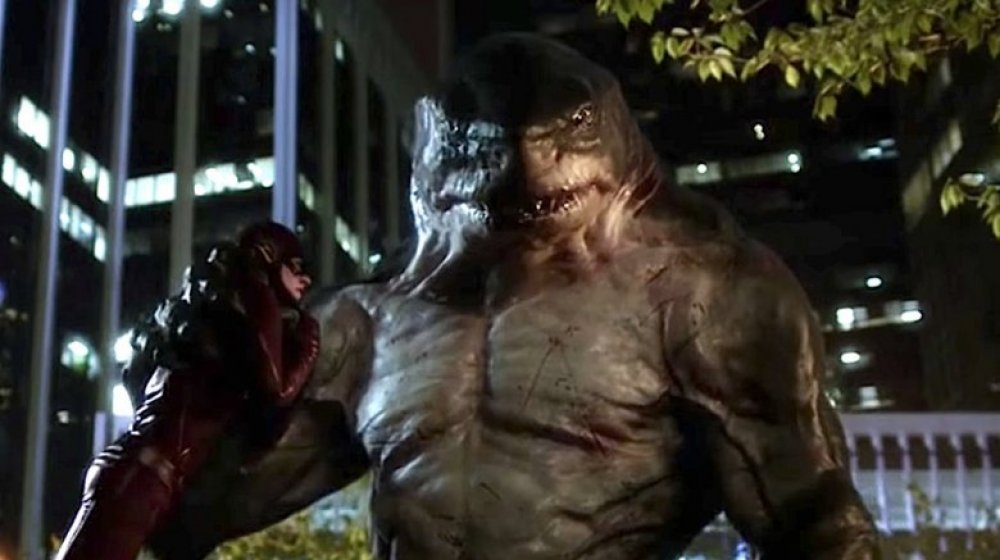 If you're a fan of the Suicide Squad comic that premiered in 2011 along with DC's line-wide New 52 reboot, then when it was announced that Adewale Akinnuoye-Agbaje would appear in 2016's Suicide Squad film as the Batman villain Killer Croc, you might've been a little confused. Rather than Killer Croc, the 2011-2014 Suicide Squad comic regularly featured King Shark. Like Killer Croc, King Shark is an animal-themed villain, a man-monster of few words, he's more comfortable underwater, and he really enjoys eating people. Croc didn't become a Suicide Squad comic book regular until after the cast of the film was announced. So why didn't director David Ayer just use King Shark? Did he have a problem with sharks? Was his first viewing of the classic Jaws just far too traumatic?
It turns out the only problem Ayer had with sharks is that he didn't like how one would have to be made for his film. In a July 2016 Twitter Q&A (via CBR), Ayer singled out King Shark as a character he'd thought about using. "One of the characters I was thinking about for the Squad lineup was actually King Shark," Ayer said, "but we realized it would take a lot of work — a lot of CG work. I wasn't quite comfortable with having a full-CG character. We actually ended up going with Killer Croc, who turned out to be the right guy for the job." 
Two-Face was a reminder of past shortcomings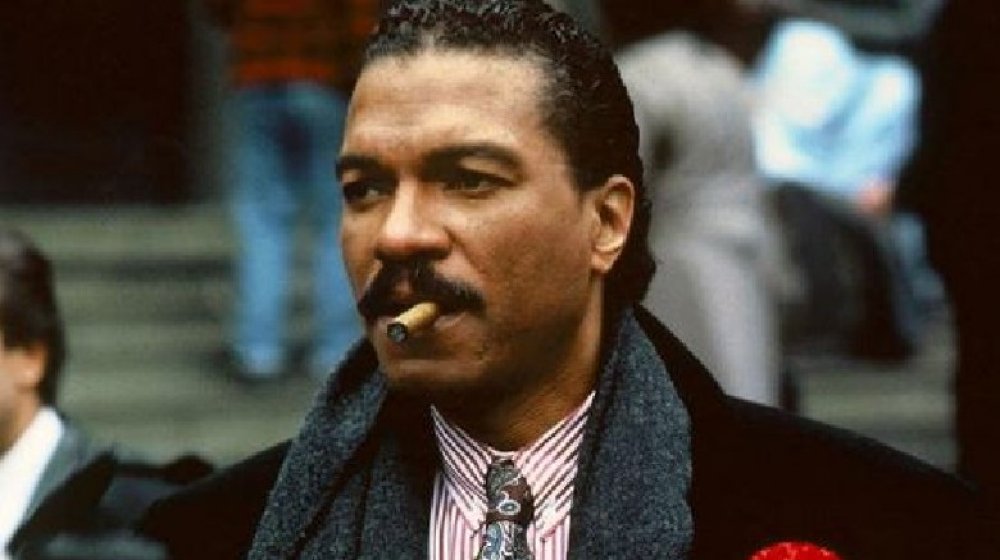 In 1989's Batman, Billy Dee Williams appears as Gotham City's new district attorney Harvey Dent. Any comics fans watching the film immediately understood the implication — that the villain Two-Face would be showing up at some point. But 1992's Batman Returns came and went without the birth of Two-Face or even the unscarred Harvey Dent. The absence left some fans theorizing that the Batman Returns villain Max Shreck (Christopher Walken) was a replacement for Dent.
In 2015 CBR's Brian Cronin looked into the matter on his "Movie Legends Revealed" feature, and determined that the real reason for Dent's absence was Tim Burton's dissatisfaction with Sam Hamm's Batman script. The director was apparently not happy with the story of the first film, so for the sequel he brought in other writers to rewrite Hamm's work. Their marching orders were to making Batman Returns as different from Batman as possible.
One of those writers, Daniel Waters, said he toyed with the idea of teasing Two-Face — "I had flirted with, just in a very small subplot, having Harvey Dent start to come back and just have one scene of him where he flips a coin and it's the good side of the coin, and he decides not to do anything, so you had to wait for the next movie for him to actually do something." But since Burton wanted Batman Returns to have as little to do with the first film as possible and Harvey Dent was in the first film, Waters jettisoned the idea. 
Batgirl has her own movie on its way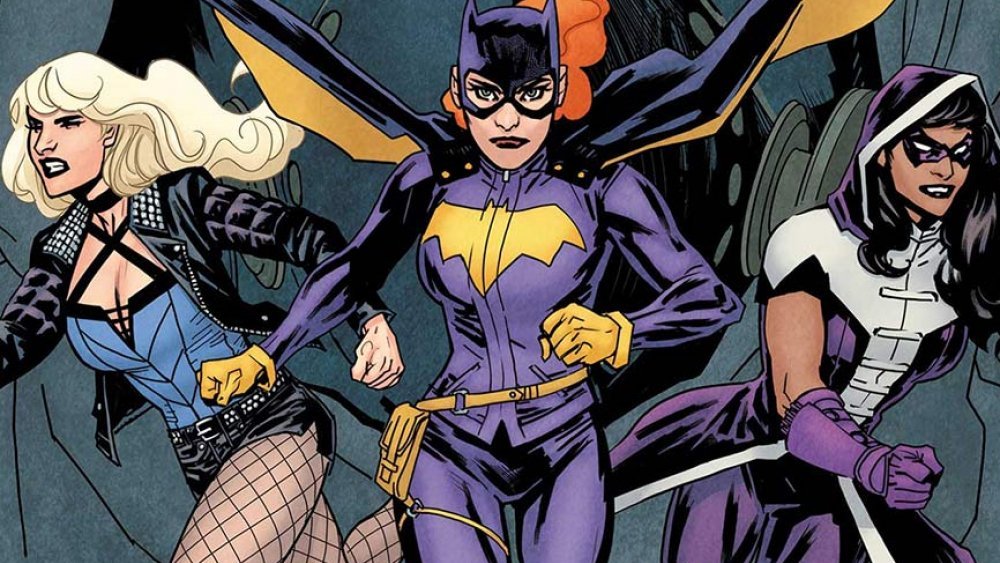 Arguably even more glaring than the absences of Joker or Batman in Birds of Prey is its huge lack of Batgirl. On one hand, most incarnations of the comic book team include Batgirl, and in fact before the release of the film one of the most recent series was titled Batgirl and the Birds of Prey. On the other, the film actually includes a character — Cassandra Cain, played by Ella Jay Basco — who, in the comics, replaces Barbara Gordon as Batgirl (though the film version of Cain has little in common with the comic book character).
Speaking to Collider in late 2019, Birds of Prey producer Sue Kroll strongly implied the reason Batgirl doesn't appear in the film is that there's already a solo Batgirl film on the way. "This is a studio question," Kroll said. "That character's in development on her own film, right?" While she says it as a question, it's not something Kroll likely needs to ask since the same writer who wrote the script for Birds of Prey – Christina Hodson — is writing Batgirl. 
Besides, considering Harley Quinn leads Birds of Prey, introducing Batgirl in the team film would be a little weird. Kind of like introducing Batman in a movie where he's fighting on Joker's side. It's a good bet Batgirl won't be quite as comfortable with Harley's more ultra-violent style of "crime-fighting."  
We may never know what happened to Darkseid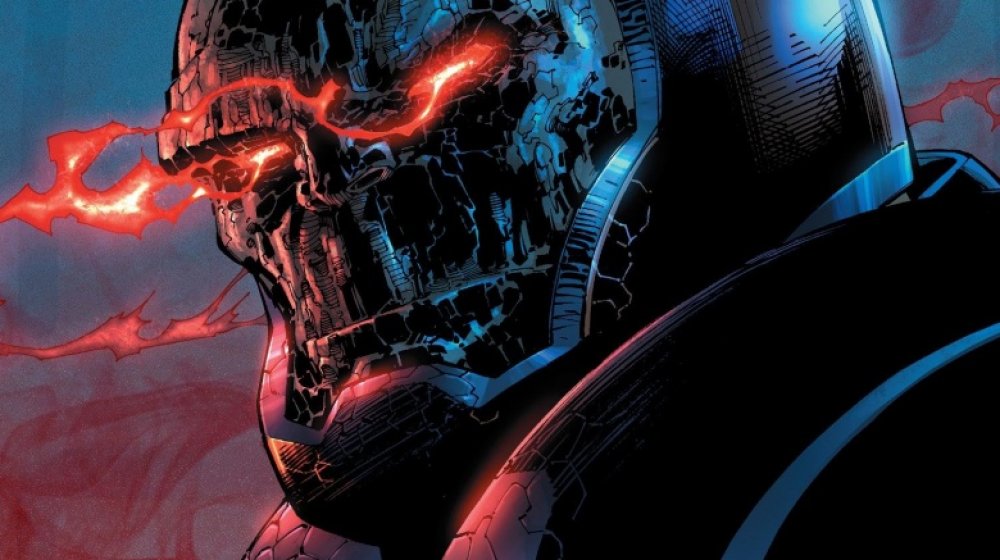 Considering how blatantly his coming was implied at the end of 2016's Batman v. Superman: Dawn of Justice, it probably didn't surprise anybody to learn that Zack Snyder's original version of Justice League would have included the appearance of the powerful villain Darkseid. On one of his installments of Fatman on Batman, Kevin Smith dished on some of the inside info. According to Smith, Darkseid would have appeared twice in the film — first as part of a vision of the future Superman has similar to the one Batman experiences in Dawn of Justice, and then at the end of the film when Steppenwolf would have been killed by Darkseid for failing to defeat Earth's heroes.
There's never been official word on why so much was changed between Snyder's version of Justice League and Joss Whedon taking over, so the best we can do is speculate. 
First, Darkseid might have been jettisoned because of concerns he'd be seen as a Thanos ripoff — a concern that might have been heightened because of Joss Whedon's involvement in both Justice League and Avengers. Second, there was the growing perception that the DCEU films were too dark. Not only is Darkseid a pretty dark character, the word "dark" is literally part of his name. Third and finally, Warner Bros. seems to be gradually distancing itself from the idea of a shared narrative like Marvel's, and according to Smith the villain's entire role in Justice League would have been to tease future chapters of that narrative.