The Real Reason Batgirl Won't Be In Birds Of Prey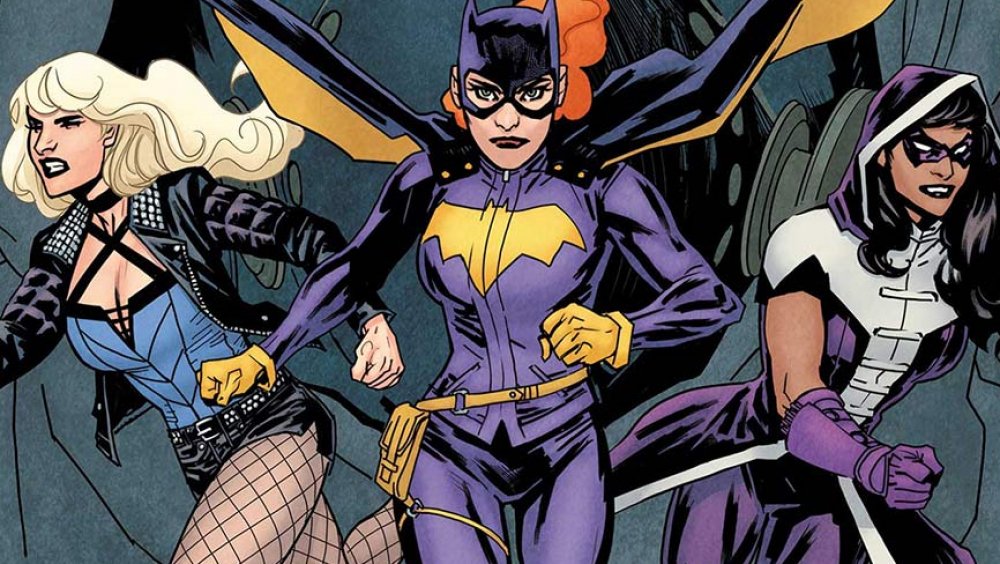 DC/Warner Bros.
DC Comics' Birds of Prey are set to swoop into theaters in February, and fans continue to be baffled that they'll be doing so without one of their most formidable allies, Barbara Gordon (a.k.a. Batgirl).
Those fans are just as quick to point out that these Birds of Prey are even coming to theaters alongside a character that was more frequently their foe in the one and only Harley Quinn (Margot Robbie). Adding yet more confusion to the Birds of Prey + Harley Quinn combo is the fact that Harley already had her own crew to work with in the pages of DC comics via her Gotham City Sirens team-up (alongside fellow villains Catwoman and Poison Ivy). Given Harley Quinn's comic status, this raises a couple of questions as to not just why this unusual alliance is happening in the first place, but whether or not we might actually get to see Batgirl at any point in the Birds of Prey movie. 
Thankfully, Birds of Prey producers Sue Kroll and Brian Unkeless addressed both of those questions when they sat down with Collider to discuss their forthcoming superhero film. To answer the second question first, Kroll responded quite bluntly when asked if Barbara Gordon or Batgirl will appear in the Birds of Prey movie, confirming, "You'll not see Batgirl. Just gonna say 'No.'" When pushed on the subject, Kroll went on to state, "This is a studio question. That character's in development on her own film, right?" 
Though Kroll poses Batgirl's "in development" status as a question, the fact is that DC and Warner Bros. have, in fact, been trying to get a Batgirl movie off the ground for a few years now. While that project gathered some serious steam when Joss Whedon (Buffy The Vampire Slayer, Firefly, Avengers) came aboard to write and direct back in 2017, Whedon's Batgirl flick never fully materialized, and the famed auteur of geekdom has since moved on to other projects. Currently, Batgirl is undergoing a re-write by Birds of Prey's own Christina Hodson, so it appears that the DC and Warner Bros. team are still hot to get a standalone Batgirl story to screens sometime in the near future — though we can imagine the relatively lukewarm response to the Batwoman series currently making waves on The CW might have Warner Bros. hedging bets on their own project.
We can also imagine that the status of Batgirl will be directly affected by the critical response and box office take afforded to Birds of Prey (and the Fantabulous Emancipation of One Harley Quinn), which is slated to hit theaters on February 6, 2020.
How this unlikely Birds of Prey team-up came to be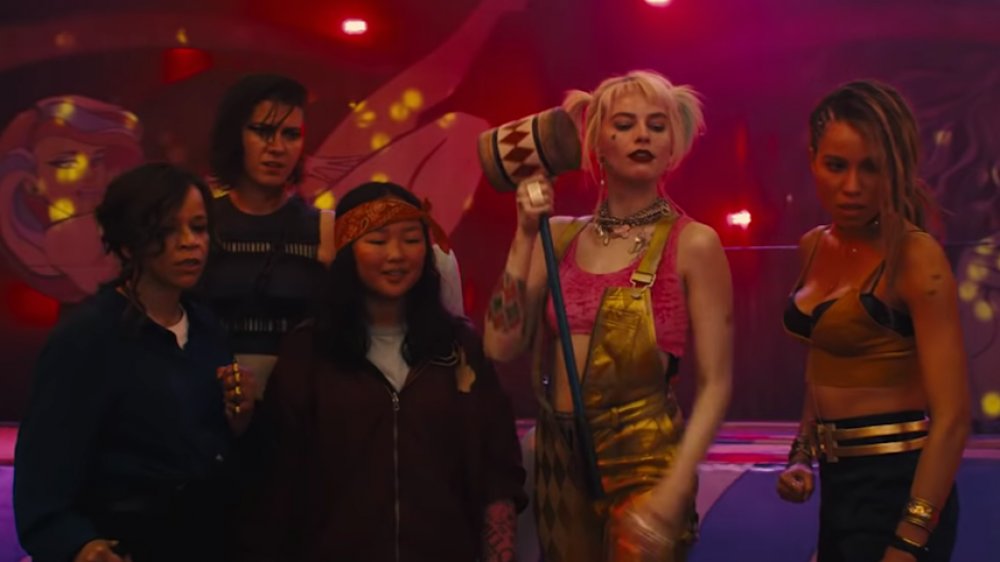 DC/Warner Bros.
Of course, the Harley Quinn-centric subtitle that's been tacked onto to Birds of Prey is probably the bigger reason for Barbara Gordon's absence from the crew of ass-kicking femmes she formed in the DC comic book universe. And just in case there was any doubt it, the subtitle "(and the Fantabulous Emancipation of One Harley Quinn)" clearly denotes Birds of Prey as a pseudo standalone for one of Gotham's biggest supervillains. Not surprisingly, Quinn's status as the baddest of the DC bad girls has also led to fans questioning why she's teaming up with the Birds of Prey, who are traditionally on the side of good in Gotham.
To that question, we'd simply offer that if Harley Quinn is indeed bent on getting out from under the domineering thumb of "Mr. J" (DC's iconic villain Joker), it sort of makes sense that she'd be down to throw in with the good gals to boot. Given the overwhelmingly positive response to Margot Robbie's Harley Quinn (one of the few positives from the swing-and-miss super-powered confection that was 2016's Suicide Squad), it also makes sense that DC and Warner Bros. would want to put the character front and center in a film as soon as possible.
Given the studio's desire to front Robbie's Harley, it's easy to assume that there just wasn't enough room for both Harley Quinn and Batgirl to share the same narrative — particularly if you want to give the other Birds any space to breathe in that single movie. But if you're wondering exactly why Harley is boarding the Birds of Prey instead of her Gotham City Sirens for her moment in the cinematic sun, the film's producer Bryan Unkeless says it has more to do with DC and Warner Bros. essentially giving Robbie (who also produced Birds of Prey) and screenwriter Christina Hodson carte blanche to mix and match characters as they saw fit. 
"A lot of it also has just originated from Margot and Christina kind of having this fun, open canvas or being attracted to the characters," Unkeless explained. "So there certainly are some of those studio primers, but this, by and large, is, 'This character's awesome!' You know? And Christina and Margot would get excited about these characters and it led us to the people we have on this wall."
Robbie herself is quick to back that sentiment up, telling Collider in the same interview, "Yeah, it's an eclectic group, which I love — that everyone has a distinct and different personality, and is coming from a different angle. Everyone's kind of got their own rule of ethics that they abide by, and they kind of conflict with each other, which I think is always interesting in an ensemble."
And fret not, Batgirl fans, because you still might see the caped femme busting heads with her fellow Birds sometime down the road, if only because there are a couple of names among that ensemble who've donned the cowl in the pages of DC comics in the past (see Mary Elizabeth Winstead's Huntress and Ella Jay Basco's Cassandra Cain). So even if there's a Barbara Gordon Batgirl movie in the works, we wouldn't be surprised to see DC and Warner Bros. shake things up a bit down the road by having one of these Birds become the bat.
Again, that will likely all depend on how Birds of Prey (and the Fantabulous Emancipation of One Harley Quinn) is received. Hopefully fans will turn out for the film and help ensure we get to see either Batgirl or a Birds of Prey sequel on the big screen sometime in the future. Birds of Prey (and the Fantabulous Emancipation of One Harley Quinn) flies into a theater near you on February 6, 2020, so be sure and save the date if you want to help make that happen.