Black Adam - Everything You Need To Know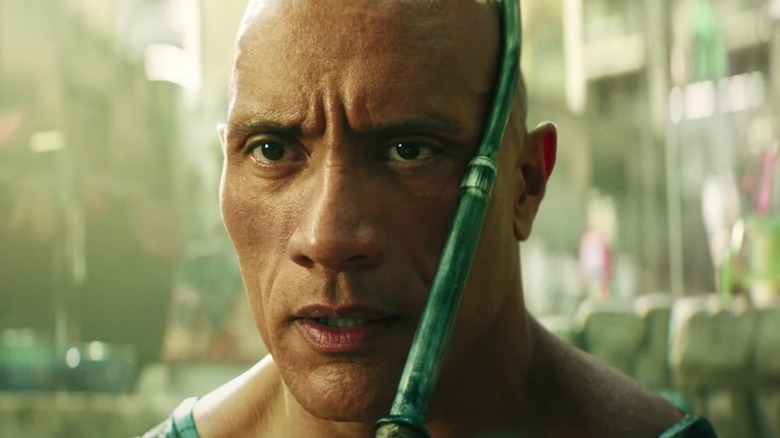 Warner Bros./DC Films
Dwayne Johnson was connected to "Black Adam" all the way back in 2007 (via /Film), and it's been a long 15 years, but the film has finally landed in theaters. Debuting on October 21, 2022, the superhero flick is the 11th film in the DCEU and introduces a handful of characters to the ever-expanding franchise. Johnson has been in overdrive promoting "Black Adam" for the last two years, promising his fans and followers that the hierarchy of the DC Universe was about to change. Has it changed? Well, that's up to the audience to answer.
The world has finally met Black Adam and the Justice Society (who probably should have gotten their own movie first, but we digress), and both are expected to show up in future DCEU movies. Now that the very large, brooding, murderous cat is out of the bag, here's everything you need to know about "Black Adam." 
What is the plot of Black Adam?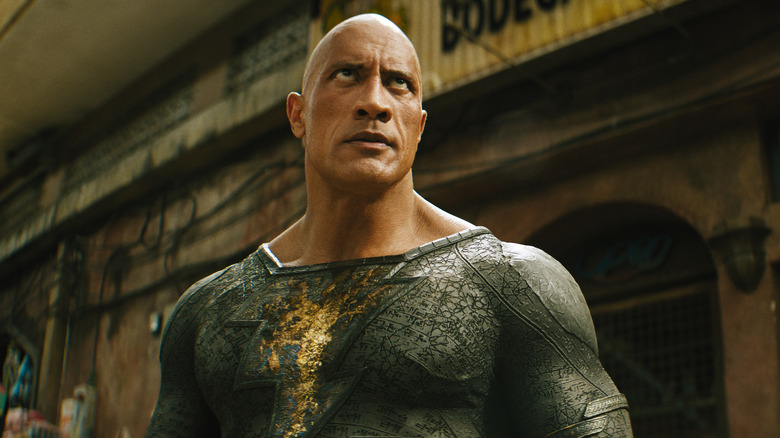 Warner Bros./DC Entertainment
Warning: The rest of this article contains spoilers for "Black Adam."
The official synopsis of "Black Adam" reads, "Nearly 5,000 years after he was bestowed with the almighty powers of the ancient gods—and imprisoned just as quickly—Black Adam (Johnson) is freed from his earthly tomb, ready to unleash his unique form of justice on the modern world." We find out during the film that Teth-Adam gets his powers the same way that "Shazam!" does (in case you're not a comic book reader), and we find out just how that moment comes to be and why he is chosen. There's a significant plot twist here that we'll leave out, but it's a good one.
After Teth-Adam is awoken, the Justice Society is ordered by Amanda Waller (Viola Davis) to capture him so she can put him in a cell for eternity. The team travels to Kahndaq to bring in the Man in Black, but they are met with fierce opposition as Teth-Adam's powers are remarkable. Eventually, a bigger threat emerges, and Black Adam must defeat Sabbac, a villain who draws his powers from the six demons of Hell (Satan, Aym, Belial, Beelzebub, Asmodeus, and Crateis).
Who stars in Black Adam?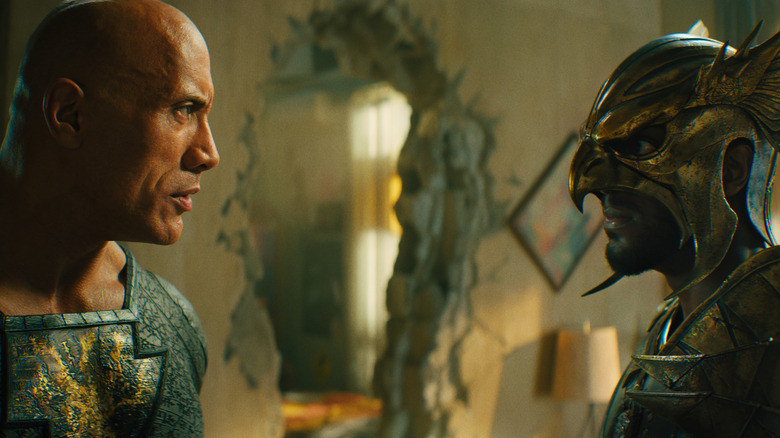 Warner Bros./DC Entertainment
Dwayne Johnson leads "Black Adam" as the titular character, but he's supported by an incredible cast. Noah Centineo stars as the heroic Atom Smasher; Pierce Brosnan stuns as the dazzling Dr. Fate; Aldis Hodge leads the Justice Society as Hawkman; Quintessa Swindell portrays the tornado-based hero Cyclone, and Sarah Shahi plays the admirable Adrianna Tomaz. Marwan Kenzari stars as the film's big bad, Sabbac, who earlier in the movie we know as Ishmael. 
"Black Adam" also features Bodhi Sabongui as the skateboard-loving Amon, the son of Adrianna. Mohammed Amer plays Karim, Adrianna's brother and Amon's uncle, who provides a lot of comic relief in the film. "Young Rock" star Uli Latukefu (who plays Johnson in the ABC comedy) stars as The Champion in "Black Adam," and while it's a brief experience, it's great to see Johnson and the man who plays him on TV come face to face in the film. There also may or may not be a MAJOR post-credits cameo featuring one of the biggest names in the superhero industry, but we don't want to spoil everything, now do we?
Who directed Black Adam?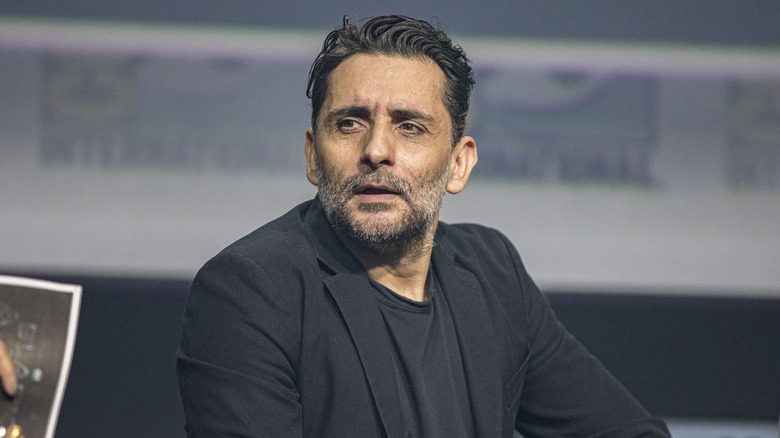 Daniel Knighton/Getty Images
What would "The Dark Knight" be without Christopher Nolan? Or would "Wonder Woman" have packed the same punch without Patty Jenkins? It is becoming more and more relevant to have a great director behind a superpowered blockbuster. Thankfully, "Black Adam" found its director in Spanish-born Jaume Collet-Serra. Best known for horror films such as "Orphan" or the Paris Hilton-led "House of Wax," the director previously worked with Dwayne Johnson on the 2021 Disney feature "Jungle Cruise."
In an interview with Deadline, Collet-Serra explained how he ended up on the DC comics project, "I gravitated toward the origin story of this unconventional character." The seasoned director further detailed the morality of the subject and plot, describing "Black Adam" as "the "Dirty Harry" of superheroes." That understanding of the story clearly resonated with the star, as The Rock also confirmed at CinemaCon that the 1971 Clint Eastwood feature was the inspiration and "north star" for the direction of "Black Adam."
Where to watch other DCEU movies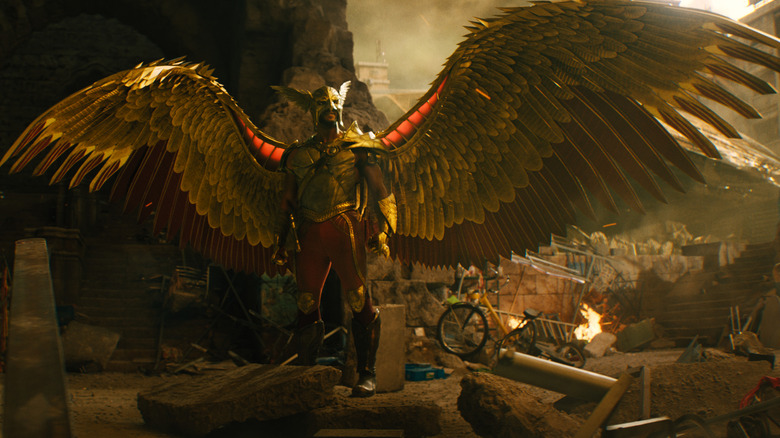 Warner Bros./DC Entertainment
"Black Adam" is very much a part of the DC Extended Universe, which is still having trouble finding its footing. Nevertheless, catching up on the 10 films before "Black Adam" is easy as they are all available on HBO Max. These will likely never leave the platform, as they were distributed by Warner Bros., who owns the HBO streamer. From "Man of Steel" to "The Suicide Squad," every DCEU film can be watched with a subscription to HBO Max.
The streamer also offers other DC films outside of the universe, like "Joker" and "The Batman." "Zack Snyder's Justice League," "DC League of Super-Pets," and "Peacemaker" are also available for streaming on the app. As far as when "Black Adam" will make it to the streamer remains to be seen as HBO Max has abandoned its 45-day plan. As long as "Black Adam" continues to do well at the box office, you likely won't be catching it online. 
"Black Adam" will be available to watch on HBO Max on December 16, 2022 per ComicBook.com.
What is Black Adam rated?
"Black Adam" holds a PG-13 rating for strong violence, intense action, and some language. According to Film Ratings, PG-13 means parents are strongly cautioned, and the film might not be suitable for children under 13. For those wishing to have seen a darker take on the antihero's story, you might be in luck, as a few R-rated cuts are floating around. 
Collider chatted with "Black Adam" producers Beau Flynn and Hiram Garcia, who revealed the film's initial rating was R. This didn't just happen once; it happened four times. The film had to keep getting tweaked to drop its rating from R to PG-13, and the MPAA kept kicking it back time after time. "We really wanted to make sure that we honored the character of Black Adam. One of the things he's known for is his aggression and violence, and to do a Black Adam movie that didn't have that just wouldn't have been authentic," Garcia told Collider. He added that those making the film knew they were walking the fine line between ratings, and they collaborated with the MPAA to get its final PG-13 rating. 
How did Black Adam do at the box office?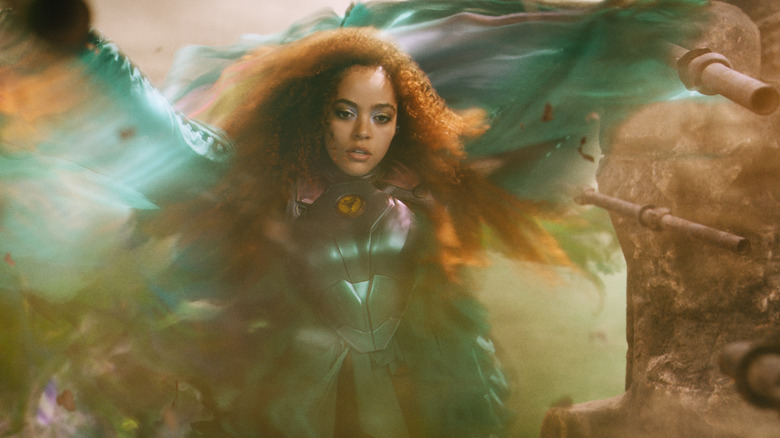 Warner Bros./DC Entertainment
"Black Adam" had a solid opening at the box office, earning $140 million across the globe, according to Deadline. $67 million came from the domestic market, making it Dwayne Johnson's biggest movie opening ever in a film where he plays the lead. While it seems like a pretty solid release, "Black Adam" has the seventh-best debut weekend in the DCEU, making it one of the less stellar openings in the franchise (per Box Office Mojo). For comparison, "Batman v Superman: Dawn of Justice" had an opening domestic cume of over $166 million, and 2016's "Suicide Squad" pulled in a whopping $133+ million. "Black Adam" only beats "Wonder Woman 1984," "The Suicide Squad," "Birds of Prey," and "Shazam!" when it comes to opening weekend numbers, but it should be mentioned that the former three suffered poor openings due to their release during the first two years of the COVID-19 pandemic. 
Unfortunately, after its opening, "Black Adam" took a series tumble at the box office. According to Variety, after seven weeks, the movie only made $387 million. Globally. The outlet then suggested "Black Adam" needed to hit $600 million just to break even, which would cover the budget and marketing costs. The projection from Variety suggests "Black Adam" will have lost $50 to $100 million when all is said and done.
But Johnson wasn't having it. After the reports came out, he went on social media to allege the movie was actually set to profit between $52 and $72 million. The actor cited his "financiers" and was slammed in the comments for being a baby about the loss reports. 
How are critics and audiences responding to Black Adam?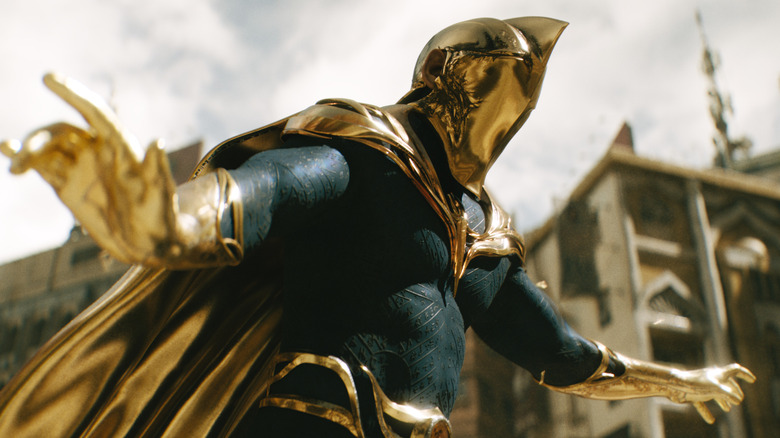 Warner Bros./DC Entertainment
"Black Adam" is the definition of a popcorn superhero movie and was an action-packed spectacle. Our own Dominic Griffin rated the flick 6/10, citing the strong ensemble cast and fast pace but noted the film was relatively unambitious. Over on Rotten Tomatoes, "Black Adam" has a critics score that continues to float in the high 30s to low 40s range. At the time of this publication, the movie sits at a dismal 39%, as many critics are referring to the film as a letdown.
However, there is a plus side. The audience score on the aggregator site is currently at 90%, with over 2,500 verified reviews. This number will change over the next few months but will likely stay in this fresh zone. It currently has the highest audience score out of any film in the DCEU ("Zach Snyder's Justice League" rates higher at 94%, but it's not technically in the franchise), hovering well above "Wonder Woman," which has an 83% score. 
"Black Adam" has the biggest gap between its critics and audience score by a longshot, with "Batman v Superman: Dawn of Justice" having the second largest at 34 points.