Ben Affleck Breaks Silence On Why He's No Longer Batman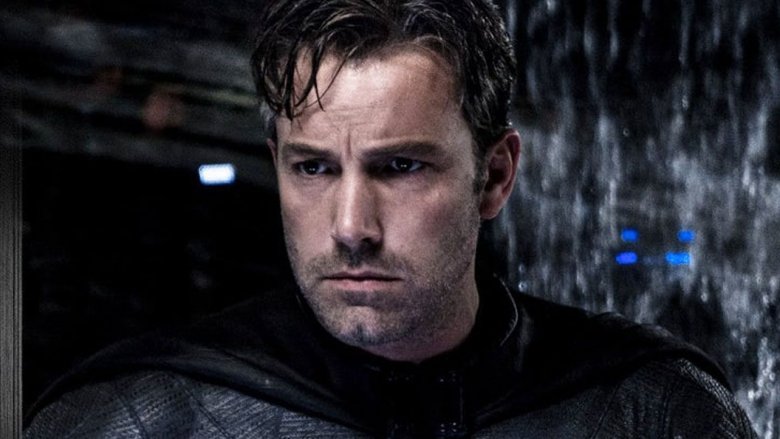 Batfleck has officially sent his cape and cowl to the cleaners, hung it up neatly in his closet, and flown out of Wayne Manor. 
Speaking during his appearance on the Thursday, February 14 episode of Jimmy Kimmel Live!, Ben Affleck finally came forward and explained in no uncertain terms why he is no longer playing Batman. 
Unlike the circumstances surrounding and sequence of events leading up to Affleck's departure from the coveted comic book character role, his actual reason for ditching the post is, surprisingly, not complex in the slightest: he simply couldn't craft an iteration of the Dark Knight that he was happy with for the forthcoming standalone film The Batman. 
"I tried to direct a version of it and worked with a really good screenwriter, but just couldn't come up with a version — I couldn't crack it," Affleck explained. "And so it was time to let someone take a shot at it. They've got some really good people."
Affleck's ties to the DC Extended Universe and to his role as Batman that he originated in 2016's Batman v Superman: Dawn of Justice have been frayed for over two years now. After taking turns in Justice League and Suicide Squad, Affleck, who assumed the Batman mantle after Christian Bale concluded his run as the Caped Crusader in Christopher Nolan's Dark Knight trilogy, was eyeing a sparkling new project: a standalone pic entitled The Batman that he was originally slated to write, direct, and lead. 
Announced what feels like eons ago, in July of 2015, those initial grand plans for The Batman began to fall apart when Affleck backed out of his position as director, handing the reins to Let Me In and War for the Planet of the Apes filmmaker Matt Reeves after coming to the tough realization that he didn't have the wherewithal to work behind the camera and act in front of it without sacrificing quality in one of the two jobs. 
"Performing this role demands focus, passion, and the very best performance I can give. It has become clear that I cannot do both jobs to the level they require," Affleck said in late January of 2017. "Together with the studio, I have decided to find a partner in a director who will collaborate with me on this massive film. I am still in this, and we are making it, but we are currently looking for a director. I remain extremely committed to this project, and look forward to bringing this to life for fans around the world."
At the time, Warner Bros. assured that the studio supported Affleck's decision not to direct The Batman and remained "committed to working with him to bring a standalone Batman picture to life." 
But the situation grew complicated when Affleck began playing round after round of verbal ping-pong when discussing his status in The Batman and the DCEU as a whole — at one turn confirming he was still set to star, at another lauding Reeves as a genius director for whom he would do anything and saying that Batman is the "coolest f***ing part in any universe," and later revealing he was only "contemplating" appearing in the film and was hoping to "find a graceful and cool way to segue out of it." 
Flash forward to July of 2018, when Deadline issued a report claiming Affleck was well and truly done with The Batman and wouldn't be reprising his role again. Just a few months later, The Hollywood Reporter published its own piece reporting that the actor was indeed leaving the DCEU. 
This all brings us to now: a time in which there is no actor attached to lead The Batman, no star standing firm in the DC movie world as Bruce Wayne. This isn't to say that Reeves is running around like a chicken with his head cut off trying to figure out what to do with the film without Affleck in tow, or that Warner Bros.' well of contenders for the new Batman is dry. It's quite the opposite, really. 
Several big-name stars, from Robert Pattinson and Kit Harington to Aaron Taylor-Johnson and Armie Hammer and plenty more, are reportedly in consideration to take over for Affleck in The Batman and usher in a fresh era for the superhero in the DCEU. 
Things are looking just as bright for Reeves, who has a clear vision for what The Batman will feel like. He previously teased to The Hollywood Reporter that he intends to cast a collection of characters from Batman's rogues gallery, and that the film is heavily inspired by film noir.
"It's very much a point of view-driven, noir Batman tale. It's told very squarely on his shoulders, and I hope it's going to be a story that will be thrilling but also emotional. It's more Batman in his detective mode than we've seen in the films. The comics have a history of that. He's supposed to be the world's greatest detective, and that's not necessarily been a part of what the movies have been," said Reeves. "I'd love this to be one where when we go on that journey of tracking down the criminals and trying to solve a crime, it's going to allow his character to have an arc so that he can go through a transformation."
Additionally, Reeves doesn't seem to be stressed over going sans Affleck for The Batman. Various reports have claimed that he's scouting for someone between 15 and 20 years younger than Affleck for a story that focuses on a "young Caped Crusader." Color us intrigued. 
No matter who ends up donning the Bat-suit next, it sounds like Affleck is in good spirits over the situation and that Reeves is confident in his ideas for The Batman. Warner Bros. has the film slated to premiere in theaters on June 25, 2021 — plenty of time to select a fresh face to become the next Batman, craft the gritty, noir-influenced story, and polish it to a high shine. 
In the meantime, fans can hopefully rest easy knowing the true fate of Batman within the DCEU. Affleck made it clear when he perfectly spoofed the line his Batman predecessor Christian Bale famously said: "I'm not Batman."