Birds Of Prey Poster Promises Weird, Rainbow-Colored Mayhem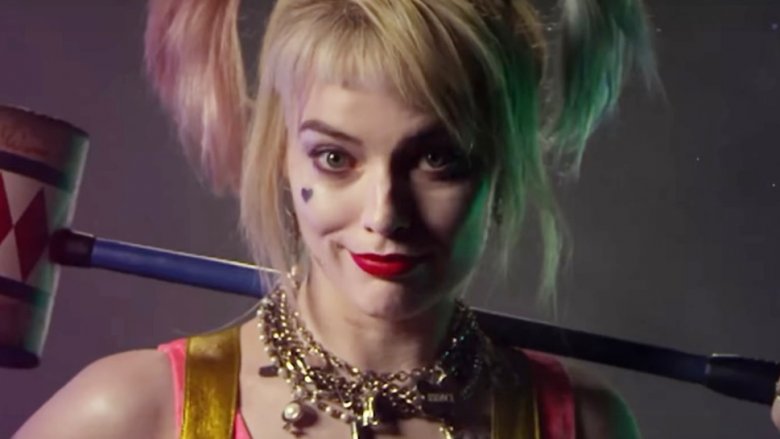 Take a gander inside the mind of Harley Quinn, if you can deal with the sensory overload.
A new poster has been released for the upcoming Birds of Prey (and the Fantabulous Emancipation of One Harley Quinn), and we feel like it can be succinctly summed up with two words: "candy-colored insanity." (Yes, "candy-colored" is one word if it's hyphenated.) The image was posted to the flick's official Twitter account.
Apparently, Harley (Margot Robbie) takes the "Birds" part of the "Birds of Prey" equation quite literally, as the poster depicts the principal cast of Birds of Prey, in miniature form, flitting around her head sporting multicolored wings. Harley doesn't seem bothered at all, for apparently, her new motto is "mind over mayhem" — at least, according to the (obviously photoshopped) tattoo across her throat. It is a singularly weird image, and you may want to put on some sunglasses before checking it out.
Seriously, we're pretty sure that if you close your eyes, you can hear that picture. It may be the only image on the internet that actually takes batteries. If you have a particularly freaky kid, you could probably print the image out and use it as a nightlight. Okay, we're done.
Birds of Prey (and the Incredibly Long Subtitle) looks to continue the recent trend in the films fielded by Warner Brothers and DC: rather than sticking to their early blueprint of Marvel-style shared universe building, the recently rebranded "Worlds of DC" now seems intent on making sure that each new film absolutely, in the most aggressive sense, is completely different from all of the others.
Consider the road that the former DC Extended Universe has traveled since the critical and box office failure of 2017's Justice League, which should have been a triumphant onscreen assembling of all of DC's most iconic characters, and instead arrived in theaters as a lukewarm, tonally confused mess. Late 2018 gave us Aquaman, which featured a character introduced in Justice League, but which seemed to bend over backwards to avoid any mention of that film. The Jason Momoa starrer told a reasonably straightforward origin story, and grossed over a billion dollars worldwide; so far, so good.
Early this year came Shazam!, which — while ostensibly taking place in a universe where heroes like Batman and Superman exist — seemed to lean even further away from the shared universe model. It also positioned itself as DC's first straight-up comedy — "Superman meets Big," as described by its star Zachary Levi. The flick didn't exactly set the box office on fire, but it performed well enough to merit a forthcoming sequel, and also kicked into gear a long-gestating, Dwayne Johnson-starring spin-off featuring Shazam nemesis Black Adam.
In less than a month, we'll get director Todd Phillips and star Joaquin Phoenix's Joker, which is about as far from Shazam! as Taxi Driver is from Big. The Martin Scorsese-influenced film is a grim, gritty, '70s-style character study; it features Bruce Wayne only as a child, and there are no plots to take over the world or superpowered brawls. Phoenix is already garnering Oscar buzz for what is, by all accounts, a towering performance. It's an incredibly bold move by Warner Brothers, promising a unique vision of an iconic character which has already earned one actor an Oscar — and next on tap is the insane, Day-Glo weirdness that is Birds of Prey.
Interesting release strategy, to be sure. But so far, the marketing team for Birds of Prey has been on point; the flick will be rated R (which is about the only thing it will have in common with Joker), and there seem to have been a few lessons learned from the advertising strategy for 2016's Deadpool, the first R-rated superhero flick of the modern era. That film's ads were almost as entertaining as the movie itself, and early indications are that Birds of Prey seems to be following its blueprint. For example, a teaser trailer was recently released which ran exclusively in front of It: Chapter Two, one which faked out the audience into believing the movie was starting with a swarm of red balloons filling the screen — until the DC logo suddenly appeared, and Harley arrived to clear out all of the balloons with her famous hammer before proclaiming, "I'm just so f***ing over clowns."
The rest of the spot, which may actually have been edited with a machine gun somehow, promised two specific things: bright colors, and lots and lots of ass-kicking. Birds of Prey is obviously a flick that's going to have a winking sense of humor, and we're hoping that Harley maintains that meta quality from the trailer; that way, perhaps she can help explain to us whether or not her first screen appearance (in 2016's Suicide Squad) is actually canon, considering that Birds of Prey appears to continue that story while James Gunn's forthcoming The Suicide Squad — in which Robbie will also appear as Harley — is allegedly a complete reboot.
It's all rather confusing, and it remains to be seen how Warner Brothers' anti-Marvel approach to non-universe building pans out. But it already seems to be paying dividends in the most important way: while the studios' earlier, shared universe-focused efforts disappointed fans and prompted critics to sharpen their knives, the new "filmmaker-driven" approach is actually producing good pictures, and Birds of Prey looks like a heck of a lot of fun.
Aside from Robbie, the flick's cast includes Mary Elizabeth Winstead (Gemini Man) as Huntress, Jurnee Smollett-Bell (True Blood) as Black Canary, Rosie Perez (Bounty Hunters) as Renee Montoya, Chris Messina (Sharp Objects) as Victor Zsasz, and Ewan McGregor (Doctor Sleep) as Black Mask. Birds of Prey (and the Fantabulous Emancipation of One Harley Quinn) hits the big screen on February 7, 2020.