The Falcon And The Winter Soldier D23 Poster Features Bucky With A Very Different Look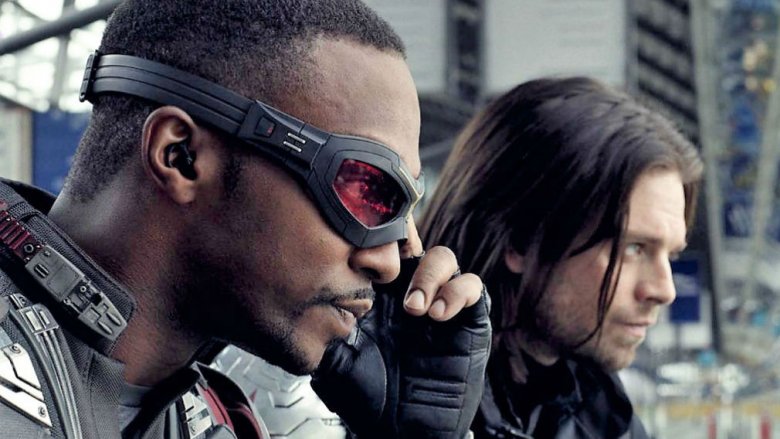 Disney/Marvel
What's old is new again for Bucky Barnes.
A new poster for the upcoming Disney+ series The Falcon and the Winter Soldier was unveiled at the D23 expo over the weekend, and it featured Mr. Barnes (Sebastian Stan) sporting a look we haven't seen since 2011's Captain America: The First Avenger. An image of the new one-sheet was posted to the Twitter account of Lights Camera Pod, the movie podcast of popular sports blog Barstool.
The first thing observers may have noticed about the poster is that Sam Wilson (Anthony Mackie) is, indeed, still shown in his Falcon garb. Despite being presented with Steve Rogers' shield and bequeathed the title of Captain America at the conclusion of Avengers: Endgame, Wilson appears to be taking his time wrapping his head around his new responsibility. For that matter, so is Mackie — in a recent conversation with Variety, the star said point blank, "I am the Falcon. I will always be the Falcon," renewing speculation as to whether Wilson actually even wants that darned shield.
But the second thing you'll notice when scanning the one-sheet is Barnes' clean-cut new — or, rather, old — look. We haven't seen him with hair cut short and slicked back since way back in his World War II days, he's relatively clean-shaven, and he's got a sleek new black outfit; perhaps somebody finally told Barnes that if he's going to be a superhero, he ought to look a little less like somebody you'd be terrified to run into in a dark alley.
Very nice, Buck. You now look like a Winter Soldier that some nice girl would be happy to bring home to their mother, kickass metal arm notwithstanding. Maybe just wear long sleeves and gloves... that wouldn't be weird.
At any rate, while we see that Wilson hasn't been all over picking up the shield, we do know a couple of things about the situation: first, that Mackie has actually been fitted for his Captain America costume ("It looks really good," he told MTV News), which renders his comment about always being the Falcon rather questionable. Also, we know that whatever narrative direction The Falcon and the Winter Soldier takes, it likely won't be one that we're expecting.
The series' showrunner Malcolm Spellman (who has previously served as a writer and producer on the hit series Empire) recently indicated to IGN that if fans think they know where the series is headed based on recent events in the MCU, they're probably wrong.
"I wouldn't make any assumptions based on [the end of Avengers: Endgame]," Spellman said. "You know how Marvel is, we can't say much about that, but it's not predictable. Where you think Endgame obviously aims, that target's gonna move around."
Thanks to the series' D23 panel, we also have a little bit more info as to who besides Stan and Mackie will be taking part. Emily Van Camp will be reprising her role of Sharon Carter, the niece of Steve Rogers' sweetheart and former S.H.I.E.L.D. director Peggy Carter, from Captain America: The Winter Soldier and Captain America: Civil War. Also, MCU newcomer Wyatt Russell (who appeared in the standout season 3 Black Mirror episode "Playtest") has been cast as John Walker, the government-sponsored hero and Cap stand-in known as U.S. Agent.
It had been previously announced that Daniel Brühl will be returning to tangle with our heroes as Baron Zemo, Civil War's antagonist — and this time, he'll apparently be sporting a much more comics-accurate look, as a recent photo posted to the actor's Instagram showed the character rocking his iconic purple mask.
Since it will be the very first of the Disney+ MCU series to drop, our level of excitement over The Falcon and the Winter Soldier is absurdly high. The show is expected to premiere on the streamer in the fall of 2020; it'll be followed in the spring of 2021 by Loki and WandaVision, with Hawkeye premiering in the fall of that same year. Also announced at D23 were three additional series centered around She-Hulk, Ms. Marvel, and Moon Knight,although no potential time frames for those series' release was announced.
We're incredibly pumped to see how all of the Disney+ shows — which are being produced by the movies' production house Marvel Studios, as opposed to Marvel Television, which has shepherded every Marvel TV project to the screen so far — tie in to the events of the MCU at large. We loved the late, lamented Netflix Marvel shows, but even their staunchest fans had to admit that their connection to the films was tenuous at best. This will no longer be the case, and with five feature films and four series set to come our way in the next couple years alone, it's truly a fantastic time to a Marvel fan.
Of course, we'll keep our eyes peeled for any additional details on The Falcon and the Winter Soldier, and we'll be here to serve up any news worth reporting the moment it breaks.