New Black Widow Footage Reveals White Suit For Natasha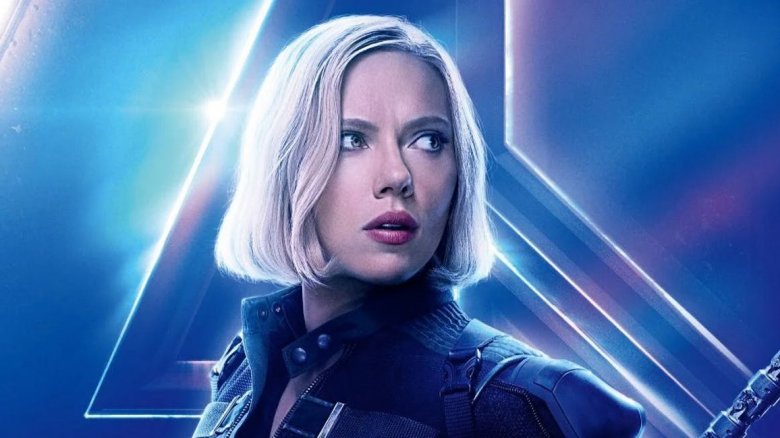 Disney/Marvel
Black Widow, white duds.
Fans at Disney's D23 expo this weekend were treated to an exclusive first peek at Black Widow, the first film of the Marvel Cinematic Universe's Phase 4 — and in it, Natasha Romanoff (Scarlett Johansson) was sporting an interesting new look: a mostly white outfit.
The sneak preview has yet to hit the internet, but we have photos of Natasha's new suit (which was on display at the presentation) thanks to our friends at ComicBook.com. It's almost entirely white, zipping up the front to a high collar; there are a few grey utility straps, a black double holster assembly, and a black belt with Widow's red logo.
The snazzy getup was featured in the preview footage, of which we have a detailed description thanks to GameSpot. The clip shows Romanoff walking through the streets of Budapest (although, since there is no Hawkeye in sight, we know that things aren't about to get too crazy). After taking the elevator up to an apartment, Widow is confronted by Yelena Belova (Florence Pugh), and the two have a brief standoff with their guns drawn.
Then, of course, all hell breaks loose. Romanoff and Belova have a knock-down, drag-out brawl in the apartment's kitchen, which is practically reduced to rubble (we're thinking this might just be a nod to the kitchen-based fight between two female assassins in Quentin Tarantino's Kill Bill Vol. 1). The scene then cuts to a shot of the pair tossing back shots of vodka, with Romanoff saying, "It's good to see you too, sis."
The clip then moves to an action montage of Widow, Belova, and Red Guardian (David Harbour, Stranger Things) beating the ever-loving crap out a few unlucky adversaries, followed by the one shot we really, really wish we could have gotten a chance to feast our eyes on: Romanoff coming nose-to-nose with the film's villain, the iconic Marvel baddie known as the Taskmaster.
It certainly sounds like Black Widow will be packed with wall-to-wall action, and according to Johansson, you can go ahead and add "floor-to-ceiling" to that description. As we reported last month, the star indicated in a conversation with ScreenRant that the flick will feature an absurd amount of fisticuffs — more than any Marvel movie to date, in fact. 
"There's a lot of fighting in this movie. Like, so much fighting," Johansson said. "Much more fighting than I think has ever... I think other producers that come onto the set, they're like, 'There's more fighting in this than any other Marvel movie we've ever made.' It's just brutal. I think because it's based in reality, all the action is based in reality and it's a lot of hand-to-hand combat. It's painful."
Of course, fans who have seen Avengers: Endgame (and if you're one of the three people who hasn't, you may want to stop reading now) have been wondering exactly how Black Widow will tie in to the rest of the MCU, considering that the character is, you know, dead. It's been revealed that the solo flick will take place between the events of Captain America: Civil War and Avengers: Infinity War, and at this year's San Diego Comic-Con, Harbour gave them a little better idea of what to expect, and how Black Widow's story will add context to Romanoff's fateful decision in Endgame to sacrifice herself so that her friend Clint Barton could secure the Soul Stone.
"It's great because you get to go back a little bit in time with her, right?" Harbour said. "And you get to explore these events, and that's one of the things that was interesting to me in the movie was, because you know the events of Endgame, so you get to explore how she got there... to make that choice."
Harbour also praised the interesting narrative choice made by Marvel Studios to retroactively fill in details of a character's arc, even as the audience already knows how this arc will end. "I think that's the interesting part of her narrative, is that we get to go back and explore this period of time between the events of Civil War and [the battle with Thanos]," he said. "One of our things is we've known each other for a really long time, and that relationship plays into the stuff that's come beyond. The great thing about knowing the end of an arc, you get to go back and either foreshadow or play against it and it's very joyful for fans to see these moments or prepped character beats come in at times." (via ScreenRant)
Well, if there's one thing we know about Marvel Studios, it's that each of its movies will in some way inform what comes after, and even though Black Widow takes place before the most significant series of events in the MCU, we're betting that the flick won't be an exception. In the comics, Belova at one point takes on the mantle of Black Widow herself — and we're pretty sure that Mighty Marvel didn't cast a hot young actress like Pugh just to feature her for one movie.
Should Belova become the MCU's new Black Widow, it's a safe bet that this exploration of her adventures with Romanoff will come into play sooner rather than later as the series' ongoing narrative moves forward. For the time being, though, we — like all Marvel fans — are just happy to see Romanoff get the solo vehicle she's long deserved, and to see Johansson reprise her iconic role one last time.
Black Widow hits the big screen on May 1, 2020.