Spider-Man: Far From Home Scores $185 Million Dollar Opening Weekend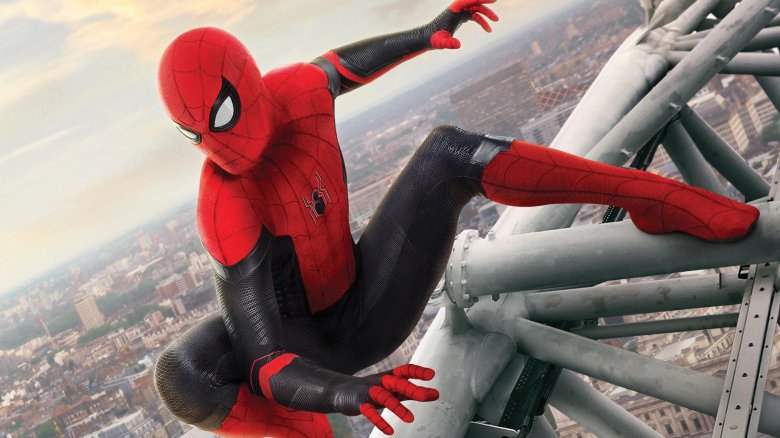 The long holiday weekend plus one vacationing wall-crawler added up to big bucks for Sony and Marvel.
Spider-Man: Far From Home, the second MCU solo outing for the web-head and the final film of Marvel's phase three, dominated the box office with a $185 million dollar domestic debut over six days. The flick added over $395 million dollars in international receipts to post a total of $580 million dollars worldwide. (via Variety)
While nobody had any doubt that Far From Home — basking in the "Avengers halo" after the stunning success of Avengers: Endgame — would crush it at the box office, it's safe to say that its performance has exceeded expectations. Last month, it was reported that the film was tracking to rake in somewhere in the neighborhood of $150 million dollars domestically over its opening six-day frame, but that figure was decimated (or was it blipped?) long before the weekend was over.
Variety also notes that Far From Home is far outpacing both 2017's Spider-Man: Homecoming and this year's other solo MCU feature, Captain Marvel, at the international box office. To put an exclamation point on that, we should note that Homecoming finished its box office run with an $880 million dollar global gross (the second-best take of any Spidey movie, behind only Sam Raimi's Spider-Man 3), while Captain Marvel had raked in over $1.1 billion dollars worldwide at the end of its stay in theaters.
This means that — as some industry observers have speculated — Far From Home will almost certainly become the first Spider-Man film to breach the billion-dollar mark, which will make Sony's shared custody arrangement with Marvel Studios look even more like the sweet deal it is.
Per the terms of the pact, Marvel was allowed to use the wall-crawler in three team-up pictures which they have: Captain America: Civil War, Avengers: Infinity War, and Avengers: Endgame. Marvel Studios produced all three of these pictures, and retained all of the profits from each. (Incidentally, they were all billion-dollar-plus smash hits.)
Sony, meanwhile, would continue to produce solo Spidey films which would be set in the MCU, and retain all of the profits from them — and so far, this has obviously worked out very, very well. The studio is also free to make its own standalone flicks featuring a wide array of ancillary Spider-Man characters, and that has also worked out quite nicely, with last year's Tom Hardy starrer Venom becoming a surprise hit to the tune of $855 million dollars globally. Sony doubtless has high hopes for the upcoming Jared Leto-starring Morbius (based on the classic Spidey villain known as the "Living Vampire"), but that character doesn't have quite the name recognition that Venom does.
With the wall-crawler's three team-up appearances and two of his three MCU solo movies now under the bridge, speculation has run rampant as to whether Sony will, you know, take their Spider-Man and go home once the initial deal is completed. We submit that Far From Home's box office performance should help to make the benefits of being associated with the Marvel Cinematic Universe crystal clear, and we fully expect that it will be announced very soon — perhaps at Marvel's D23 Expo presentation in August — that the deal will be re-upped.
To be fair, the "Avengers halo" certainly wasn't the only factor propelling Far From Home to box office glory. Sony also did their part, turning in a fun movie that serves as a worthy sequel to Homecoming while also thoughtfully (and sometimes hilariously) exploring life in the MCU after the "blip," which is apparently what all the kids are calling the disappearance of half of all living things (thanks to Thanos' fateful finger snap) and their subsequent return five years later (courtesy of Bruce Banner and the Stark Gauntlet). The flick currently stands at 91% on Rotten Tomatoes, with critics praising its deft blend of romance, action, and humor, as well as the performances of Tom Holland (still utterly inhabiting the title role), Zendaya (as Peter Parker's crush, MJ), and Jake Gyllenhaal (as new guy on the block and alleged interdimensional traveler Mysterio).
It's yet another victory in a ridiculously long string of them for the Marvel Cinematic Universe, not to mention proof that pretty much everybody who isn't a supervillain or J. Jonah Jameson loves Spider-Man. We'll be keeping our ears to the ground for any and all details concerning the future of the wall-crawler in the MCU, and we'll report the news as it breaks.