Black Mirror: Trailers Released For All Three New Episodes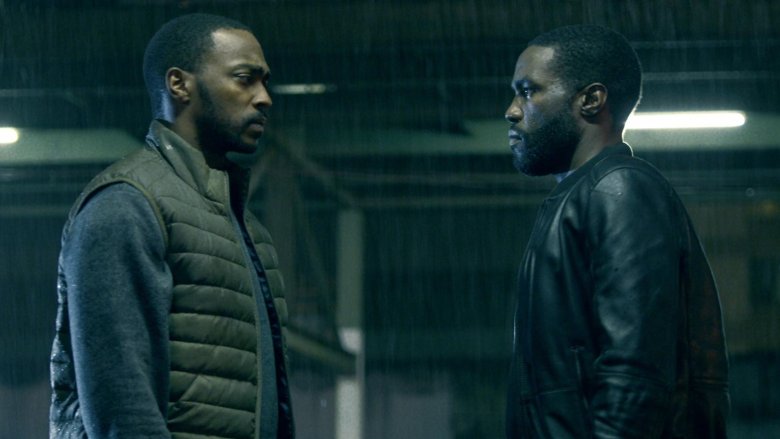 It's time for a nice long look into the Black Mirror.
Netflix has released episode titles and brief synopses, along with teaser trailers, for all three episodes of the venerable sci-fi anthology series' upcoming fifth season — and although it may be a bit truncated, the new season looks every bit as disturbingly awesome as we've come to expect.
While the first two seasons of the series (produced for Channel 4 in the U.K.) consisted of only three episodes, seasons three and four (which came along after the series' acquisition by Netflix) were a sturdy six episodes each. So, what's with the light batch this time around? We're guessing it has something to do with Black Mirror: Bandersnatch, the interactive film that was released in December of last year. Creator Charlie Brooker likened that project's production to making four episodes all at once; it took two years to bring to the screen, causing the release of this fifth season to be pushed back. What we're saying here is, in light of Bandersnatch, we're pretty lucky to be getting any new episodes this year, let alone three entries which look as rock-solid as these. Be warned, however: the trailers contain NSFW moments.
The first episode is titled "Smithereens," and it stars Andrew Scott (A Dark Place), Damson Idris (who recently trod similar ground in Jordan Peele's Twilight Zone episode "Replay"), and Topher Grace, the former star of That 70's Show who has been experiencing a bit of a career resurgence as of late (he recently appeared as former KKK Grand Wizard David Duke in Spike Lee's Oscar-winning BlacKkKlansman). Its synopsis: "A cab driver with an agenda becomes the center of attention on a day that rapidly spirals out of control."
In the teaser, we see the cabbie (Scott) during a bit of downtime, using a meditation app on his phone. (An extremely quick cut shows us an unidentified woman covering his eyes from behind; a lost love, perhaps?) Things gets decidedly less peaceful, however, when he picks up a fare (Idris). The cabbie tells his passenger that his GPS has detected an accident up ahead, and suggests an alternate route — but it's apparently a ruse, as in the next shot, he's pulling a gun on his hapless passenger.
A series of quick cuts show the man menacing his fare with the gun, ranting near-incoherently, and firing shots out of his window, all as onlookers record the goings-on with their phones. At some point, a police sniper gets involved — but before we see how the action plays out, the spot cuts to a mysterious character portrayed by Grace, smiling serenely as the meditation app encourages his calmness in voiceover. 
The second episode is titled, "Rachel, Jack and Ashley, Too," and it stars Aussie actress Angourie Rice (Spider-Man: Homecoming), Madison Davenport (Sharp Objects), and Miley Cyrus with a rare dramatic performance. The episode's synopsis: "A lonely teenager yearns to connect with her favorite pop star — whose charmed existence isn't quite as rosy it appears."
The teaser opens on teenage Rachel (Rice) watching her idol (Cyrus) guesting on a talk show. "The reason I'm here," she says, "is to introduce to you... Ashley Too!" She produces a small, vaguely humanoid robot, much to the delight of the teenager. "It's really important to be who you want to be," says Cyrus' pop diva, and of course, it isn't long before an Ashley Too is sitting on Rachel's desk, politely introducing itself. Davenport's character (Jack, presumably) watches the introduction suspiciously.
"I'll be here for you," the robot says, and the kind sentiment begins to echo and reverberate on the soundtrack, taking on an eerie and sinister quality as we see Cyrus' character scribbling in a notebook looking very troubled. Cut to the office of the pop star's agent, gold records adorning the wall, warning her handlers that "she doesn't understand how fragile all this is." One of said handlers asks if they should "up the dosage," and the remainder of the spot indeed takes on a rather druggy quality as we see a performance, a car chase, an MRI — and, finally, Ashley Too coming completely unhinged as a horrified Rachel and Jack look on.
The third episode is titled "Striking Vipers," and it stars Anthony Mackie (the Falcon in the films of the Marvel Cinematic Universe), Yahya Abdul-Mateen II (Aquaman), Nicole Beharie (Sleepy Hollow), Ludi Lin (Power Rangers), and Mackie's fellow Marvel alum Pom Klementieff (Guardians of the Galaxy Vol. 2, Avengers: Endgame). Its synopsis: "Two estranged college friends reunite in later life, triggering a series of events that could alter their lives forever."
This episode's spot opens on a family man (Mackie) and his wife (Beharie) on their way home, as the woman informs her husband that "the app says we need to do it in an hour... it's peak fertility." The husband, though, doesn't seem too psyched to get down to business: "I just ate so much, I don't know if I can," he says, and hastily departs.
We then see a family barbecue, with a friend of the husband (Abdul-Mateen) showing his buddy a new dating app. We get hints of a tense dinner between the married couple: "You know the thing about you," the wife says, "sometimes you just sort of go away." We see more indications of their troubled love life, as the woman asserts that "there's something going on." Her husband insists that this isn't the case, but in the final shots, we see him inserting a small electronic device into his temple — a device that causes his eyes to glow with an unnatural light.
All three spots are careful not to give away too much, but if you ask us, that's just fine. It seems like we've waited forever for more Black Mirror (the fascinating but uneven Bandersnatch notwithstanding), and we don't want too much spoiled for us. They do, however, tease what look like three very sharp and original installments, and they've done their job — we wouldn't have thought it possible, but we're even more pumped for Black Mirror's fifth season than we were yesterday.
Fortunately, the wait for this new batch of episodes will be short. Black Mirror returns to Netflix on June 5; we can only hope that the next season is already in the works, because we have a feeling that we'll be ready for it on June 6.