Jordan Peele's Twilight Zone: What The Critics Are Saying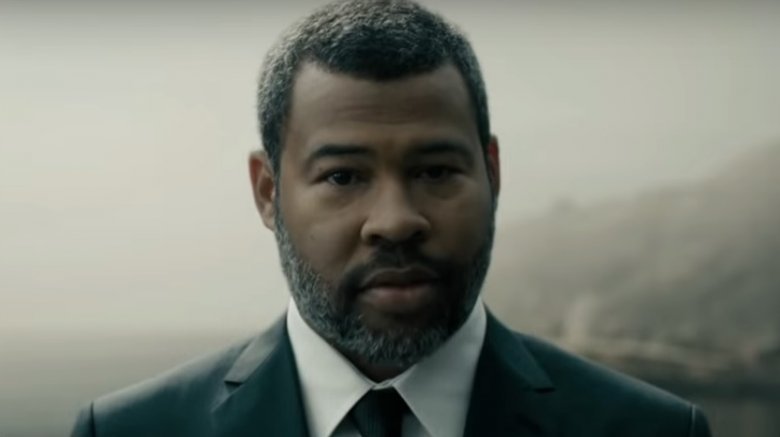 You're traveling through another dimension... a dimension in which modern reboots of beloved, iconic TV series actually live up to the legacy of the original.
Reviews are coming in for the first four episodes of executive producer and narrator Jordan Peele's The Twilight Zone, and critics — for the most part — are impressed. The revival currently stands at a respectable 74% on Rotten Tomatoes.
The notices are particularly impressive for the fact that freshman TV series typically take a season or so to hit their stride, and The Twilight Zone — an updated take on one of the greatest television shows of all time — is certain to be no exception. Reviewers found a lot to like in the four episodes that were made available to them, which are "The Comedian" (currently available to watch for free on YouTube), "Nightmare at 30,000 Feet," "Replay," and "The Traveler." RT's Critical Consensus reads: "The Twilight Zone explores the strangeness of the modern world through Rod Serling's winning formula, creating a thought-provoking, spine-tingling showcase for Jordan Peele and his exceptional crop of collaborators."
First things first: Peele may have been a little skittish about stepping into Rod Serling's role as onscreen narrator, but he acquits himself very nicely. Said Pajiba's Joelle Monique, "There's something magical about Peele's performance. There's a twinkle in his eye, a gentleness to his telling of these warning stories, and an otherworldly knowledge perfect for the series. Peele never tries to duplicate what Serling perfected years ago. Inspired by the originator, but doing his own thing, Peele is a perfect guide through the terrifying wormholes of Twilight Zone."
Those wormholes, indeed, lead to some pretty strange places in the new series — but a not-insignificant faction of reviewers found the pilot episode to be the weakest of the bunch. Although there was plenty of praise to be found for the performances of Kumail Nanjiani, Diarra Kilpatrick, and Tracy Morgan in "The Comedian," many found it to be overly long and a touch predictable, if well-executed. Scripted by Key & Peele contributor Alex Rubens and directed by Owen Harris (who helmed the stellar Black Mirror episode "San Junipero"), the episode tells the story of Samir (Nanjiani), a budding standup who pays a hefty price when a fellow comedian (Morgan) advises him on the formula for success. "Nanjiani is a strong lead, and Diarra Kilpatrick gives a feisty performance as an ambitious colleague who insults, infuriates, and inspires Samir," said Noel Murray of A.V. Club. "The episode as a whole has an intriguing perspective on comedy and fame, suggesting that the public demands their favorite celebrities sacrifice their souls. But this is a pretty sour point of view to stew inside of for nearly an hour... it's hard not to let the sobering shadow of 'The Comedian' chill the reaction to the much, much better 'Nightmare.'"
That episode — a reworking of the classic, William Shatner-starring original "Nightmare at 20,000 Feet" — was near-unanimously pegged as the better of the two that dropped on CBS All Access yesterday, even if that praise was somewhat reserved. Said Den of Geek's Alec Bojalad, "'Nightmare at 30,000 Feet' begins with a head full of steam and gradually loses some of it in each passing moment. Still, the central mystery is so well-conceived and the storytelling so economic... that it doesn't register that you've been slightly disappointed until Jordan Peele's final monologue doesn't spell everything out... [It's] an imperfect episode... but a perfect reintroduction to what the show is capable of doing in our twisted modern age."
More than one critic found the Sanaa Lathan-starring "Replay" to be the best of the first four episodes, thanks to Lathan's empathetic performance and smart direction from Gerard McMurray (The First Purge). The story of an African-American mother who thinks she may have found a way to reverse her son's unfortunate encounter with a racist cop by way of a camcorder that can turn back time, the episode was judged to be "the most fascinating" of the bunch by Collider's Vinnie Mancuso, who noted that the episode "becomes less about the sci-fi element and more a sobering reality. Over the episode's hour runtime, you start to realize this mother and son don't need a magic camcorder to experience this same brand of racism over and over again; there will always be a highway patrolman of some sort, replay or not. It's classic peak Twilight Zone, a head-trip that doubles as a truth."
"The Traveler" was also singled out for praise due in large part to an inspired performance by Steven Yeun (The Walking Dead). Decider's Meghan O'Keefe called it a "dark, mean, and imaginative" outing anchored by Yeun's "spectacular" performance, while Danette Chavez of A.V. Club noted the influences of Stephen King and The X-Files in the "smart and moody" episode.
Of course, not all of the notices were good — and the bad ones tended to be downright scathing. Slate's Willa Paskin deadpanned, "Despite actually having Jordan Peele in it, [the show] does not have nearly enough Jordan Peele in it," while Darren Franich of Entertainment Weekly called the entire endeavor a "calamity" in a fire-breathing review: "Temper your expectations... then throw them out the window. The first four episodes are all bad, a mess of sleepy conceits grasping toward topicality with on-the-nose dialogue spoken by boring characters. A couple sharp performances can't triumph against nonstop plot contrivance. This is one of 2019's first great disappointments." Ouch.
Most observers, though, acknowledged the series' room for improvement while praising it as the most worthy attempt so far at recapturing the spirit of Serling — and some were positively over the Moon. "Jordan Peele proves that you can reboot a show and make it just as good as the original while updating it for a whole new audience," said Bloody Disgusting's Rafael Motamayor. "The Twilight Zone is back and, out of the gate, as good as it's ever been." Gavia Baker-Whitelaw of The Daily Dot opined that it's "not a huge surprise that Jordan Peele's Twilight Zone revival is astoundingly good... the show's early episodes put a sharp, contemporary spin on an old favorite, sending a promising message for the rest of the season." Meanwhile, JoBlo's Movie Emporium's Alex Maidy gave the initial episodes the very highest praise possible: "Jordan Peele and his team are going to have us all drooling with anticipation for a second season. This take on The Twilight Zone is nothing short of masterful and Rod Serling would be proud. Everything about this show is excellent and will make you question your reality in a way that only a rare piece of entertainment can. [The revival] is going to go down as one of the best [series] of all time, right alongside its namesake."
That's... quite a statement, but with Peele's guiding hand and otherworldly onscreen presence, we see no reason why it couldn't turn out to be accurate. Despite the weighty expectations that come with reviving a series of the classic Twilight Zone's stature, this latest edition is off to a rip-roaring start, and it seems likely only to improve as its writers continue to find their groove (and as long as the production keeps hiring ridiculously talented actors). According to that signpost up ahead, you'll want to seriously consider a CBS All Access subscription; the streamer will drop new episodes every Thursday beginning on April 11.