Titans: Esai Morales Cast As Deathstroke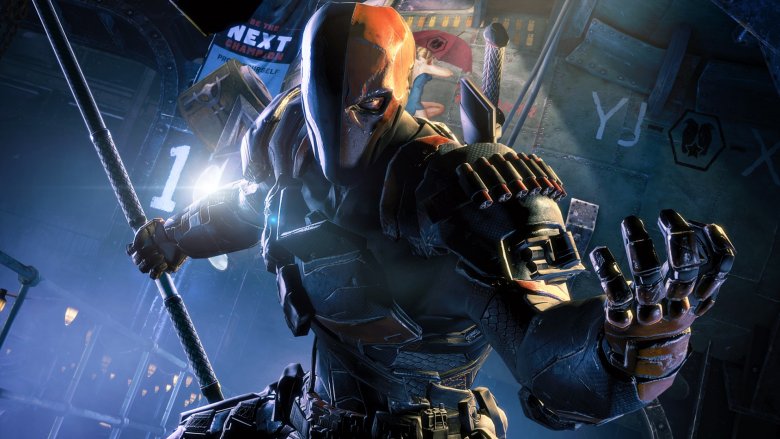 DC Universe's Titans are about to meet their most dangerous adversary. 
The series has added Esai Morales (How to Get Away with Murder) to its cast as Slade Wilson, AKA Deathstroke the Terminator, the superpowered mercenary who has long vexed the superhero team in the pages of DC comics. (via Deadline)
Titans' second season stands to get a lot more intense with the addition of the character, a ruthless killer and master tactician who also happens to boast super-strength and a regenerative healing factor. In case this all sounds a bit familiar, let's just get this out of the way: the extremely popular Marvel character Deadpool, who sports a very, very similar name, skill set, and appearance, was created by artist Rob Liefeld in 1990 as a loving homage to (see: blatant rip-off of) Deathstroke, Liefeld being a big fan of the Teen Titans comic series in general and Mr. Slade Wilson in particular. While the rival publishers have a long and storied history of plundering each others' characters for "inspiration," the extent to which Deadpool constituted a carbon copy of his DC counterpart was seen by many fans as being, well, pretty egregious (because it was). It was only in later appearances that Deadpool began to take on some of the more familiar traits which set him apart from Deathstroke, such as reliance on juvenile humor, pansexuality, and a penchant for fourth wall-breaking.
While it can be argued that Ryan Reynolds' portrayal of Deadpool in two hit feature films (we're not counting his alleged appearance as the character in X-Men Origins: Wolverine, and neither should you) has helped the character transcend these shady origins, it can be even more effectively argued that Wade simply wouldn't exist without Slade. First appearing in The New Teen Titans #2 in 1980, Slade Wilson was a career miltary man who came by his abilities by way of a secret U.S. Army experiment. His beef with the Titans began when his son Grant, AKA Ravager, was tasked by the villainous organization known as H.I.V.E. with taking out the superhero team after undergoing his own series of superpower-inducing experiments. Unfortunately, said experiments proved fatal, and Deathstroke agreed to complete the mission. Their first encounter ended with Beast Boy grievously injured, and the rest of the team vowing to bring the mercenary to justice.
In the intervening years, Deathstroke has continually proved to be a massive thorn in the side of Dick Grayson, AKA Robin/Nightwing, and has also frequently crossed paths with such DC universe heavies as Batman and Green Arrow. The character has popped up in various media over the years; he's figured in the storylines of a multitude of DC animated films, was featured as a playable character in the video game Injustice: Gods Among Us, and has even gotten the live-action treatment more than once previously. Joe Manganiello portrayed Wilson in a post-credits scene in the 2017 flick Justice League, an appearance which was meant to set him up as the primary antagonist of the since-aborted Ben Affleck-starring Batman solo film. (Affleck has since exited the project, and director Matt Reeves has completely revamped it, leaving the fate of Manganiello's Deathstroke uncertain.) Wildly different versions of the character have also been featured on the small screen in Lois & Clark: The New Adventures of Superman and Smallville, and a much more faithful version — portrayed by Manu Bennett — has served as a mentor/nemesis of Oliver Queen throughout the run of the CW series Arrow.
Morales will bring a steely presence to Titans' Deathstroke; it's no accident that the actor has often been cast as no-nonsense authority figures in series such as Criminal Minds: Beyond Borders, Chicago P.D., and NCIS: Los Angeles. The veteran actor's big-screen breakthrough came in 1987, in the Ritchie Valens biopic La Bamba; he's recently appeared in flicks such as Gun Hill Road and the 2018 remake of the iconic blaxploitation film Superfly.
Titans' producers released an official character description for the Terminator, which is as follows: "Slade Wilson is known for being DC's deadliest assassin. While serving his country, Slade became an elite soldier before government testing enhanced his physiology to near superhuman levels, putting him on a path of darkness and revenge. To his family, Slade is a father and husband, but to the rest of the world, he is feared by many as the infamous Deathstroke; selling his services to the highest bidder as the ruthless assassin that never gives up and never misses."
DC Universe's grim 'n gritty Titans will have their work cut out for them in dealing with Wilson, who generally forgoes the quips and wisecracks associated with his Marvel counterpart in favor of even more blades and bullets. He won't even represent the only major problem for the team in season 2; it's been reported that producers are also seeking to cast Wilson's daughter Rose (who, in the comics, becomes another iteration of Ravager) and son Joe (the superhero/sometime villain known as Jericho). 
DC Universe has not set a premiere date for Titans season 2, but it's expected to drop on the streamer late this year or early next. We'll keep an eye out for more news, and fill you in as it breaks.