Hobbs & Shaw: Dwayne Johnson Shares New Photo Featuring Jason Statham And Idris Elba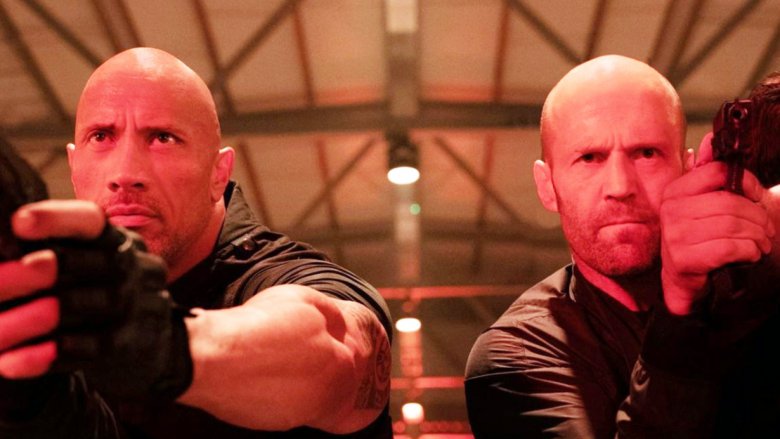 Alone, Dwayne "The Rock" Johnson, Jason Statham, and Idris Elba are total badasses. Together, though? Their combined coolness is powerful enough to explode a small star, drop jaws around the world, and amass over six million likes on Instagram. 
The latter two happened on Saturday (the jury's still out on the former coming true), when Johnson took to social media to share a photo of himself, Statham, and Elba in character for Hobbs & Shaw. 
Directed by John Wick helmer David Leitch and written by longtime The Fast and the Furious franchise scribe Chris Morgan, Hobbs & Shaw (formally titled Fast & Furious Presents: Hobbs & Shaw) spins off from the film series all about racing cars and looking cool while doing it to focus on Johnson and Statham's characters — the titular Luke Hobbs and Deckard Shaw, respectively. The U.S. Diplomatic Security Agent and hired gun have butted heads for years, but when a new force of danger enters their lives and puts them both at risk, they must slide their differences to the back-burner and focus on taking down the threat — the criminal mastermind and international terrorist leader named Brixton, played by Elba. Of course, for two foes, even a high-stakes mission probably won't be enough for them to become all buddy-buddy, but their common hatred of Brixton will certainly bring them closer together. 
The snap Johnson posted sees the three men standing in a triangular pattern: Statham on the left and Johnson on the right, with Elba situated between and a few feet behind the pair. Wearing all-black get-ups and stern looks on their faces, the trio has never looked so foreboding — and Hobbs & Shaw has never looked more interesting. As Johnson teased in the caption of the "exclusive lil' taste" of Hobbs & Shaw, the film is shaping up to potentially be "the biggest showdown the summer has ever seen."
"The Outlaw Lawman, HOBBS. The International Spy, SHAW. The Baddest Bad Guy the Fast & Furious franchise has ever had, BRIXTON. We're either gonna get along or we get it on," Johnson captioned the photo, taken by producer Hiram Garcia, Johnson's partner at his Seven Bucks Productions studio who has worked on films like Rampage, Skyscraper, and Jumanji: Welcome to the Jungle. 
The actor added that "gettin' it on is way more fun" than getting along — something he's mentioned quite a few times in past sneak peeks at Hobbs & Shaw. Animosity is all the rage here, apparently. 
Concluded Johnson in the caption, "On a biz note, this film has been a fun one to produce and our [global] audience is gonna have an absolute blast this summer."
Check it out below. 
Obviously, it's killer to see Johnson, Statham, and Elba together in this photo, but we're still hankering for extra glimpses at the film's other characters. Though Johnson has already treated us to first-look photos of Vanessa Kirby as Hattie, Shaw's sister who works as an MI6 agent, and Eiza Gonzalez as Madam M, we have yet to see what Eddie Marsan and Ellie Nicole's Hobbs & Shaw characters look like. With the film still months away from its late summer launch and with Johnson being generous in offering peeks at Hobbs & Shaw, it shouldn't be long until that happens. 
As for the movie's chances at genuinely becoming one of this summer's biggest hits, we're quite confident that it might happen given the talent behind it. Leitch revolutionized the action genre with John Wick and continued the Merc with a Mouth's franchise with Deadpool 2, a sequel that some critics called even better than the original. There's hardly a better person to pen the Hobbs & Shaw script than Morgan, who previously wrote The Fast and the Furious: Tokyo Drift, Fast & Furious, Fast Five, Fast & Furious 6, Furious 7, and The Fate of the Furious, and is working on the script for 2020's Fast and Furious 9. Johnson and Statham's Hobbs and Shaw are fan-favorite characters, more than intriguing enough to warrant a spin-off, and the introduction of Elba's Brixton and Kirby's Hattie will add just another layer of entertainment to things. 
Following the critical response to The Fate of the Furious that pinned it as opening "a new chapter in the franchise," now is the perfect time to see what corners of the film series are worth exploring. Hobbs and Shaw's dynamic was clearly top priority, and there's a good chance the movie centered on the pair can be well-received and profitable enough to give studio Universal Pictures the confidence to order more spin-offs in the future. 
Hobbs & Shaw is set for release on August 9.