Hobbs & Shaw: First Look At Idris Elba As The Spin-Off Movie's Villain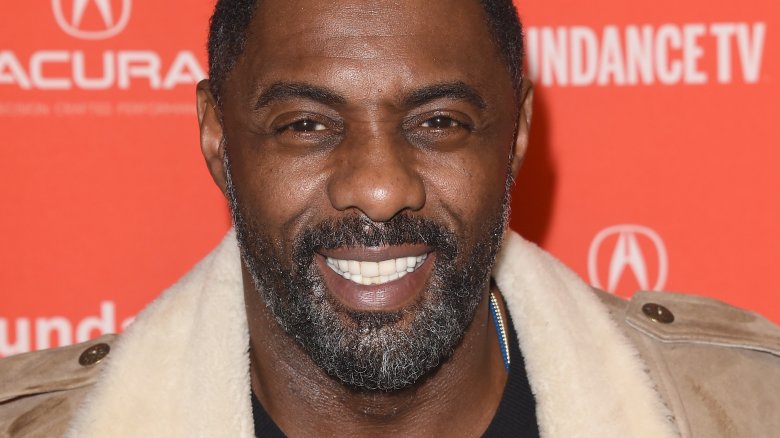 Getty Images
The biggest trouble in Luke Hobbs and Deckard Shaw's lives aren't just each other anymore. 
In Hobbs & Shaw, the Fast and Furious franchise spin-off starring Dwayne "The Rock" Johnson and Jason Statham, Idris Elba plays Brixton, a badass villain who has never once been bested. When Johnson's U.S. Diplomatic Security Agent Luke Hobbs and Statham's expert assassin Deckard Shaw, two men who have been at odds since the get-go, learn that Elba's criminal mastermind and international terrorist leader seeks them as his target, they must push aside their differences and form an alliance if they are to escape certain death. 
Johnson unveiled the first look at Elba in character on Thursday evening, sharing a black-and-white photo with his 117 million-plus followers on Instagram. 
The snap shows a suited-up Elba pointing a gun at someone off screen. Behind him are three masked men, likely members of his mysterious crime syndicate or fear-mongering organization, and a woman lying motionless on the floor, which is littered with glass. Whatever happened in the moments leading up to this photo clearly wasn't pretty. 
"I learned a long time ago (when I was a very sinful eyebrow raising villainous man in the crazy world of pro wrestling;) that heroes are only as great as their greatest villains," Johnson captioned the picture. "A pleasure to introduce the man himself @idriselba we brought in to our Fast & Furious franchise to wreak havoc, hell and mayhem on our heroes HOBBS & SHAW."
He added, "The name: BRIXTON. The record: UNDEFEATED. The promise: SHOWDOWN OF ALL SHOWDOWNS. So cool having my brother @idriselba come and play in our sandbox. This one's been years in the making!! As I always say, we either gonna get along or we gonna get it on... and f*** getting along." 
Elba shared the photo on his own Instagram page, writing in the caption, "Excited to wreak havoc, hell and mayhem on @therock and @jasonstatham in #HobbsAndShaw as one of the most badass villains the Fast & Furious franchise has ever seen! Feels amazing to be working with @therock and @jasonstatham and to be joining the Fast & Furious family. Coming SUMMER 2019."
Described by Johnson as "the Consequence Agent" and the "Hell Raiser," Elba's Brixton is sure to shake up the Fast and Furious franchise in a major way. Anyone who can get ever-bickering adversaries to drop their arguments and become allies has got to be incredibly powerful and insanely intimidating. 
It's nice to see the Fast family in good spirits, especially after all the drama that has gone on between cast members regarding Hobbs & Shaw. Last year, Tyrese Gibson (who plays Roman in the film series) sparked up a heated back-and-forth with Johnson over the upcoming spin-off, first begging the actor not to film Hobbs & Shaw until after shooting Universal's planned Fast and Furious 9 and later blaming Johnson for delaying Fast 9 when the studio pushed it back from April 2019 to April 2020.
"If you move forward with that Hobbs movie, you will have purposely ignored the heart-to-heart moment we had in my sprinter. I don't wanna hear from you until you remember what we talked about. I'm on your timeline cause you're not responding to my text messages. Fast family is just that, a family. We don't fly solo," Gibson wrote in a since-deleted Instagram comment. He added in a separate post, "Congratulations to The Rock and your brother-in-law aka 7 bucks producing partner [Hiram Garcia] for making the Fast and the Furious franchise about YOU ... Fast family, right? Nah. It's about Team Dwayne. Three years. Will it be worth the wait?"
While the Hobbs & Shaw team may be under pressure to deliver a stellar movie that will make fans forget all about the Fast and Furious 9 delay, Johnson, Statham, and now Elba seem to be having a ball filming the spin-off and apparently aren't letting any stress get to them. And with Deadpool 2 filmmaker David Leitch directing from a script written by The Fate of the Furious scribe Chris Morgan, there's little chance Hobbs & Shaw will be anything but over-the-top action inanity — exactly the kind of stuff audiences love about the Fast film series.
Also starring Vanessa Kirby as Shaw's sister and Eddie Marsan in an undisclosed role, Hobbs & Shaw is scheduled for release on August 2, 2019.