Venom Sequel In The Works With Original Co-Writer Kelly Marcel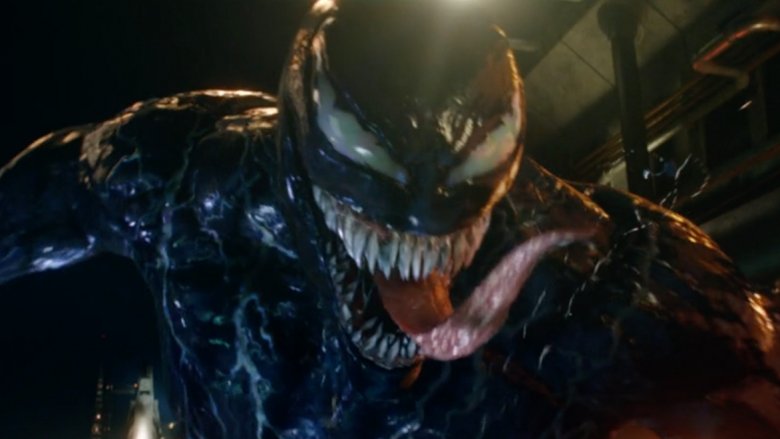 Looks like Venom didn't quite satisfy his hunger for eyes, lungs, pancreases, and Eddie Brock kisses in its first silver screen outing. 
Variety confirmed on Monday that Sony Pictures has put into development a sequel to Venom. 
While Sony didn't comment on the announcement, all signs point to the project getting off the ground STAT, as the studio has hired original Venom screenwriter Kelly Marcel to pen the sequel's script. Marcel co-wrote Venom with Jeff Pinkner and Scott Rosenberg, so she knows a thing or two about the alien symbiote who slithered its way into ol' Eddie's unsuspecting body. 
Per Variety's sources, Marcel's Venom sequel deal "was a significant one," meaning Sony paid her a pretty penny to board the follow-up flick. The outlet's informants also indicated that the terms of Marcel's agreement with Sony will see her serve as an executive producer in addition to the lead screenwriter. 
Marcel will have plenty of familiar characters to play around with when coming up with the story for the forthcoming Venom movie. Tom Hardy is, of course, returning to play investigative journalist Eddie Brock — hopefully with an accent that's a little more fine-tuned and a little less "wan carnival barker from The Bronx" the second time around. Joining Hardy are Michelle Williams as district attorney Anne Weying, Eddie's ex-fiancée, and Woody Harrelson, who appeared in a post-credits scene as Cletus Kasady, better known as the serial killer and symbiote host Carnage.
The ending of Venom left the door — and all the windows in the joint — wide open for a sequel, and seemed to hint with its other post-credits scene connecting to Spider-Man: Into the Spider-Verse that a certain version of a certain web-slinging Marvel hero could appear in the sequel. Anything can happen in the Spider-Verse, which undeniably includes Eddie and his alien pal Venom, so sneaking a peek at a Sony/Marvel Universe-exclusive iteration of Peter Parker in the Venom sequel could happen.
As it stands, there are so many reasons why Venom 2 will wind up better than the first film (not an easy task for sequels to accomplish). Hopefully Marcel can tap into all the right aspects of the characters' stories and the comic book source material to improve upon the original — and not create a total turd in the wind. 
Though Marcel is firmly attached to the film, Sony may still have a big hurdle to overcome before it can really get the Venom sequel boat a-rocking — and that is to find a filmmaker to direct. Sources close to Variety are suggesting that the studio might have to tap a new helmer to grab the torch from Reuben Fleischer, who directed the first Venom. Apparently, by the time Sony starts shooting the Venom sequel, Fleischer will be tangled up in filming his follow-up to Zombieland. Nothing in this regard has been confirmed as of yet, so there remains the possibility that Fleischer will return to direct the second Venom movie. We've got our fingers crossed. 
Past reports noted that Sony previously carved out on its release slate two debut dates for Marvel superhero movies: July 10, 2020 and October 2, 2020. Considering Venom launched in October 2018 to great commercial success (but awful critical reviews), it's likely that Sony will slide the second Venom film into the latter slot to ensure the studio's pockets will be nicely lined with cash, reserving the other for that Jared Leto-starring Morbius the Living Vampire movie. 
We'll keep you updated on all things Venom 2: Electric Boogaloo (official title pending) as we learn more about it.