Zombieland Sequel Officially In The Works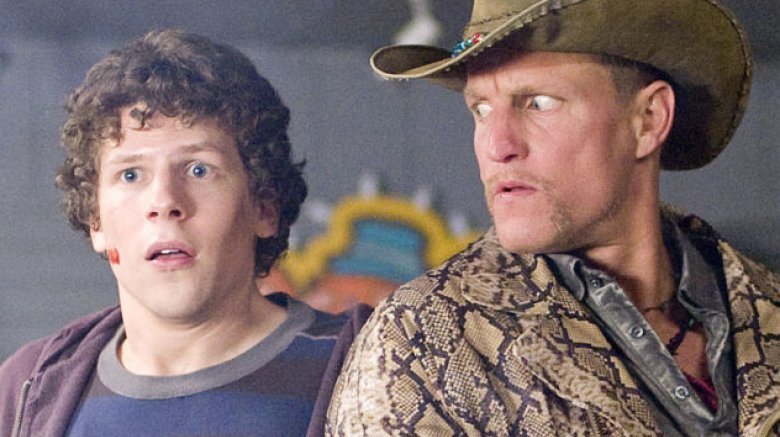 Columbia Pictures
Zombieland is officially getting a double tap. 
The Hollywood Reporter has confirmed that Sony Pictures has given a Zombieland sequel the green light. Not only that, but the studio has also rounded up the cast of the original film — Emma Stone, Abigail Breslin, Woody Harrelson, and Jesse Eisenberg — to star in the 10-years-later follow-up. 
Ruben Fleischer, the mind behind the first Zombieland and the man who will bring Venom to the silver screen this October, sits firmly in the director's seat. Also returning are screenwriters Paul Wernick and Rhett Reese, who recently wrote Deadpool 2. Gavin Polone hops back on board as producer once more. 
News of a for-real Zombieland follow-up flick is incredibly exciting for fans of the franchise, who fell in love with Stone's Wichita, Breslin's Little Rock, Eisenberg's Columbus, and Harrelson's Tallahassee back in 2009. The possibility of such a sequel has also been long-awaited and long-discussed, with previous reports indicating that the project was in active development as of March 2017, that a script had been set and the cast loved it, and that the hope was to shoot Zombieland 2 in "early 2019 for an October of '19 release." 
Making movies isn't easy, and plans change or get scrapped more often than they stick, so it's wonderful to know that everything panned out as anticipated. Zombieland 2 really does have a script already, with the story following the foursome on their journey from the White House in D.C. to the American heartland as they go head to head (baseball bat to zombie brain?) with new types of undead creatures that have "evolved since the first movie" and as they meet a handful of new outbreak survivors. The film also truly will start filming and will be released as expected: production will start in January 2019 in time to launch in theaters sometime that October. 
Sequels are rarely ever as good as the original, and sometimes even when they are solid films themselves, they still pale in comparison to their predecessors. But in the case of Zombieland 2, when everything seems to have gone in its favor in the decade since the first film launched, it looks like those rules will be broken.