Jared Leto Will Play Morbius In Sony's Next Spider-Man Spinoff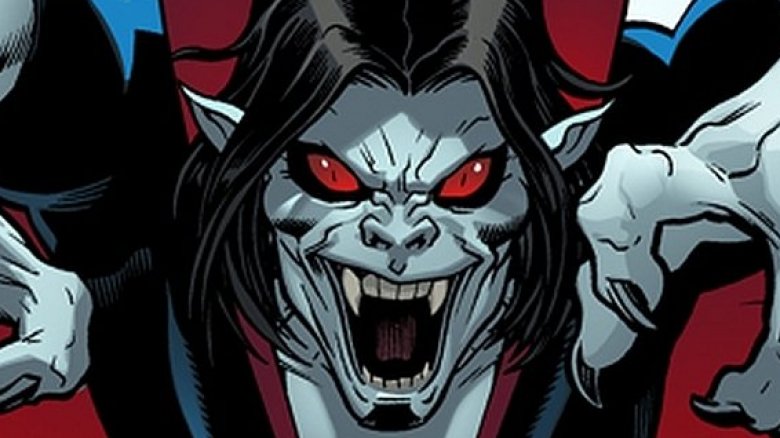 Watch out, children — Sony is sending Morbius, the Living Vampire out to get you, and he looks a lot like Jared Leto.
Leto, known in the comic book movie genre for playing the Joker in Suicide Squad, has signed on to play the vampiric antihero Morbius in a solo movie as a part of Sony's Spider-Man-centric shared universe, according to The Hollywood Reporter. 
The Morbius movie is set to be directed by Daniel Espinosa, who previously directed the movies Life and Safe House. He'll be working from a script by Burk Sharpless and Matt Sazama, who co-created the Lost in Space remake series for Netflix. 
The villainous vampire, who first appeared in a 1971 issue of The Amazing Spider-Man, was once known as Dr. Michael Morbius, before experimental medicine backfired and afflicted him with a bloodthirsty condition. 
The super-strong, fanged living vampire fought Spider-Man on a number of occasions, but was often painted as a tragic figure, who was only trying to cure his own rare blood disease. Eventually, he was raised — like Venom — to a sort of antihero status, getting his own comic book titles to headline once readers saw that he wasn't all that bad of a guy.
It remains to be seen how the Morbius movie will connect to Tom Holland's Spider-Man adventures, if it ever will at all. While Sony still holds the rights to Spider-Man and his stable of villains, Homecoming and Far From Home were co-produced with Marvel Studios, with Marvel handling the majority of the creative work involved with bringing those movies to life.
As a result, this Morbius movie is another proposed entry in a "Spider-Man shared universe" that doesn't actually exist yet.
Being honest, we can't help but see shades of Universal's failed "Dark Universe" in Sony's shared universe ambitions, because while movies keep getting announced for the series, its viability in the market remains a serious open question. 
The only movie in Sony's proposed expanded universe we're all-but-certain to get is the already-shot Venom starring Tom Hardy, with the Black Cat and Silver Sable movie recently being taken off the release calendar for redevelopment. 
Beyond that, there's also a Nightwatch movie in the works from Spike Lee and Cheo Hodari Coker, as well as a potential movie about Kraven the Hunter — but who knows if these projects will ever come to fruition? Back in Sony's Amazing Spider-Man days, movies in the works included a Sinister Six adventure and a bonkers prequel movie about a young super-spy Aunt May, both of which you'll recall went absolutely nowhere.
The point is, there is still plenty of uncertainty about the long-term prospects of a Spider-Man-less Spider-Man universe, the most obvious being: Do audiences really want this? 
The current approach appears to essentially involve taking Spider-Man's comic book enemies, most of them C-tier characters or worse when it comes to popularity, and making them all into marquee heroes. You've got to be crazy not to see the risk in that. Marvel Studios could pull it off, sure — but as the last decade has demonstrated quite thoroughly, just because Marvel makes something look easy doesn't mean it actually is.
Anyway, if all goes according to plan, it looks like comic book movie fans have a whole lot of Leto to contend with in the future as the 30 Seconds to Mars frontman continues his foray into big-budget franchise filmmaking. Between a solo Joker movie and this Morbius joint, the actor's looking like he's going to be pretty difficult to avoid in the years to come.