New Aquaman Images Show Off Willem Dafoe As Vulko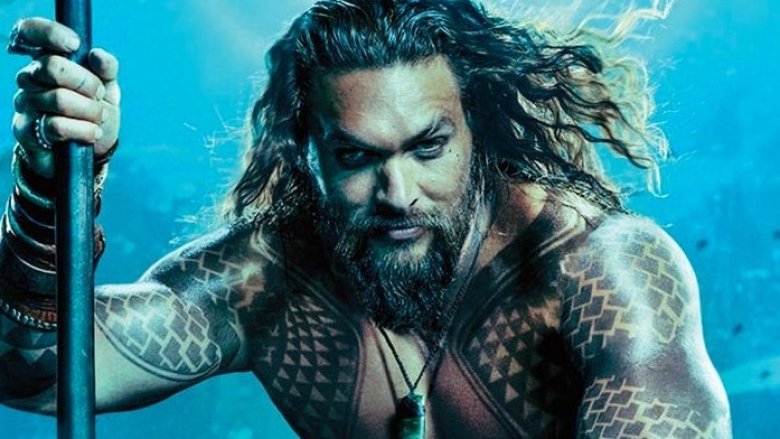 Aquaman is shaping up to be every bit as over-the-top and out-there as director James Wan has promised it will. 
Over the weekend, Wan took to Twitter to unveil two new photos from the upcoming superhero film. The filmmaker let the snaps speak for themselves, captioning the post, "Vulko and King Orm on their steeds. #hammerhead #tylosaur #sealife #underwaterkingdom #Aquaman #highres."
The first picture depicts Willem Dafoe in character as Nuidis Vulko, the chief scientific adviser of Atlantis who serves as a mentor to Jason Momoa's Arthur Curry when he returns to the underwater kingdom. Dafoe's Vulko rides a massive hammerhead shark through the ocean, the aquatic beast covered in black armor that matches Vulko's. 
Posted in the same tweet, the second image Wan revealed is one of The Conjuring star Patrick Wilson as King Orm (also known as Ocean Master), Aquaman's villainous half-brother and the current ruler of Atlantis who has some dastardly plans brewing below the surface (pun intended). Like Dafoe's Vulko, Wilson's Orm uses an enormous marine animal as his main mode of transportation, seen in the snap riding an ancient predatory lizard known as a Tylosaur as if it was a surfboard. Orm's Tylosaur is also decked out in armor — a chest plate, a headpiece, what appears to be a pauldron — but where Vulko charges ahead without a weapon, Orm has his trusty trident in hand. He also rocks a pretty sweet man-bun. Can't forget that, kids. 
Wan has previously described his Aquaman — which centers on the title hero's struggle to end the battle between the people of the surface world who are ruining the ocean and his fellow water-dwellers who look to exact their vengeance on mankind — as "Star Wars underwater," according to actor Ludi Lin, who plays Murk, the captain of the Atlantean army, the Men-of-War. 
"The difference between Aquaman and the other superheroes in the DC Universe, is that it exists almost in a different world. James Wan, our director, is amazing. He's described his vision as 'Star Wars underwater,' because it is!" Lin said in September 2017. "All the physics are different, their weapons are different, the characters are very unique. It's just super cool."
Momoa once affirmed that Wan's Aquaman will be a completely new superhero experience, will stand apart from the rest of the films in the DC Extended Universe, and will take inspiration from a ton of different movies. 
"It's going to be a world that you've never seen before, which is really cool. We went to space, we traveled all over different worlds, but we never went underwater," he told Digital Trends. "It's just a really cool spin on what's below [the water's surface] and it uses [as inspiration] a lot of great movies that I already love — whether that be Raiders of the Lost Ark to Star Wars to Lord of the Rings to Romancing the Stone."
Those remarks rang true when fans saw the first official trailer for Aquaman and even more so when Warner Bros. released a five-minute-long extended look at the forthcoming flick. And now, with the reveal of these new photos of Dafoe and Wilson in character, there's little doubt left that Aquaman will be like nothing viewers have ever seen before — a "swashbuckling action-adventure" meets a "very classic Shakespearean story," with sharks, seahorses, stingrays, and dudes riding underwater creatures galore.
Also starring Amber Heard as Mera, Nicole Kidman as Queen Atlanna, and Yahya Abdul-Mateen II as Black Manta, Aquaman will swim into theaters on December 21.