New Aquaman Photo Highlights Amber Heard As Mera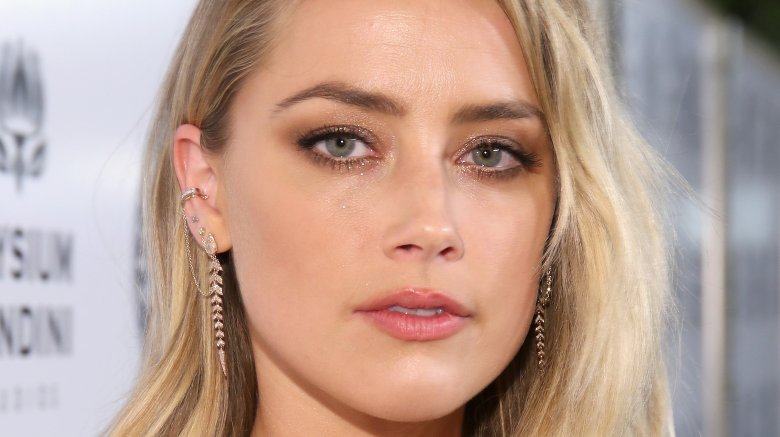 Getty Images
Ariel, is that you?
Aquaman director James Wan has revealed a new photo of Amber Heard as Mera, the titular hero's love interest, in the upcoming film. 
Donning a bright red wig and a scaly green jumpsuit, Heard as Mera adds a splash of color to the DC Extended Universe's notoriously dark palette. She also appears to have just emerged from the ocean, as water is seen dripping from her hands and fingers. Wan captioned the photo (via Twitter), "Lady Mera swept in from the sea. First day with the exquisite Amber Heard."
In this image, Heard's Mera stands out from her fellow DC heroes for all the right reasons. But she also looks markedly different from a previous photo of herself. Last year, Warner Bros. released a photo of the actress in her aquatic garb for Zack Snyder's Justice League, and it's almost nothing like the snap Wan shared. The new look centers around Mera's shocking ginger hair and vibrant costume, but fans first saw her sporting a desaturated suit and duller red-brown locks. 
Comparing the two photos, it's easy to argue that the Aquaman color scheme should be shown off in its true richness rather than through Snyder's signature gritty lens. And if the snap of Heard's Mera is any indication of how the rest of Aquaman will look, DC fans will be in for a visual treat.
Lady MERA swept in from the sea. First day with the exquisite Amber Heard. (Shot by the talented @jasinboland ) pic.twitter.com/FWQANu0S12

— James Wan (@creepypuppet) May 18, 2017
BREAKING: Here is our first look of #AmberHeard as Mera in #JusticeLeague pic.twitter.com/AzkeaHSaLw

— Justice League (@JL_Movie) October 12, 2016

Heard joins Game of Thrones star Jason Momoa as Aquaman, Nicole Kidman as Aquaman's mother, Temuera Morrison as Aquaman's father, Dolph Lundgren as King Nereus, Yahya Abdul-Mateen II as Black Manta, Willem Dafoe as Dr. Vulko, Ludi Lin as Murk, and Patrick Wilson as Aquaman's villainous half-brother, Orm.
Aquaman is slated to swim into theaters on Dec. 21, 2018. Fans can also see Heard flip her fins as Mera in Justice League, which will be released on Nov. 17. Until then, find out why Aquaman looks so familiar.