Why Aquaman Looks So Familiar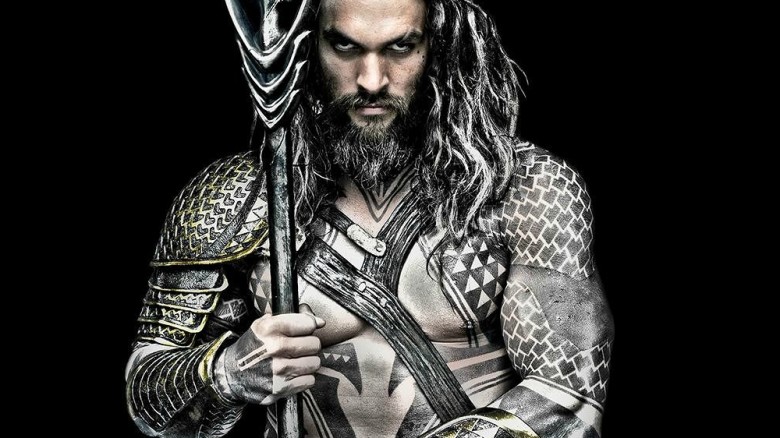 From model to superhero, Jason Momoa has played a lot of kickass shirtless men in his time. The Hawaiian-born Momoa grew up in Iowa, only to return to the islands of his birth and fall into modeling work. Named "Hawaii's Model of the Year" in 1999, it wasn't long before his acting career took off. Though he'll soon be synonymous with Aquaman, you'll no doubt realize you've seen this fearsome actor many times before.
Baywatch (1999-2001)
It only makes sense that a model from Hawaii would make his first screen appearance on the Hawaiian seasons of Baywatch. From 1999-2001, Momoa played Jason Ioane, a buff but sweet lifeguard. You can definitely recognize the actor, though he's missing his signature flowing locks.
In the show, Momoa got to do more than run around in red trunks. One episode featured him singing a little song and saving a photographer from one of the least realistic falls ever shown on TV. Little did he know when he jumped in the water to save the hapless girl that he'd soon be playing the most powerful water-based superhero.
Johnson Family Vacation (2004)
This Cedric the Entertainer vehicle about a family road trip gone awry didn't get a lot of critical praise, but big Momoa fans might want to check it out. Mostly if you're a fan of seeing him shirtless.
When Mr. Johnson asks a casino manager to "lead me to some real old school Indians that are still keeping it real," Momoa dresses in a stereotypical Indian outfit to give them a brief tour. He does a fine job, though the scene is a little less than PC today. But the main goal was for him to look amazing, and Momoa pulled it off with flying colors.
North Shore (2004)
Momoa went back to the beach for two seasons of North Shore, a show about a high class Hawaiian hotel with lots of drama behind the scenes and excuses for people to wear minimal clothing that gave him even more shirtless time. You almost feel bad for him, since he always had to be partially undressed on camera. But hey, looking like that gives a person a license to lead a real "shirts optional" lifestyle.
The New York Times called the show "Upstairs, Downstairs but with cocoa butter." The Hawaiian Fox drama didn't last long, but gave Momoa some more substantial screen time and cemented his status as a go-to beach guy.
Stargate: Atlantis (2005-2009)
With Stargate: Atlantis, Momoa finally got a chance to show he was more than beach-bound eye candy. He played Ronon Dex, a man captured by the enemy and hunted for sport before finding relative safety in Atlantis. Getting a chance to play a layered, fierce character on a long-running sci-fi show gave him experience he'd put to good use later in his career.
Still, some Stargate execs seemed to like Momoa's looks more than his acting. Ronon had long dreadlocks, which for the first seasons were Momoa's real hair. After the heavy hair started giving him neck problems, he asked to cut it. But one executive thought he couldn't play the character without dreadlocks, as if the hair gave Momoa some Samson-esque power. He got to cut his hair—but had to wear an even heavier wig for the rest of the series.
It was during his time on the show that Momoa acquired his signature eyebrow scar. At Bird Cafe in Hollywood—a cafe that sells alcohol, not some rough bar, mind you—Momoa got in a fight and ended up having a beer glass smashed in his face, which required the actor to get 140 stitches. The other man was sentenced to five years in jail, but Momoa ended up with a scar that made him look even more badass.
The Game (2009)
Momoa picked up a recurring role on the CW show The Game, a spinoff of Girlfriends. The show ran for three seasons on the CW with Momoa appearing in four episodes, but it was never much of a hit. The network canceled the show in 2009, but The Game got a second chance in 2011, when the show moved to BET and started pulling in remarkable ratings, becoming one of the first BET scripted shows to find an audience.
Game of Thrones (2011)
Momoa's work as imposing Dothraki warrior Khal Drogo brought the actor to a new level of stardom. It's not easy to play a role that requires huge strength, gravitas, and heart all while you're filming in a desert and speaking a language that doesn't exist, but Momoa brought Drogo to life perfectly.
His achievements in the role weren't a surprise to anyone that watched his audition. Momoa discussed the thought process behind it, pointing out, "On Game of Thrones, [Drogo] doesn't say much. So how do you convey him? There's nothing in the script. So I said: 'I have this idea. Is it OK to do [a dance] before the audition?' And they were like, 'Oh, sure.' Then I did the Haka...The first time I did it, they were very scared."
Conan the Barbarian (2011)
Shortly after becoming one of the scariest characters on Game of Thrones, Momoa got to play another legendary warrior in Conan the Barbarian. As Conan (formerly played by Arnold Schwarzenegger), Momoa once again perfectly looked the part of a guy no one should mess with. Though the film didn't receive good reviews, few laid the fault at its star's feet. The New York Times wrote, "Thankfully, [Momoa] also shows glints of self-awareness that can make hypermasculine blowouts like these more watchable and were largely missing from Mr. Schwarzenegger's wide-eyed turn in the first Conan the Barbarian."
Bullet to the Head (2013)
As Momoa's status as an action star rose, it only made sense for him to go up against one of the biggest of all time: Sylvester Stallone. In Bullet to the Head, Momoa plays enforcer Keegan who becomes obsessed with killing Stallone. The film has some good action, a full axe fight, and spoiler alert: Momoa gets the titular bullet to the head. Audiences weren't into it and neither were critics, but it further demonstrated Momoa's ability to provide excellent action on screen.
The Red Road (2014-2015)
Making his way back to TV in The Red Road, Momoa finally got to keep his clothes on. He played Phillip Kopus, a tribe member of the Ramapough Mountain whose people are always at odds with the New Jersey police. The show got mixed to positive reviews, with the Hollywood Reporter saying "With Momoa and Henderson—and most everyone else —acting the hell out of their material, the story lets them down."
The limited series allowed Momoa to show that he was more than just a guy who you'd be scared to fight. He's an actor who's good enough to watch regardless of the situation.
Drunk History (2014-2015)
While Momoa was playing beach dwellers and warriors, he didn't get a chance to do a ton of comedy, so when he showed up in Drunk History, it was a bit of a surprise. Playing the legendary decathlon Olympian Jim Thorpe, Momoa managed to be funny and the most intimidating guy in the room, all while mouthing drunk dialogue.
Momoa returned to Drunk History to play pirate Jean Lafitte, who offered his services to fight for America in the War of 1812. Once again, he managed to make every slurred word sound super cool. He should probably play more pirates in the future.
Frontier (2016)
Momoa picked up his meatiest role to date in the Netflix series Frontier. Set in the age of Canadian fur trading, Momoa played the half-Irish half-native Declan Harp, a man out to avenge his lost family. He already enjoyed collecting furs, tomahawks, arrows, and other artifacts from the period, and the down-and-dirty shoot in Canada was exactly to his liking. "The rain and the dirt and mud—it makes it easier to act," he said. "I was in a green room for seven months waving my arms at nothing."
Frontier was renewed for a second season, leaving Momoa grateful to have an opportunity to play a multi-dimensional character. "I'm not going to normally get hired to play those emotional things and I'm capable of it," he insisted. "I was raised by a single mother in Iowa—I'm just trapped in a big, dumb body."
Future projects
After his brief appearance as Aquaman in Batman v Superman, Momoa's hero will get more screentime in the upcoming Justice League. Aquaman's solo feature is set to debut in 2018, but in the meantime, Momoa's keeping himself busy with a variety of other roles.
The Crow's long-gestating remake lumbered back to life in 2016, with Momoa attached to star after slipping through the fingers of a long list of stars that includes Mark Wahlberg, to Bradley Cooper. Hopefully, the delays are over and a Momoa-led Crow will arrive in theaters soon.
In the meantime, we'll get to enjoy Momoa in Once Upon a Time in Venice. Momoa steals Bruce Willis' dog—and for anyone who saw John Wick, we all know that can only lead to serious revenge. The film isn't all vengeance and bloodshed, but a dark comedy that might offer Momoa a chance to spread his comedic wings. Maybe he and the Rock could star in some kind of buddy comedy about huge dudes who are actually sweet and hilarious? You never know, but we wouldn't be surprised if that gem hit theaters by 2020.