Leaked Shazam! Footage Shows A Battle With Dr. Sivana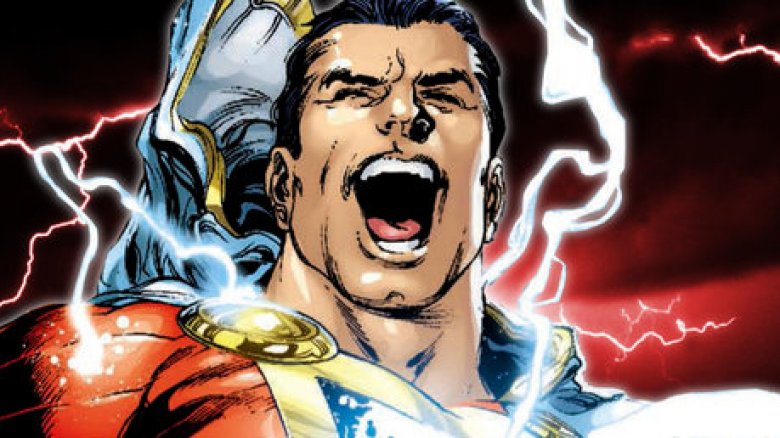 DC Comics
Where there's hype for an upcoming convention, there's behind-the-scenes footage that gets leaked. 
DC's Shazam! is set to touch down in Hall H at San Diego Comic-Con later this week, but prior to the bound-to-be-big reveals at the event, fans got their hands on some exclusive film clips.
Uploaded to Twitter by user @sonofjody, the leaked videos came out of the Odessa Film Market in Ukraine (meaning they aren't in English) and feature Zachary Levi's Shazam throwing a punch at Mark Strong's evil Dr. Sivana, tapping his feet on a super-sized keyboard (a nod to Big, the film it takes inspiration from), and Asher Angel's Billy Batson yelling "Shazam!" 
Sprinkled throughout the clips are dubbed-over interviews with director David F. Sandberg and star Levi, as well as tons of eye-catching concept art for the Shazam character and the 3,000-year-old wizard who grants him his powers (played by Djimon Hounsou in the film). 
Trailer Track's Anton Volkov, who confirmed the footage's origin as the Odessa Film Market rather than the widely reported Odessa Film Festival, also noted that the clips are "part of a reel for upcoming DC films in general." It's clear to see that the footage isn't an official trailer — unless DC Films is taking some kind of radical new approach in that department — but its undeniably cool nonetheless. 
Beyond the Big homage and peeks at the battle against the film's main baddie, there's a scene in the footage that stands out: the one between Levi's Shazam and Jack Dylan Grazer's Freddy Freeman, known in the DC Comics as Captain Marvel Jr., that was seen in a recently released photo. While the image featured the pair standing outside a convenience store, Shazam holding a 12-pack of soda under his muscular arm, and guzzling down pop, the footage does that and teases that a robbery happened right before the drink-sipping moment. Nothing like a frosty fizzy drink after taking down no-good, thieving crooks, hey?
DC Films plans to unveil the first trailer for James Wan's Aquaman at San Diego Comic-Con, so it's safe to assume that the studio will do the same for Shazam! At the very least, attendees should be able to see an HD and in-English version of this leaked footage at the convention. 
Shazam! is set to launch on April 5, 2019.