Shazam! Debuts First Official Look At Zachary Levi In Costume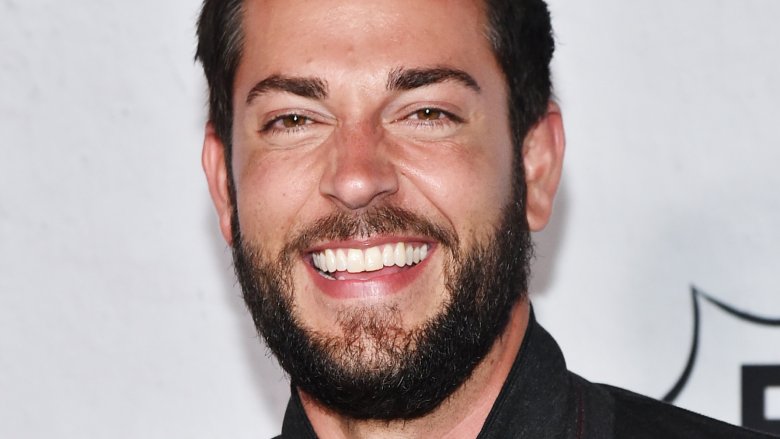 Getty Images
It's a bird, it's a plane, it's a teenager in the body of a 30-something-year-old superhero standing outside a convenience store, chugging cola like it's going out of style! 
After a few fuzzy set photos, a cropped-in-half snap, and one Instagram video addressing superhero suit haters later, DC Films has gifted the world the first official, full-on look at Zachary Levi in costume for the impending Shazam! film directed by David F. Sandberg. 
The studio treated Entertainment Weekly to the photo first, and the outlet shared it with all us comic book movie fans at home. 
In the photo, we see Levi standing in a candy apple red and gold suit as Shazam, the adult superhero 14-year-old Billy Batson (played by Asher Angel) can transform into upon uttering a single magic word. (We'll give you one guess as to what that word is.) 
It breakout Jack Dylan Grazer is seen to the left of Levi's Shazam, in character as Freddy Freeman, an orphan who walks with a crutch and apparently has the same affinity for fizzy drinks as his best bud Billy does. 
As most all DC Comics lovers will know, Shazam was originally called Captain Marvel until 2012, when the company's chief creative officer Geoff Johns confirmed the official name change. Fawcett Comics first owned the copyright on the name "Captain Marvel," but that flipped over in the 1960s. Marvel Comics scooped up the rights for its own, which resulted in all kinds of additional legal troubles and forced DC to refer to its Captain Marvel-centric issues, graphic novels, and even a 1974 TV series under the title Shazam. 
There's no doubt that Levi's character will only be regarded as Shazam in the film (even if DC could call the hero Captain Marvel in the movie, there's actually a different Captain Marvel set to make her debut just a month before Shazam! is released, so that would make things far more complicated), but what about Freddy Freeman?
For those not filled in on who Freddy is, he isn't just a kid who loves adventuring with his crime-fighting pal — he is a crime-fighter himself: Captain Marvel Jr. 
Back in 1941, Ed Herron and Mac Raboy created the Freddy Freeman character, who made his print debut in Whiz Comics #25, the issue that featured Shazam (then called Captain Marvel) and Bulletman fighting against Captain Nazi. Shazam/Captain Marvel sends Captain Nazi soaring into a lake, upon which Freddy and an elderly man were fishing. Freddy is knocked out, subsequently left permanently lame in his leg, and is granted superpowers when he awakes in the hospital — just as Billy Batson transforms into his vigilante persona. 
So that, dear readers, is how Captain Marvel Jr. was born. But Shazam! can't call Grazer's Freddy Freeman that, now can it? Not a chance. 
All that's been mentioned about the character within the film is that he's Billy's best friend, confidant, and the only person who knows his secret. Not a peep about Freddy's superhero alter ego has been heard, suggesting that he might not even have one in the movie. Captain Marvel Jr., who literally shouts "Captain Marvel" to transform, wasn't ever renamed, and was last seen in Titans Vol. 2 #32 in April 2011 before DC made the official Captain Marvel-to-Shazam move. 
If Grazer's Freddy does become a hero in Shazam!, he'll have to get a new name and a new catchphrase, forever changing the character's personal canon going forward. 
Whatever ends up happening with Freddy Freeman in Shazam!, and whether you love or loathe how Levi looks in costume as its title character, the pair will slurp up all the soda pop their local 7-11 has to offer when the film arrives in theaters on April 5, 2019.