Shazam! Will Be 'Superman Meets Big'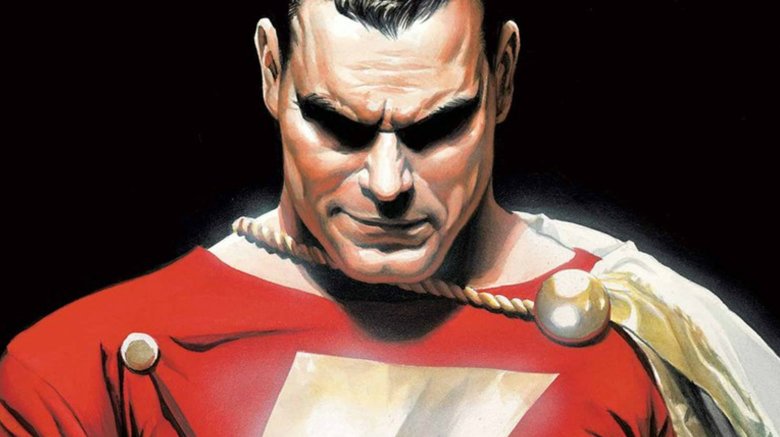 DC Comics
Lots of superheroes are a kid at heart, but Shazam takes it to another level.
As Warner Bros. continues to work on the big screen adaptation of Shazam!, star Zachary Levi, who plays Billy Batson, opened up about the flick to Entertainment Tonight. In the comics, Batson is a young orphan who is turned into Earth's mightiest hero (also known as Captain Marvel) after a mysterious wizard named Shazam chooses him to be a champion of good. When Billy speaks the wizard's name, he's struck by a magical thunderbolt and transformed into an adult superhero with the abilities of six legendary immortals.
Levi (Chuck, Thor: The Dark World) couldn't reveal much about the plot, but he did say it'll have a lot in common with the 1988 Tom Hanks comedy Big. In that body-swap movie, Hanks plays the adult form of a kid who wishes he could instantly become a grown-up. 
"I can't tell you much, as you can probably imagine," Levi said. "But what I can say is I am just out of my mind excited! I get to do my version of Big, basically. It's like Superman meets Big, and that's just so fun. I get to be a superhero that's excited about being a superhero, and I think that's refreshing. It's not glum, and like, 'Oh, I have to save the world again.'"
He also said he's hopeful that at least one member of the Justice League will make an appearance. "Wonder Woman, because she's awesome," he said. "I think getting a cameo from anybody would be super-cool, but I just think Gal Gadot is so effervescent. She has such a charm. And she seems like a really cool broad. Like, she was in the Israeli army. She's a mom. And I'm like, 'You seem like you're grounded and cool, and you're Wonder Woman, and you rock.' And I think it would be really funny to have the 14 year-old Billy Batson inside of Shazam that's really awkward around this beautiful Amazonian. I just think that would be really awesome."
He does have a point there. Batson would probably be excited to meet Batman, but Wonder Woman would open up a whole new dynamic. We'll have to wait and see if it becomes a reality.
One character we know we won't see is Dwayne Johnson's Black Adam. Although the character is one of Shazam's greatest foes, DC's Geoff Johns said, "Dwayne isn't going to be in this movie. He's still doing Black Adam, but he won't be in Shazam!."
The movie is expected to land in theaters on April 5, 2019.