Zachary Levi Reveals First Official Look At Shazam! Suit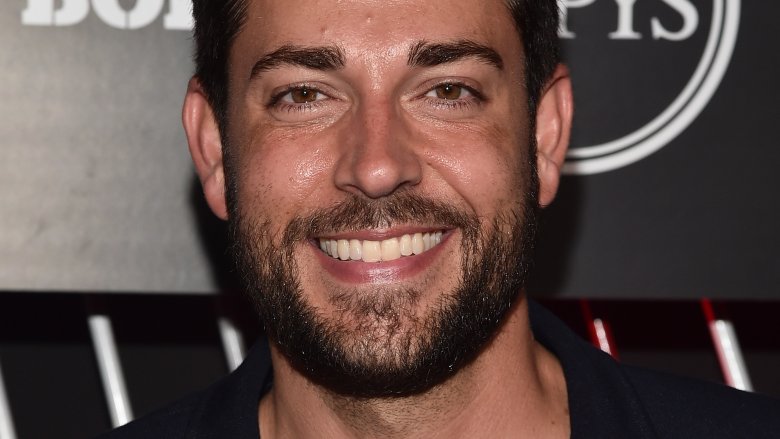 Getty Images
It's here, it's finally here!
After stealing behind-the-scenes sneak peeks at Zachary Levi's red-white-and-gold costume for the upcoming DC film Shazam!, fans now have the long-awaited (and repeatedly promised) official look at his superhero costume. 
Levi took to Instagram on Monday night to share a new promotional image for Shazam! that shows a detailed look at his suit, his gelled-down-to-coifed-perfection hairdo, and his extra-large beverage he can't quit sipping on. 
The actor wrote in the caption of the snap, which features him standing in front of the blown-up version of himself, "This! This is what dreams are made of. Complete and total wish fulfillment, plus a beverage! All the squeees." Levi used the hashtags #LicensingShowLasVegas#SHAZAMmovie and #FirstLook?, seeming to suggest that this first official look is only the tip of the iceberg of Shazam! goodness yet to come. 
Take a look at Levi's Shazam! movie suit below. 
While Levi is as giddy as can be about his starring role in the film and about the suit he gets to don, others haven't been as peachy keen on it. One fan fired a shot at Levi's movie duds, calling the suit "crap" during an Instagram Live event (via Twitter). Levi addressed the fan's harsh words, explaining that there are various different designs of the Shazam suit and he couldn't be happier with the version the film's creatives chose. The actor also noted that he understands some people will think the suit is lame or unexciting, but he hopes that everyone can be more sensitive to the fact that other fans may think it's completely perfect. 
"I don't think it's a crap suit. I think my suit is f***ing bomb, to be perfectly honest," Levi said. "I think that any of you people out there who are still hung up on what the suit looks like are just wanting to be angry for angry's sake. I think you're very insecure. You probably are dealing with some stuff in your own life and you feel a little powerless, and I'm sorry that you do. Wherever you're at, and whatever you're going through, I'm sorry that you're going through that."
He added, "I do think that you should probably take a second and reflect on why you are as negative as you are about maybe anything in life, and then re-look at the suit and go, 'Actually, hey, you know what? They're trying really hard to make something that's awesome and that pleases a lot of different people.'"
Levi's reveal here comes after a rather fuzzy photo from the set of Shazam! showed the actor suited up as the titular hero. It also follows after an even grainer set video made its way onto the internet. Regardless of how fans feel about the suit, we can bet they agree that its nice to finally see it in high definition.
Joining Levi in Shazam! are Asher Angel (Andi Mack) as Billy Batson, the teenager who discovers he can turn into the caped superhero Levi plays; Mark Strong (Kingsman: The Golden Circle) as the villainous Dr. Thaddeus Sivana, and Grace Fulton (Annabelle: Creation) as a friend of Billy's. 
Here's what to expect from Shazam!: "We all have a superhero inside us, it just takes a bit of magic to bring it out. In Billy Batson's (Angel) case, by shouting out one word — SHAZAM! — this streetwise 14-year-old foster kid can turn into the adult Super Hero Shazam (Levi), courtesy of an ancient wizard. Still a kid at heart –inside a ripped, godlike body — Shazam revels in this adult version of himself by doing what any teen would do with superpowers: have fun with them! Can he fly? Does he have X-ray vision? Can he shoot lightning out of his hands? Can he skip his social studies test? Shazam sets out to test the limits of his abilities with the joyful recklessness of a child. But he'll need to master these powers quickly in order to fight the deadly forces of evil controlled by Dr. Thaddeus Sivana (Strong)."
Directed by David F. Sandberg (Annabelle: Creation), Shazam! is due out on April 5, 2019.