First Look At Evan Peters As Andy Warhol For American Horror Story: Cult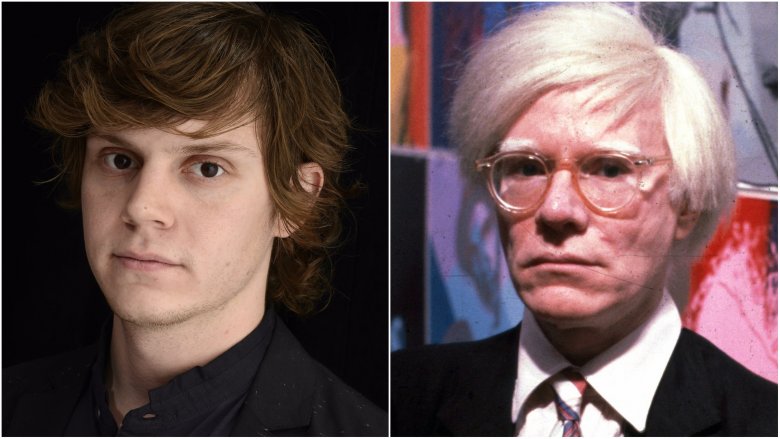 Getty Images
Contains spoilers for American Horror Story: Cult
We're only about halfway through American Horror Story: Cult, so there's plenty of time for unexpected twists.
Although we've seen Evan Peters as the psychopathic, blue-haired Kai Anderson, that's only one of several characters he'll play this season. Peters told The Hollywood Reporter that he'll also portray real-life cult leaders Charles Manson, David Koresh, Jim Jones, Marshall Applewhite, and Andy Warhol. And while you might not think Warhold belongs in that group of deranged figures, the pop art legend did have a cult of personality and a devoted group of followers called Warhol's Superstars. 
Showrunner Ryan Murphy shared the first image of Peters as Warhol on Instagram, which you can check out below, and we have to say that the resemblance is certainly striking. 
"Ryan told me I was playing Andy Warhol and so I immediately started doing research on him and just fell in love with him," Peters told Entertainment Weekly. "I thought he was amazing and the '60s and The Factory and that whole world to live in is so fun. So it was great to learn about him but challenging to get his mannerisms and his speech and his state of mind. I would just listen to him constantly."
It looks as though Peters will play Warhol in the seventh episode of the season titled "Valerie Solanas Died for Your Sins: Scumbag." Lena Dunham will play Valerie Solanas, the woman who attempted to kill Warhol. According to the titles of other future episodes, it seems like Peters will play Jim Jones in the ninth episode of the season, "Drink the Kool-Aid," and Charles Manson in the tenth, "Charles (Manson) in Charge."
Meanwhile, there's been no indication that FX plans to postpone the upcoming sixth episode, "Mid-Western Assassin," which features a mass shooting and would air just a week after the Las Vegas massacre. We'll keep you posted.
American Horror Story: Cult airs Tuesdays on FX.