American Horror Story: Cult Will Explore A 'Cult Personality'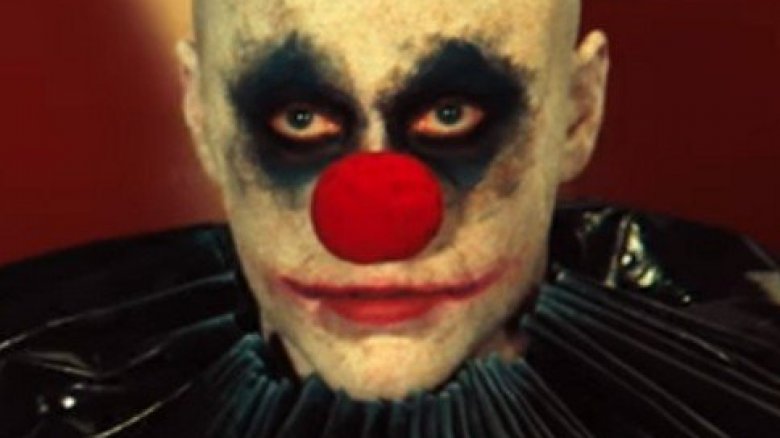 Following a press screening of the first three episodes of American Horror Story: Cult, creator Ryan Murphy revealed that the season isn't about Donald Trump or Hillary Clinton; it's about a how someone can experience a meteoric to power and suddenly have shocking influence over others.
"It's not about Trump, it's not about Clinton," Murphy explained (via Variety). "It's about somebody with the wherewithal to put their finger up to the wind and see that that's what happening and using that to rise up and form power. And use people's vulnerabilities about how they're feeling afraid... and they feel like the world is on fire."And the election is just a starting point. As Murphy explained, the forthcoming season is "really about the rise of [the] cult personality" that is President Donald Trump (via The Hollywood Reporter). 
Described as a "true American Horror Story," this season of the FX anthology will "tackle the national conversation and both the euphoria and the fear" surrounding the 2016 U.S. presidential election, but it won't narrow in on a single point of view. Murphy, a noted Democrat, has assured that season seven will include multiple sides of the situation.
American Horror Story: Cult centers around series regulars Sarah Paulson and Evan Peters as Ally Mayfair-Richards and Kai Anderson, respectively. Paulson's character is married to Ivy Mayfair-Richards, played by franchise newcomer Alison Pill, who appears to be a Democrat or Independent strongly opposed to Donald Trump and in favor of the Democratic candidate Hillary Clinton. As we learn from the Cult trailer, Paulson's Ally suffers from multiple phobias, the most intense of which is coulrophobia, or a fear of clowns. Based on information from THR, the first three episodes of Cult reveal that the election triggers Ally's fears. 
Audiences simulatenously discover that Peters' Kai is an unwavering Trump supporter and a leader of a pro-Trump organization. Peters will also play a series of cult leaders, including the fictional Kai, Charles Manson, Jim Jones, David Koresh, and Andy Warhol. 
Murphy stated that "pro or con, everyone can relate to the feelings" portrayed on the series on election night, but things won't be taken overboard. "Part of being an artist is being able to write about the world you live in. But we've tried very careful to be fair. We're not burning people in effigy or anything extreme," he explained. 
According to Murphy, Cult will use the presidential election as an entry point into a story about cults and members' behaviors and mentalities. "We're trying to understand how someone who is very charismatic in the culture can rise up and become a leader," said Murphy. "We're not going to say we hate Trump. What did Trump tap into? We're interested in his rise and how that happened."
Ultimately, Murphy hopes Cult will start a conversation regarding America's current state of affairs. "Everybody lost their s— after the election, and people are still losing their s—, and there is no real discussion and everyone is still at each other throats. The world we're living in is ridiculous, so a sense of humor is needed," stated Murphy. 
And for those who don't want to tune into the newest addition to the franchise because of its political theme, Murphy had this to say: "The great thing about a TV set is it can be turned on and off, if people don't feel like they're going to learn anything from it."
Cheyenne Jackson, Billie Lourd, Billy Eichner, Colton Haynes, Leslie Grossman, Lena Dunham, Emma Roberts, Frances Conroy, Mare Winningham, and Adina Porter join Paulson, Pill, and Peters for the new season. Murphy revealed that Dunham will play Valerie Solanas, the woman who attempted to assassinate Warhol, and will appear in episode 7, "Valerie Solanas Died for Your Sins, Scumbag."
American Horror Story: Cult will premiere on September 5. In the meantime, take a look at the easter eggs that tie the series' past seasons together.