Aquaman Trailer To Debut At SDCC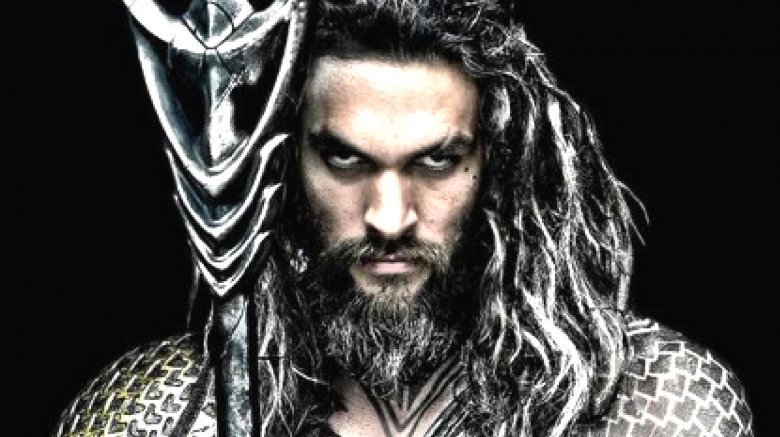 We finally know when the long, long wait for the Aquaman trailer will be over. Writer/director James Wan recently announced on his Twitter account that our first look at the underwater superhero flick will be coming at San Diego Comic-Con. Wan also shared the new logo for the film, which he said was "freshly smuggled out of Atlantis! (stolen off King Orm's belt buckle)."
Fans have been clamoring for an Aquaman trailer for a while now, but Wan previously explained why he waited so long to give viewers a glimpse at the Jason Momoa-starring film. "This movie is filled to the gills with VFX, and the process is as slow and laborious as a sea-slug," he explained. "Yes, even shots for the trailers take forever to do, and I refuse to put out anything that might be construed as subpar. I know it seems like nothing much is brewing above the surface, but I can assure you, we're working nonstop under the waves."
The first footage from the film debuted last year at SDCC, although the teaser trailer, which was described as basically being "Star Wars underwater," was unfortunately never released to the public. A trailer for the film recently screened at CineEurope and was described as being "full of not just traditional action and mind-bending VFX, but good humor also." Reports also noted that the trailer featured "unusually brighter visuals... rarely encountered with DC."
Aquaman's underwater setting makes the movie an especially difficult beast to get out, with Wan noting that even just seeing two people "sitting around chatting" in the character's world is incredibly difficult to piece together. "You have to think about CG with the hair, and how the clothing moves, how are they floating, what kind of rig we put them on and all that stuff," he said. Although the movie is a complicated feat to put together, the recently revealed first photos from the film seem to show that Wan has done a fantastic job thus far.
As far as what the film will cover, Wan has said that he wants it to be "a quest story in the spirit of Raiders of the Lost Ark meets Romancing the Stone." The director says that the "swashbuckling action adventure" will have a classic feel. Momoa has also said that he is excited to "set the tone" for the character, who is one of the few big superheroes who hasn't already had multiple big screen iterations.
The rest of Aquaman's cast includes Nicole Kidman as Aquaman's mother Atlanna, Temuera Morrison as his father Tom, Willem Dafoe as his advisor Dr. Vulko, Amber Heard as his love interest Mera, Ludi Lin as the head of his army Murk, Patrick Wilson as his half-brother Orm, Michael Beach as a member of a group of high-seas hijackers, Dolph Lundgren as King Nereus, and Yahya Abdul-Mateen II as the villainous Black Manta. 
Aquaman hits theaters on Dec. 21.
Comic-Con will be insane!! This is the new glyph/logo. Freshly smuggled out of Atlantis! (stolen off King Orm's belt buckle) pic.twitter.com/NLmIXUaXEM

— James Wan (@creepypuppet) June 15, 2018