Aquaman: Get Your First Look At Black Manta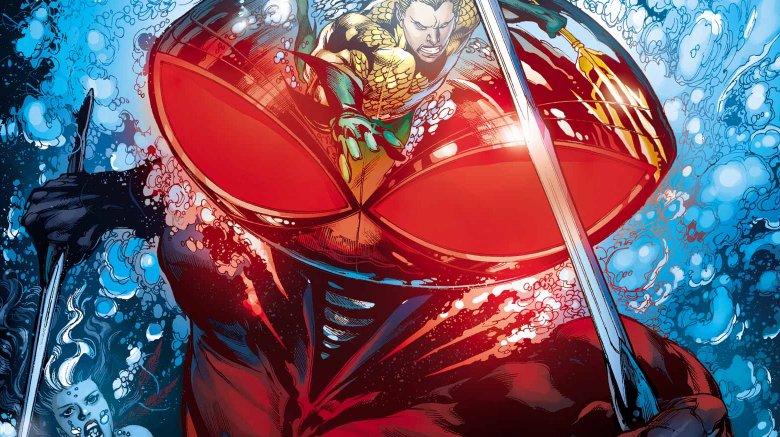 DC Comics
In this corner, you may know him as Khal Drogo on Game of Thrones or "that really buff actor with the long hair and the tattoos," it's Jason Momoa as Aquaman! And in the other corner, his on-screen nemesis who threatens to destroy everything the half-human, half-Atlantean has ever loved, it's The Get Down's Yahya Abdul-Mateen II as Black Manta!
Entertainment Weekly has unveiled the first look at Black Manta from DC's impending standalone Aquaman film. The image shows the villain, a ruthless and cunning treasure hunter and mercenary named David Kane (known as David Hyde in the DC comics), tinkering away at a prototype of the high-tech battle suit that grants him the ability to breathe underwater and shoot plasma from the eyes of his helmet.
Take a look below.
Apart from what we know of Black Manta from the comics — he was created by writer Bob Haney and artist Nick Cardy, made his debut in the September 1967 issue Aquaman #35, and has a serious hatred for Aquaman after he killed his father — not a ton is known about the character within the James Wan-directed film. However, Wan did tease to EW that Abdul-Mateen's iteration of Black Manta is "part mercenary but full-time pirate," who looks "like some crazy alien from outer space" when he slips into his iconic super-suit. 
Additionally, it was previously believed that Black Manta would be the primary antagonist of Aquaman, but Wan clarified that isn't the case. Instead, Patrick Wilson's Orm, the ambitious half-brother of Aquaman who's also known as Ocean Master, will serve as the central villain. "Black Manta is a really interesting character who is somehow factored into this story, but our main story is about Jason and Patrick," the director explained.
This first-look peek at Aquaman's auxiliary baddie comes after Entertainment Weekly showed off another exclusive sneak peek at an important character in the film: Nicole Kidman's Queen Atlanna, Aquaman's mother. 
Also starring Amber Heard as Mera, Willem Dafoe as Nuidis Vulko: Atlantis' chief scientific advisor, Dolph Lundgren as King Nereus, and Ludi Lin as Murk, among others, Aquaman will swim ashore on December 21.