Why John Wick: Chapter 4 Blew Everyone Away At The Box Office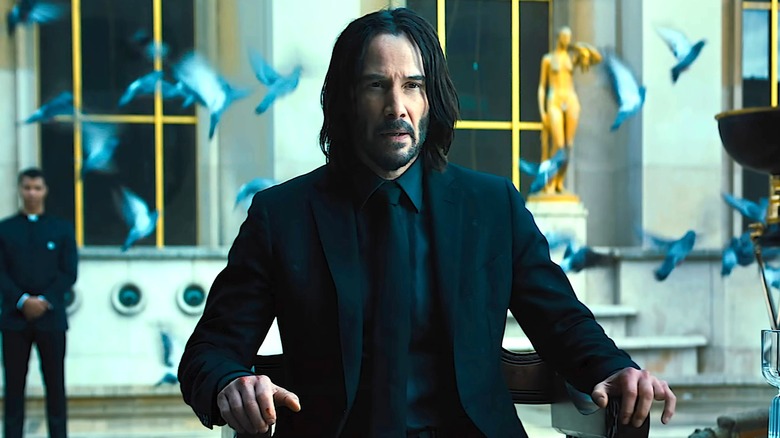 Lionsgate
The fourth film in the "John Wick" franchise has finally hit theaters after a long hiatus primarily caused by the COVID-19 pandemic and subsequent shutdowns in the film and TV industry. Despite being gone for quite a long time, Keanu Reeves' intimidating assassin has wasted no time winning back the favor of popcorn-loving audiences across the globe. Just days after being released in the United States, "John Wick: Chapter 4" had already grossed over $130 million, topping its budget by tens of millions of dollars. 
These days, box office pundits seem quite surprised when a film succeeds like this at the box office. Not only has the COVID-19 pandemic created a crisis for movie theaters around the world, but it's also become hard for films outside of a select few franchises to perform as "John Wick: Chapter 4" has. However, the film's success may prove one of two possibilities — theatre-going may be making an unexpected comeback, or "John Wick" has earned its place as a major studio franchise alongside the likes of the MCU and James Cameron's "Avatar." 
Many critics felt the "John Wick" franchise has been a return to form for the action movie genre, and the latest entry's box office performance proves that might just be what audiences are hungry for. Here is why audiences are have been flocking to see "John Wick: Chapter 4" in theaters. 
John Wick changed the action film genre in 2014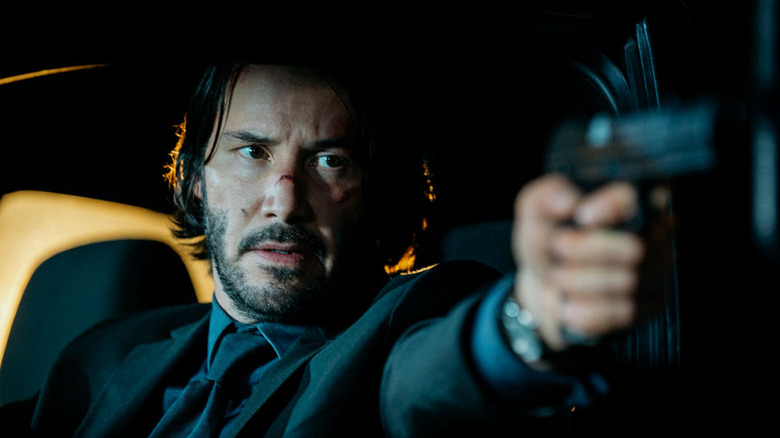 Summit Entertainment
Keanu Reeves is no stranger to the action thriller genre. The actor broke with his early career type-casting when he starred in 1999's "The Matrix," which was written and directed by the Wachowskis. "The Matrix" spawned its own franchise, with two sequels in 2003 and a fourth film in 2021, all featuring Reeves in his now-iconic role as hacker turned cyber freedom fighter Neo. However, in the years following "The Matrix," Reeves' career hit something of a slump. 
Things changed when the first "John Wick" film arrived in 2014 and Reeves triumphantly returned to being an action star. The film stars Keanu as the titular ex-assassin who comes out of retirement to get revenge on the gangsters who murdered his puppy from his late wife. It proved the perfect vehicle to re-launch Keanu Reeves' career as an action anti-hero.
As opposed to the CGI-heavy, Hong Kong action film-influenced fight scenes of "The Matrix,"  "John Wick" reshaped action films by emphasizing the use of practical effects and flowing choreography. This trend continued into the film's producing style, with Vulture describing how directors "[Chad] Stahelski and [David] Leitch wanted to use long takes that would keep the full scope of the fighting right in front of the camera." This involved extensive rehearsals and pre-production planning, but it all culminated in an action film that stood out and established a unique franchise.
The films have had continued success into the late 2010s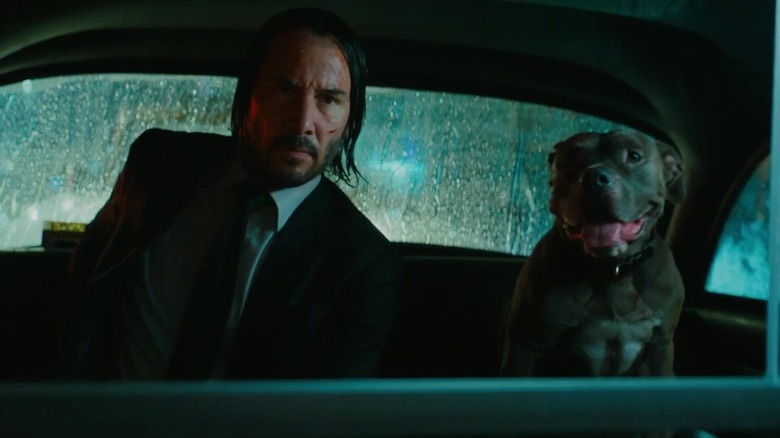 Lionsgate
The first "John Wick" film did well at the box office, accruing $86 million against a fairly small budget of $20 million. This meant that Keanu Reeves could reunite with director Chad Stahelski for a sequel, "John Wick: Chapter 2," released in 2017. This time, the film's budget slightly increased but produced even greater returns at the box office while receiving even more favor from critics, with IGN deeming Keanu's character "an icon of action hero purity after just two films." 
Even though many critics appreciated how neatly tied-up the first "John Wick" film was, the further expansion of the universe proved fruitful. In 2019, "John Wick: Chapter 3 — Parabellum" was released in theaters, now following Keanu's character on the run after a bounty is placed on him following the events of the first two films, and he no longer has the protection of his organization. Meanwhile, spin-offs were put into motion as early as 2017, including an upcoming Peacock miniseries titled "The Continental" centered on the backstory of the eponymous underworld hotel with Mel Gibson set to star. 
These days, it can be quite challenging for an original IP to find a place for itself among franchises, but Keanu Reeves' feels that audiences are picking up on the film's authenticity. As he told Collider in 2019, "I think the film is really easy to watch," highlighting the thrill of moviegoing that the "John Wick" franchise exploits. It appears that nothing has changed four movies in. 
Franchises rule the box office in 2023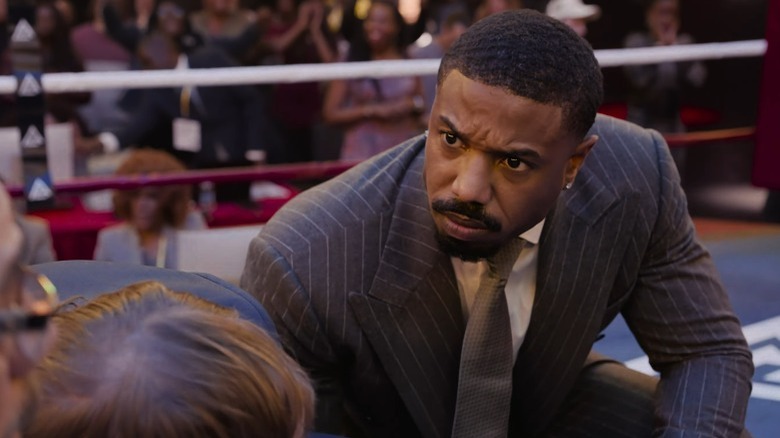 Metro-Goldwyn-Mayer
In the 2020s, it's proven hard to have a successful theater run if your movie isn't part of a franchise. Even critically-acclaimed directors like Damien Chazelle or Robert Eggers have seen their theatrical epics falter at the box office, as was the case with both actors' 2022 films "Babylon" and "The Northman," respectively. It's much easier for success to land with sequels or spin-offs, such as 2023's "Creed III," or fan service favorites like Marvel's "Spider-Man: No Way Home." 
It's a problem that poses a dilemma for movie theater chains. The Hollywood Reporter reveals that many theaters underperformed in 2022 despite big releases like "Black Panther: Wakanda Forever" and "Avatar: The Way of Water," the latter of which grossed over $2 billion. Although things have greatly improved since the start of the COVID-19 pandemic, it's hard to attract movie fans to the theatre when so many high-profile releases are simultaneously released to streaming or available within a few months of their theatrical release.
Still, not every movie studio can bank on a word-by-mouth hit like the recent best picture winner "Everything Everywhere All At Once," but this is where "John Wick: Chapter 4" likely benefits. With a studio like Lionsgate backing it, it's hard for anybody to be oblivious to the release of the latest "John Wick" adventure, thanks to marketing, the attachment of a likable star, and the overall popularity of the previous three films in the franchise. 
The film world is starved for classic action movies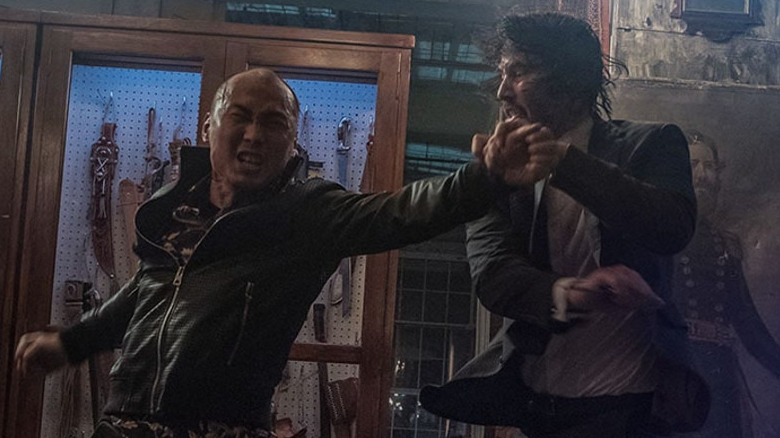 Lionsgate
The 2010s were an era of reinvention for many film genres that had become stale. Jordan Peele's "Get Out" revolutionized the horror genre while directors like Greta Gerwig and Olivia Wilde created a new generation of iconic coming-of-age movies for teens to fall in love with. In a similar vein, the first "John Wick" felt like simultaneously a breath of fresh air amongst 2010s action films, as well as a return to form for a once-great genre.
In anticipation of "John Wick: Chapter 3 – Parabellum," Rolling Stone recalled the first film's success as "the beginning of what would become the seriously bat***t-crazy, go-for-broke, open-world action-flick franchise of the 21st century," emphasizing just how dearly missed action films like "John Wick" were. In certain ways, "John Wick" calls back to the days of Sylvester Stallone as John Rambo tearing through the jungle, or even Bruce Willis as John McClane heroically saving his marriage and Nakatomi Plaza from terrorists in "Die Hard." 
Much of this nostalgia and love have to do with "John Wick" as a franchise remaining loyal to highly-choreographed fight scenes, incredibly complex stunts, gruesome yet entertaining violence, and a smorgasbord of great action movie influences. The "John Wick" franchise offers something that many other action film franchises cannot, and that has consistently spelled box office fortune. 
Keanu Reeves is beloved by all, especially the internet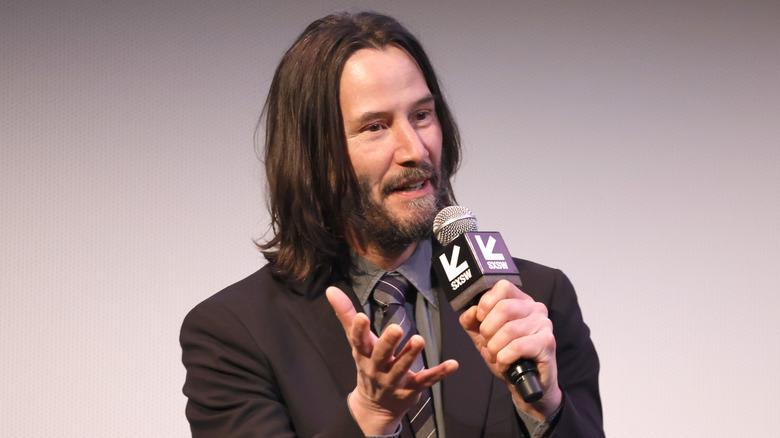 Frazer Harrison/Getty Images
While one can credit a lot of the box office success of "John Wick" to its originality as a franchise and the sheer thrill of watching films like it on a big screen, no one can deny that at the center of it all lies one secret weapon — Keanu Reeves. The actor has enjoyed a long, diverse career for many years prior to the "John Wick" franchise, where he always seemed to excel as a character who gives off so much while saying very little. 
Reeves is even more talked-about than his ex-hitman counterpart in "John Wick" on the internet, with many sharing stories about their encounters with the actor in public. Whether it's donating his salary to crew members on his films or going out of his way to give autographs to fans who are too nervous to ask him, it's hard not to fall in love with Reeves. The actor is meme royalty, with The Washington Post correlating his public behavior with William Wordsworth's poem "Character of the Happy Warrior." 
As if there wasn't enough proof of Reeves' awesomeness and humility, the actor seems modest about the love the internet has for him, recently telling People that he has come to "really appreciate the goodwill" sent his way. If there were one word to describe Reeves as a person, it'd be the same one he used to describe "Cyberpunk 2077": "breathtaking." 
The last John Wick film predates the pandemic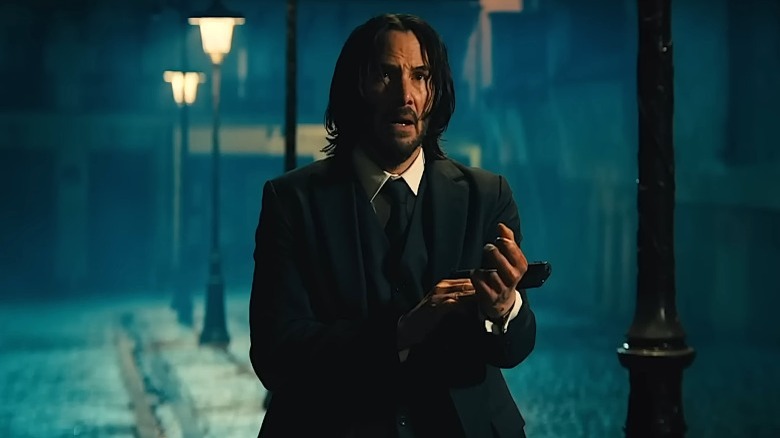 Lionsgate
The first three "John Wick" films have accrued an impressive fanbase, but the franchise went on something of a hiatus due to forced production delays resulting from the COVID-19 pandemic. "John Wick: Chapter 4" didn't even enter principal photography until the summer of 2021, with a release intended for May 2022, although it was again pushed back.
That release window for "John Wick: Chapter 4" was complicated by the impending release of "Top Gun: Maverick" on the same day in 2022, which resulted in it being pushed back to early 2023. By the time "John Wick: Chapter 4" finally released in late March 2023, fans had been waiting over four years for the next installment in Keanu Reeves' criminal bloodbath. 
The release of "John Wick: Chapter 4" in 2023 may also be coinciding with an easier return to the theater for many. During the COVID-19 pandemic, lots of people felt hesitant to return to the movies, especially when many studios released films on HBO Max or Disney+ shortly after their theatrical release — if not entirely in place of it. However, an action movie with a big star could be just the project to woo even the most pandemic-cautious moviegoers back into those seats. 
People love to see Keanu and Laurence Fishburne share the screen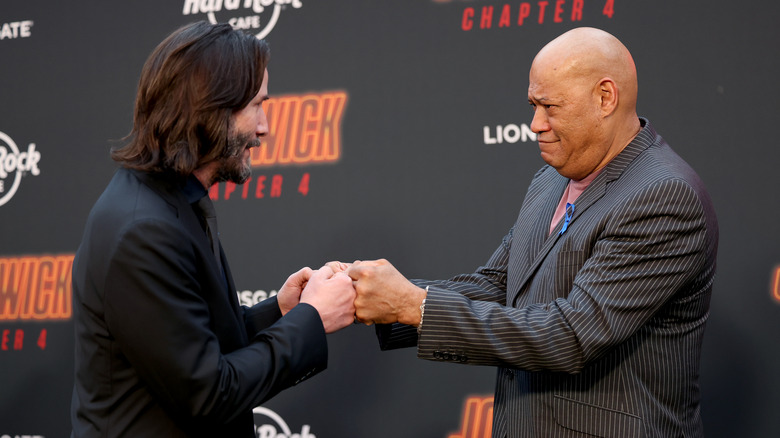 Monica Schipper/Getty Images
It's no secret that Keanu Reeves and Laurence Fishburne make a dynamite duo on the big screen. The two actors first appeared together in 1999's "The Matrix," with Keanu playing the lead role of Neo and Fishburne giving an iconic performance as Morpheus, the human rebel who introduces Neo to the truth behind the dystopian future he lives in. The two reprised their roles in "The Matrix Reloaded" and "The Matrix Revolutions," though they spent many years apart following the temporary end to "The Matrix" trilogy.
While Keanu returned as Neo in "The Matrix Resurrections," Fishburne notably did not re-appear as Morpheus, who was instead replaced with "Watchmen" actor Yahya Abdul-Mateen II as an artificial intelligence designed after Fishburne's deceased character. Sadly, Fishburne's absence in the revival of "The Matrix" was an intentional decision, and he later told Variety that he didn't regret not being a part of the 2021 film. Thankfully, Fishburne's aversion to being in the film had nothing to do with Reeves.
In fact, the two have starred together in the "John Wick" franchise ever since "John Wick: Chapter 2," where Fishburne debuted as the Bowery King, the leader of an underground spy organization allied with Reeves' titular character. Fishburne returned in "John Wick: Chapter 3 — Parabellum," as well as the recently-released "John Wick: Chapter 4," which should satisfy "The Matrix" fans who missed the actor's appearance in "The Matrix Resurrections." 
A pop star makes her acting debut opposite Keanu Reeves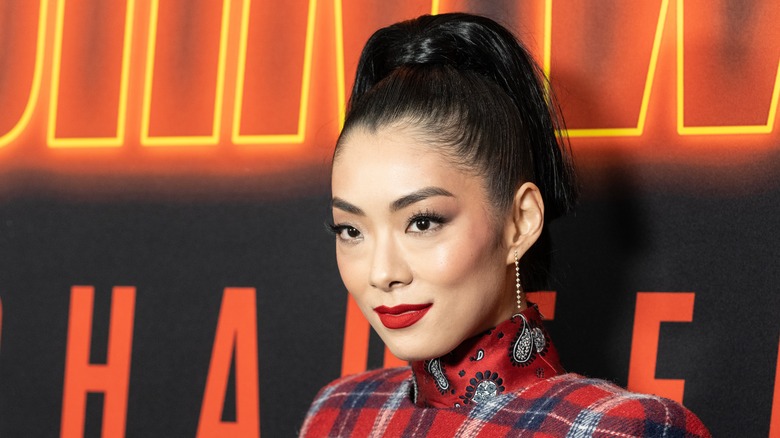 lev radin/Shutterstock
A new face appearing in "John Wick: Chapter 4" may also represent a big draw for audiences to see it on the big screen. It was reported in 2021 that Japanese-British pop artist Rina Sawayama would be making her feature film debut in the latest "John Wick" film. Sawayama's music career particularly took off in 2020 with the release of her album "Sawayama," which was lauded by critics for its nostalgic factors and ambition in the pop sphere. Sawayama has continued to collaborate with notable artists like Charli XCX and Elton John leading up to her 2022 sophomore album "Hold the Girl."
Given the aesthetic of her music and her performance in music videos for her songs, she was an easy choice to play the role of Akira in "John Wick: Chapter 4." According to director Chad Stahelski, Sawayama "seemed right out of an anime," while citing the major influence of the animated genre on the "John Wick" franchise in an interview with NME. The role of Akira takes advantage of this, even with very little screen time.
In the film, Akira is the daughter of Hiroyuki Sanada's Osaka Continental manager who is protecting John Wick. Fans of Sawayama's music will be thrilled to see her in the action film, and her audience will definitely buy movie tickets to see it. 
Lance Reddick's passing gives the film a bittersweet tone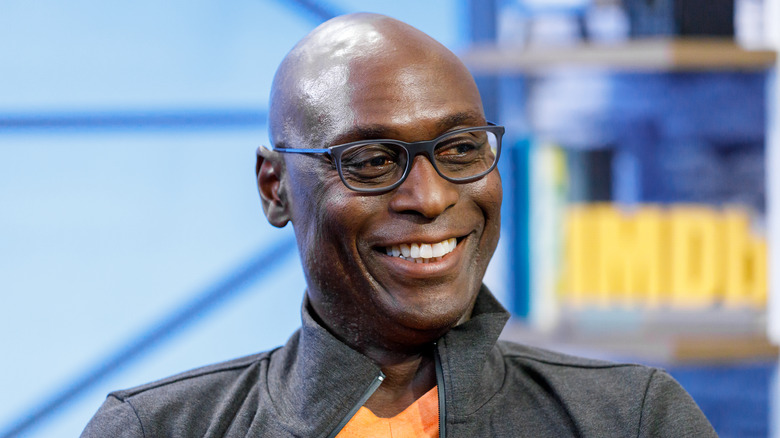 Rich Polk/Getty Images
Unfortunately, the latest installment in the "John Wick" franchise is not without tragedy. In March 2023, only days after its premiere in London, actor Lance Reddick sadly passed away. The actor, known for his performances in "The Wire," "Lost," and video game franchises like "Destiny," was a staple of the "John Wick" film series ever since the very first film, where he debuted as Charon, the concierge of the Continental and a close confidante of John Wick.
While all of his "John Wick" co-stars have been vocal in their grief, Keanu Reeves, in particular, paid tribute to Reddick, calling him "a beautiful, special person" in an interview with CNN and donning a blue ribbon in remembrance of the actor. Other eulogies poured in from franchise director Chad Stahelski, as well as Reddick's former collaborators David Simon and James Gunn. 
"John Wick: Chapter 4" won't be the last time audiences will have the opportunity to watch Lance Reddick perform posthumously. The actor has many future projects lined up, including the "John Wick" spin-off "Ballerina," the "Percy Jackson and the Olympians" TV adaptation on Disney+, and the 2023 remake of "White Men Can't Jump." However, "John Wick: Chapter 4" has nonetheless been a great opportunity for fans to head to the movie theater and see one of Reddick's final performances as the iconic Continental concierge. 
Critics have praised the film as one of the best in the series
Lionsgate
Though it may seem terribly obvious, many moviegoers are probably flocking to see "John Wick: Chapter 4" purely because it has good reviews backing it. The previous three entries in the franchise were also well-received by critics, with many claiming its flaws are made up for thanks to the franchise's satisfying action sequences and impeccable direction. Even only a few days removed from the wide release of "John Wick: Chapter 4," critics seem to be echoing former reviews in the film series with the latest installment.
Reviews for publications like The Guardian showered the new film with high praise, claiming "even by the standards of the past Wick outings, this is remarkable," while The New Yorker labeled it "by far the best of the four films." Critics are on board with the thesis of the "John Wick" films as unabashed, gratuitous, violent fun, which makes for a striking comparison next to their takedowns of other action films as lacking depth or focus.
The film, like many nowadays, is not without its detractors, such as a reviewer for Consequence who criticized the film's thematic low points and lack of coherence but still found lots to praise about its spectacle. What is bringing audiences to theaters to see "John Wick: Chapter 4" isn't just the promise of a good movie — it's the promise of a movie that guarantees entertainment above all else. 
John Wick: Chapter 4 signals a comeback for R-rated films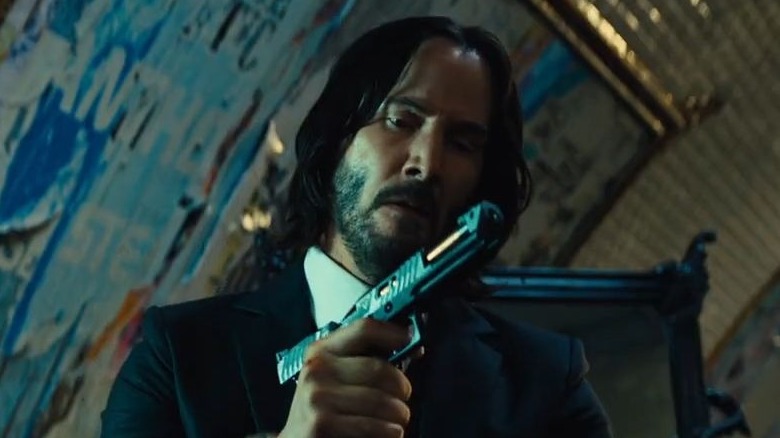 Lionsgate
R-rated films struggled at the box office long before there was a worldwide pandemic keeping people from going to the movie theaters. In the past few years, films with an R-rating have struggled at the box office compared to films aimed at kids such as "Minions: The Rise of Gru" or 2020's "Sonic the Hedgehog." Some exceptions have included Jordan Peele's "Nope" and the Brad Pitt-led "Bullet Train," both of which saw box-office success in 2022 against a slate of underperforming R-rated films.
However, "John Wick: Chapter 4" promises good karma for R-rated projects in the coming years. With only its opening weekend numbers, the latest Keanu Reeves vehicle has already become the biggest opening for an R-rated movie in a post-pandemic movie theater environment. This could bode well for future R-rated franchise films, such as Marvel's "Deadpool 3" or horror films in 2023 like "Evil Dead Rise" and the comedy "Renfield." 
If anything, the past year of movies has proven that audiences are starved for gratuitous violence and spectacle. Take, for instance, the 2023 viral hit "Cocaine Bear" or even 2022's word-of-mouth breakout "Barbarian." "John Wick: Chapter 4" may be the first big hit for R-rated movies in a post-COVID world, but it certainly won't be the last. It is a good time to be a filmmaker producing R-rated projects, especially if you want to wow theatre-going audiences. 
John Wick: Chapter 4 marks the end, for now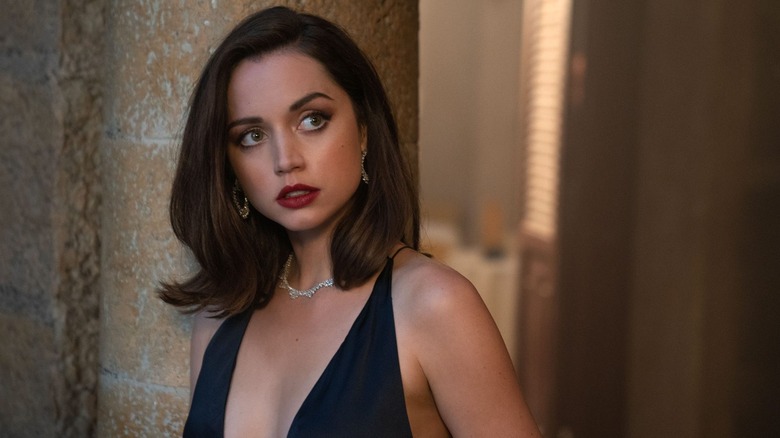 United Artists Releasing
The "John Wick" franchise has slowly become one of the biggest original IPs of the 2010s Nevertheless, "John Wick: Chapter 4" seems to be the end for now, with director Chad Stahelski telling The Hollywood Reporter that he and Keanu Reeves plan to "give John Wick a rest," albeit still admitting it would always be possible for him and Keanu to have discussions that lead to another film. For now, seeing "John Wick: Chapter 4" is an opportunity that fans of the franchise shouldn't miss out on.
However, the franchise isn't going anywhere. Ana de Armas is set to star as Rooney, a ballerina assassin played by Unity Phelan in "John Wick: Chapter 3 — Parabellum," in a spin-off film titled "Ballerina" currently set to be released in 2024. Keanu Reeves, Lance Reddick, and Ian McShane are all confirmed to be reprising their roles from the primary "John Wick" films in "Ballerina," which itself may branch out into its own film franchise if it goes over well with audiences.
Sadly, without giving anything away, chances seem slim for a fifth "John Wick" given how the character's journey comes to a conclusion in "John Wick: Chapter 4." Reeves and Stahelski even seemed to be content with leaving the franchise behind, but the box office success of the latest film has the studio thinking otherwise – though it all comes down to Keanu's willingness.