John Wick: Chapter 4 Is Breaking Box Office Records In More Ways Than One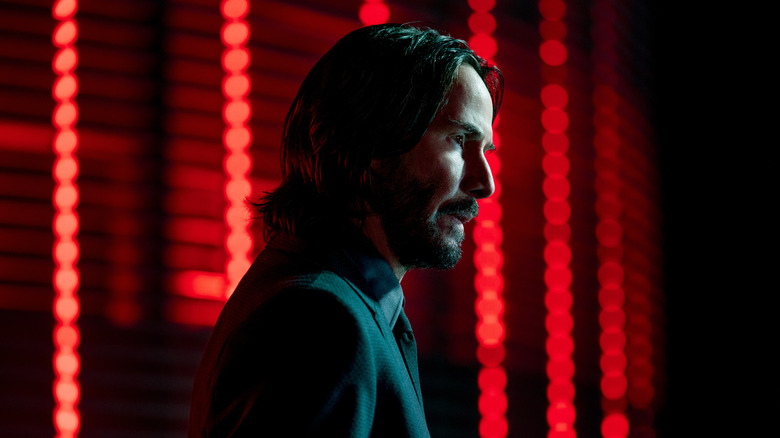 Lionsgate
Keanu Reeves and director Chad Stahelski lit up the box office this weekend with "John Wick: Chapter 4."
If things had gone differently, 2014's "John Wick," the slick action-thriller about a hitman seeking revenge on behalf of his late wife's puppy, would have been sent straight to home video. Instead, Lionsgate swooped in, sending the mid-budget revenge flick to cinemas, where it grossed over $75 million, per The Numbers. Nearly a decade later, "John Wick" is a full-fledged, almost billion-dollar grossing franchise that has gone on to define the last few years of American action cinema.
This weekend saw the release of "John Wick: Chapter 4," which was initially set for release in 2021 but was pushed back due to the COVID-19 pandemic. Per Deadline, the film grossed $73.5 million during its opening weekend, breaking both a franchise and Lionsgate pandemic record. The fourth "John Wick" outing exploded internationally as well, bringing home $64 million. Opening weekend gross stands at $137.5 million, just over $30 million away from "John Wick: Chapter 2's" all-time cume. "Chapter 4" is also Reeves' second-highest opening weekend for a live-action film, coming in behind the $91 million debut of "The Matrix Reloaded." 
John Wick: Chapter 4 crushed the competition this weekend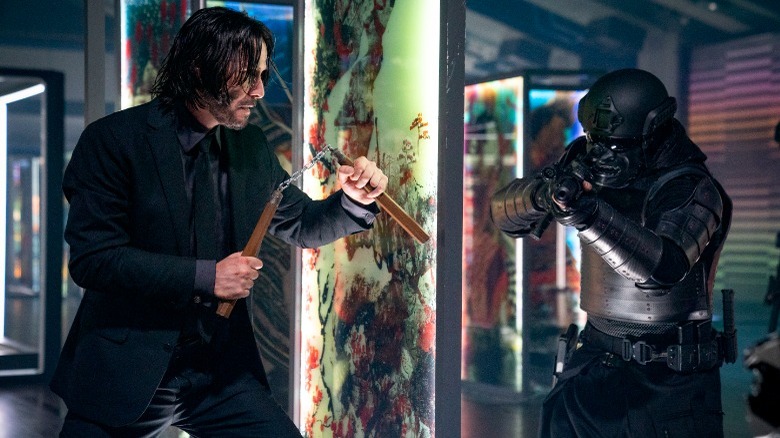 Lionsgate
"John Wick" fever has taken over the world. The nearly three-hour long action epic stands tall as the biggest R-rated film to open post-pandemic. "Deadpool" holds the all-time record thanks to its $132 million opening back in 2016. Deadline also notes that "Chapter 4" blew Daniel Craig's "No Time To Die" $55 million late 2021 opening out of the water. Of course, 2021 and 2023 are two drastically different post-pandemic theatrical landscapes. Despite breaking records, it remains to be seen if Keanu Reeves will return to the franchise.
"John Wick: Chapter 4" is on track to be the highest-grossing film in the franchise and will usurp "Chapter 3 – Parabellum's" $327 million gross in the coming weeks. "Chapter 4" does face competition ahead in the coming weeks, and it remains to be seen just how leggy the flick can get. Next week sees the release of the equally critically-acclaimed "Dungeons & Dragons: Honor Among Thieves" and the Ben Affleck-directed "Air," which should play well with older crowds. The following week sees the release of "The Super Mario Bros. Movie," which should dominate the box office for the rest of the vacant April.
This weekend, however, was all for "John Wick's" taking. Coming in second place at the box office was "Shazam! Fury of the Gods," with a gross of $9.7 million. With a domestic cume of $46.3 million, the latest DC effort will barely outgross the opening weekend of the first "Shazam!" ($53 million). Third place went to the R-rated "Scream VI," which boasts an $89 million domestic gross. "Creed III" raked in $8.36 million, while Adam Driver's dino-bonanza "65" managed to come in at fifth place with $3.25 million.