Evil Dead Rise - What We Know So Far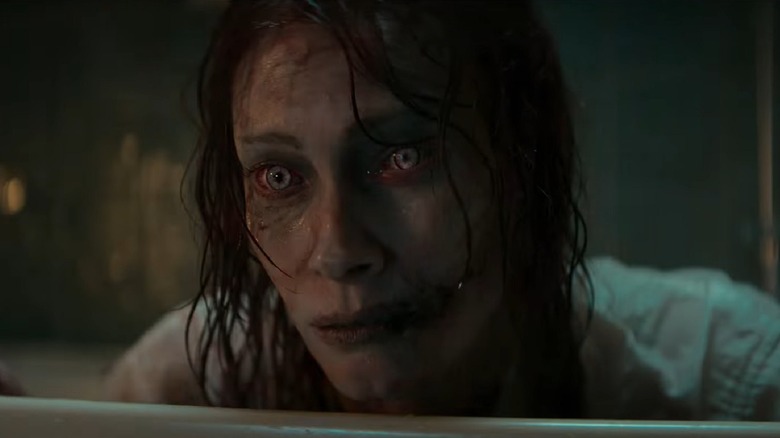 Warner Bros.
We may receive a commission on purchases made from links.
Things are about to get ... groovy.
The first "Evil Dead" was a scrappy little B-movie that proved what you could do with grit, gumption, and barely any money. The sequel expertly blended chills and comedy to create perhaps the best horror-comedy ever made. "Army of Darkness" took things to the Middle Ages, and the 2013 film got really, really gory.
However, it's been nearly a decade since the last "Evil Dead" movie hit theaters. But fortunately for fans of chainsaw action, possessed deer heads, and memorable one-liners, the wait is almost over. The fifth film in the franchise is headed to theaters, and from all reports, it's going to be a bloody good time.
However, this one is going to be a bit different from all the previous films — different when it comes to the cast, the plot, the setting, and who's sitting in the director's chair. So what horrors do the Deadites have in store for excited gorehounds? Well, let's delve into everything we know so far about the upcoming "Evil Dead Rise."
When will Evil Dead Rise be released?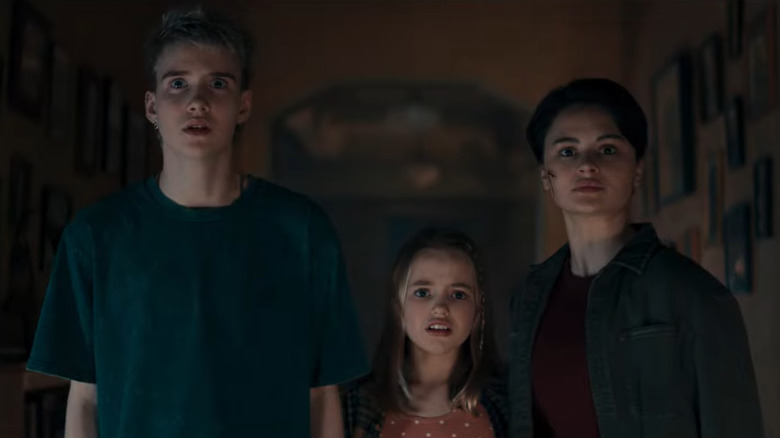 Warner Bros.
Originally, "Evil Dead Rise" was headed for HBO Max, but a funny thing happened on the way to the streamer. One — David Zaslav decided to emphasize theatrical releases after taking over Warner Bros. Two — Deadline reports that when the film's trailer played at the trade show CineEurope (a trailer that hasn't yet been released to the public), people ate it up, proving the film was good enough for theaters.
So when can we expect to get in line and buy some tickets (assuming our possessed hands don't fight back)? Well, we'll get to see "Evil Dead" Rise hit theaters on April 21, 2023, as announced via Bruce Campbell's Twitter account. The actor also shared a first-look photo of the film, which showed a smiling Deadite leering through an apartment's blood-soaked peephole. 
Interestingly enough, when "Evil Dead Rise" releases in 2023, it won't be the only horror-comedy that month. The flick will be competing against "Renfield," a film focusing on the titular familiar, with Nicholas Hoult as Renfield and Nicolas Cage as his master, Dracula. It'll be interesting to see which horror-comedy walks away dominant.
What is the plot of Evil Dead Rise?
Throughout the "Evil Dead" franchise, there has been one constant — someone reads an evil book (most commonly called the Necronomicon) and unleashes the forces of hell. In the first two "Evil Dead" movies, we watch this horror show play out in a cabin in the middle of nowhere, with a group of young people getting picked off and possessed by sadistic demons. Of course, the big difference between the two films is that "The Evil Dead" is straight horror while "Evil Dead II" is a brilliant horror-comedy.
Things get weird in "Army of Darkness" when franchise hero Ash Williams (Bruce Campbell) goes back to the Middle Ages to fight a skeleton army, and things get gorier than ever in 2013's "Evil Dead" when a group of friends trying to help a woman kick a drug habit decide to hole up in a cabin and release the Deadites. But what will "Evil Dead Rise" be about? Will it follow the standard "Evil Dead" formula of a cabin in the woods, or will it get a bit more creative a la "Army of Darkness?"
Well, this time, the Deadites are headed to Los Angeles, and they plan to unleash havoc on an apartment complex. As the official synopsis reads (via Fangoria), "In the fifth 'Evil Dead' film, a road-weary Beth pays an overdue visit to her older sister Ellie, who is raising three kids on her own in a cramped L.A. apartment. The sisters' reunion is cut short by the discovery of a mysterious book deep in the bowels of Ellie's building, giving rise to flesh-possessing demons and thrusting Beth into a primal battle for survival as she is faced with the most nightmarish version of motherhood imaginable."
Who is starring in Evil Dead Rise?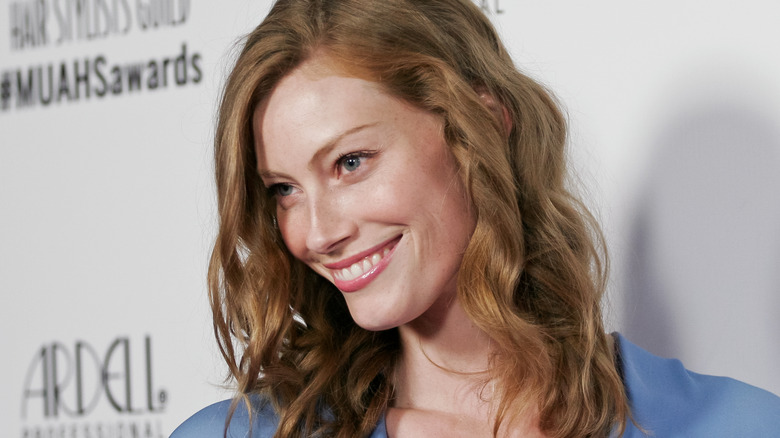 Tibrina Hobson/Getty Images
In the first three "Evil Dead" films — and the Starz series "Ash vs. Evil Dead" — the franchise was anchored by the shotgun-toting, chainsaw-wielding Ash Williams, played by the one and only Bruce Campbell. In the 2013 installment, the focus shifted to Mia, played by Jane Levy, a woman struggling with drug addiction who must also face an onslaught from hell when she tries to go cold turkey.
So who will be leading "Evil Dead Rise?" According to /film, Lily Sullivan will be playing the lead role of Beth, who goes to visit her single mom sister and finds herself facing an apartment complex full of Deadites. You may have seen Sullivan in miniseries like "Picnic at Hanging Rock" or movies like "Mental." Opposite her, Alyssa Sutherland will play Ellie, the mother of three living in the aforementioned apartment complex, whose life gets even more complicated with the appearance of the flesh-bound Necronomicon. If you're a fan of the TV series "Vikings," you'll definitely know Sutherland best for her role as Queen Aslaug.
In addition to Sullivan and Sutherland, "Evil Dead Rise" will feature the talents of Gabrielle Echols, Morgan Davies, Nell Fisher, and Mia Challis (via Fangoria).
Who is directing Evil Dead Rise?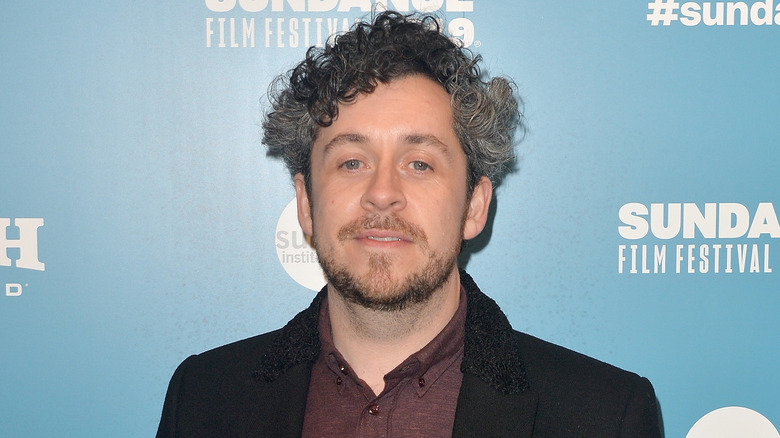 Jerod Harris/Getty Images
The first three "Evil Dead" films were famously directed by Sam Raimi, who went from microbudget filmmaker to mainstream director on the success of this trilogy. The 2013 "Evil Dead" was helmed by Fede Álvarez, who kept things intense with his two other features — "Don't Breathe" and "The Girl in the Spider's Web." So who's in charge of all the mayhem, murder, and madness this time around?
"Evil Dead Rise" will be directed by Lee Cronin. Sure, he isn't a household name yet, but we have a feeling he will be soon. At the moment, Cronin has just one released film to his name — 2019's uber-creepy "The Hole in the Ground," a film that follows a single mother in Ireland who suspects her son might not actually be her boy anymore. Raimi (who's executive producer on "Evil Dead Rise") was super impressed with Cronin's work because he hand-picked him to direct the new "Evil Dead" film.
Speaking with /Film, Raimi said, "'I loved 'The Hole in the Ground.' And that picture was brought to the executives that I work with, and they showed it to me, and I thought, 'This is a really great director.' And we met, and we talked, and he said he really liked 'The Evil Dead.' And I said, 'Then why don't you make the new one? I think you're just the kind [of] guy I'd like to do it." That's high praise from the man who conjured the "Evil Dead" franchise into existence.
Are Sam Raimi and Bruce Campbell involved with Evil Dead Rise?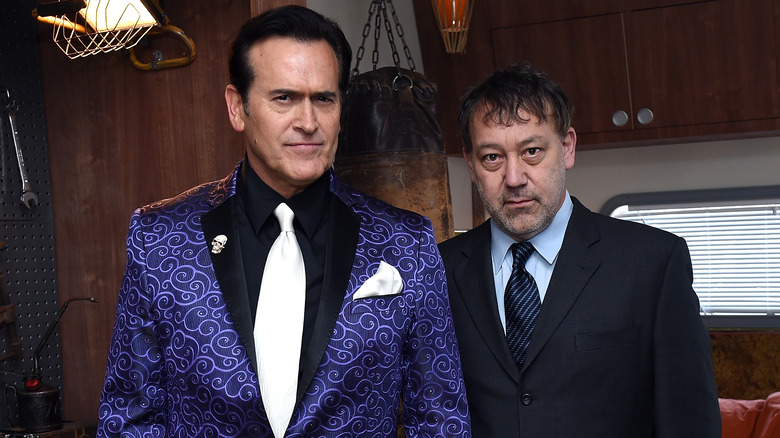 Nicholas Hunt/Getty Images
The two people most closely associated with the "Evil Dead" franchise are the two who brought the series to life — director Sam Raimi and star Bruce Campbell. Without these titans of horror, we wouldn't have Ash Williams duking it out with undead monsters, sawing off his own possessed hand, or reigning supreme as the king of S-Mart. However, neither one will be reprising their original positions for "Evil Dead Rise." Raimi isn't directing, and Campbell isn't starring.
So will these two be involved with "Evil Dead Rise?" Fortunately, the answer is yes. Both Raimi and Campbell will be serving as executive producers (via Bloody Disgusting), along with Robert Tapert, who's been involved with the franchise since the first film. As for Raimi, he actually hand-picked Lee Cronin to serve as the film's director. And Campbell has had nothing but positive things to say about the film, telling Collider, "[Evil Dead Rise] does not suck in the least. Lee Cronin did a great job. ... It's a very European 'Evil Dead.'"
We're assuming Campbell is referencing European horror sensibilities, although we don't know if he's talking about Italian giallo, French Extremity, or some other style. Whatever we're getting, it's sure to be scary, as Raimi told /Film, "It's terrifying, and it's going to knock people's socks off."

What will Evil Dead Rise be rated?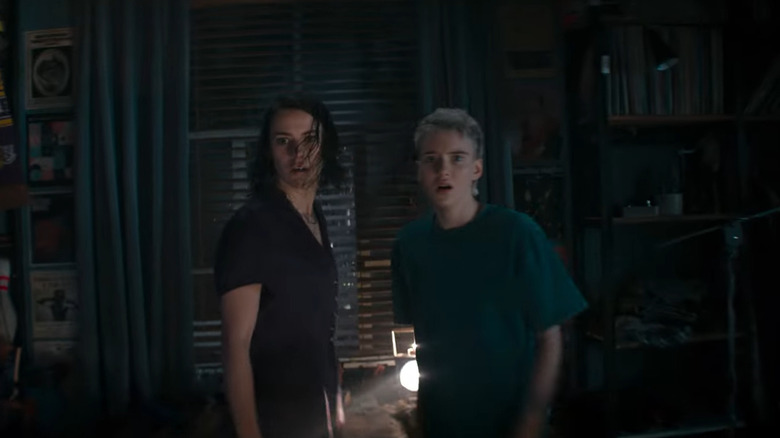 Warner Bros.
If you know anything about the "Evil Dead" series, then you know it's not exactly a PG-rated franchise. The first film scared up the dreaded NC-17, with the subsequent entries all earning an R-rating with their severed limbs and geysers of gore. So what will "Evil Dead Rise" be rated? Will it compare to previous entries, or will it go the route of so many modern movies and play it safe with an audience-friendly PG-13?
Well, never fear, diehard fans. "Evil Dead Rise" is gonna keep things nasty. According to Fangoria, the 2023 film is officially rated R. How come? As you might expect, Lee Cronin's upcoming movie earned the big bad R due to "strong bloody horror violence and gore, and some language." Obviously, you can't have an "Evil Dead" film without delivering on the kills. Well, "Army of Darkness" isn't exactly the hardest R, but from everything we've heard, it seems likely this one will have more in common with the first two films and Fede Álvarez's installment.
Is there a trailer for Evil Dead Rise?
If you're at work, watch out. The red band trailer for "Evil Dead Rise" isn't messing around. The trailer begins with possessed mother Ellie, cooking the world's worst batch of scrambled eggs and describing a lovely dream ... where she violently murders her whole family. Clearly, paging through the Necronomicon and playing that old creepy record her kid found was a mistake. From there — accompanied by Doris Day's "Que Sera, Sera" — we watch as scalps get ripped from heads, Deadites swallow shards of glass, and our bloodied hero Beth finds herself guarding a group of poor kids from their very undead mom. Yes, that "Evil Dead" staple — the chainsaw — does make an appearance, promising plenty of severed limbs and arterial sprays, and we're also terrified to see what happens with that cheese grater.
Where to watch previous entries in the Evil Dead franchise
Universal Pictures
Before "Evil Dead Rise" hits theaters, you might want to brush off your copy of the Necronomicon and do a bit of research into all the horrific history that came before. Or you can just go back and watch the previous films (and TV show) in the franchise.
Sadly, at the moment, the film that started it all, 1981's "The Evil Dead," isn't available to stream for free, but you can rent it for $3.99 on Vudu and $5.99 on Amazon Video. However, that's okay because "Evil Dead II" is basically a bigger, better remake of the original film. You can stream that on IndieFlix or rent it for $3.99 on Apple iTunes, Amazon Video, Google Play, and YouTube.
If you want to take a trip back to the Dark Ages and hail the king, you can rent "Army of Darkness" for $3.99 on Apple iTunes, Amazon Video, Google Play, and YouTube. Fede Álvarez's brutal 2013 gorefest can be rented for $2.99 on Amazon Video or $3.99 to watch it on Apple iTunes, Google Play, or YouTube.
And if you want to be a completist (and trust us, you should be), then you need to check out the massively underrated "Ash vs. Evil Dead" series, which follows Bruce Campbell's character in later life as he's still dealing with those pesky demons. All three seasons of the Starz shows can be streamed on Netflix.