Lance Reddick, Star Of The Wire And The John Wick Franchise, Dies At 60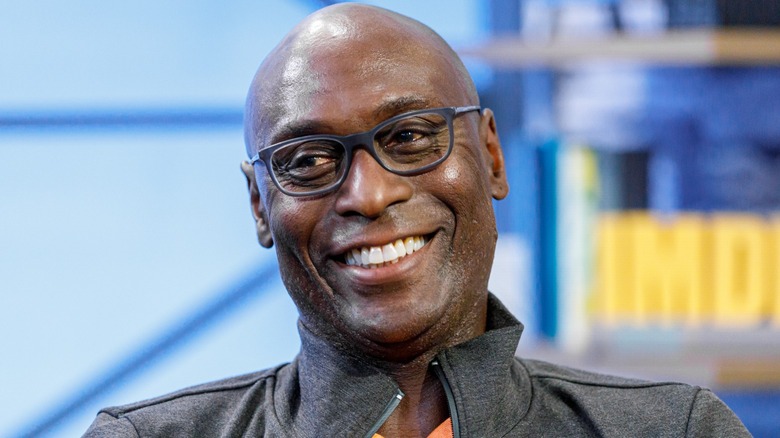 Rich Polk/Getty Images
Lance Reddick, the talented actor from "The Wire," the "John Wick" franchise, and more, has died at the age of 60, TMZ reports. The actor was found dead in his home in Studio City. While Reddick's cause of death is unknown, law officials have deemed it natural. He is survived by his wife Stephanie Day.
Reddick began his career in the 1990s and gave memorable supporting roles in the HBO dramas "The Corner" and "Oz" in the early 2000s. This led to a main role on the influential HBO drama "The Wire" as Baltimore Police Commissioner Cedric Daniels. Following his stint on "The Wire," Reddick boasted numerous performances on both the big and small screen. In addition to several appearances in the "Law & Order" franchise, the actor worked with a variety of iconic creatives during his career, including Spike Lee ("Oldboy"), Roland Emmerich ("White House Down"), and Adam Wingard ("The Guest").
Reddick's dominance extended to video games, as well. The actor found himself stepping into the role of Commander Zavala in Bungie's critically-acclaimed "Destiny" franchise. He also lent his talents to PlayStation and Guerilla Games' "Horizon Zero Dawn" and its 2022 sequel "Forbidden West."
Although his life has been tragically cut short at a young age, the actor has fan bases across TV, video games, and films to remember his work. For movie fans, Reddick gave an engaging and dynamic turn as Charon, the dedicated and perceptive hotel manager of The Continental in NYC in all four "John Wick" films. The character offered him an opportunity to explore his acting range and deliver one of the most iconic performances of his career. 
Reddick loved playing against type in the John Wick movies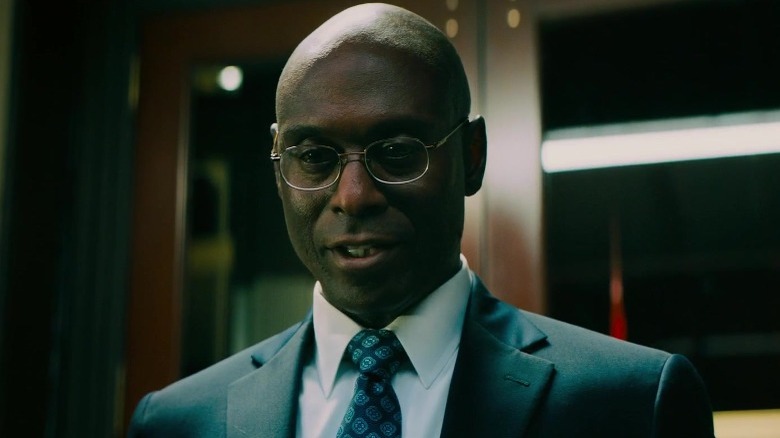 Lionsgate
Charon was first introduced in the first "John Wick" film. Since then, three sequels have been comissioned, with Reddick appearing in each entry in the franchise. Reddick also reprised his role as the elusive and cool concierge in the 2019 "John Wick Hex" video game. Reddick's first posthumous role will be "John Wick: Chapter 4," which releases in late March 2023. 
In a 2022 interview with CBR, Lance Reddick spoke at length about his role as Charon in the "John Wick" features. When asked what drew him to the character, the actor said it was the opportunity to play a nurturing personality as opposed to a commanding, talkative type. He added, "So to play someone who is just there to serve, who is very taciturn — I never get to play stuff like that. ... The basic trope of the mild-mannered guy and something tragic happens, and he's forced to reveal himself as the baddest cat in the universe has been done so often, but I had never seen it done like this. This is a brilliant take on that trope, rather than just being about the violence."
The character has since gone on to define Reddick's career and has emerged as one of the most popular supporting roles in the "John Wick" franchise.
Keanu Reeves and more pay tribute to Lance Reddick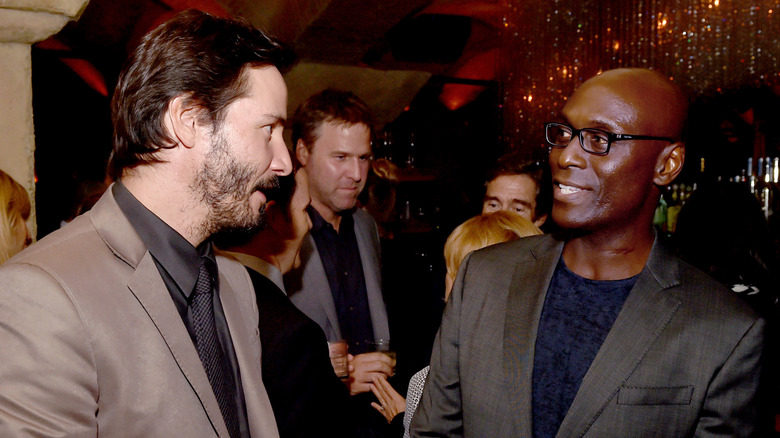 Kevin Winter/Getty Images
Lance Reddick will have a number of posthumous releases. Audiences will see him grace the silver screen one final time as Charon in "Ballerina," the Ana de Armas-led "John Wick" spin-off film. Reddick will also appear in the upcoming Hulu-exclusive "White Men Can't Jump" remake. Perhaps the actor's most notable posthumous release will be the Disney+ adaptation of "Percy Jackson and the Olympians," in which Reddick will star as Zeus. 
Following Reddick's passing, "John Wick" star Keanu Reeves and franchise helmer Chad Stahelski released a joint statement to honor the late actor. "We are deeply saddened and heartbroken at the loss of our beloved friend and colleague Lance Reddick," the duo said in a statement obtained by Deadline. "He was the consummate professional and a joy to work with," they continued, confirming that "Chapter 4" would be dedicated in the actor's memory. Winston actor Ian McShane described his co-star as both a "wonderful human being and a wonderful colleague" in a subsequent statement obtained by the outlet. 
David Simon, the creator behind "The Wire," took to Twitter following Reddick's passing to pay tribute to the actor. "Consummate professional, devoted collaborator, lovely and gentle man, loyal friend," the creative said. "Could go on, but no, I can't go on. This is gutting. And way, way, way too soon." 
Reddick leaves behind an impressive legacy and will be missed by cinephiles and gamers all around the world.