Why Creed III Blew Everyone Away At The Box Office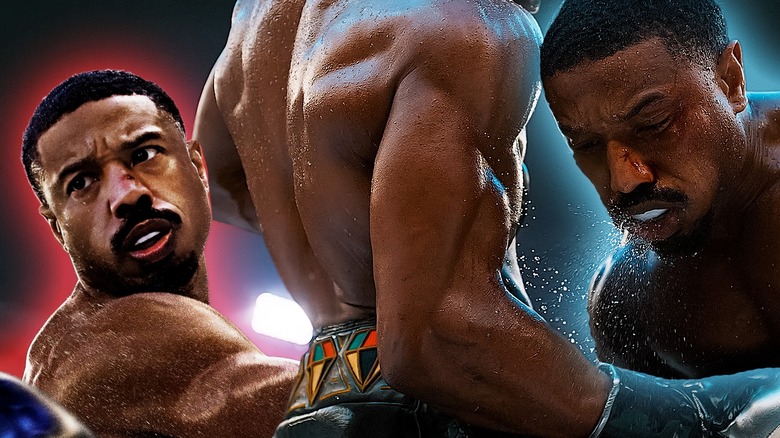 Static Media
You'd expect a boxing movie like "Creed III" to send viewers home soaring over an inspiring climactic duel between an underdog and an adversary. However, such euphoria is not just limited to auditoriums screening "Creed III." This film's opening weekend box office numbers had MGM executives cheering like they were watching the finale of the first "Rocky" back in 1976. In its first three days of domestic release, "Creed III" packed a mighty wallop with a staggering $58.4 million debut. On a $75 million budget, "Creed III" is well on its way to profitability and reaffirming the value of Michael B. Jordan as a movie star.
Sequels scoring big at the box office isn't exactly super big news, but the film's opening weekend numbers were anything but business as usual. There are countless ways this opening is tremendously impressive, from how these figures compare to the opening weekend numbers of the original two "Creed" installments to how the film fares in the box office history of Michael B. Jordan. The box office numbers of "Creed III" are similarly remarkable in the context of grander issues, like MGM's new status as an Amazon-owned entity or the theatrical marketplace in the wake of COVID-19's existence. 
Let's break down the opening weekend box office number for "Creed III" to understand why these financial figures astonished Hollywood.
It exceeded the opening weekends of its predecessors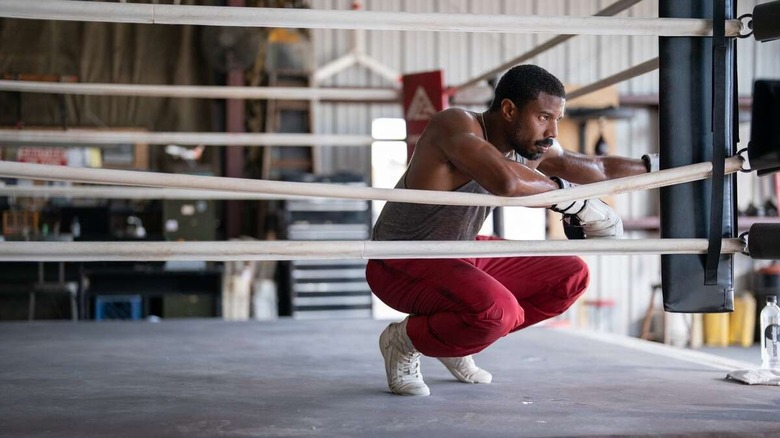 MGM
It was always going to be strange to compare the opening weekend box office of "Creed III" to the first two "Creed" installments. The initial "Creed" movies were released on Wednesdays over the Thanksgiving holiday weekend. By contrast, "Creed III" opened on a Friday over a weekend that didn't belong to any major holidays. Since it wasn't burning off demand with a Wednesday launch, it's no shock "Creed III" had a bigger three-day opening weekend than its predecessors. What's impressive, though, is that "Creed III" left the five-day hauls of the first two "Creed" films in the dust over just three days — including the $56 million five-day gross of "Creed II."
"Creed III" was even further ahead of the first "Creed," as that initial spin-off took 11 days to narrowly exceed what "Creed III" amassed in three. Comparing the opening weekend of "Creed III" to the debuts of the original "Rocky" movies is a bit trickier since those earlier titles emerged in a drastically different landscape for how much money features made in their first three days. However, it's worth noting "Creed III" did nearly five times the $12.1 million debut of the 2006 installment "Rocky Balboa." Just in the history of this franchise alone, the opening weekend of "Creed III" was something truly remarkable.
It outgrossed all other movies released by Amazon Studios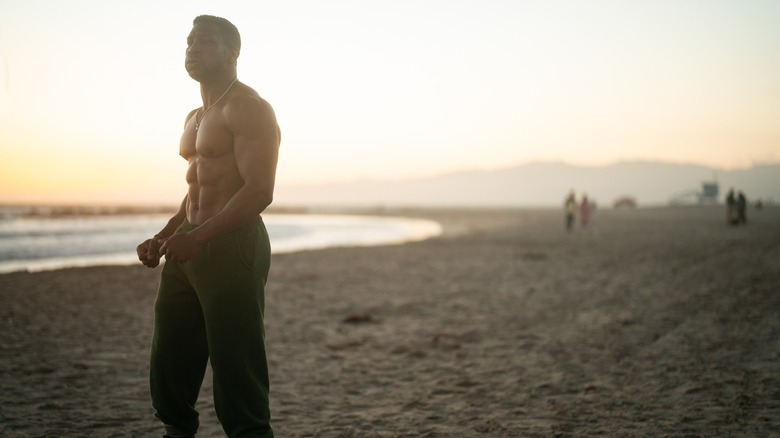 MGM
One of the many ways "Creed III" was a notable movie was that it was one of the first titles released by MGM since the legendary studio got purchased by Amazon. MGM and sister company Orion Pictures have released a handful of titles (such as "Women Talking" and "Bones and All") into theaters since this acquisition, but "Creed III" was the first massive MGM release to happen under Amazon ownership. Needless to say, the opening weekend of "Creed III" alone made history for Amazon by outgrossing the domestic hauls of every single title ever released by the company.
This includes not just recent MGM and Orion releases, but a slew of successful Amazon Studios titles like "Manchester by the Sea" and "The Big Sick." In the interest of fairness, this is a bit of an apples-to-oranges comparison since many of Amazon's previous theatrical releases were arthouse fare that never played in more than a couple hundred theaters. "You Were Never Really Here," for instance, was never expected to be a moneymaker like a "Creed" movie. 
Either way, the massive debut of "Creed III" demonstrates that Amazon is capable of launching MGM movies in a big way and redefines the level of box office success this company's movies can reach. The future of MGM under Amazon's stewardship just got a little more hopeful after the "Creed III" opening weekend.
Set a record for a sports movie opening weekend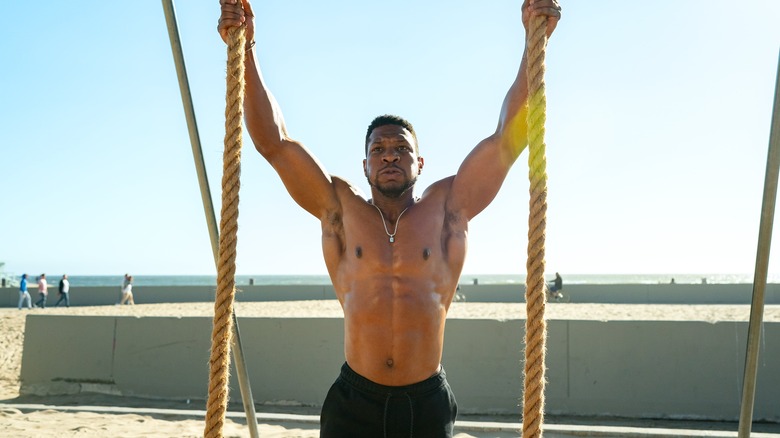 MGM
Sports dramas don't normally score massive opening weekends. There are a couple of reasons for that, including that these titles tend to build up financial momentum over time rather than burning through every scrap of audience interest or goodwill in just three days. Titles like "Remember the Titans" can open under $25 million and still crack sizeable domestic hauls thanks to positive word-of-mouth. Plus, most sports dramas aren't big franchise fare, so they're less likely to be incredibly frontloaded. This meant that "Creed III" had no trouble scoring the biggest domestic opening weekend in history for a sports drama, taking the crown away from the $35.5 million debut of its predecessor, "Creed II."
Though not a surprising record for "Creed III" to snag, it's still impressive just how far ahead of all other sports movies this feature ran in its first three days of release. Previously, no sports drama ever cracked $40 million on opening weekend, and "Creed III" accumulated $58 million in a single frame. That's not the only area where "Creed III" impressed compared to its genre brethren. In a single weekend, "Creed III" exceeded the entire lifetime domestic hauls of well-regarded sports dramas like "Invincible" and "Southpaw." Looking at the box office norms for similar titles just underscores how massive "Creed III" was on its opening weekend.
Creed III had a significantly higher opening weekend than usual for Michael B. Jordan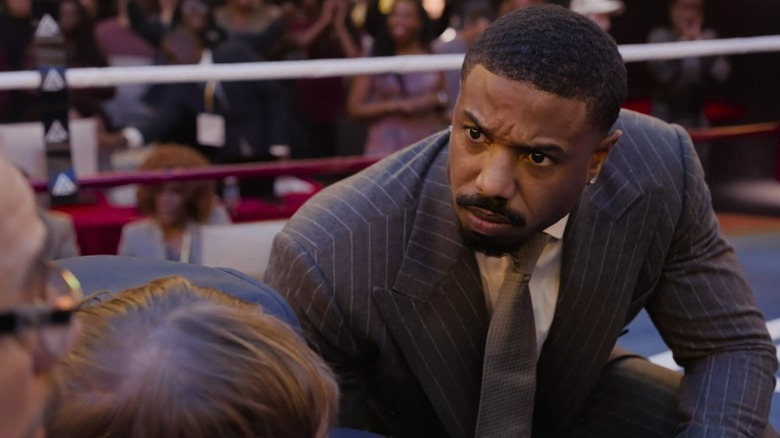 MGM/YouTube
Michael B. Jordan has been very choosy in what movies he appears in. Rather than appearing in 20 movies a year, Jordan's been more selective in where he shows up, with the actor only headlining two other theatrical releases ("Just Mercy" and "A Journal for Jordan") since the release of "Creed II." This doesn't mean Jordan has avoided appearing in any modern duds, as his cameos in "Kin" and "Space Jam: A New Legacy" can attest. Still, Jordan's generally done solid work making he isn't too overexposed as a big-screen leading man. This approach does mean, though, that Jordan doesn't have a sprawling box office track record to his name. Exempting the obvious exception of "Black Panther," he's never appeared in a movie that cracked $40 million on its three-day opening weekend — until "Creed III."
This feature's initial box office presence was doubly impressive since Jordan has never solo headlined a motion picture that opened this big before. Heck, in just three days, "Creed III" exceeded the lifetime grosses of many other theatrical releases Jordan appeared in, like the 2015 "Fantastic Four" reboot or "Red Tails." It's been clear for a while now that Jordan was a recognizable and well-liked face to mainstream moviegoers. However, the debut of "Creed III" is still astonishing, blowing away all expectations for how big a Michael B. Jordan star vehicle could go.
It opened at a different time of the year than its predecessors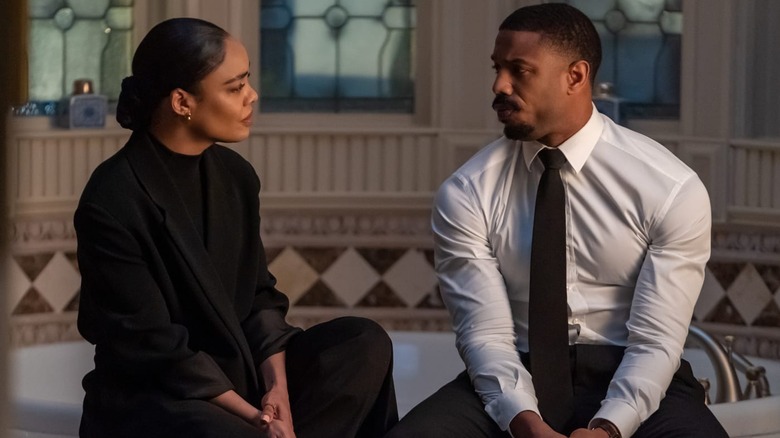 MGM
For the most part, the "Rocky" movies have been holiday season staples. While the second and third "Rocky" entries each opened in the summer, the other original "Rocky" movies took a cue from the very first "Rocky" film and opened in the final two months of the year. It's a timeframe that's served the franchise well, especially since the all-ages appeal of these movies and their uplifting spirit feels like the perfect thing families can watch together during the end-of-the-year festivities. The first two "Creed" movies took a cue from this trend by opening over Thanksgiving, but "Creed III" went in a vastly different direction with its March 2023 release date.
The spring was uncharted waters for the "Rocky" franchise and it was understandable for some trepidation to exist on whether or not the lucrative nature of these movies would continue outside of the summer or holidays. Turns out, there was nothing to worry about. "Creed III" flourished in early March, with the film's $58 million debut functioning as another example from the last 15 years of how March is now a go-to place to debut blockbuster hits. Release date traditions served the "Rocky" movies well in the past, but "Creed III" excelling at an unexpected time of the year proved that it's okay when some traditions get subverted.
Third entries don't always make more than their predecessors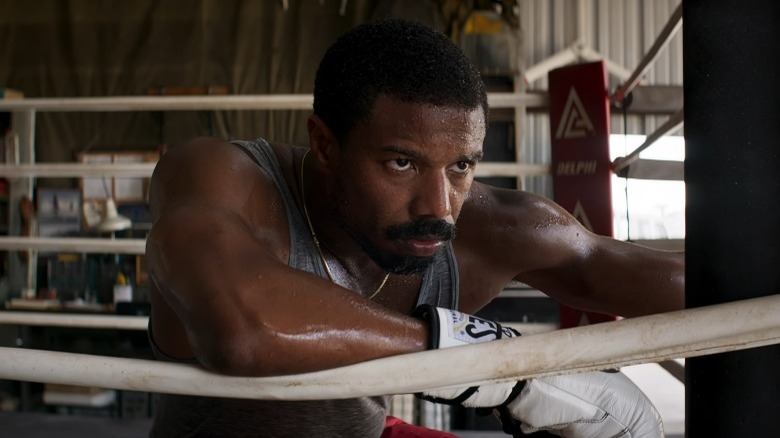 MGM/YouTube
The third movie in a franchise is a tricky beast. Typically the second movie, arriving on the heels of a first installment that was popular enough to warrant a follow-up, rides into town on waves of goodwill. By the time the third film arrives, the honeymoon period is over. Audiences need a little something more than just "this character is back" to get them into the theater. That's why many third installments make noticeably less than the second entry in a franchise. "Harry Potter and the Prison of Azkaban," for instance, had the lowest domestic gross for any "Harry Potter" film until the "Fantastic Beasts" movies came along while "The Hangover: Part III" made substantially less in North America than either of its two predecessors. 
There was reason to assume "Creed III" could suffer the same box office fate as so many other third installments. After all, if "Shrek" couldn't keep the box office momentum increasing with its third installment, what chance did "Creed III" have? Astonishingly, the film's opening weekend reflected a franchise firing on all box office cylinders since it surpassed the debuts of both of its predecessors. Barring catastrophic weekend-to-weekend dips, "Creed III" will have no problem surpassing the lifetime North American hauls of the first two "Creed" movies, an impressive feat and one that's incredibly rare among third installments at the box office.
It had the the third-biggest opening weekend in four months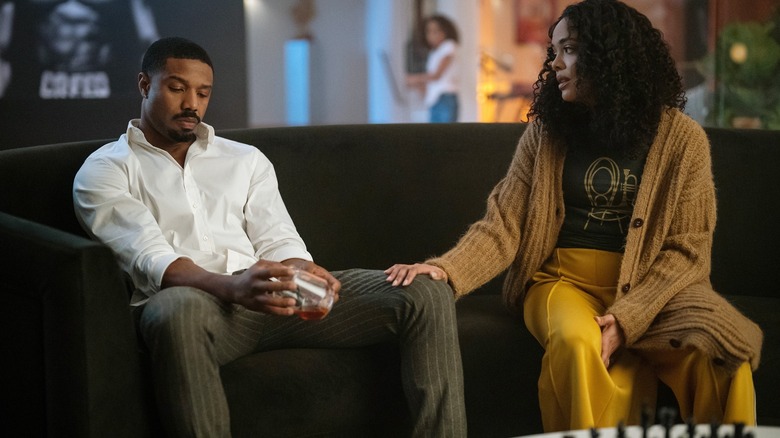 Since "Black Panther: Wakanda Forever's" massive $181.3 million opening weekend in November 2022, only two other movies have managed to crack $40 million in their domestic opening weekends. Those debuts belonged to "Avatar: The Way of Water" and "Ant-Man and the Wasp: Quantumania," with the openings of those titles standing tall above all other recent opening weekends. That doesn't mean the marketplace has been devoid of hits beyond those three tiles thanks to low-budget sleeper successes like "M3GAN" and "Cocaine Bear," but there haven't been a ton of tentpole releases lately to drum up significant opening weekends.
Enter "Creed III," which scored the third-biggest domestic opening weekend since "Wakanda Forever." To boot, "Creed III" had the second-biggest single-weekend haul in 2023 to date and nearly doubled "M3gan's" $30.4 million bow to be the biggest non-"Quantumania" opening weekend of the year so far. Further impressively, "Creed III" managed the 18th-biggest domestic opening weekend for any movie since the COVID-19 pandemic shut down movie theaters in March 2020, with many of the titles that it opened under carrying significantly bigger budgets and marketing spends. 
Overall, the opening weekend of "Creed III" was already tremendous in the context of titles released domestically between November 2022 and March 2023, but it remains remarkable even in the grander context of all theatrical cinema released in the wake of the pandemic.
The lengthy gap between Creed II and Creed III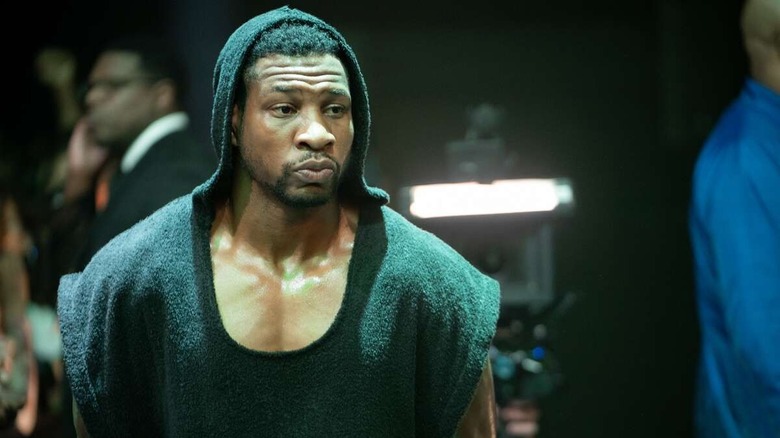 MGM
With the original "Rocky" movies, sequels came around at a rapid pace. Across the first four installments, audiences never had to wait more than three years to see where Rocky Balboa was going next. This steady pace ended up backfiring on the franchise, though, when "Rocky V" took so long to make. A five-year wait ended up killing the financial momentum of this saga, with "Rocky V" making drastically less than its predecessors in North America. 
While later installments like "Rocky Balboa" and "Creed" did fine at the box office despite coming off lengthy hiatuses for the "Rocky" movies, those two features were legacy sequels. A lengthy wait time was needed to give them their emotional oomph. Traditional "Rocky" sequels, judging by the original titles, needed to be made quickly.
This track record meant that "Creed III" arriving nearly five years after "Creed II" could've tanked the "Creed" movies financially. Instead, "Creed III" was the anti-"Rocky V" in that a prolonged gap between installments didn't dilute any audience enthusiasm for these movies. If anything, the wait seems to have made the hearts of moviegoers grow fonder for more Adonis Creed. The box office success of "Creed III" redefined the rules for how long non-legacy sequels in this franchise can take to get made.
Pre-release tracking suggested a significantly smaller opening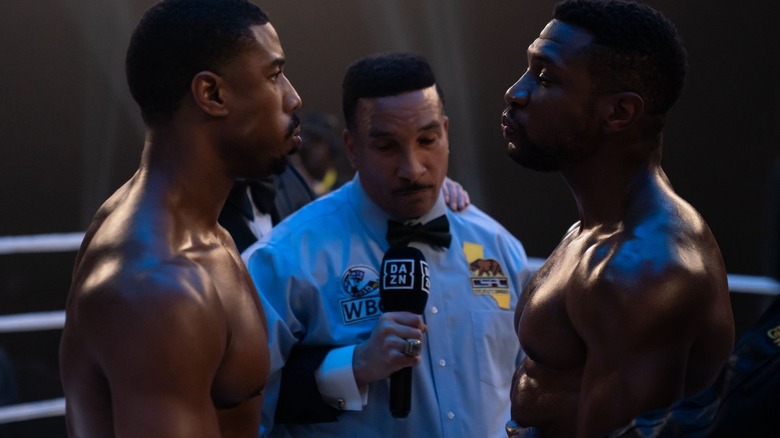 MGM
"Creed III" was never expected to weigh in as a lightweight at the box office, but initial tracking for its opening weekend didn't suggest the movie would shatter box office records. Pro Box Office reported at the start of February 2023 that "Creed III" was tracking for a $25 to $34 million domestic debut. On the low end, that meant "Creed III" would've opened considerably beneath its predecessors, though a $34 million bow would've at least been ahead of the first "Creed." As late as one week before its release, Pro Box Office was still predicting "Creed III" would open as low as $29 million in its first three days of release in North America.
These figures reflect the kind of pre-release box office expectations "Creed III" had amassed, with many assuming that there was nowhere to go but down after "Creed II." Just days before its debut, Deadline predicted "Creed III" would bow to $38 to $40 million, bigger than earlier tracking projections but still nowhere near what "Creed III" would end up amassing on opening weekend. The $58.4 million sum earned by "Creed III" was more than double the lowest initial tracking figures for its opening weekend. 
With few expecting it to be a box office juggernaut, "Creed III" was able to take everyone by surprise with an opening weekend for the ages.
This installment was devoid of Rocky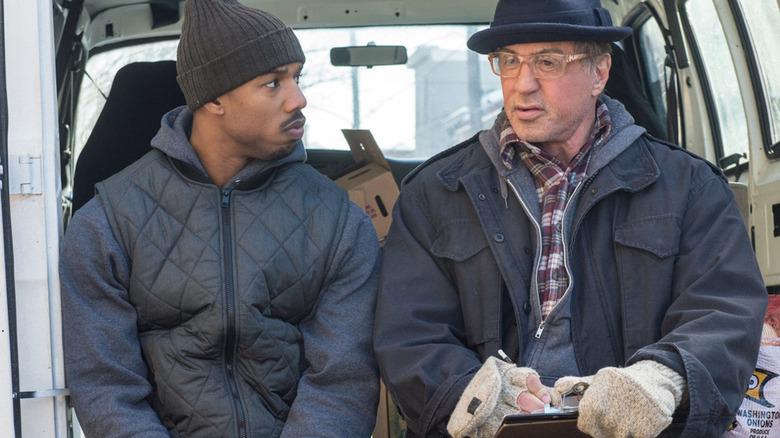 Warner Bros./MGM
Anyone who saw the ending of "Creed II" had to know that Sylvester Stallone's Rocky Balboa was not going to be coming back for further sequels. This conclusion saw Rocky finally traveling to Chicago to visit his son, Rocky Balboa Jr. (Milo Ventimiglia), and grandson Logan (Robbie Johns). It was a reunion that suggested that, despite all the turmoil of the past, Balboa could have a future with his loved ones. 
However, with this development, it was clear Balboa needed to go live his life with these relatives rather than continue being such a constant presence in Adonis Creed's life. There was never any doubt "Creed III" would be the first feature film in the "Rocky" franchise without that original boxer, but it was always a crapshoot whether or not audiences would still show up for one of these movies without Rocky Balboa on the poster.
That clearly wasn't a problem for "Creed III," which still collected $58.4 million from domestic moviegoers despite Sylvester Stallone being absent from the cast. Impressively, the film's North America opening weekend even managed to surpass the opening three-day grosses of every single movie Sylvester Stallone has ever appeared in — with the exception of "Guardians of the Galaxy Vol. 2."  At the end of the day, "Creed III" didn't just manage to survive without Stallone — it's surpassing the box office track record of the man who started this franchise in the first place.
Lots of competition in March
"Creed III" kicks off an incredibly busy slate of movies dominating March 2023. In the weeks that follow this "Rocky" spin-off, new installments in the "Scream," "Shazam!," and "John Wick" franchises are all opening while "Dungeons and Dragons: Honor Among Thieves" is also prepped to debut at the very end of the month. There's no shortage of massive movies debuting in the third month of 2023 and titles like "Scream VI" and "John Wick: Chapter 4" have all emerged with promising opening weekend box office tracking. With so many high-profile motion pictures poised to fight for dollars and the attention of moviegoers this month, it's easy to see a scenario where "Creed III" could have gotten lost in the shuffle. Perhaps there just wouldn't be room for a boxing drama amidst all the superheroes and assassins.
Instead, "Creed III" opened up with a bang and set a high bar for subsequent March 2023 tentpoles to clear. That $58.4 million bow is even ahead of the domestic opening weekend of the third "John Wick" installment, which just puts extra pressure on the fourth "John Wick" to surpass the box office haul of its predecessors. March 2023 isn't lacking in big titles, but even with so many upcoming movies to face, "Creed III" kicked off its domestic box office run in an impressive style.
Creed III wasn't frontloaded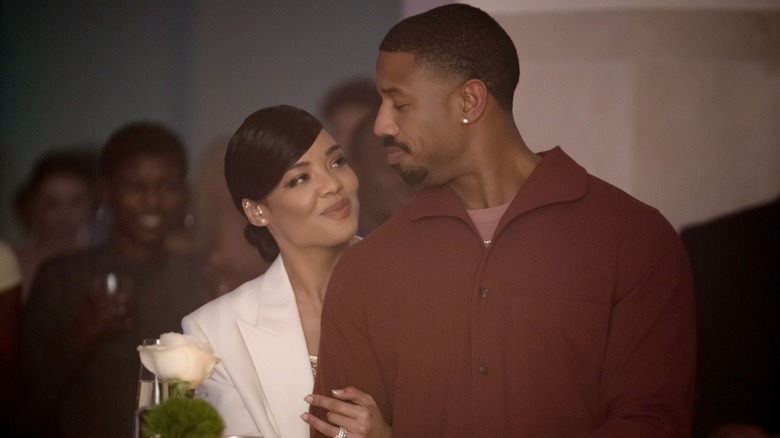 MGM
All the buzz around "Ant-Man and the Wasp: Quantumania" since its release has surrounded its sharp box office decline, with the feature experiencing the worst second-weekend drop ever for a Marvel Cinematic Universe movie. It was an abnormally large drop for a Marvel Studios production and the trend continued with the film's third-weekend decline of 60%, which indicates that the second-weekend drop was no fluke. "Quantumania" is being weighed down by dismal audience word-of-mouth after a solid opening weekend. This lack of staying power is especially interesting to see in comparison to "Creed III," which showed remarkable stamina on a day-to-day basis during its first few days of release.
At Thursday night showings, "Creed III" secured $5.5 million from moviegoers, a sizeable haul that already put it on track for a great opening weekend. Its subsequent $58.4 million debut was more than 10 times its Thursday night haul, an impressive amount of retention indicating that "Creed III" was attracting audiences all throughout the weekend. For comparison's sake, "Bullet Train" did $4.6 million at Thursday night showings and ended up doing $30.1 million for its first weekend, or about 6.5 times its Thursday night haul. The lack of frontloading in the opening weekend of "Creed III" just underscores how impressive its debut was, especially since it was coming hot off the wheels of a movie with no box office retention like "Quantumania."