Everything Everywhere All At Once's Big Win Should Mean The Oscars Are Finally Changing... But Will It?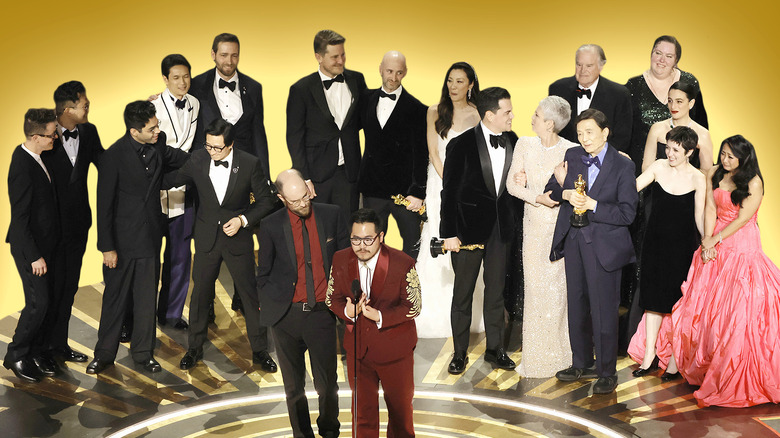 Static Media, Getty
As soon as Ke Huy Quan and Jamie Lee Curtis won their Oscars for supporting actor and actress, respectively, one thing became abundantly clear: "Everything Everywhere All at Once" was going to be crowned the big winner of the night. This didn't come as a total surprise — in the weeks leading up to the Academy Awards, the bizarre, wonderfully weird multiverse movie from directing duo Daniel Kwan and Daniel Scheinert won every major precursor at the various guild awards, indicating that all of the Academy was solidly behind "EEAAO." From there, the night progressed right on course; the Daniels took home original screenplay and director, becoming the third ever duo to win the top prize for directing, and the emotional high of the entire telecast came when Michelle Yeoh became the second woman of color and first Asian woman to win best actress for the film.
Anointing a movie that includes a buttplug fight, a sinister everything bagel, and hot dog fingers as the very best movie of the year, the pinnacle of 2022's filmmaking achievements, is definitely a bold move, putting aside the fact that the directors' previous work spans projects like a movie about a farting corpse and the "Turn Down For What" music video. "EEAAO" is definitely the most singular and oddball choice the Academy has made in years — so does this mean the organization is finally ready to get weird with it, or is this an outlier?
The Academy's reputation is pretty buttoned-up
David Livingston/Getty Images
Should the Academy be acknowledged and praised for choosing to highlight a movie that's not just utterly bizarre, but is also a touching, deeply emotional story about a first generation family struggling to make it in America? Yes, definitely! Should we assume they'll keep this streak going? Well... maybe not. When faced with a challenging, weird movie that will remain in the collective consciousness for years to come, the Oscars do tend to get a little spooked. Both Jordan Peele and Emerald Fennell can speak to this, as both screenwriters snagged Original Screenplay as what felt like a consolation prize for their movies "Get Out" and "Promising Young Woman," both of which seemed far too bold to take home Best Picture (despite being nominated).
"Parasite" seemed like a landmark moment for the Oscars when it swept the ceremony to become the first non-English language Best Picture winner in history, but in the years that followed, it felt like a return to form, with biopics taking front and center once again and different studios and streamers duking it out to create the Oscar-baitiest movie of them all. It's not out of the question that, in a post-"EEAAO" world, the Oscars will revert back to their old ways and pick whatever war movie follows "All Quiet on the Western Front," though we can certainly hold out hope that their minds will remain open.
Will Everything Everywhere All at Once usher in a new breed of Best Picture winners?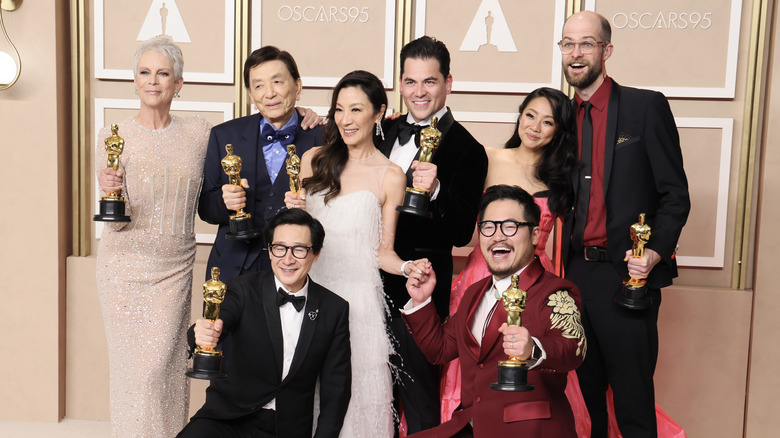 Rodin Eckenroth/Getty Images
The biggest thing about EEAAO — and perhaps the biggest reason that its win feels so refreshing — is that it does not feel like this movie ever expected to win an Oscar. Released in March of 2022, marking a pretty early window for a potential Oscar contender, "EEAAO" is wholly and unashamedly its own thing, and it definitely doesn't feel like the Daniels looked at the scene where Quan eats a tube of lip balm and thought "yeah, this will definitely win Best Picture."
Shamelessly, nakedly begging for Oscars, like period pieces, biopics, and war movies seem to do every single year without fail, feels both exhausting and boring for people who like the Oscars themselves, or even just movies in general. "EEAAO" is a great experience without adding the Oscar wins into the equation — Quan, Yeoh, Curtis, and fellow nominee Stephanie Hsu manage to ground the movie in real emotional depth even when they're dressed like clowns or giving themselves papercuts or sticking hot dog fingers into each others' mouths — and it getting the top award in the industry is icing on the cake.
Going forward, "EEAAO" fans can only hope that movies like this one — weird experiments that throw literally everything at the wall — get the chance to enter the Oscar conversation more often and even end up taking home the biggest prize of the night. It shouldn't be a one-off that, at the 2023 ceremony, the film won the most "above the line" Oscars of any movie in history (meaning major awards like acting, directing, and picture) and the most since the entire structure changed in 2009. Weird movies are just as deserving as ones about Winston Churchill or Elvis or wars — let's just hope that "Everything Everywhere All at Once" is the beginning and not the end.