The Entire Rust Shooting Controversy Explained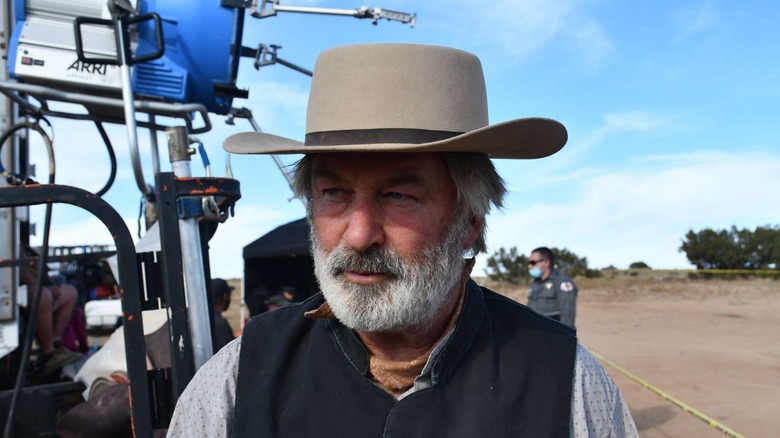 Agence France-Presse/Santa Fe County Sheriff's Office
In October 2022, on a film set in New Mexico, a prop gun handled by actor and producer Alec Baldwin discharged a live round of ammunition that struck cinematographer Halyna Hutchins in the torso. She was killed by the shot, which went through her and struck the director, Joel Souza. As the film community mourns her loss, the ramifications of that tragic incident are still being felt inside and outside of the industry.
Investigations were undertaken by authorities at every level, from the local sheriff's department to the FBI, in addition to the production company's internal inquiry. The result thus far has been criminal charges for both Baldwin and the movie's armorer, Hannah Gutierrez-Reed, in addition to more and more questions about what went wrong, how everything happened, and what this means for the movie business going forward.
The details of the shooting, what led up to it, and what's happened since are both complex and intricate, with numerous layers to sift through. In an attempt to clarify the situation as a whole, here is an explanation of the entire timeline of events, from the days leading up to the shooting through the most recent judicial decisions.
A series of questionable events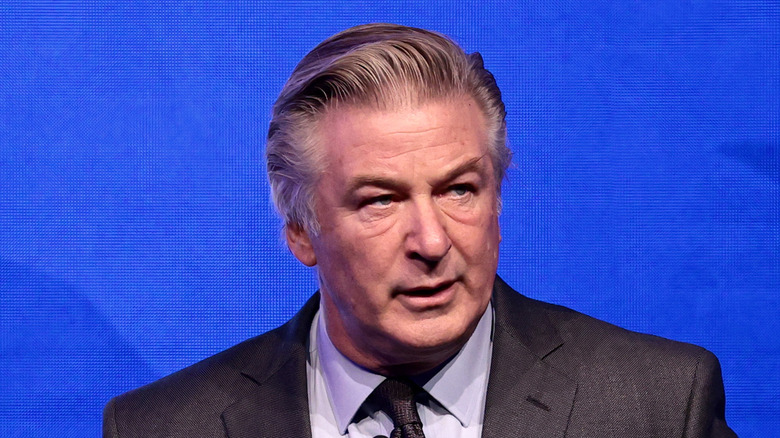 Dimitrios Kambouris/Getty Images
In May 2020, Alec Baldwin signed on to produce and star in the western "Rust." The film is based on a story from Baldwin and written and directed by Joel Souza, a former collaborator of Baldwin's. Bonanza City Ranch, near the ghost town of Bonanza City, New Mexico, was chosen for the 21-day shoot. Production began on Oct. 6, 2021, and from the beginning, problems plagued the production.
The set was already facing a union strike by crew members upset about unsafe working conditions, excessively long hours, and late paychecks, among other things. Hours before the shooting, many crew members walked off the set and were replaced by less-experienced non-union crew members.
According to A-camera first assistant Lane Luper, prior to the fatal shooting, there had already been an accidental SFX explosive discharge and two accidental firearm discharges on set – one by Baldwin's stunt double and another by the film's prop master — on days when there had not been safety meetings. And then on the morning of Oct. 21, hours before Hutchins was killed, several crew members took the gun in question off-set to use it for target practice with live ammunition. The gun was returned to set after lunch.
The shooting occurs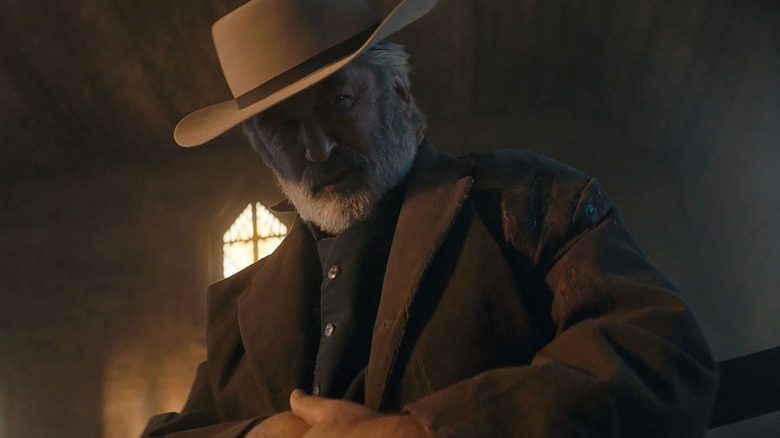 Santa Fe County Sheriff's Office
On day 12 of the "Rust" film shoot, as cinematographer Halyna Hutchins and director Joel Souza were setting up a shot, Baldwin was on set rehearsing a scene in which his character pulls his revolver from his holster as he backed out of a church. Reports say he practiced the move twice and on the second try, the gun went off. The bullet went through Hutchins's torso near her shoulder and lodged into the shoulder of Souza. Both were evacuated to local area hospitals, Hutchins via helicopter and Souza by ambulance. Sadly, Hutchins was pronounced dead, but Souza was released the next day.
After the gun had been returned to the "Rust" set following its morning of target practice, lead armorer Hannah Gutierrez-Reed removed the gun from a locked safe and placed it, along with two others, onto a prop cart. Assistant director David Halls then gave the gun in question to Alec Baldwin, announcing it as being a "cold gun" — i.e. not containing live rounds. This information turned out to be untrue, and a live round discharged from the weapon.
The Santa Fe County Sheriff's Department received a call reporting the shooting at 1:50 pm MT, Oct. 21, 2021, and began investigating the incident. Because the shooting occurred during a rehearsal, there is no video evidence available.
Three people implicated in the shooting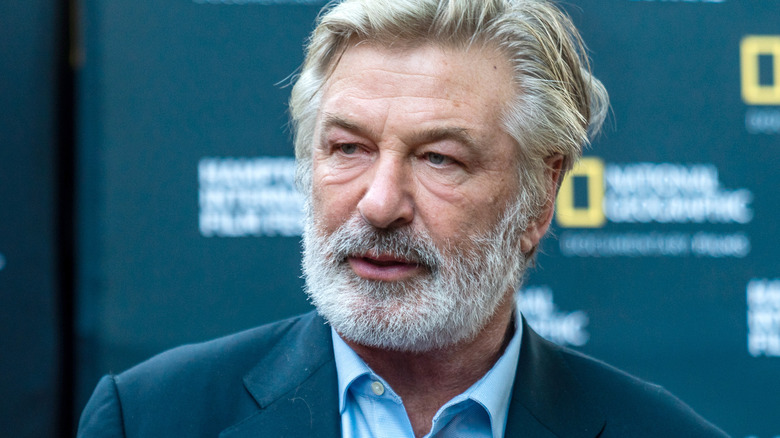 Mark Sagliocco/Getty Images
The tragic shooting of Halyna Hutchins on the "Rust" set may have been an accident, but investigators were nonetheless tasked with determining whose actions directly led to the event. Their findings quickly focused on three individuals in particular: star Alec Baldwin, lead armorer Hannah Gutierrez-Reed, and assistant director David Halls.
Baldwin, as the one handling the gun at the time of its firing, was obviously under scrutiny for this reason. It was imperative to determine if he was using safe handling protocols and if the revolver was fired or if it discharged due to a mechanical failure. And as one of the film's producers, investigators questioned whether he was responsible for set safety concerns or allowing the production to cut corners that might have resulted in the shooting.
Gutierrez-Reed was also looked into, as it was her job to ensure safety procedures were being followed surrounding all firearms and ammunition. The questions revolving around the earlier accidental discharges on set, the removal of prop weapons from the lockup, and the origin of the live ammunition all fall to Gutierrez-Reed and her lawyers to answer. Moreover, accusations of lax safety inspections from the "Rust" set in addition to the set of Gutierrez-Reed's previous job pointed to a potential pattern of unprofessional and dangerous behavior.
Assistant director David Halls is the third person investigators honed in on. He worked with Gutierrez-Reed that fateful afternoon, supposedly checking the gun for ammunition and announcing it as "cold" — unloaded — as he handed it to Baldwin. Halls had also been fired from a previous movie for unsafe firearms usage.
Baldwin's side of the story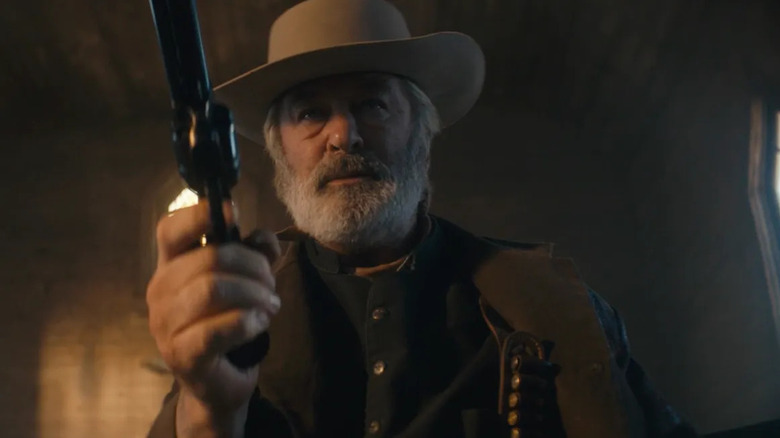 Santa Fe County Sheriff's Office
The day following Halyna Hutchins' untimely death on the "Rust" set, Alec Baldwin, who had been handling the gun at the time it discharged, tweeted about his "shock and sadness." However, Baldwin subsequently deleted his Twitter account mere days after sitting for an interview with ABC's George Stephanopoulos.
In the interview, Baldwin recounted his version of events, saying he and Hutchins were marking the scene's camera angles. He said he was told the gun was empty and announced his intentions regarding how he would draw the gun. He said he cocked it but the gun went off when he removed his finger from the hammer. Baldwin insisted he never pulled the trigger.
Furthermore, the actor said that the idea of a live bullet being in the gun never even occurred to him until nearly an hour afterward, initially thinking Hutchins had fainted, had a heart attack, or perhaps been struck by a dummy round. He said that he was horrified when he realized she was shot and that he's since had dreams about it.
Regarding the crew's safety concerns prior to the shooting, Baldwin said that he was never made aware of any and that he was not the kind of producer responsible for hiring decisions or managing line items. His attorneys have reiterated this claim, explaining that in independent films people can be given a producer credit for any number of reasons, including providing financing.
Gutierrez-Reed's response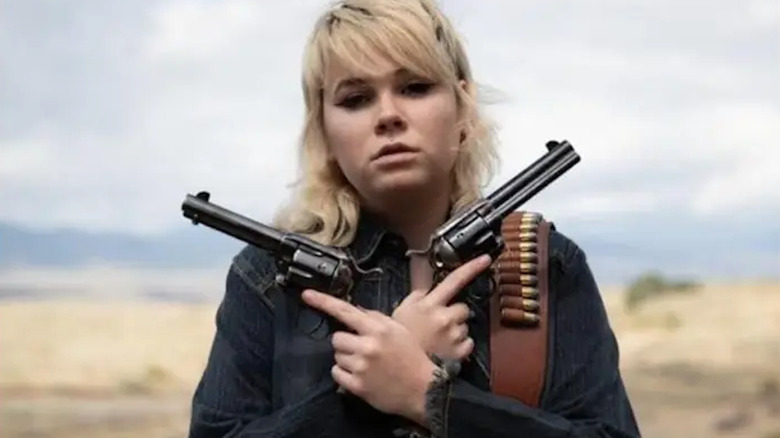 Facebook
Hannah Gutierrez-Reed, the lead armorer on the "Rust" film crew, hired former US Attorney Jason Bowles to represent her regarding the accidental shooting death of cinematographer Halyna Hutchins. The role of the armorer is to handle, secure and inspect all firearms and ammunition being used on a film, with multiple safety protocols in place regarding crew training and communication regarding the use of the weapons. Gutierrez-Reed insisted she never kept any live ammunition on set and has no idea how any came to be there. She also said that she checked the gun and that there were no hot rounds in it.
Investigators at the sheriff's department, however, removed over 500 rounds of ammunition from the set that it stated were comprised of a mix of blanks, dummy rounds, and suspected live ammunition. In response to this, Bowles told Today that sabotage may have been in play, clearly indicating — without mentioning any names — the crewmen who walked off set the day before, saying they were "disgruntled."
Her attorneys further said that the prop truck that housed the weapons was often unattended, allowing for anyone to be able to manipulate the items inside. This negligence would seem to implicate their client, but they said Gutierrez-Reed had more than one job on set and was therefore stretched too thin to properly attend to her armorer duties. She also reportedly was assisting the prop department as her second job.
Multiple statements by David Halls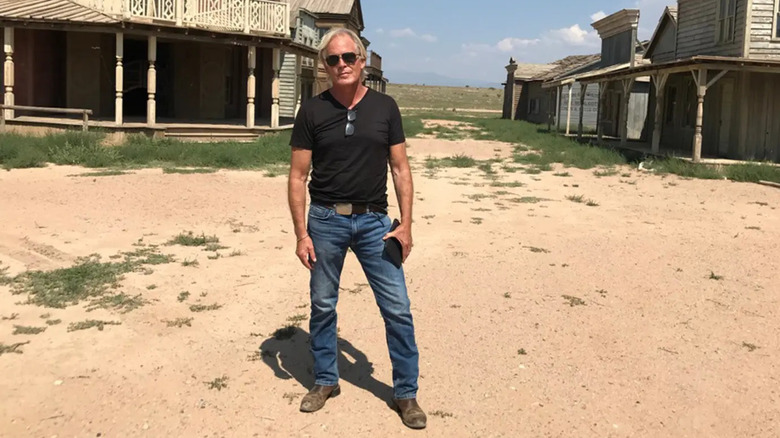 Twitter
Multiple crew members were interviewed by the Santa Fe County Sheriff's Department following the fatal on-set shooting of Halyna Hutchins on Oct. 21, 2021, assistant director David Halls among them. Halls, who had declared that the gun was empty — or "cold" — upon handing it to actor Alec Baldwin, initially admitted that he should've checked the barrel of the gun but didn't. He has since contradicted others' recollection of events, stating that he never handed the gun to Baldwin and did not announce the weapon was cold.
Albuquerque attorney Lisa Torraco, representing Halls, said her client supported Baldwin's statement that he never pulled the trigger. She would not confirm, however, whether Halls handled the gun before the incident. She maintained that it was an accident. Halls similarly said that the discharge of the firearm was a freak accident and that no one is responsible. However, the very existence of live ammunition on set calls that statement into question, and the FBI report stated conclusively that the gun had no mechanical problems and was in perfect working condition. Baldwin's attorneys state that the report is being misconstrued and that the most important detail is that medical examiners determined the death an accident, in line with the stance of Halls and his attorney.
On previous sets, crew members said Halls displayed cavalier attitudes toward set safety, allowing untrained actors to perform stunt driving and not properly closing down the set to traffic. A set dresser he worked alongside, Jay Graves, told Variety, "It was the least safe set I've ever worked on in my life."
Charges were filed, but what do they mean?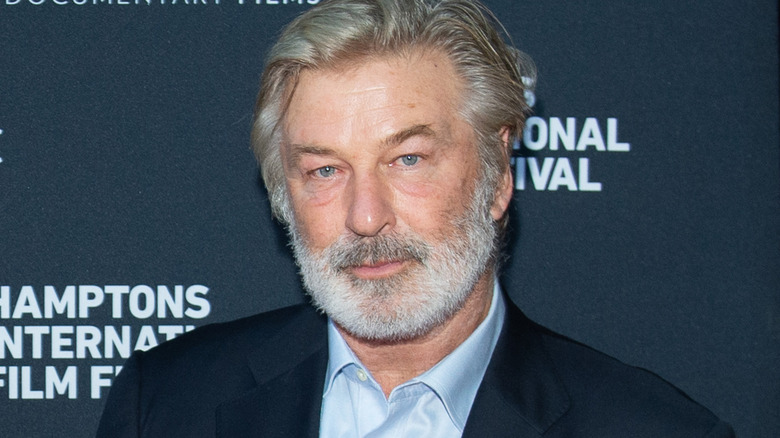 Mark Sagliocco/Getty Images
The accidental shooting death of cinematographer Halyna Hutchins has resulted in legal consequences for Rust Movie Productions — the company in charge of the "Rust" film set — and the three principals involved in the incident. In April 2022, the state of New Mexico fined the production company a maximum possible fine of just shy of $137,000 for failing to enact firearm safety procedures. Then on Feb. 1, 2023, actor Alec Baldwin and lead armorer Hannah Gutierrez-Reed were both charged with two counts of involuntary manslaughter, while assistant director David Halls pleaded no contest to a lesser charge of negligent use of a deadly weapon.
The two manslaughter charges for each defendant are a result of prosecutorial discretion, allowing for the trial jury to determine if a guilty verdict is reached, whether defendants acted with "willful disregard for the safety of others." If that's the determination they reach, the more serious manslaughter charge will require a minimum prison sentence of five years, whereas the lesser charge allows for only up to 18 months.
Prosecutors say Baldwin is being charged both as the person who mishandled the weapon as it fired and as a producer on the film who ignored complaints about lack of safety protocols. In a statement, his attorneys have called this a "terrible miscarriage of justice," while the attorney for Gutierrez-Reed is quoted by Reuters as saying the prosecutor "completely misunderstood the facts and has reached the wrong conclusions."
Industry reactions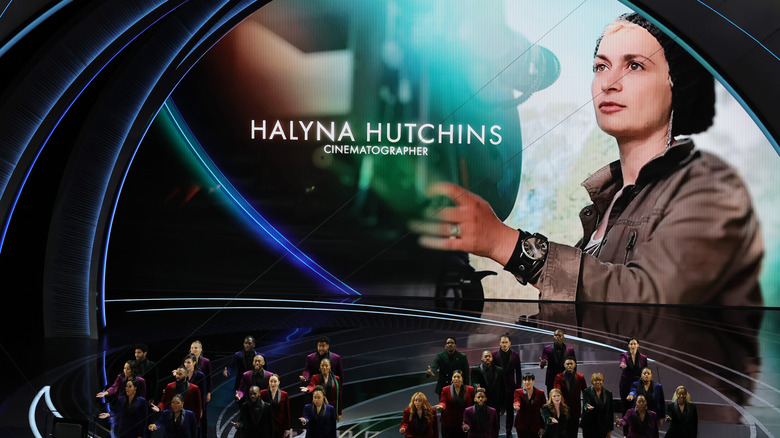 Neilson Barnard/Getty Images
On Oct. 24, 2021, three days after the tragic death of Halyna Hutchins on the set of "Rust," a vigil was held in Albuquerque, New Mexico, to honor the cinematographer. It was attended by friends and family of the deceased, as well as many colleagues and other industry professionals. Several people in the crowd held signs calling for greater gun safety measures across the film industry. Hutchins was also honored by the American Film Institute with a scholarship created in her name for women cinematographers.
Immediately following the shooting, actor Alec Baldwin tweeted about his dismay over the accident, echoing the condolences of others in Hollywood, and many actors spoke up over the days and weeks following the news. Some indicated that gun safety is the responsibility of the props master and armorer on set, not the actors, while others insisted that everyone on set needs to take the handling of guns extremely seriously. Many, including Dwayne Johnson and Scarlett Johansson, called for the halting of the use of real guns on productions. They said that rubber guns, which are commonly used in Marvel films, are an easy replacement and that any visual effects can be completed during post-production.
This same mixture of reactions came after news of charges filed against Baldwin, with many disagreeing as to whether or not the actor and producer should be held responsible. The tragedy also sparked debate among professionals across the industry about the use of guns overall and the safety procedures required to handle them specifically, including a petition to end all real guns on sets.
Civil lawsuits filed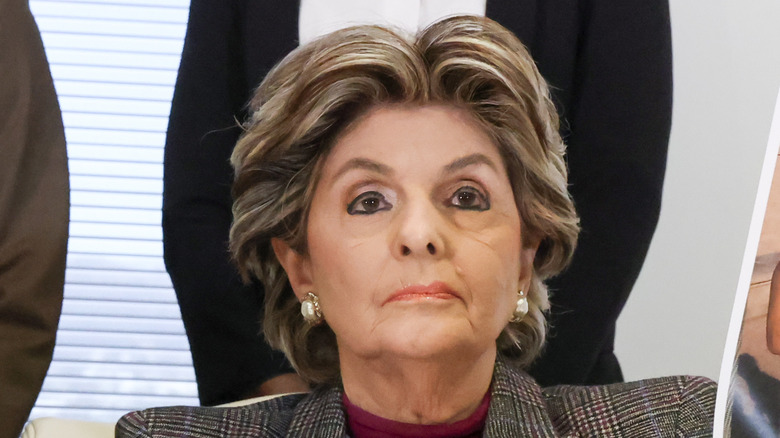 Rodin Eckenroth/Getty Images
Criminal charges aren't the only ramification of the fatal shooting of Halyna Hutchins in October 2021; there have also been multiple civil suits filed. Matthew Hutchins, widower of Halyna, filed a suit against the production, which was settled for an undisclosed amount and the stipulation that when filming resumes, Matthew Hutchins be made an executive producer. Other members of Hutchins' family on her Ukrainian side also filed suit via their attorney, Gloria Allred, but the attorney for Matthew Hutchins said he was not aware of their intentions and does not believe they have any claim to damages under the law.
Hannah Gutierrez-Reed, meanwhile, filed suit against PDQ Arm and Prop for allegedly bringing live rounds of ammunition onto the set. The suit would presumably support the "Rust" armorer in her claim that she had no knowledge of where the rounds came from.
Other crew members have also filed various suits, including gaffer Serge Svetnoy, script supervisor Mamie Mitchell, and set medic Cherlyn Schaefer. All three suits allege negligence by producers in some form or another, and the Mitchell suit in particular claims there was nothing in the script that called for a gunshot. As of today those suits are still pending.
What's next?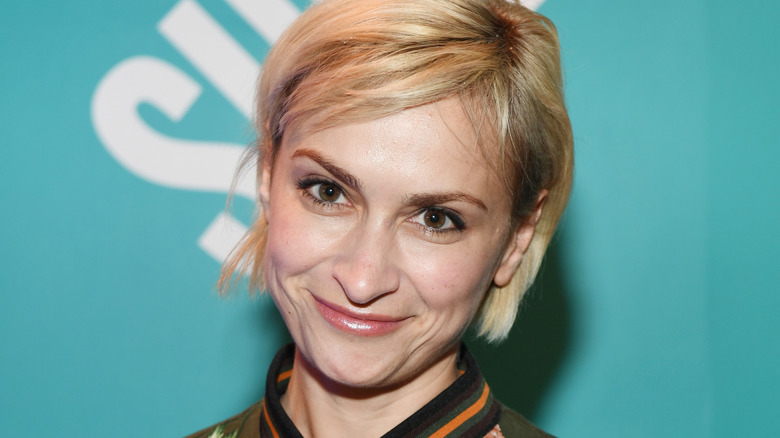 Sonia Recchia/Getty Images
The criminal case against Alec Baldwin and Hannah Gutierrez-Reed in the death of Halyna Hutchins had been set for a preliminary hearing on Feb. 24, 2023. As Baldwin entered a plea of not guilty, his Feb. 24 hearing has been canceled. Gutierrez-Reed's Feb. 24 hearing was not canceled, and she has not entered a plea of her own, nor is she required to do so on the day of her session. The proceedings, while taking place in New Mexico, will be held virtually, allowing the defendants to be present while out of state. Hutchins' widower, Matthew Hutchins, has been added to the witness list for the district attorney's office. "Rust" director Joel Souza, who was injured in the incident, and assistant director David Halls, who took a plea deal, are also set to testify, as are a handful of other crew members.
Halls will need to report in person regarding his no-contest plea arrangement on March 8, 2023. His plea includes a suspended sentence and six months probation, meaning that if he serves out his probation without incident, he will not be required to serve time in jail.
Baldwin and Gutierrez-Reed each face two counts of involuntary manslaughter, but a guilty verdict would result in either one charge or the other being upheld, not both. Each charge comes with a fine of up to $5,000 and a prison sentence recommendation — up to 18 months, down from five years after prosecutors dropped the harsher firearm enhancement charge.
"Rust" is resuming filming in Montana this spring, with much of the crew returning. Bianca Cline is replacing Hutchins as director of photography, and Gutierrez-Reed is not returning to the set. A documentary about the life and work of Hutchins is also planned. Both have her widower's blessing.