The Untold Truth Of Alec Baldwin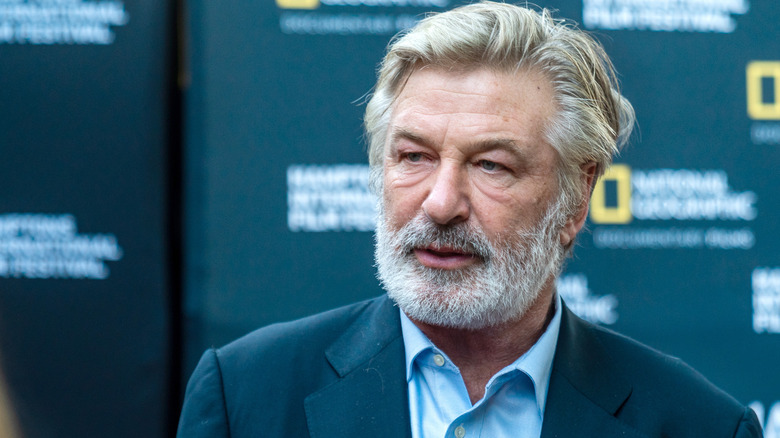 Mark Sagliocco/Getty Images
As mainstream American celebrities go, Alec Baldwin is a complex figure. He started as a theatre actor and soon transitioned to TV. Then he spent twenty years as a movie star, before returning to TV, to great acclaim, in this century. He's known as a talented actor, a political activist, and an affable TV host in a variety of contexts. On the other hand, a lot of people also think of him as the guy who left an angry voicemail insulting his daughter (but we'll get to that). He's been accused of beating up a camera man or two, and sometimes refuses to put his phone in airplane mode. And all of those stories pale in comparison to a genuine tragedy that Baldwin's found himself at the center of, but we'll get to that too.
First, though, let's start at the beginning for a sense of who Alec Baldwin is and the path he took to stardom, as well as the various bumps he's encountered along the way.
An acting clan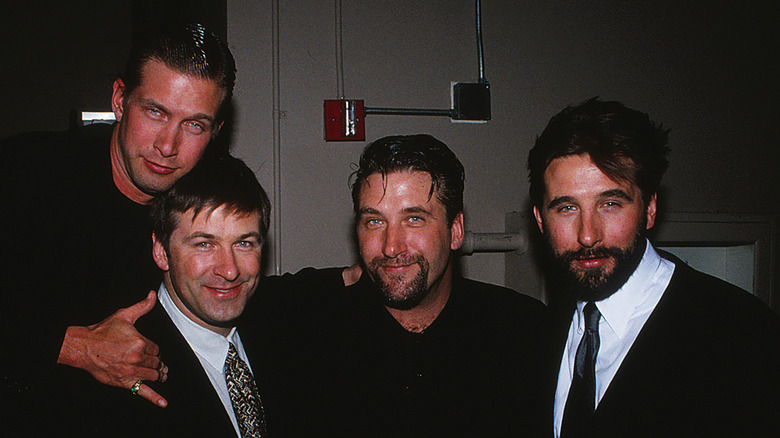 Lindsay Brice/Getty Images
Born on April 3, 1958 in Massapequa, New York, Alec Baldwin has clearly always had drama in his blood: His three younger brothers, Daniel, William, and Stephen, also became actors. (In the Baldwin clan, acting must be a guy thing — their sisters Beth and Jane didn't go into the family business.)
Classically handsome, Baldwin played football in high school, and earned money as a young man in New York City by working at Studio 54. He studied at the Lee Strasberg Theatre Institute and the Actors Studio before receiving his Bachelor of Fine Arts degree from NYU.
Alec Baldwin made his broadway debut in 1986, in a revival of the play "Loot" by Joe Orton. He played Stanley Kowalski in a revival of the Tennessee Williams classic "A Streetcar Named Desire," which earned him not only a Tony nomination, but also an Emmy nomination when he reprised the role for a TV production of the play. Baldwin also had regular roles in two soap operas in the early 1980s, appearing in "The Doctors" and "Knots Landing," the latter of which gave him his big television break.
Rising to stardom: Beetlejuice to Red October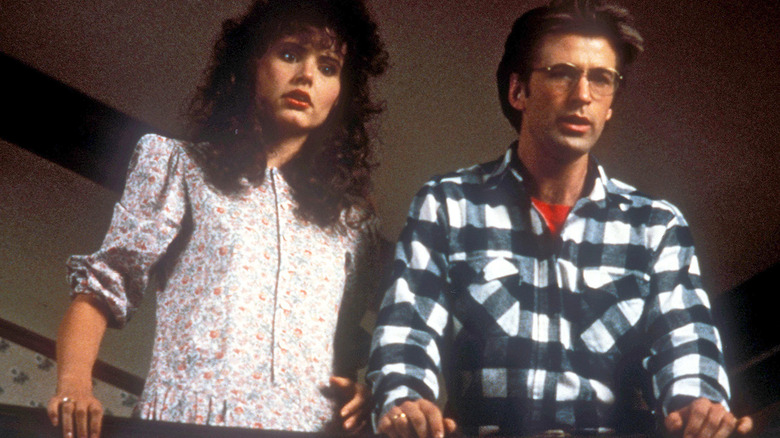 Warner Bros. Pictures
1988 was unquestionably the year Alec Baldwin became a movie star. He had major supporting roles in "Working Girl," "Talk Radio," "Married to the Mob," and "She's Having a Baby," plus a star-making lead role in Tim Burton's supernatural comedy "Beetlejuice." That movie starred Baldwin and Geena Davis as Adam and Barbara Maitland, a happily married couple who die in a car accident and find themselves haunting their former home as ghosts. When the Maitlands can't stand the yuppie couple that's moved in, they call on Beetlejuice (Michael Keaton), a ghost who specializes in getting rid of humans. The movie only gets weirder and more complicated from there — a surprise success, it made Burton's name as a visionary director and proved Baldwin's potential as a leading man.
A couple of years later Baldwin had the opportunity to prove himself as an action hero as well when he played Jack Ryan in the 1990 Tom Clancy adaptation "The Hunt for Red October." Although Ryan is initially introduced as a "CIA Analyst" rather than a field agent, once the movie gets going it's only a matter of time before he's sneaking aboard submarines on the ocean floor.
The Marrying Man (and woman)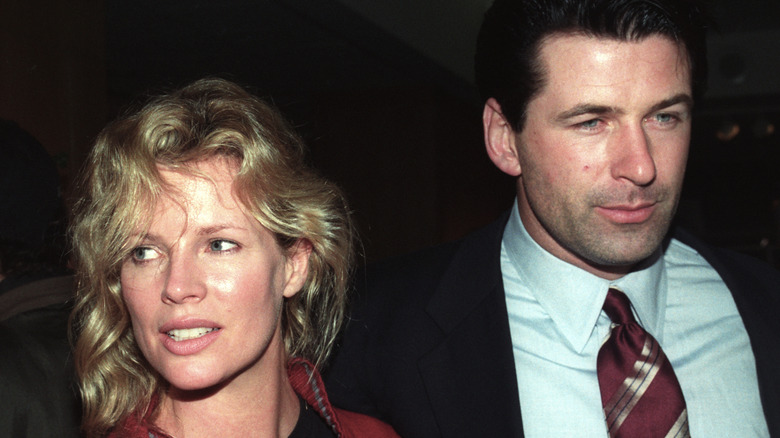 Bart Sherkow/Shutterstock
"The Marrying Man," a 1990 comedy directed by Jerry Rees and written by Neil Simon, was by all accounts a disaster. It was critically panned, financially unsuccessful, and by all accounts an unpleasant experience to make. From a Hollywood history perspective, in fact, the most notable thing about "The Marrying Man" is not that it represents a failure by the director of "The Brave Little Toaster" to make a name for himself in live-action cinema, it's that Alec Baldwin and Kim Basinger met while starring in it.
In the movie Baldwin and Basinger play a wealthy playboy and a sexy nightclub singer, respectively, but in real life they were both proven movie stars, coming off the blockbuster successes of "Batman" and "The Hunt for Red October." They were both also, it goes without saying, ridiculously good-looking people, so it's perhaps no surprise they were immediately smitten with each other. They soon became a Hollywood It Couple, and got married in 1993. Their daughter, Ireland Baldwin, was born in 1995.
A multi-faceted career in the '90s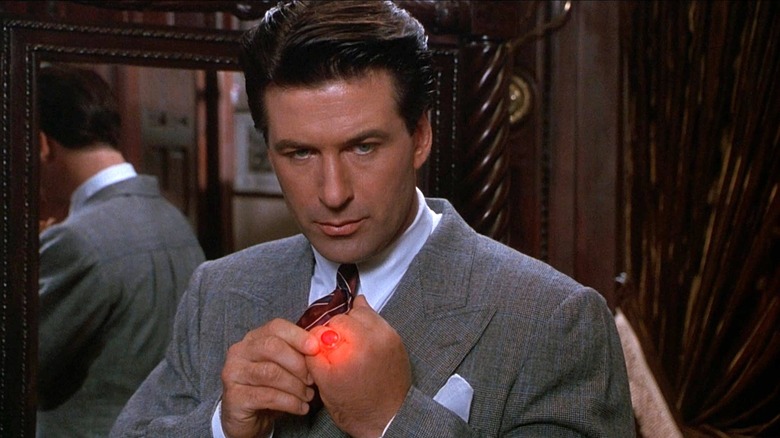 Universal Pictures
Alec Baldwin's career was defined by its balance between the interests of a dedicated theatre actor and a frequent willingness to play the blockbuster hero roles for which his good looks and charisma made him a great fit. After his success playing Tom Clancy's spy hero Jack Ryan in "The Hunt for Red October," for example, Baldwin chose the "A Streetcar Named Desire" Broadway revival over the chance to return in the Clancy sequel "Patriot Games." Harrison Ford replaced him, of course, and played the role again in "A Clear and Present Danger," becoming the actor most associated with the role of Jack Ryan, at least until John Krasinski brought the character to television in more recent years.
Baldwin would star in more action films in the years to come. In 1994 he appeared in a remake of "The Getaway" as well as a movie version of 1930s pulp hero "The Shadow." Unlike a lot of popular movie stars, Baldwin was equally well-cast as villains as well as heroes. He played a vicious mobster in "The Juror" and a government agent in "Mercury Rising," each of whom is dedicated to murdering a young boy for their own unique, plot-related reasons.
Along the way, however, Baldwin would not only return to the theatre as he did for "A Streetcar Named Desire," he also starred in big-screen adaptations of popular plays like "Prelude to a Kiss" and "Glengarry Glen Ross." Although he only had one scene in the latter film, it remains one of the most quoted and parodied scenes of Baldwin's career (as well as writer David Mamet's). In 2000, Baldwin would spout Mamet's distinctive dialogue again in "State and Main," which Mamet also directed.
That voice you recognize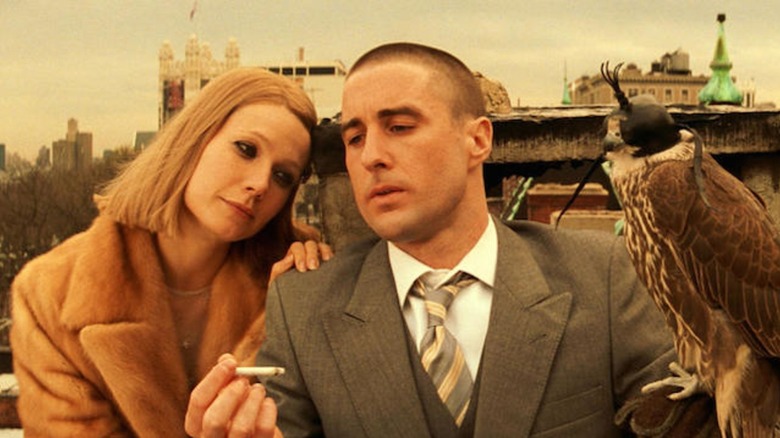 Buena Vista Pictures
He has a distinctively warm, rich voice, so it's no great surprise that Alec Baldwin would come to be known as a narrator as well as an onscreen actor. After his memorable turn in "Glengarry Glen Ross," that film's director, James Foley, chose Baldwin to narrate his next film, "Two Bits," a period piece set in 1933.
In 1998, Baldwin became the American narrator of the British children's series "Thomas the Tank Engine and Friends," taking over the role originated by comedy legend George Carlin. Baldwin kept narrating the show until 2003.
Alec Baldwin's apex as a narrator, however, came in the 2001 Wes Anderson film "The Royal Tenenbaums." Presented as a novel (despite not being based on one), Anderson's family saga employed narration quite liberally and to great effect, such as when Baldwin describes the feelings running through Royal Tenenbaum even as viewers watch those feelings play out on Gene Hackman's face.
Oscar nominated for The Cooler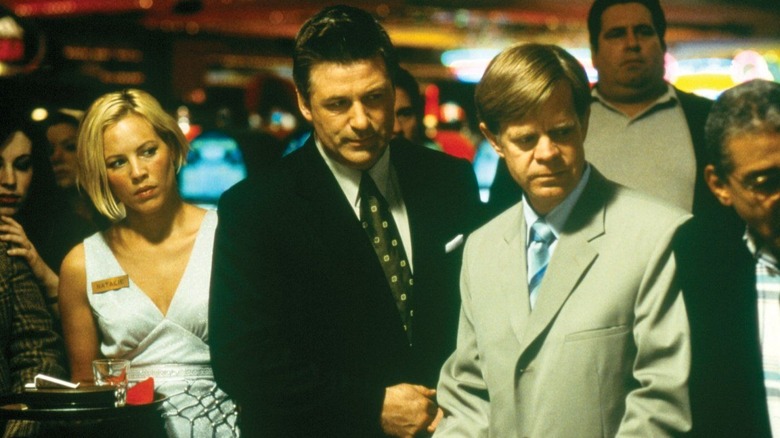 Lionsgate Films
Alec Baldwin's only Oscar nomination to date came in 2003, when he was given a Best Supporting Actor nod for the independent film "The Cooler," starring William H. Macy and Maria Bello. Baldwin plays Sheldon "Shelly" Kaplow, an old-fashioned casino owner who employs Bello's character as a cocktail waitress and Macy's character as the titular unlucky sad sack who helps the casino by keeping people from getting too lucky via his mere presence. 
Shelly is a complex character, and one perfectly suited to Baldwin's strengths. He gets to be charismatic and likable, and seem like a friend to the protagonists at first, only to be gradually revealed as the central villain of the piece as various layers of deception are peeled away. By the end of the film, however, he's come back around to possibly being an ally, if not a particularly ethical one. It's a unique take on a mob-affiliated casino owner that manages not to fall into that simplistic stereotype at all, despite looking exactly like that stereotype on the surface.
Even as Baldwin entered his third decade as a movie star, however, the defining role of his career was still ahead of him ... on NBC Television.
Jack Donaghy rules 30 Rock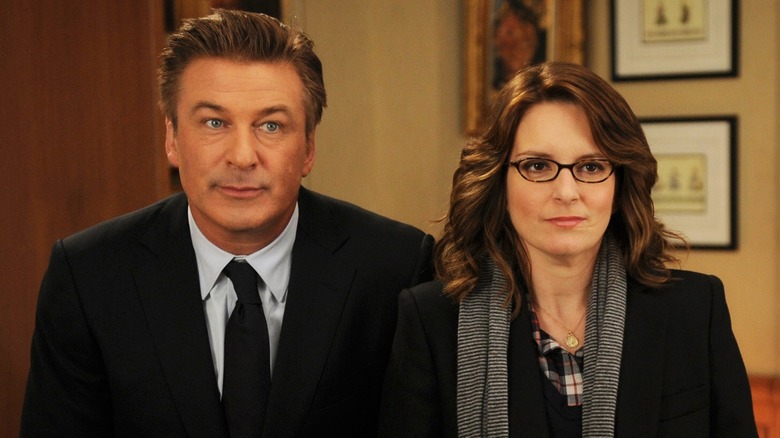 NBC
Beginning in 1990, Alec Baldwin became one of the most frequent guest hosts on "Saturday Night Live," returning again and again to show off his charisma and comedic chops alongside an ever-changing cast. In 2008, that led to him starring alongside two "SNL" alumni on a sitcom loosely based on the behind-the-scenes workings of that show. Tina Fey created "30 Rock" while she was the head writer on "Saturday Night Live" as well as a member of the cast. On "30 Rock," she plays the head writer and showrunner of "TGS," a fictional "SNL"-style sketch comedy show. Tracy Morgan, who'd been on "SNL" with Fey, plays a chaotic comedy star who's added to the cast to improve ratings. Alec Baldwin plays Jack Donaghy, an NBC executive who's assigned to oversee "TGS" despite having no experience in television (he was brought over from the microwave division at then-corporate parent GE).
While it took a satirical attitude toward media and politics, "30 Rock" was also an extremely broad, often silly comedy which often built out its characters' cartoonish backstories through outlandish anecdotes and non sequiturs. Baldwin excelled at this as Jack, deadpanning stories about his troubled childhood in Boston, his many jobs, and his various celebrity encounters as a wealthy, connected executive. Jack never expressed any particular morality, but he was so charismatic and loyal to his friends that he basically made up for it and managed to stay likable anyway.
A messy divorce, an angry dad, a voicemail scandal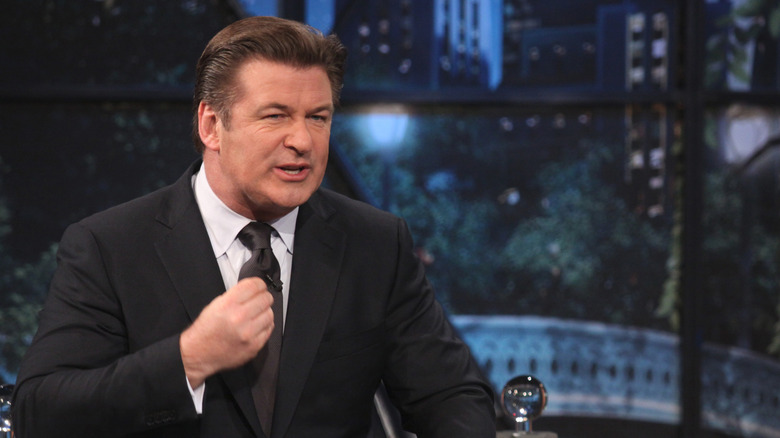 Bill Tompkins/Getty Images
Alec Baldwin and Kim Basinger divorced in 2002, but there was still drama between the two five years later, just as Baldwin had won his first Golden Globe for "30 Rock" and was on his way to two Emmys and two more Globes. Career-wise he seemed to be having the time of his life in 2007, but fans were shocked when a recording was obtained by TMZ of a voicemail Baldwin had left for his then 11-year-old daughter Ireland. Furious that she had missed his call, among other things, Baldwin called her a "rude, thoughtless little pig." No one ever admitted to giving the recording to TMZ, but it's hard to imagine how anyone other than Basinger — who denied it — would have had access to the voicemail.
Regardless of where you personally draw the line on what constitutes emotional abuse, it's not easy listening to a grown man yell insults at a child, and Baldwin's reputation understandably took a hit. He later wrote that his relationship with his daughter had been "permanently harmed" by the incident. Ireland Baldwin, for her part, claimed in a 2012 interview that it wasn't really that big a deal. She's also joked around about it with her dad more than once over the years.
Wedded bliss the second time around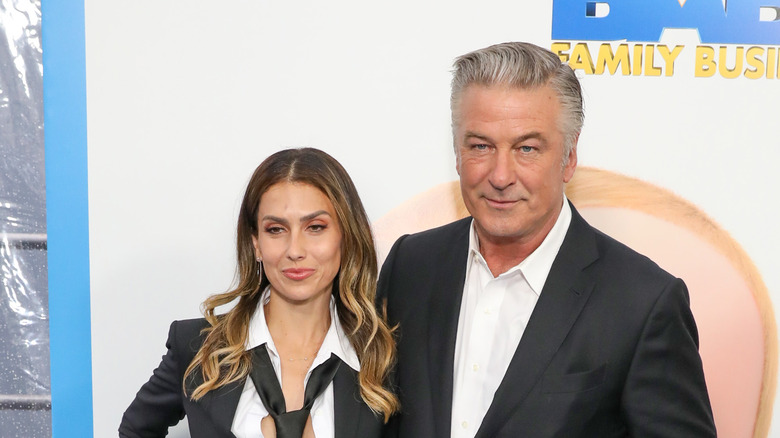 Monica Schipper/Getty Images
Fortunately, during the seven-season run of "30 Rock," Alec Baldwin's romantic life improved considerably, and his reputation began to heal along with it. In 2011, he began dating a yoga teacher named Hilaria Hayward-Thomas. Despite their 26-year age difference, Alec and Hilaria got serious quickly, and were married in June 2012. 
Alec and Hilaria have had six children together: Carmen Gabriela Baldwin (born in 2013), Rafael Thomas Baldwin (2015), Leonardo Angel Charles Baldwin (2016), Romeo Alejandro David Baldwin (2018), Eduardo Pau Lucas Baldwin (2020) and María Lucía Victoria Baldwin (2021). Hilaria also seems to have a good relationship with her stepdaughter Ireland. 
Perhaps because she's not a fellow Hollywood star like his first wife, or perhaps simply because he's learned some lessons and mellowed a bit with age, Baldwin's second marriage has been far less fractious, and he's still with Hilaria a decade later. In 2020 he supported her publicly when she was accused of pretending to be Spanish.
The return of Match Game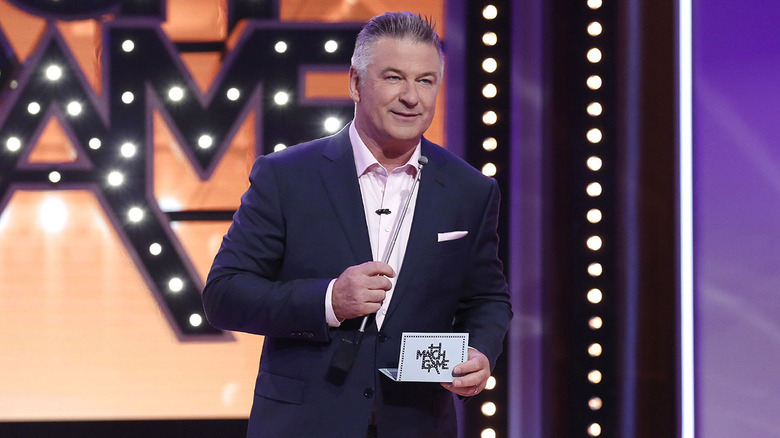 ABC
In 2016, ABC revived the classic game show "Match Game," with Alec Baldwin as host. Although there have been many incarnations of "Match Game" since its debut on NBC in 1962, the new version is closely based on the popular 1970s era of the show, when host Gene Rayburn was surrounded by a panel of playfully sarcastic, double-entendre spouting celebrities of the day, like Brett Somers, Betty White, and Charles Nelson Reilly. 
In that '70s style but a very 21st century context, Baldwin is joined by "30 Rock" castmates Jack McBrayer and Jane Krakowski as well as other memorable celebrities, including Tituss Burgess, Caroline Rhea, Cheryl Hines, and Mario Cantone.
The show is a perfect match (pardon the pun) for Baldwin's persona, mixing the dirty-minded sleaziness of Jack Donaghy with the ring-a-ding smoothness of Shelly Kaplow and the pleasantly articulate charisma of the narrator of "The Royal Tenenbaums."
The run of "Match Game" on ABC has been extremely irregular over the past few years, but ABC keeps bringing it back for a few episodes at a time whenever they've got an empty slot on the schedule and Baldwin and friends have some time to shoot.
Saturday Night Trump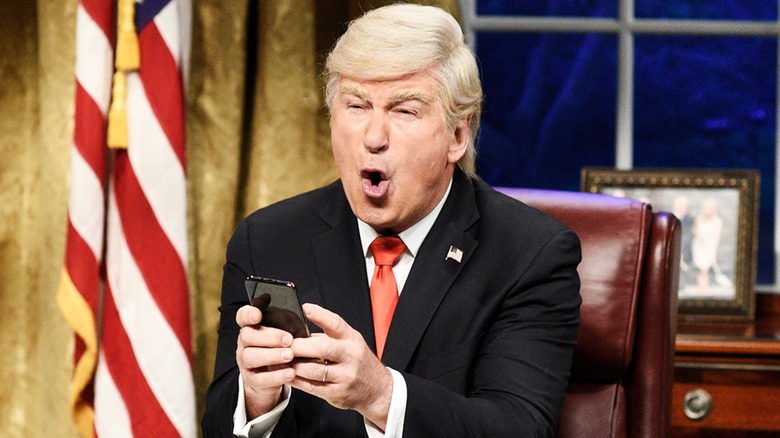 NBC
Some might say that when former reality TV star Donald Trump was elected president, U.S. politics moved beyond the possibility of effective parody. Nevertheless, "Saturday Night Live" has made fun of every president since Gerald Ford, so they had to figure something out. Rather than assigning the role of President Trump to any of the regular cast — none of whom had quite the right build, look, or age — they brought in longtime friend of the show Alec Baldwin to do his impression of his fellow New Yorker.
It's a strange, sometimes almost unsettling performance to watch, as dependent on the weird ways Baldwin moves his face and hands as it is on the makeup they've given him or the voice he's doing. It works, though, and although he never joined the official cast and rarely appeared outside of the Trump sketches and occasional curtain calls, Baldwin appeared in numerous "SNL" episodes during the Trump presidency. He owns the Trump character, as far as comedy's concerned, in much the same way than Dana Carvey once owned George H.W. Bush on the same show.
Shooting incident on the set of Rust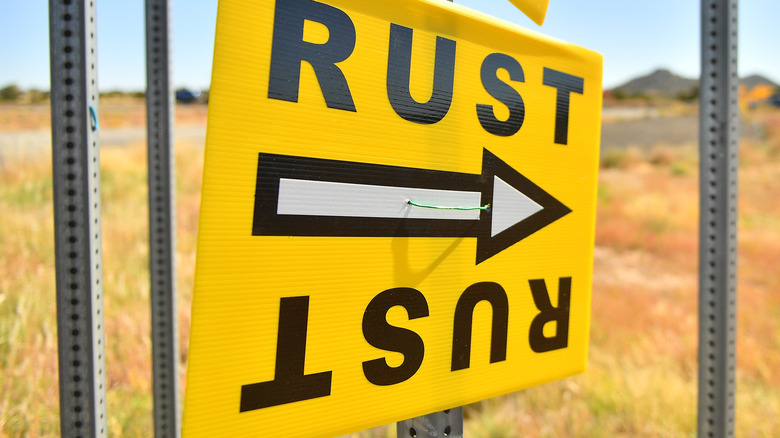 Sam Wasson/Getty Images
In October 2021, Alec Baldwin started shooting "Rust," a western that he was producing as well as starring in after developing the story with director Joel Souza. Baldwin signed on to play Harland Rust, an aging outlaw who goes on the lam with his 13-year-old grandson in 1880s Kansas. The production was a bit troubled from the start, with repeated safety concerns ultimately leading some union crew members to stage a walkout. The production replaced them with non-union workers and kept going.
The same day the walkout occurred, Alec Baldwin handled a prop gun he'd been allegedly told was "cold," meaning not loaded. However, when Baldwin drew the gun while rehearsing, it fired what appeared to be a live round, injuring Souza and killing cinematographer Halyna Hutchins.
When news broke about the accident and Hutchins' tragic death, many people took to the internet to speculate wildly about the circumstances that could have led to such a tragedy, and the possible culpability of Baldwin and others who worked on the film. For now all we really know is that state and local authorities are investigating the shooting, and Alec Baldwin has assured the public that he'll cooperate completely. As for "Rust," the production has been shut down indefinitely.
Whether Baldwin's career suffers for this incident seems a crass and inappropriate question in the face of the loss to Hutchins' family and loved ones, but he seems to be handling the aftermath as well as anyone could. Time will tell if this incident will lead to lasting, positive reforms in on-set safety and working conditions, or if it will become just another dark Hollywood story.