TV Shows That Made A Comeback At The Movies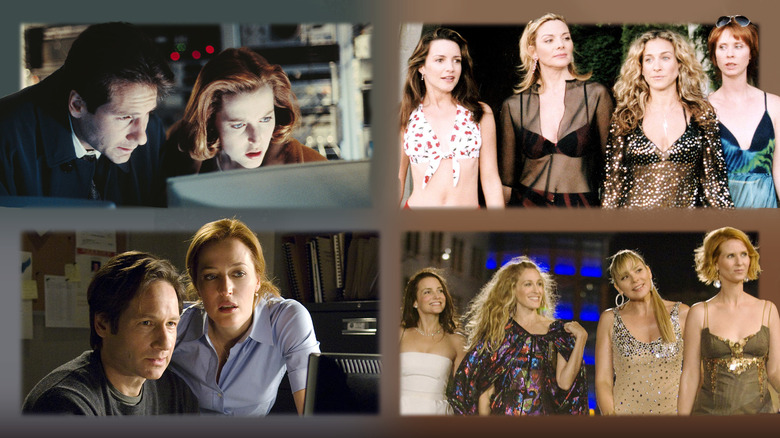 Static Media
When a TV show has success, it generally continues as long as ratings are strong and audiences are loving it. This can be a few years or a decade or more of stellar stories. But every now and then, these classics can live on long past their expiration date, gaining new fans as they air in reruns, or today become binge-able on streaming services. This has led to a wave of reboots and remakes, but also many straight-up revivals.
In the past decade, more and more classic TV shows have been making a comeback, from family sitcoms like "Full House" to sci-fi adventures like "Star Trek: Picard," or crime classics like "24." These new shows bring back the original stars and pick up the story of our favorite characters in an attempt to recapture the same old magic and scratch a nostalgic itch that audiences clearly yearn for.
But before bringing back decades-old small-screen favorites was en vogue, Hollywood was taking a different path, often reviving iconic shows as full-length feature films. Rather than invest in a full season, this was an easier, simpler way of reuniting fan-favorite characters for one more romp, and plenty of movies successfully revived old TV shows. From hit crime dramas to sexy rom-coms, this is a list of popular TV shows that made a comeback with a movie.
The X-Files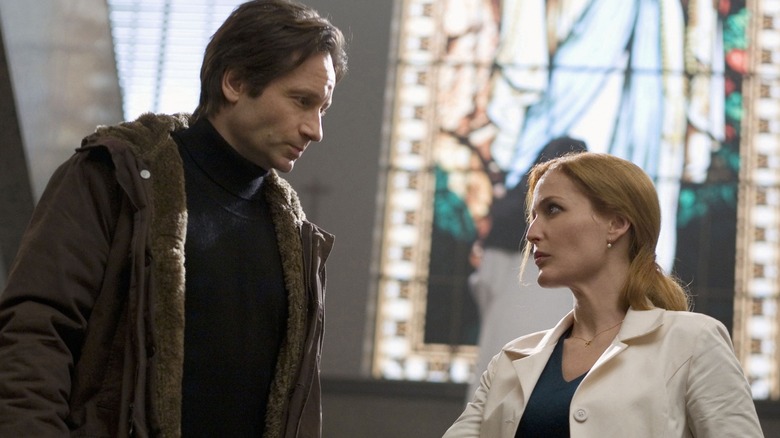 20th Century Studios
In the early '90s, "The X-Files" helped usher in a new wave of science fiction on television. Led by the iconic police pairing of FBI agents Fox Mulder (David Duchovny) and Dana Scully (Gillian Anderson), the series spent nine seasons hunting down paranormal plots and sinister conspiracies. From super-powered children to invisible elephants and mutated monsters, Mulder and Scully — and later agents Doggett (Robert Patrick) and Reyes (Annabelle Gish) — would stop at nothing to get to the bottom of the most mystifying cases.
One of the few TV shows to release a movie in the middle of their run, "The X-Files" came to an end on network TV in 2002. But with a passionate fan following and plenty of questions left unanswered, the series wouldn't stay dead long. In 2008, it returned to theaters with "The X-Files: I Want to Believe." While the first movie, released between the show's fifth and sixth seasons, had explored the show's ongoing alien invasion plot, this follow-up a decade later was a standalone story, much more like a single episode of the series, but expanded for the big screen.
Released in a crowded summer of blockbuster films that included "Iron Man" and "The Dark Knight," the film wasn't a huge hit at the box office. It also wasn't well-received by critics or fans, effectively killing the prospect of more movies. But "The X-Files" wouldn't stay gone forever and returned for two more brief seasons on TV the following decade.
Entourage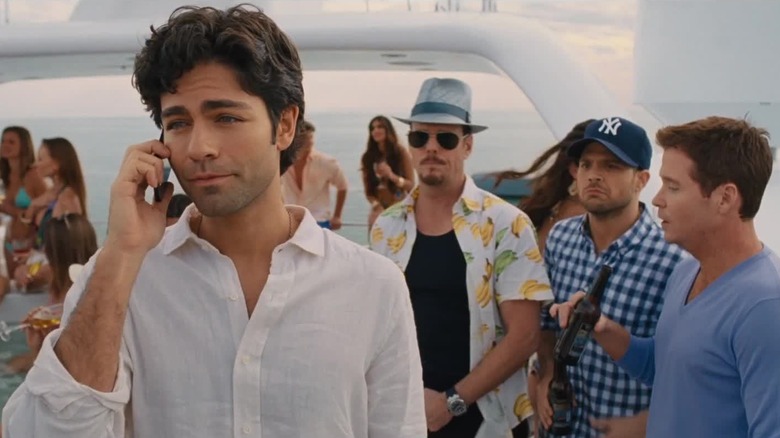 Warner Bros.
Inspired by the life and early career of A-list superstar actor Mark Wahlberg, the 2004 HBO series, "Entourage," centered on the life of a young actor named Vincent Chase (Adrian Grenier). As he struggles with the rigors of Hollywood, Vince surrounds himself with a group of friends that includes manager Eric "E" Murphy (Kevin Connolly), half-brother Johnny "Drama" (Kevin Dillon), old pal "Turtle" Assante (Jerry Ferrara), and his smarmy agent, Ari Gold (Jeremy Piven). Together, this entourage helps Chase pursue his dreams of making it to big-screen stardom. 
In addition to chronicling the wild antics of this fictional crew, "Entourage" also features a parade of notable celebrity cameos playing themselves, including Kanye West, Jessica Alba, James Cameron, Matt Damon, Scarlett Johansson, Peter Jackson, and even Wahlberg himself. The show wrapped up in 2011, but Chase made it to the big screen for real four years later when "Entourage" was revived as a feature film. Like the TV series, the film features a cavalcade of stars playing fictionalized versions of themselves, in a story that sees Chase directing his own movie now that Ari is the head of a major movie studio.
The Sopranos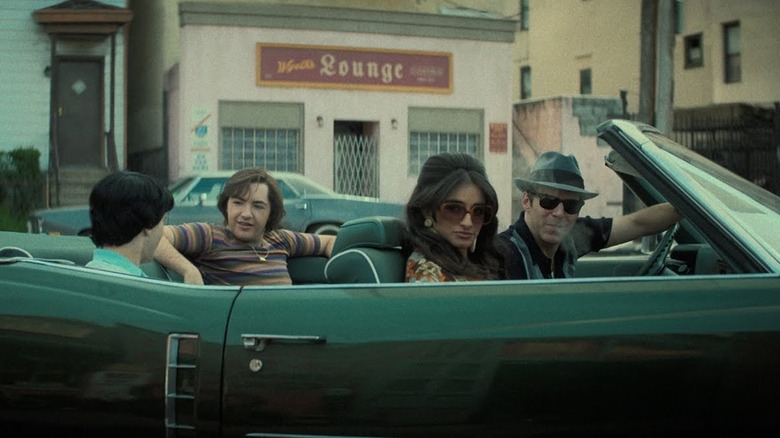 Warner Bros.
A seminal TV crime drama that set the bar for prestige television in the years that followed, "The Sopranos" launched on HBO in 1999. The series starred James Gandolfini as Tony Soprano, a New Jersey-made man who runs a mafia outfit in the Garden State, and whose family life suffers as a result. Running for six seasons, "The Sopranos" was a critical darling and an all-time classic, winning an eye-popping 21 Emmys, and was capped off with one of the most controversial series finales in TV history in 2007.
While there would be no sequel to Tony's story, the series would make a comeback with a prequel film more than 15 years after it ended. Released simultaneously in theaters and on HBO's streaming service, "The Many Saints of Newark" chronicled the exploits of a teenaged Tony as he got involved in a brutal gang war beside his mobster uncle in Newark, New Jersey beginning in the late 1960s. Perhaps most famously, the young Soprano was played by Michael Gandolfini, the son of the actor who played him in the original series.
The film boasted a stellar supporting cast that included Jon Bernthal, Leslie Odom Jr., Vera Farmiga, Ray Liotta, and Corey Stoll. And while "The Many Saints of Newark" may not have been able to achieve the acclaim of its parent series, it was well-reviewed and a worthy return to the world of "The Sopranos."
Sex and the City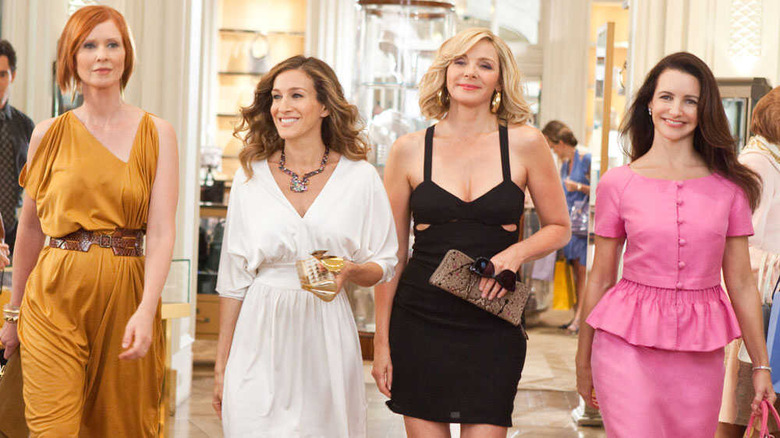 Warner Bros. Pictures
Another HBO classic, "Sex and the City" starred Sarah Jessica Parker, Kim Cattrall, Kristin Davis, and Cynthia Nixon as four ambitious single women living in New York City. Pushing the boundaries when it came to stories for women on TV, the series wasn't shy about showcasing the most intimate aspects of the lives of its leads, from their wild sexploits to their confrontations with misogyny in the workplace. 
But even before going off the air in 2004, talk had already begun about the prospect of a feature film for the four Manhattanites. A report in the Washington Post published days before the series' final episode said that producers already had a script in the works, and were just waiting for the cast to sign on the dotted line. Though it would be four years before it finally saw release, the "Sex and the City" movie arrived in 2008, helmed by longtime series director Michael Patrick King.
The new story shook up the status quo, with the former singles now in committed relationships. Though many TV-to-movie sequels can struggle to hit it big in theaters, the "Sex and the City" movie was a barn burner, earning over $400 million. Two years later "Sex and the City 2" silenced anyone who thought it might have been a fluke by taking in another $294 million.
Luther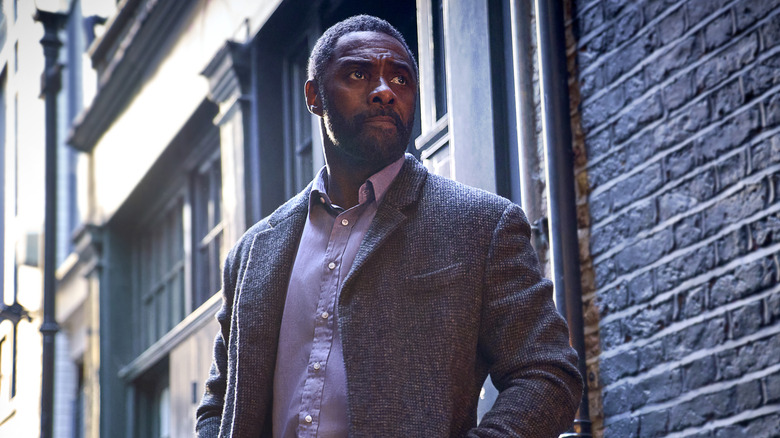 John Wilson/Netflix
Following his breakout role as Stringer Bell in the acclaimed HBO series "The Wire," Idris Elba led one of Britain's best procedural crime dramas, playing the title role in "Luther." The series chronicled the cases of DCI John Luther, a less than scrupulous London copper working the city's most grisly cases. An international hit, "Luther" was a riveting mystery and jaw-dropping thriller that would be nominated for 11 Prime Time Emmys, and see local remakes across the globe, with adaptations in Russia, Korea, and France.
But just as the series was gathering steam, Elba's movie career took off, and further seasons became harder and harder to schedule, with more years between them. Its fifth season dropped in 2019, consisting of just four episodes telling a single serialized story. In 2023, series creator Neil Cross would finally leverage Elba's stardom for a feature film, bringing back the complicated hero cop for the Netflix original film, "Luther: The Fallen Sun." 
Picking up where the last season left off, Luther is in prison when a monstrous serial killer begins plaguing the streets of London. Now he must find his way to freedom if he's going to get a chance to stop a madman's warpath. Once again written by Cross, "Fallen Sun" reunites the cast of the series while adding Andy Serkis as the story's diabolical villain. 
Absolutely Fabulous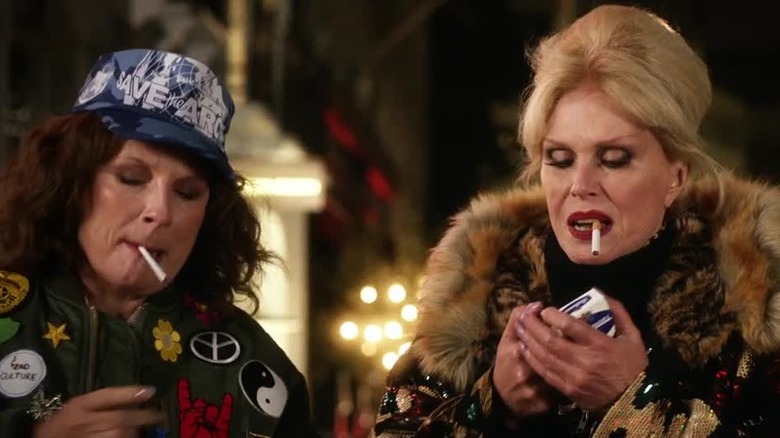 Fox Searchlight Pictures
In the mid-'90s there were fewer funnier British sitcoms than "Absolutely Fabulous," the riotously raunchy story of Eddie Monsoon (Jennifer Saunders) and Patsy Stone (Joanna Lumley), two women uncomfortably ensconced in the seedy, drug-fueled world of the U.K.'s fast-paced fashion scene. Driven by a love of hard drinking and wild partying, Eddie runs a PR outfit while Patsy works at a prominent fashion publishing firm. Between 1992 and 2003, the two swinging, sassy starlets caroused around London getting into trouble, and audiences laughed right along with their wild ways.
Though episodes and television specials were relatively sparse in the later years of the show's run, the duo reunited in 2016 for "Absolutely Fabulous: The Movie." In this epic swan song, Eddie and Patsy are accused of the murder of supermodel Kate Moss (who appears as herself) and quickly become wanted fugitives. An appropriately over-the-top story fit for a follow-up feature film, the movie didn't meet with any kind of critical acclaim but was at least deemed a fitting send-off that lived up to the original series.
Deadwood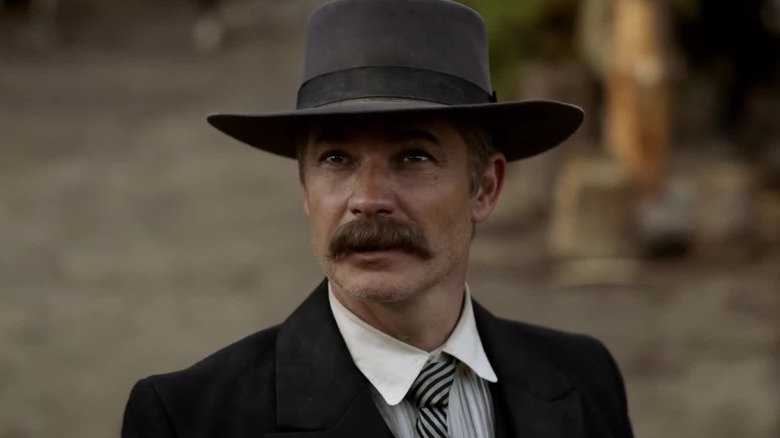 HBO
Before Westerns had made a full-fledged comeback with hits like "Hell on Wheels," "Yellowstone," and "Longmire," HBO may have had the best return to the genre all the way back in 2004 with the critically acclaimed "Deadwood." Starring a then-lesser-known Timothy Olyphant as lawman Seth Bullock and Ian McShane as the rabble-rousing villain, Al Swearengan, "Deadwood" was a groundbreaking entry that rewrote the rules of what a Western could be. 
In the decade after its final season however, Olyphant became a superstar thanks to his turn as US Marshal Raylan Givens in the FX series, "Justified," which helped usher in a new wave of Westerns. Interest in a revival of "Deadwood" was sky high and fans finally would get it in the form of the HBO original movie that landed in 2019. Set 13 years later — the same span that had lapsed since the series had ended — the film sees Bullock once again in conflict with Swearengen just as the town of Deadwood readies to commemorate the official designation of South Dakota's statehood.
Back in action after more than a decade, Olyphant, McShane, and the rest of the old cast return to their roles as if they'd never left, and critics gave it even better reviews than the series that spawned it. Nominated for eight Emmys including outstanding TV movie, "Deadwood: The Movie" might be the best film to continue a series after such an extended gap.
Mr. Bean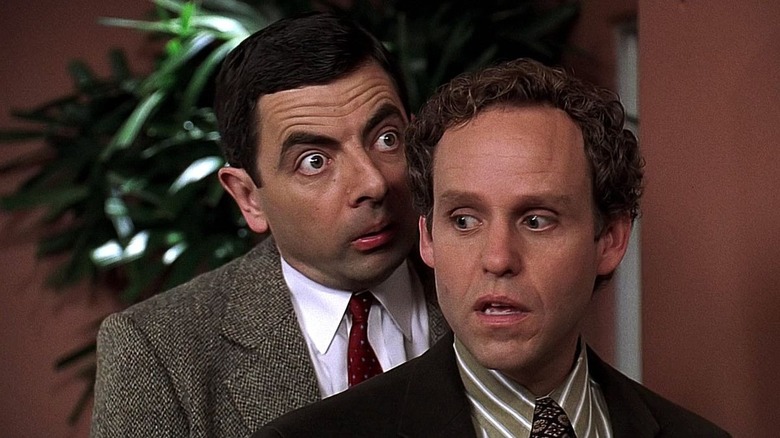 PolyGram Filmed Entertainment
A quintessential '90s British comedy, "Mr. Bean" starred Rowan Atkinson as a bumbling, mostly-mute, naive goofball always getting into various scrapes and awkward encounters. An unlikely success, its 15-episode run — aired sporadically between 1990 and 1995 — was the kind of slapstick physical comedy that you might imagine could only work in a silent-era vaudeville act. Yet it somehow defied the odds to become a cult classic, transcending cultural boundaries and making audiences cackle with delight. 
But it was even more of a surprise when "Mr. Bean" returned in 1997 as a theatrically released film, simply titled "Bean." Atkinson once again plays the eponymous oddball, who is now working for London's National Gallery as a security guard and is sent to the United States to escort a valuable painting for an exhibit at the Grierson Art Gallery in Los Angeles. Though his assignment is mostly because the staff at the Gallery just can't stand him and want him out of their hair.
Once again, against the odds, Mr. Bean's feature film debut was a big success just like the show, landing in cinemas to the tune of more than $250 million, guaranteeing it a sequel. "Mr. Bean's Holiday" however took a decade to arrive, but when it did in 2007 it was yet again an unexpected hit.
Star Trek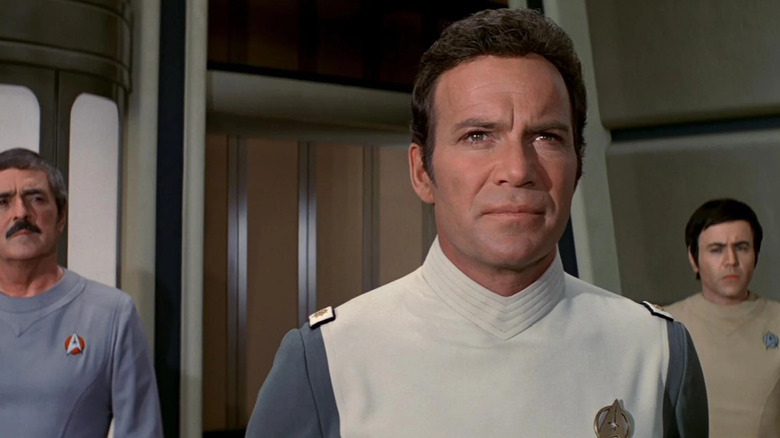 Paramount
Pioneering high-brow science fiction on television, Gene Roddenberry's original "Star Trek" series dazzled audiences for three seasons in the late '60s. Taking the genre more seriously than it had on TV to that point, it followed the adventures of the intrepid crew of the starship Enterprise led by Captain Kirk and Mr. Spock. But it wasn't until the next decade that it truly became a phenomenon, as fan conventions began popping up around the country, surprising everyone with thousands upon thousands of attendees lining up to celebrate what would quickly become an American icon. 
Soon, talk of a revival began to surface, and after a brief animated series, a new TV live-action series titled "Star Trek: Phase II" was put up on the drawing board. Elaborate sets, a dozen scripts, new costumes, and props were all assembled to film the pilot episode titled "In They Image," when at the last second the studio pulled the plug. With the blockbuster success of "Star Wars" in 1977, the studio decided to pivot the series' comeback into a big-budget movie. The result was "Star Trek: The Motion Picture," released in 1979. Spawning a successful film franchise with 12 more movies to date — and "Star Trek 4" in the pipeline — it's since become one of the longest-running sci-fi sagas on the big screen.
Police Squad!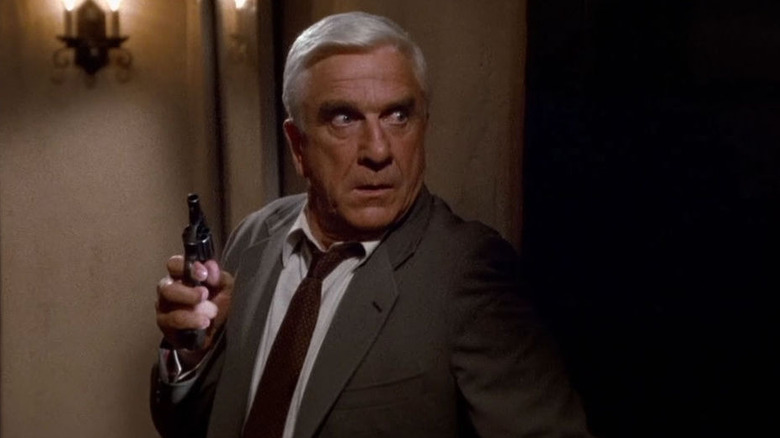 Paramount Pictures
Leslie Nielsen's early career saw him star in iconic sci-fi and Western pictures like "Forbidden Planet" and "The Sheepman," but decades later he'd become famous for his role in spoof comedies like the Zucker brothers' "Airplane!." In 1982, he took the starring role as Detective Frank Drebin in the short-lived parody cop show, "Police Squad!," also created by the Zuckers', which would earn him an Emmy nomination for his performance. But as good as it was, "Police Squad!" lasted just six episodes.
Six years later though in 1988, in one of the most unlikely of comebacks, Nielsen returned to the role of Drebin for the big screen comedy, "The Naked Gun," which many audiences still may not realize originated on television. Co-starring alongside Priscilla Presley, Ricardo Montalban, George Kennedy, and O.J. Simpson, Nielsen starred once again as the dedicated cop with a penchant for funny business. Full of fast-paced sight gags and uproarious, non-stop laughs, "The Naked Gun" got a pair of sequels and reignited the spoof movie genre with further films like "Hot Shots" and "Spy Hard," the latter of which also starred Nielsen.
Twin Peaks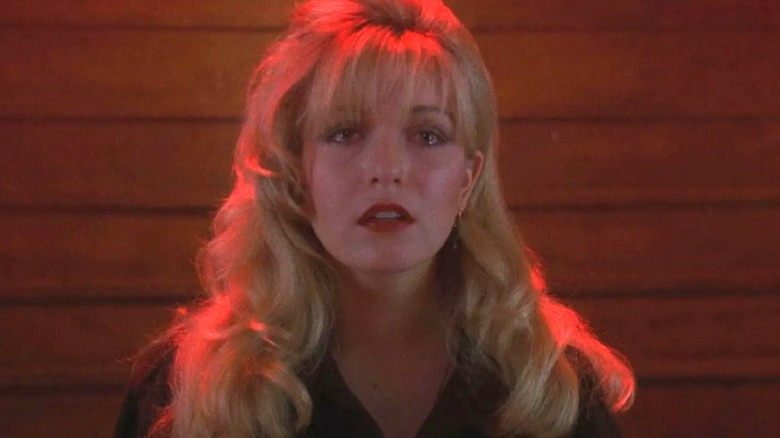 New Line Cinema
In 1990, auteur director David Lynch parlayed his work in film — with acclaimed movies like "The Elephant Man" and "Blue Velvet" — into television success with the surrealist crime drama, "Twin Peaks." An instant cultural phenomenon, the series opens with the murder of a young girl named Laura Palmer which rocks the community of Twin Peaks, Washington. As FBI agent Dale Cooper (Kyle MacLachlan) hunts for the killer, he is introduced to the town's eccentric inhabitants and the supernatural forces that conspire to stall his investigation.
One of prime time's hottest hits on its debut, the show sputtered in its second season, and as quickly as it had raced up the charts, it was unceremoniously canceled. But Lynch wasn't done exploring the world of "Twin Peaks," and a year later came back to the strange little burg with "Fire Walk with Me," a prequel film that explored the last days of Laura Palmer. Most of the original cast returned, with David Bowie, Chris Isaak, and Moira Kelly rounding out the roster of stars.
Sadly, the film was generally seen at the time as a disappointment, with some reviews pointing to the lack of suspense because the audiences already knew who Laura's killer was. But over the years, the film has been revisited thanks to the 2020 revival of the series on the small screen and has been seen more fondly with the benefit of time.
Veronica Mars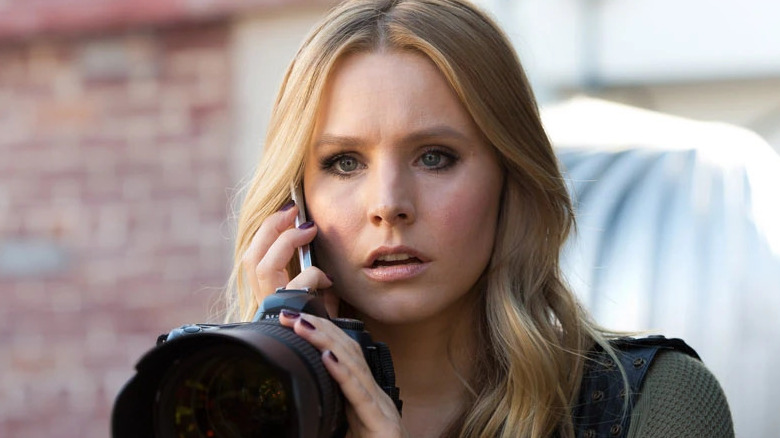 Warner Bros. Pictures
In the early 2000s, "Veronica Mars" was a fresh twist on an old formula, with Kristen Bell starring as an intrepid teen investigator. With the help of her friends, the titular Veronica Mars used street savvy and a gung-ho attitude to help her father — a seasoned detective — solve crimes and catch crooks. The series ran for three seasons, coming to an end in 2007, much to the audience's dismay, as it had a healthy fan following and both producers and cast were eager to continue the series.
But unlike every other entry on this list, "Veronica Mars" wasn't resurrected by a studio eager to leverage the pent-up appetite for the return of a smash hit series. It wasn't a sure-fire success that would see its return in the form of a movie, but because of the actions of the show's creators and its loyal following of dedicated fans. In 2013, Thomas took to crowdfunding, where on Kickstarter he managed to raise an impressive $5 million, which was enough to get a feature film up and running.
As a result, the cast all returned and a "Veronica Mars" movie was released to theaters in 2014. Though it wasn't a hit at the box office, it showed the studio that there was still an appetite for the series, leading to a small-screen return in 2019 as a streaming original on Hulu. 
Downton Abbey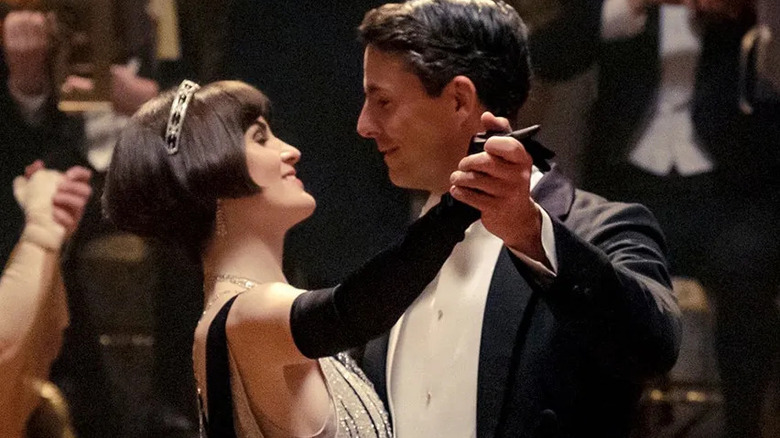 Universal Pictures
When it comes to period soap operas, none can touch the captivating drama of "Downton Abbey," the British series that began in 2010. Set in the 1910s and '20s, the series enthralled viewers with the story of the powerful and aristocratic Crawley family and the ups and downs of both their well-to-do kin and their well-mannered servants at the abbey in which they resided. Fans across the world marveled at the heart-rending tales of fathers, sons, mothers, and daughters — their hopes, dreams, loves, and passions, not to mention bitter rivalries and vicious feuds.
With a sprawling ensemble cast that included Maggie Smith, Dan Stevens, Hugh Bonneville, Ed Speleers, Matthew Goode, and Siobhan Finneran among so many others, the series earned 15 Emmy Awards in its six years on the air. But the small screen couldn't contain the Abbey's splendor, and in 2019 a movie follow-up waltzed its way into theaters.
The film saw members of England's royal family arrive at Downton Abbey, and while the family's servants spar with the visiting royal staff over arrangements, a villain emerges in a plot to kill the King. A huge hit at the box office, "Downtown Abbey" was a worthy follow-up to the series, and it received a sequel in 2022. "Downton Abbey: A New Era" didn't rake in quite as much cash, but was well-loved by critics and audiences alike.